Greg Williams
The Master Negotiator & Body Language Expert
Negotiation for Leaders
Episode Summary
Leaders at all levels must master negotiation skills! To that end, I interviewed, Greg Williams, The Master Negotiator! Greg shares strategies leaders can apply to become better negotiators. He also shares insights from his latest book "Negotiating with a Bully: Take Charge and Turn the Tables on People Trying to Push You Around!"
Check out this 60 Second preview of the episode!

Bio
GREG WILLIAMS – is a negotiation and body language expert.
Williams is a bestselling author that has written 7 books about negotiations and reading body language. Greg is a Harvard trained negotiator, consultant, and TV News Contributor that speaks, trains, and presents on the topics of negotiation and reading body language worldwide.
Senior management in corporations, governments, small business owners, and high-net-worth individuals call on Greg to help them enhance their bottom line by teaching them and their colleagues how to negotiate better.
"Greg is one of the top 30 body language experts in the world!"—Global Gurus
Website
www.TheMasterNegotiator.com
LinkedIn
www.linkedin.com/in/themasternegotiator
Twitter
https://twitter.com/The_Negotiator
Facebook
https://www.facebook.com/TheMasterNegotiator
Instagram
https://www.instagram.com/themasternegotiator/
Leadership Quote
My mother said: "You're always negotiating!"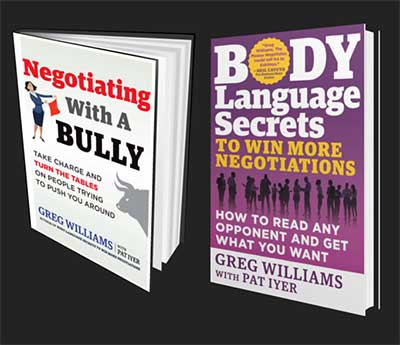 Transcript
This podcast is part of the C Suite Radio Network, turning the volume up on business.
This podcast is sponsored by Grand Heron International. Through a growing network of credentialed and vetted coaches, Grand Heron International brings you on-demand coaching with coaching on site and the Coaching Assistance Program for corporations. Whether you are a company committed to investing in your leaders, an individual navigating a complex situation or a coach searching for a superb network of coaches, visit us at GrandHeronInternational.com.
Welcome to the Keep Leading Podcast, the podcast dedicated to promoting leadership development and sharing leadership insights. Here's your host, the Leadership Excelerator, Eddie Turner.
Eddie Turner:
Hello, everyone. Welcome to the
Keep Leading Podcast
, the podcast dedicated to leadership development and insights. I'm your host, Eddie Turner, the Leadership Excelerator. I work with leaders to accelerate performance and drive impact through the power of facilitation, coaching and professional speaking.What comes to your mind when you hear the word 'negotiation'? Do you think of calling your attorney right away? Do you think of a consumer transaction or maybe that upcoming raise at work? No matter who we are or what we do, we need to develop negotiation skills. To address this topic, I've invited the master negotiator and body language expert, Greg Williams. Greg Williams is a bestselling author and has written seven books about negotiations and body language. Greg is a Harvard-trained negotiator, consultant, and TV news contributor that speaks, trains, and presents on the topics of negotiations and body language across the globe, So much so that global gurus ranked Greg as one of the top 30 body language experts in the world.
Greg, welcome to the Keep Leading Podcast.
Greg Williams:
Well, thank you very much, Eddie. And I'm telling you my mother would be very proud of me for that introduction.
Eddie Turner:
Well, I am just so excited to have you on this show. In addition to being one of the foremost authorities on body language and negotiations, I also want my guests to know you're just one of the nicest gentlemen that anybody will ever meet.
Greg Williams:
Thank you for that. I appreciate it. And truth be known, being nice just adds value to everyone in any environment you're in. And thus, it's something that I do naturally.
Eddie Turner:
And it shows. I mean, you just light up the room. It comes naturally. And I owe you a debt of gratitude because you've been so helpful to me in my speaking career and you've been a mentor and a guide to me. And so, I am just thrilled to be able to allow my guests to be able to learn from you today and especially about your core areas of expertise. And so, when it comes to this word 'negotiation', it could just emote different feelings in people and anybody can find it differently. So, I'd like to start by asking you how do you define negotiation?
Greg Williams:
That's an excellent question. And I say that because a lot of folks do not realize when they are actually negotiating. My motto is "You're always negotiating." The definition thus becomes anytime you are interacting with someone for the exchange of an outcome that you seek, you're negotiating with that individual. Not only that, Eddie. That's something that leaders need to not only recognize but appreciate and then owe into their daily activities. In order for leaders to become more substantial in their leadership roles, they have to negotiate better because they are already negotiating from the time that they come in in the morning till the time they leave the environment that they're in, they're negotiating in a business environment. Then when they go home, they are yet in another negotiating environment because the interactions they have with whomever it is that is significant in their lives will flow into the activities, thoughts, projections that they cast when they're back into the business environment.
Eddie Turner:
Interesting. And something else you said that I want to understand a little bit more clearer, you said that people are negotiating even when they don't realize it. Can you give us an example?
Greg Williams:
Sure. You and I are negotiating right now. Well, it is, definitely. Most people would not consider that, what you and I are doing right now, as a negotiation but you and I are exchanging ideas. As we exchange ideas, we will formulate opinions, I'll formulate more opinions about you, you'll formulate more opinions about me. You said a moment ago that I was a nice individual, and I'm paraphrasing. Okay, you have come upon that perspective of me over an extended period of time. Thus, you've been building up this dossier, if you wish, of what my character was, who I am and, here's what's most important, how I will act or most likely act in a particular situation. And the more information you exchange with someone, the more information you give them about your personality type and, therefore, you are negotiating.Let me back up because here's an even better example. Had you thought I was an ogre, someone that could not deliver content, etc., etc., you would never have invited me on the show. And thus, even though we didn't realize it then, we were negotiating. Well, I realized we were negotiating even back then to be on the show now. So, again, you're constantly giving out information. As you constantly give out information, you give insight into your personality, which is one reason why I tell leaders to always be not only mindful of how you project your image but what it is that you might want from a particular situation that you may be in much later down the road or tomorrow.
Eddie Turner:
Wow! Because when I think of negotiations, when I hear that word, I think of getting my game face on and beating my chest a little bit, let's get ready for something rough and tumble. So, that's a very nice perspective to provide listeners to think about in leaders – looking at negotiations as not always the rough and tough stuff that we may think about.
Greg Williams:
And, Eddie, you know what, I'm so glad that you cited exactly what you just said a moment ago because a negotiation does not start when you enter a room, enter into an environment, sit down across from someone else and you start to pound out whatever it is that you're seeking as the outcome. It starts way before that. It starts with creating the image that you wish that individual to view you as. So, as an example, if you know you're going to be negotiating against someone, now, notice the word I used a moment ago, 'against', a different perspective as opposed to 'with', if you know you're going to be negotiating against someone, and I know we're going to talk about bullies later on in the session, but if you're going to be negotiating against someone that has a tough or rough type of style of negotiating, one that says "The only way I can win is to make sure that you lose," you are going to create a different persona way before you get to the negotiation table such that that individual will know that you're not going to be a pushover.As a matter of fact, you may have noticed that I literally just changed the tonality of my voice just a moment ago to convey a deeper sense of commitment to exactly what it is that you and I are going to talk about during this particular session.
Okay, now I'm going back to my normal tone of voice but it's all about positioning way before you get to the negotiation table. And I'll tell you, Eddie, there have been times when I had some of my clients do some serious things as far as positioning simply to make sure they are viewed in the proper light compared to the person that they want to be negotiating with.
Eddie Turner:
Very nice way to make a distinction between words that we may confuse. There's a difference between 'negotiating with' versus 'negotiating against'.
Greg Williams:
Exactly, exactly.
Eddie Turner:
Depending on which type of negotiation you're conducting. You did a nice little change in your intonation with your voice. And I can only imagine if I were looking at you what I'd see in your face. So, that changes the tone of the negotiation and the spirit as well, I surmise.
Greg Williams:
Oh, definitely so. And here's something else and you just hit upon it. You heard the intonation in my voice and you can assume what the facial features may have conveyed that were synchronized with the words and the tonality of my voice. And that's something that leaders should also pick up on and that's to say that nonverbal clues that are associated with the words that are emitted when someone is speaking. So, there are times when I will literally be on the phone with someone, can't see their facial expressions but not only am I listening to their word choice but I'm listening to the pace of speech that they're actually speaking at and then all of a sudden I'll notice that when they slow down and what may have caused them to slow their pace, etc., etc. Those are clues that leadership pick up on as to what type of individual they are dealing with. The word 'against' denote someone that you're going to be beating your chest, again, pounding the tool you have to pound this thing out. The word 'with' suggests that the two of you are going to look at a situation amicably and assess how you might come to an amicable solution to the challenge for which you're negotiating. So, even when you're talking to someone and they say "Oh, well, I'm negotiating to get such and such," they're giving you insight into their mindset as opposed to if they said "Well, I'll be negotiating with" – slight difference of words and yet such a great impact per the way they are thinking about the engagement they'll be in.
Eddie Turner:
Thank you. Now, Greg, you said that leaders are always negotiating even when they don't think they are. And, for some people that may come as a new concept. And so, quite logically, they may wonder "Why? Why do I need to develop negotiation skills?"
Greg Williams:
Well, they don't need to worry, they really don't, unless they want to excel in their leadership role. If all you want to be is linger in mediocrity, don't think about enhancing your leadership skills. And while others are passing you, say "Hey, I remember when" and those types of things because that is exactly what will happen. If a leader does not enhance his or her negotiation skills, they will be passed by. There will be times when they won't even recognize the fact that opportunities are before them because they will not have prepared for them because they will not realize that they were negotiating at any point in time. So, it's extremely important, extremely important for any leader that wishes to not only lead the effectively but at the same time to progress in his or her discipline to be able to negotiate better.
Eddie Turner:
Very nice. And how can they learn to do better as negotiators?
Greg Williams:
Well, first of all, practice negotiation skills. For example, when I'm in seminar environments, there will be times when I will suggest to the attendees during a break, lunch, for example, go out and ask for something for free. I don't care what it is but ask for something for free. And, by the fact that you should realize that you're always negotiating, maybe there was a situation that you encountered when you checked into the environment, the hotel, whatever be it was that you had a pleasant interaction with someone. And I love to watch what comes back from that experience. So, I tell leaders, tell everyone "Make sure you constantly practice your negotiation skills. Do that by literally just asking for more." Eddie, when I check into hotels, I'll one upgrade. I'll ask for one at the airline. I constantly challenge myself to increase my negotiation skills by just asking. And the reason I do that is because you will encounter all kinds of counters to your request. "Well, why should I do that?" will be a response. You need to be ready to respond to that. And if you're not ready, pull that into your repertoire of "Okay, I got to remember to be ready for potential response." So, by practicing at all times, you will, over a period of time, simply increase your negotiation skills. You say "Well, can you give me a hundred dollars?" The person goes "why?" or "What?" And your response is "Because I have something nice to offer you." And the person says "Well, I'm not going to give you a hundred dollars." Now, Eddie, let's say in reality you only wanted a dollar. The reason that you start so high is because by contrast that hundred dollars will seem to be a lot larger to the one-dollars request. And when you drop down to one dollar and you make the same statement – "Because I want to give you something" – or of that nature, people will be more likely to do it at a dollar even though they don't know what you're going to give them. And what are the other variable factors that play a role into that? It's to what degree you've already interact with the person. Are you casting nonverbal signals with a bright smile, a pleasant demeanor that says "I'm not out to rip you off? I'm not here to harm you." So, those are the little things that leaders can do. Constantly, constantly, constantly practice negotiations by asking for different things at different environments and observing how you, the leader, respond to the feedback you get.
Eddie Turner:
Very, very nice. Thank you, Greg.
Greg Williams:
You're welcome.
Eddie Turner:
We're talking, ladies and gentlemen, to Greg Williams, the master negotiator and body language expert, and he's talking to us about negotiations for leaders.Well, we're going to pause here for a word from our sponsors.
This podcast is sponsored by Eddie Turner LLC. Organizations who need to accelerate the development of their leaders call Eddie Turner, the Leadership Excelerator. Eddie works with leaders to accelerate performance and drive impact. Call Eddie Turner to help your leaders one on one as their coach or to inspire them as a group through the power of facilitation or a keynote address. Visit EddieTurnerLLC.com to learn more.
This is Valda Ford. I am the Chief Executive Officer of ValdaFord.com and you're listening to the Keep Leading Podcast with Eddie Turner.
Eddie Turner:
All right. We're back, everyone. I am talking to Greg Williams, the master negotiator and body language expert. He's talking to us about negotiations for leaders. And before the break he gave a lot of incredible insights and, in fact, the idea that you're always negotiating and his exercise when he's delivering a session face to face is to go ask for things for free. So, I know that my behavior will be a little bit different on my next journey to another city coming up when I'm on the plane and at the hotel. So, thank you for that, Greg.Now, I want to just transition here a little bit because you've got a lot of experience in not just speaking around the globe. I mean, you are an authority who's been featured on NBC, ABC, FOX Business, Wall Street Journal, everywhere and media, print and TV, but in addition to all of that, I mentioned that you wrote a lot of books and your latest book is Negotiating With A Bully: Take Charge And Turn The Tables On People Trying To Push You Around. Tell us about that book, what was the genesis of it, and what can we learn from it as a listener who goes out and picks that book up.
Greg Williams:
Well, I kind of started alluding to parts of it when I was talking about the type of individuals that you'll be negotiating with as opposed to against and their mindset. The book Negotiating With A Bully definitely delves a lot deeper into how you should negotiate with someone that has a more rigid posture at the negotiation table, someone that attempts to push you around, someone that will even literally lie to you right to your face and expect you to believe their words versus your eyes as a result like "Hey, it's their words that you should believe." The book deals a lot into reading body language cues that also indicate when people lie.Now, you have to always set a foundation to assess to what degree someone's body language has altered from when they were in a neutral, a calm environment and one compared to when they are in a more stressful situation or moving in that direction. The book delves all into how to observe body language signals, what is it that you should do if someone is literally trying to push you into a corner, the strategies you can utilize in order to push back on them such as gain leverage by going after, and when I say go after, I mean altering the mindset of the people that support the bully's activities.
If I must say so myself, the book has been very well received and I wrote it because I wanted to help more people. And my publisher asked me to write it because of the environment that we find ourselves in from time to time by others attempting to bully us.
Eddie Turner:
Yes, at all levels of society I am hearing my clients, in my work as a leadership and an executive coach, talk about beliefs. I'm being brought in to address behaviors inside of corporations where leaders are bullying employees. We see accounts in the news of political bullying. We hear about it in school and academia. The bullies on the playground are people we knew about growing up but it seems like it's just at a completely different level now to the point that young people are taking their own lives because of an interaction with a bully. So, this book is quite timely on so many levels.
Greg Williams:
Oh, I wholeheartedly agree with you. And the thing that you have to be very mindful of is how bullies will target those that they perceive as being vulnerable. Again, you're always negotiating. You have to be careful and cautious of the image that you project such that you don't make yourself a target for bullying. How should you respond to authority, to people that try to project authority on the spot when they are bullies? The book delves all into that.And there's even more of a personal reason that I wrote the book. When I was a kid, I was small. And truth be known, I grew up in an environment where the bigger kids would beat the little kids up and take their money, etc., etc., etc. And as I grew older, I thought to myself I've got to learn the skills that are needed in order to prevent that from happening. Since I was so small, I had to be quick in my thinking on my feet and some of that is poured right into this book Negotiating with A Bully.
Eddie Turner:
Okay. Now, if a listener is working in an environment where they feel they're being bullied, and they're listening to you right now, what do they do about that boss that's making their life miserable? They need their job. They're afraid to speak up but every day going into work is an absolute drudgery. What advice would you have for them?
Greg Williams:
You just hit the nail on the head a moment ago. They need that job. Okay, that's one part of the equation. They're bullied by their boss. That's the other side of the equation. To what degree do you need that job such that you accept the bullying by your boss as opposed to "Okay, the boss is constantly bullying me. I'm going to look for another outlet. Maybe that's in the form of another position" or "Maybe the boss bullies a bunch of folks. We're going to combine forces, all of us that are bullied by the boss, and we're going to use our leverage in a combined form to address senior management about this whole situation." There are multiple things that you can do but you have to know, first of all, what outcome you want to have and when you want it to occur. It may be as simple, dependent upon the circumstances and the environment you're in, as letting someone know how you are perceiving their behavior because maybe the boss is passive aggressive and not even aware that she is casting herself in such an image. Maybe the boss feels as though "Well, if I let my guard down a little bit, somebody's going to come in and knock over my castle" or something of that nature. If you can interact with that person to not only let them know how you're perceiving their actions and note how they change, you then have more information from which to go upon. Remember I said you're always negotiating. So, if you continuously accept the behavior and not give any feedback, why in the world would you expect anything to change. If it's causing you the degree of consternation that you're experiencing that makes you not want to go into work, you have to do something about it. Don't let it linger or else you will flounder.
Eddie Turner:
Don't let it linger. Otherwise, you will flounder. So, take action.
Greg Williams:
There you go.
Eddie Turner:
Alright. Well, thank you for sharing that advice along with a couple of options that anyone who finds themselves in this situation can take.You're also a body language expert. Can you share at least one tip for our leaders who are listening that they can pay attention to as leaders when it comes to their body language?
Greg Williams:
Well, each situation is unique. And that's the first thing to observe. Somebody that's in a stressful situation may react differently than someone that's in a non-stressful mindset, let's say. And, therefore, you have to be aware of that person's demeanor overall compared to the particular situation that you're measuring. And thus, there may be times when you gain insight into the person's thought process by looking at their eyes. Now, this is something that is somewhat controversial. It used to be a standard but throughout more research, the eyes will usually indicate if someone is looking up into the left that they're trying to recall something that has happened in the past, looking up into the right, they're in creative mode, makeup mode or something of that nature, but each individual is different. And thus, when you're talking to someone in a normal environment, just observe what they do with their eye movement. When you're face to face with someone, observe their feet. I look someone dead in the eye and at the same time I'm observing how their feet are position. When two individuals are engaged and their feet are pointed towards one another, they are truly mentally engaged with one another also. If you observe the other person's foot all of a sudden points away from you, number one, that person is most likely going to exit the conversation and move in the direction that that particular foot is pointed in. And if it behooves you because you need more of that person's attention, you can actually realign your feet and see what the person does. The person moves then foot again, what that person is indicating is "Hey, look, I want to get out of the conversation." Be mindful of someone when they cast such an image. What about watching someone's mouth when they're speaking? Have you ever been involved with someone, Eddie, and either you've been speaking and you see them start to move their lips? They're indicating that "Hey, I want to say something." If you're observant of that, you could say "Oh, I notice that you want to say something." Number one, subliminally speaking, that person will think "Wow! Okay. So, this person is really paying attention to me." And what is it that everyone wants? To be heard. So, those are just a few cues and clues.
Eddie Turner:
Cues and clues. I love it. So, looking at the eyes, looking at the feet, looking at the lips.
Greg Williams:
And the hands plan an important part also but we can get into that a whole heck of a lot later.
Eddie Turner:
All right. Well, since you brought it up, just give me one quick tip about the hands.
Greg Williams:
Now, imagine this in your mind's eye. I say to you "I am so happy to see you." Meanwhile, my hands are pushing away from my body. That's inconsistent with the word. If you're happy to see somebody, you're usually pulling that person, metaphorically, closer to you by moving your hands closer to your body. Someone says "This is the best situation I've ever experienced. Oh my gosh! I love this idea." Meanwhile, they're shaking their head no and they're waving their hand side to side indicating "No, this is not the best thing." Anytime there's ambiguity between words and someone's body language, pay attention to their body language more so because the body always attempts to be aligned with what it believes to be the truth.And I could talk about the micro-expressions that indicate just that too. Well, there are seven micro-expressions that are unique to everyone on the face of the planet – fear, anger, disgust, surprise, contempt, sadness, and happiness. So, if you apply the same stimuli to one person in Asia, to a different person in North America, Europe, they would give the same type of reaction. Those are cues also that you can pick up on that will allow you to understand more of the thought process that's occurring with people.
You asked for hands, I gave you a little more.
Eddie Turner:
I'll take it. Wow! These are such wonderful insights about body language. And they tie very nicely back to what we started with on negotiations because I assumed that as we see these shifts in body language, that also indicates our leverage point in a negotiation with an individual.
Greg Williams:
Oh, my goodness! That is excellent, Eddie, because it definitely does do just that. Someone says "This is my best offer. Take it or leave it" and they're smiling. Wait a minute. Okay, what does the smile mean associated with those words versus "This is my best offer. Take it or leave it" and they lean away from you. The former can indicate that the person has some wiggle room because the person is smiling or the person could be saying to you through the smile and those words "You know what, I think this really is my best offer. I'm not trying to alienate you. So, I still want to project the friendly image." The person with the latter situation that's leaning back from you is literally saying "This is my best offer and I'm willing and ready to get away from the negotiation table." Now, here's the point of capture with both of those examples. A good negotiator will know how to project that latter image where he makes that statement and leans back such as to convey "I'm really getting serious about this being my last offer and I may be in the process of walking away from the negotiation," which is why every leader should practice negotiation skills and, truth be known, learn a lot more about body language because if you could discern to what degree, be it nuanced, when that person that's leaning back and saying that's his best offer is being truthful, you'll have more insight into his mindset to add, you would still test him by simply saying something along the lines of "Best offer?" That's all you have to say and just wait for the person to respond.And here's one of the cues or I should say piece of insight that I'll suggest people be aware of. The person that's asking the questions is the person at that particular moment in time that's in charge that has the most control of the negotiation. Why? Because as long as I'm asking you questions and you're answering those questions, you're giving me more information, more insight from which I can discern how to use to enhance my negotiation position. And if you're trying to bully me, I then know what your leverage points are also that I can use against you.
Eddie Turner:
Interesting. Thank you, Greg. Thank you for sharing these tips and cues.How would you summarize our conversation that we've had today?
Greg Williams:
Well, first of all, to practice, keep, and I do mean, keep and constantly keep doing, keep asking for things for free, for free. Anytime somebody makes it offer also, "Eddie, it's an opening offer," challenge them by saying things like "Okay. Well, maybe how about if we do half of that price?" or something of that nature and just observe their response. So, free and constantly be asking for a better deal. Remember, you're always negotiating. So, what you do in any particular environment will cast the demeanor of who you are and it will impact how you deal with other individuals. And, I don't know if this is the biggest one or not but, read body language. Learn what body language signals mean and become a student of just that. Those are some of the things that we covered in this session and I would suggest that since you are an excellent individual talking about leadership that your leaders pay attention to what you and I have discussed today.
Eddie Turner:
Well, we are taking notes and we will heed your advice.And since it's the Keep Leading Podcast, we want to give leaders a quote or another piece of advice that they can use to keep leading. What would you say to them?
Greg Williams:
I would say if by chance you don't want to lead, you don't have to. Don't go any further, don't learn anything else, just sit on the stump and let life pass you by but if you want to become a better leader, listen to content such as what you've heard today because, Eddie, like I said, I am branded as the master negotiator and body language expert, I would brand you as the master in leadership.
Eddie Turner:
Well, thank you, Greg. I really appreciate that. And thank you so much for being on the Keep Leading Podcast today.
Greg Williams:
Thank you for the invitation.
Eddie Turner:
And thank you for listening. That concludes this episode, everyone. I'm Eddie Turner, the Leadership Excelerator, reminding you that leadership is not about our title or our position. Leadership is an activity. Leadership is action. It's not the case of once a leader, always a leader. It's not a garment we put on and take off. We must be a leader at our core and allow it to emanate in all we do. So, whatever you're doing, always keep leading.
Thank you for listening to your host Eddie Turner on The Keep Leading Podcast. Please remember to subscribe to The Keep Leading Podcast on iTunes or wherever you listen. For more information about Eddie Turner's work please visit EddieTurnerLLC.com.
Thank you for listening to C Suite Radio, turning the volume up on business.
The Keep Leading!™ podcast is for people passionate about leadership. It is dedicated to leadership development and insights. Join your host Eddie Turner, The Leadership Excelerator® as he speaks with accomplished leaders and people of influence across the globe as they share their journey to leadership excellence. Listen as they share leadership strategies, techniques and insights. For more information visit eddieturnerllc.com or follow Eddie Turner on Twitter and Instagram at @eddieturnerjr. Like Eddie Turner LLC on Facebook. Connect with Eddie Turner on LinkedIn.