Mirella De Civita, Ph.D, PCC, MCEC
Speaker, Author, Executive and Mentor Coach
The Psychology of Bad Leadership
Episode Summary
Bad bosses and bad leadership are pandemic. Listen to my interview with Dr. Mirella De Civita to learn what is behind bad leadership and what can be done about it.
Check out this 60 Second preview of the episode!

Bio
Dr. Mirella De Civita, licensed psychologist, executive coach, entrepreneur, writer, speaker, researcher, creator, has been accompanying leaders in their journey to finding purpose and making a positive impact on all the people they encounter along the way for over 20 years.
Mirella is the President of Papillon MDC, an executive coaching and leadership development firm and Founder of Grand Heron International, an on-demand coaching network for leaders in need of timely guidance when facing important decisions or complex situations. Whether leading her businesses, developing and deploying leadership programs, running her psychotherapy practice or sharing her wisdom and experience through articles, books and key note addresses, Mirella's work is anchored in the psychology of mindfulness.
She has been working with top level and C-Suite executives for years, but you will not find a corporate shark in her! Drawn to her approach to leadership that puts people and planet before profit, her clients enter a transformation towards sustainable leadership with open arms.
Mirella completed her Ph.D. in Psychology (clinical Research) at Université de Montréal and then went on to complete a 3-year Postdoctoral Fellowship in Behavioral Medicine at McGill University. She is a Professional Certified Coach (PCC), a Master Corporate Executive Coach, and Certified Mentor Coach. Mirella also contributes regularly as a member of Forbes Coaches Council.
If you want to transform your leadership, reach out to Dr. De Civita or one of her companies.
Website
www.papillonmdc.ca
www.grandheroninternational.ca/
LinkedIn
www.linkedin.com/in/mirella-de-civita-ph-d/
www.linkedin.com/company/papillon-mdc/
www.linkedin.com/company/grand-heron-international/
Twitter
https://twitter.com/PapillonMDC
https://twitter.com/GrandHeronIntl
Instagram
https://www.instagram.com/grand_heron_international/
https://www.instagram.com/papillonmdc/
Facebook
www.facebook.com/PapillonMDC/
www.facebook.com/grandheroninternational/
Leadership Quote
"Love Wastefully"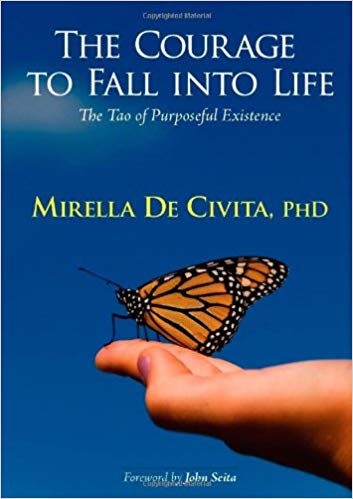 Coming soon: Good People: Bad LeadershipTM
Transcript
If you're a small business owner looking to grow or expand your business, check out OnDeck Business Loans. OnDeck offers business loans online from 5000 dollars to 500,000 dollars and their simple application process only takes 10 minutes. Unlike banks they'll give you a decision quickly and funding in as fast as one day. Get a free consultation with an OnDeck loan adviser. Visit OnDeck.com/Podcast.
This podcast is part of the C Suite Radio Network, turning the volume up on business.
This podcast is sponsored by Grand Heron International. Through a growing network of credentialed and vetted coaches, Grand Heron International brings you on-demand coaching with coaching on site and the Coaching Assistance Program for corporations. Whether you are a company committed to investing in your leaders, an individual navigating a complex situation or a coach searching for a superb network of coaches, visit us at GrandHeronInternational.com.
Welcome to the Keep Leading Podcast, the podcast dedicated to promoting leadership development and sharing leadership insights. Here's your host, the Leadership Excelerator, Eddie Turner.
Eddie Turner:
Hello, everyone. Welcome to the
Keep Leading Podcast
, the podcast dedicated to leadership development and leadership insights. I'm your host, Eddie Turner, the Leadership Excelerator. I work with leaders to accelerate performance and drive impact.
Have you ever had a bad boss? You're probably thinking "Had? Past tense? No, I have a bad one right now." Bad bosses, bad leaderships are pandemic. Today, my guest is Dr. Mirella De Civita. Dr. Mirella De Civita is here to discuss the psychology of bad leadership. Dr. De Civita is the President of Papillon MDC, an executive coaching and leadership development firm and Founder of Grand Heron International, an on-demand coaching network for leaders in need of timely guidance when facing important decisions or complex situations.
Dr. De Civita, welcome to the Keep Leading Podcast.
Dr. De Civita:
Oh, hi. Eddie, I'm so happy to be here. Hello, everyone.
Eddie Turner:
Well, I'm excited to have you with us. Please tell my listeners more about you.
Dr. De Civita:
So, I am Canadian, based in beautiful Montreal, Quebec, eastern part of Canada. I am a licensed psychologist in the province of Quebec and a professional certified coach. I'm also a master certified executive coach and a mentor coach to individuals, coaching students, aiming to move forward in their coaching profession. And, of course, I am also really excited about my role at Papillon MDB, working with a group of incredibly talented individuals and over at Grand Heron International with a group of really talented professional coaches.
Eddie Turner:
Thank you. Now, what motivated you to go into coaching?
Dr. De Civita:
Perhaps it is best explained or the way I like to tell the story, it was a serendipitous encounter. I was hired by a national executive human capital firm that offered executive coaching to leaders. I had come on board as a licensed psychologist to conduct leadership assessments in the area of selection and development. And I had never heard of coaching before. In academia, certainly where I was at, I had just finished a postdoctoral fellowship in Behavioral Medicine. And the word 'coach; or the word 'coaching' was always used in relation to sports. And, therefore, when I started working at this human management capital firm, I first time heard the word 'coaching'. First time I signed to be a coach, I had no idea what all of this meant. And, obviously, as a good academic student, I took books and started to read up on what is coaching and I just fell in love. I fell in love with the concept of coaching. I fell in love with the process of coaching. I decided then to be trained as a coach. Even though at the time most of the colleagues as well as some of the leaders, they just had a different vision of what clinical psychologist could do and most of them would say "Well, you don't need to go for coach training. You just need to know how to work with people." And I disagreed. I really felt that this was a profession and I needed to be trained as a coach and I went ahead with all the coach training schools that were recognized by the International Coach Federation and really worked hard for the last 14 years in perfecting the skills of a coach and sitting on both sides, that being a licensed psychologist and a professional certified coach. I know that there is a fundamental difference. Even though most people would say it's pretty similar, I don't see it that way. I can honestly say that becoming a coach made me a better psychologist and being a psychologist, I believe, it makes me a better coach as well.
Eddie Turner:
Isn't that interesting? Now, I asked that because I wanted to understand a little bit about your journey but you said something that I find very intriguing. And I hear this a lot. In fact, there's an organization I belong to and this kind of conversation surfaced in the community thread, that oftentimes when an individual has the education you have and the credentials of a psychologist or a psychiatrist, you're a doctor, that there is not a need to get a coaching certification but you said that even though you had that, you decided it was important. Can you just isolate that again for my listeners who are listening and who may have experience having these conversations about the pros and cons?
Dr. De Civita:
Yes, absolutely. So, one of the things that we often read about when researchers, for that matter, who are not trained coaches write about coaching compared to psychotherapy, they often make the mistake of saying coaching is looking forward and psychotherapy is looking back. Not necessarily true. In fact, most of the what we refer to as being a third wave of cognitive behavioral therapy and those are all therapies that fall along the lines of acceptance, commitment, mindfulness, compassion, and many others, rational, emotive behavioral therapy are all forward looking. So, that argument doesn't hold. And when people are inclined to say "Well, as a psychologist, you can coach," that too doesn't hold. Just because the profession of coaching is about looking forward and some of the clinical orientations is also about looking forward, it doesn't mean that you will be a good coach just because you happen to be a good psychologist. I tend to see the difference along the following perhaps two dimensions or maybe two factors, one being the power of the relationship. And more often than not, which is not always the case, but more often than not people will seek a psychologist because they do feel that the expert or the professional expert will know what to tell them in so far as what's not working for them or in many cases, in the area of psychiatry, obviously, you are making diagnosis. And so, there is a power status dimension that you don't see in coaching. And coaching, it is a co-partnership between the individual and the coach and it is the individual that is wholeheartedly and fully accountable and responsible. In fact, they are the experts of their lives.
From the angle of a clinical psychologist, when you sit in this chair, you also and must recognize the importance of how you leverage your expertise because people are coming to you expecting to be told or to be guided. In fact, all psychotherapy interventions have a process. A psychologist is looking for a specific response in their patients depending on what orientation they are using whereas in coaching we are not looking for a specific response from our client. We are following our clients and our clients are always leading us to where they want to go. Our job is to help the client position themselves for what they believe is most important in their lives. And so, we listen, in many ways, slightly more different in coaching than we would in any psychotherapy session.
Eddie Turner:
Interesting. And so, you nicely noted that being a psychologist makes you a better coach and your coach training and practitioner status there makes you a better psychologist.
Dr. De Civita:
Yes, indeed it does. Becoming a coach has made me "relax my expert self." So, even when I show up in my clinical practice, and the orientation that I practice today and I've been doing so for the past six years, is considered to be the third wave of cognitive behavioral therapy, which is acceptance and commitment therapy and compassion-focused therapy. So, when I sit in the presence of my clients in clinical practice, I really am very mindful of not sitting with the mindset of an expert. I sit with a mindset of curiosity. I sit with a mindset of union and partnership, which obviously comes from my training as a coach. When I sit in my coaching sessions and have the mindset of a coach where my psychology self comes in is when a client is demonstrating significant distress. When a client is demonstrating significant emotions, I'm able to sit with them and be present for them, ask questions that help them accept what they are currently exhibiting, what they are currently feeling and be ready to engage in a coaching conversation. So, I find that comes in, I'm hoping that my clients see this as being helpful as opposed to trying to course correct what they're currently experiencing. So, the psychologist of me recognizes the importance of allowing people to live with their emotions. Even in an executive coaching session, you could have executives show up with a specific emotion as opposed to trying to course correct it. The psychologist then shows up and is able to be with them, hold that space for them.
Eddie Turner:
And so, in addition to your skills and credentials as a psychologist, you have the International Coach Federation or ICF credential of PCC, Professional Certified Coach, and you weren't satisfied with that. You went and got another layer of coaching credential through the MEECO organization, which is where you and I met. I saw you deliver a fantastic presentation. Can you tell people a little bit more about what MEECO is and about the designation you hold there?
Dr. De Civita:
So, the designation that I hold with MEECO Leadership Institute is one that separates coaching, life coaching or personal coaching and career coaching, separates it from the executive coaching space and what executive coaches do. It is considered to be more of an enterprise type of approach to coaching. And getting that designation, for me what it did is it solidified my years of having worked in the executive coaching space, having worked with corporations, going in and recognizing that there's always three individuals that are equally accountable for the success of an individual. For instance, you've got the manager of the leader that is equally responsible for how successful the leader will be in his or her position. Obviously, you have the leader who is making the decision to be coached. And then you have all the stakeholders in that particular corporation also, they are all equally responsible for the success of the individual. So, the Master Corporate Executive Coach, what it symbolizes for me is a recognition that when I enter a corporation, I'm able to understand all the players, I'm able to work as a coach, bring forth my coaching skills within a very complex environment, which is often not the case when you work just one-on-one with individuals and there is no third party involved.
Eddie Turner:
Yes, yes. And so, we should notice well that MECCO is the measure of excellence in executive coaching institute and you holding that credential is proof positive that you aren't just an academic person showing up, you aren't just on a mission. You are a person who understands that business and you are a master at coaching people in the enterprise. And so, very much appreciate being able to get your wisdom on today's topic.
So, through all of this, somehow you stumbled on this area of bad leadership. Talk about that, please.
Dr. De Civita:
I want to begin by saying that I believe people are inherently good and creative. And so, I stepped into this field of psychology and leadership from that point of view. And I have, over the years, been paying attention to what happens to individuals as they progress in their careers and slowly but surely gain greater positions of power. And power is always defined by the level of accountability and decision making that they do have. And I've notice how they change and why they change. So, that's one angle. And the other angle or the other side, perhaps, maybe the same, we take a look at one side of the coin, I'll take a look at the other, is the impact that bad leadership has on people. And so, that too became an area of focus in relation to the work that I do, whether I show up as an executive coach or when I show up to do more of the longitudinal long-term leadership program. And so, I'm always looking at that leadership from this angle – what happens to people as they progress in their careers and gain positions of power and why, why do they change and what happens to the individuals that are reporting to these executives that are demonstrating bad leadership?
Eddie Turner:
Well, what happens to people who are reporting to these bad leaders is that there's just a ton of carnage that we can look and see, right? In the episode that I ran a couple of months ago entitled A Hidden Figure, our mutual friend, John Perry …
Dr. De Civita:
Yes, wonderful, wonderful person,
Eddie Turner:
… talked about how his 27-year career at NASA, he was an engineer with many patents but in the final days, he was the CFO. It came to an end because of the bad leadership he was suffering under. And I use the word 'suffering' deliberately, because it impacted him physically.
Dr. De Civita:
Yes, absolutely, absolutely. And one of the things that I have been very careful to note and paying attention, I made a decision just this past spring, to say it's time, it's time to put all of these ideas together in a book, is the noticing of why they're changing. And there happens to be four areas, I believe, that we ought to be paying closer attention to as we help people ascent and progress in their career. And the following for are notion of power, notion of influence, notion of noticeability, and notion of being.
Eddie Turner:
Notion of power, notion of influence, notion of noticeability, and notion of being.
Dr. De Civita:
And I can go through these very quickly but one of the things that I remember because I did listen to that wonderful podcast, among the four dimensions, the one that I heard come through as I was listening to our friend talk about the experience that led to him leaving because physically he was sick, I believe, had to do with the notion of being because when we take a look at these four dimensions, the notion of power, we can easily see that to mean control over people and dynamics between people in group and command over others. And something happens to individuals as they move to positions of power along this dimension. The second one, notion of influence, that has to do with decision making and the sociopolitical environment. Something shifts there as well. The third one, the notion of noticeability, has everything to do with attention toward the self and others and recognition of self and others. It's the last one that I think often people don't pay enough attention to, so what happens to a human, what happens to a person as they move into these positions of power, and that is the notion of being and that is ownership of self toward others and knowing the self in relation to others. And so, I think, again, based on my observations, that people who manage to move into positions of power, if they do change along these dimensions, and we could see these dimensions along the continuum, with some people exercising coercive control over people, coercive commanding of people versus sharing control with people and rarely commanding people, right? So, on a continuum we can see this happening. The same thing is true with notion of influence. All decisions are made by one person or decisions are shared. Sociopolitical context is super managed by one person or it is, once again, influenced by many. And so, as we take a look at these four dimensions, I feel that the whole notion of good people with bad leadership has to do with not necessarily recognizing or understanding how one can change along these four dimensions and what to do with it.
Eddie Turner:
Very nice. Well, thank you for sharing those four dimensions of bad leadership with us.
Well, what we can do right now is pause and have a word from our sponsors.
This podcast is sponsored by Eddie Turner LLC. Organizations who need to accelerate the development of their leaders call Eddie Turner, the Leadership Excelerator. Eddie works with leaders to accelerate performance and drive impact. Call Eddie Turner to help your leaders one on one as their coach or to inspire them as a group through the power of facilitation or a keynote address. Visit EddieTurnerLLC.com to learn more.
This is Simon T. Bailey, author, and you're listening to the Keep Leading Podcast with Eddie Turner.
Eddie Turner:
Okay, everyone, we're back. We're talking to Dr. Mirella De Civita and she is talking to us about the psychology of bad leadership.
Dr. De Civita, before the break you explained to us the four notions of bad leadership but the question is what happens to the poor people who are stuck under these bad leaders? We used the example of our friend John Perry for an episode but tell us about some of these other folks that you've studied.
Dr. De Civita:
So, one of the things that I've also been very interested in, obviously, it's a question of as you observe bad leaders, you end up paying attention to what happens to people who are reporting to these bad leaders. And it just so happens that, from my experience, I've come to appreciate almost four types of experiences. You have what I refer to as the ambush experience, you've got the spotlight experience, the floundering experience, and the treadmill experience.
Eddie Turner:
Those all sound Interesting. Walk us through those, please.
Dr. De Civita:
So, the ambush experience is these are leaders that are hiding in plain sight but you don't see their impact until it's too late. You are way too deep either in your own investment of time and energy and commitment, where you now need to endure. You need to endure because you've invested so much. And usually people that finally come out, I've seen them in my practice, they're shocked, they're bewildered, they can't believe that they endured so much. And that's where the name the ambush experience comes from.
The spotlight experience, these are individuals that, as they look back, they've never received any feedback, no criticism about them, convincing that they were doing okay. At the same time, they share with me some moments of self-doubt. They were only seen when things were good and completely dismissed when they failed to do something. And, at the same time, they are able to also admit that these were leaders there were at times enduring but very distant when things weren't going so well. So, they shared some of the spotlight but, at the same time, they feel or they felt once they come out of this experience, being used, a sense of being manipulated by these leaders.
The third one is, for lack of a better word, I guess, I sort of noticed these leaders floundering, right? They describe constantly getting feedback. One day you're up, one day you're down, not sure when to speak or even how to speak, very confused. Lots of struggle happening at a cognitive level. They feel like they are often left in the dark or dumbfounded by decisions that they've never seen coming. And when they finally pull out of these relationships, they're left with a lot of emotional baggage or there's some emotional unmet need that they are left to grapple with.
And the last one is the treadmill experience. These are individuals that were forever striving but never arriving. It was never enough, never-ending story, always behind in work and mandates, many trials before final decision is made, go back to decisions even when they were almost done, and the feeling that they're left with is just sheer exhaustion.
And so, these seem to be the four different outcomes. And, at the end, once these individuals pull out of these terrible relationships from their leaders but while they are in these relationships, these seem to be the experiences. It's one or sometimes people will describe as having had a conversion of two of these four but often I've noticed that people seem to describe experiences that fit these four categories.
Eddie Turner:
Is there one of those four you're seeing more than the others?
Dr. De Civita:
The ambush experience, it's quite fascinating. These are leaders. So, once again, paying attention to how they themselves, this is from the leader point of view, how they themselves would be described along these four notions. Once again, we can have a variety of different outcomes in relation to these four notions but, in general, these are leaders that are well spoken, they present very well, they are able to bring people along. People will start to experience a sense of success, they experience a sense of trust, they feel that these are leaders that are going to be with them, they're going to support them. And then something happens, whether the leader himself or herself is no longer achieving certain targets, then change starts to happen. And when the change starts to happen, these leaders start to change their ways. They are no longer as supportive and they start to manipulate the trusting relationship that they have. And individuals are left often saying "I can't leave. He or she has so much on me. They've managed to put me in so many projects. I just can't pick up and go anymore." And what's really fascinating about the ambush experience is that oftentimes, these individuals that so badly want to leave, they feel as though they can't leave because, you see, these are leaders that were able to capture a sense of loyalty, a sense duty in their employees. And once they finally see that their leaders are more manipulative, they're stuck. So, I've seen people stay in these relationships much longer than they should.
Eddie Turner:
That's interesting. And when we look at the idea here, how many bad leaders we have, one of the things I said earlier is that it's pandemic. It's everywhere. It's global, right? It's not the thing that we just see in one industry or just in one nation. This is something that people are experiencing and suffering under everywhere you go. And it's interesting that whenever I give my leadership speech, I open with asking the question about how many people are good leaders. Without fail, in every audience every single hand goes up. So, if everybody believes they are a good leader, where are the bad leaders coming from?
Dr. De Civita:
Right. Yeah, I have to agree with you, absolutely. So, I ask this question. I say "Put up your hand if you were voted in your position." So, the look I get is like deer in headlights. They don't know what to do and they're looking at each other and I'm saying "Yeah, seriously, put up your hand if you were voted in your position, if your employees voted you in this position," and no hands go up. And so, that starts off the conversation around the earning of a position of leader and earning the leadership title because leadership, the way I defined is, how you action yourself toward others. And, obviously today we're talking about leaders in position of power and that position of power comes with a great sense of responsibility and accountability for the wellbeing of people and the entity that everyone has made a decision to serve. So, there's a huge sense of accountability. And I think one of the elements that we are not paying attention to for whatever reason, perhaps because information travels much faster than anything we've ever had to handle in the past or perhaps because this whole notion of achievement has reached a level that most people cannot manage to sustain anymore, we're not looking closer to who are we promoting in these positions of power.
Eddie Turner:
So, how can someone identify if they are a bad leader? What steps would you recommend they take if they're listening and trying to understand?
Dr. De Civita:
So, once again, that question often leads me to ask myself would a bad leader have the courage to have a third party speak with their team and have almost all a team profile of where are they in so far as their experience of me, right? So, if I'm a leader and I want to know whether I'm a bad leader, am I creating the experience of being ambushed, am I creating the experience of being in spotlight? So, I almost have to come with this level of awareness. And so, if I'm coming with this level of awareness, then I already know from all of the notion, the notion of being, ownership of self I've got, right? And I may have lost my way around the notion of influence or I may have lost my way around the notion of power but I've got this notion of being. And so, now I'm going to go ahead and ask "Can I get a support from human resources and can I bring in a consultant that can help me figure out what my team is experiencing?" because that's the first place you want to go. The idea of being voted in your position really does mean would people want to work for you. If this position becomes completely available and everyone could apply and now the person that gets the job, people have to vote them in, then you want to start with the people, what are they experiencing of you. So, that's the first.
Unfortunately, we also know that those kinds of intervention often, again, we should go back to these four categories, if you are in the ambush experience category and you finally realize that you've been ambushed, you don't trust the system anymore, right? You don't trust that what you are going to be sharing with a third party will make its way to your leader in the most effective and the most benevolent way and, of course, in a manner that is efficient for everyone. So, once again, it becomes harder to go to the team and ask. So, I go back to the individual. And so, the question I would have to ask a leader is "What you are currently experiencing as the leader that you see yourself being, is this congruent with the things that are really important to you? And so, what are the things that are really important to you?" And so, we start there. Usually what you hear these leaders talk about are the things that perhaps you and I will find to be equally important, such as a trust, harmony, success. And then we take a look at what does that success look like for them. So, again, although I'm also very driven for team interventions, I recognize that in the position of a bad leader, anyone that's in any of these categories will have a hard time sharing what that experience is like.
Eddie Turner:
Thank you. All right. Well, what advice do you have for listeners who are suffering from bad leadership?
Dr. De Civita:
For those who are suffering from bad leadership, there's never a specific one solution. The place to begin is one that allows you to, first, find a trusted, whether it be acquired colleague to begin with, potentially not a colleague that's in the same organization, it's a colleague that is outside of your organization, and begin the process of sharing. Once that process of sharing takes place, there might be more courage on the part of the individual to seek professional support. And that could be in the form of a coach outside of the organization or even a mentor. And once you have that as support, then the next step is to sit down with your family. I've often seen women leaders having a hard time getting out of these experiences, especially if they happen to be the main breadwinner of their family. And so, sitting down with your spouse after you've had an opportunity to share with a trusted mentor or colleague and then share with a coach, sit down with your partner and truly come up with a plan – "What would it look like once I exit? What would that look like for the family?" – because the support of a family is so critical in getting out of these relationships. Sometimes we underestimate the power of support from family members but it is, in fact, very critical. I've often seen a lot of these exits not fully come to the place where people would want. So, they start the exit process and then they get very scared and they pull out. And they just tell themselves a story that things will get better and they often don't get better.
Eddie Turner:
Thank you for that. So, how would you summarize our conversation today? What message would you want our listeners to really take away from our time?
Dr. De Civita:
The whole notion of bad leadership, I want people to recognize that no one sets out to be a bad leader. I really believe that no one sets out to be a bad leader. And if you happen to be surrounded by people that are caring about you and do show up and have the courage to tell you "Listen, your leadership is not working for some people on our team," it's time for you to listen. And I want you to know that these four dimensions, they're malleable. We can shift at any point along these four dimensions. And so, that's my message to those who, once again, are surrounded by people that come to them and share something's not right with your leadership. Pay attention. For those who happen to be within a bad leadership experience or are living it right now, I also want you to keep in mind that no one comes into that relationship wanting to hurt you purposely. And what's really important here is that you pull back, regroup, ask yourself "What's important to me?" and always remember that what you think is immediately important is potentially not where you should be focusing your attention. Bring yourself to a position of what is fundamentally important and what is fundamentally important is your wellbeing, your health and your state of mind and it's time for you to find the support you need and move because life is just so precious and we should be living our best lives as quickly as possible.
Eddie Turner:
Thank you. Well, here on the Keep Leading Podcast we always like to share words of wisdom with our leaders to help them keep leading. Do you have a leadership quote or advice that you can share with our leaders?
Dr. De Civita:
The quote that comes to mind, it's actually two quotes but I'll go with the one that just popped up and that is "You are enough." "So what? You are enough. And so, don't let anyone tell you that you need to change. You need to certainly, now I'm speaking to those who are living through bad leadership, just remember fundamentally important what matters is you and you are enough. You have all you need to pull yourself out of these relationships and live your best life.
Eddie Turner:
You are enough. Well, thank you. Where can my listeners learn more about you?
Dr. De Civita:
So, they can visit our website. That would be Papillon MDC. Papillon is French for butterfly. So, Papillon MDC. And for those who are seeking coaching in the moment and just would like to work with a coach as the need arises, please visit us at Grand Heron International.
Eddie Turner:
Wonderful. Thank you for sharing. And we will certainly put those in the show notes so that folks can look you up, connect with you online and take advantage of the services your organization offers. You're a psychologist who's been published extensively in academia, medical, and psychology journals. And so, I'm just so excited to have you here in addition to your stellar coaching credentials. It really is a delight to have you come on the Keep Leading Podcast, Dr. De Civita, and share your wisdom with our listeners. Thank you for being a guest.
Dr. De Civita:
Well, thank you so much, Eddie, for giving me the opportunity to sit here with you, I know it's virtual, I'm sitting here with you, to be able to speak to your listeners and I'm very grateful to our partnership. Thank you so much.
Eddie Turner:
Thank you again.
And thank you for listening. That concludes this episode, everyone. I'm Eddie Turner, the Leadership Excelerator, reminding you that leadership is not about our title or our position. Leadership is an activity. Leadership is action. It's not the case of once a leader, always a leader. It's not a garment we put on and take off. We must be a leader at our core and allow it to emanate in all we do. So, whatever you're doing, always keep leading.
Thank you for listening to your host Eddie Turner on The Keep Leading Podcast. Please remember to subscribe to The Keep Leading Podcast on iTunes or wherever you listen. For more information about Eddie Turner's work please visit EddieTurnerLLC.com.
Thank you for listening to C Suite Radio, turning the volume up on business.
The Keep Leading!™ podcast is for people passionate about leadership. It is dedicated to leadership development and insights. Join your host Eddie Turner, The Leadership Excelerator® as he speaks with accomplished leaders and people of influence across the globe as they share their journey to leadership excellence. Listen as they share leadership strategies, techniques and insights. For more information visit eddieturnerllc.com or follow Eddie Turner on Twitter and Instagram at @eddieturnerjr. Like Eddie Turner LLC on Facebook. Connect with Eddie Turner on LinkedIn.