Peter Margaritis
The Accidental Accountant and Improv Virtuoso
Improvisation and Leadership
Episode Summary
I enjoyed interviewing Peter Margaritis, The Accidental Accountant and author of Improv is No Joke—Using Improvisation to Create Positive Results in Leadership and Life to get his take on why improvisation is a skill many leaders can benefit from learning.
Check out this 60 Second preview of the episode!

Bio
Peter Margaritis, CPA is the author of "Improv Is No Joke: Using Improvisation to Create Positive Results in Leadership and in Life" and "Taking The Numb Out of Numbers: Explaining and Presenting Financial Information with Confidence and Clarity." Peter's mission is to have CPAs and business professionals to believe that using plain English is the best way to communicate their technical knowledge.
Peter has a BBA from the University of Kentucky, a Master's Degree in Accountancy from Case Western Reserve University and he is a licensed, non-practicing, CPA in Ohio. Peter has worked for companies such as Price Waterhouse, Victoria Secret Catalogue (not as a model), Citizen's and Southern National Bank, and Ohio Dominican University.
Peter is a member of the American Institute of CPAs, Georgia Society of CPAs, Maryland Association of CPAs, Ohio Society of CPAs, and the National Speakers Association. He is also the past chairman of the Ohio Society of CPAs executive board and a former delegate to the AICPA governing council. He is currently the president of the Ohio Chapter of the National Speakers Association.
He lives in Westerville, OH with his wife, son, and his two Labrador retrievers – Midnight and MJ.
Website
www.petermargaritis.com
Other Website
www.takingthenumboutofnumbersbook.com
LinkedIn
https://www.linkedin.com/in/petermargaritis/ `
Twitter
https://twitter.com/pmargaritis?lang=en
Facebook
https://www.facebook.com/theaccidentalaccountant/?ref=settings
Instagram
https://www.instagram.com/pmargaritis/
Leadership Quote
"Leadership has nothing to do with your title. Leadership is the positive effect you have on another person."—Simon Sinek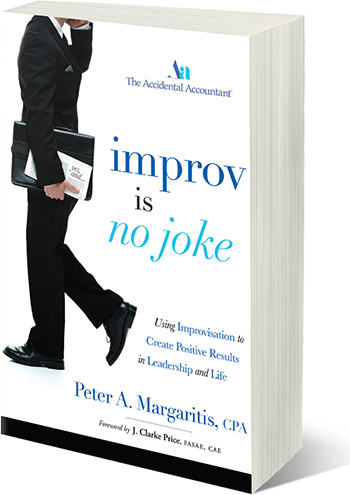 Transcript
If you're a small business owner looking to grow or expand your business, check out OnDeck Business Loans. OnDeck offers business loans online from 5000 dollars to 500,000 dollars and their simple application process only takes 10 minutes. Unlike banks they'll give you a decision quickly and funding in as fast as one day. Get a free consultation with an OnDeck loan adviser. Visit OnDeck.com/Podcast.
This podcast is part of the C Suite Radio Network, turning the volume up on business.
This podcast is sponsored by Grand Heron International. Through a growing network of credentialed and vetted coaches, Grand Heron International brings you on-demand coaching with coaching on site and the Coaching Assistance Program for corporations. Whether you are a company committed to investing in your leaders, an individual navigating a complex situation or a coach searching for a superb network of coaches, visit us at GrandHeronInternational.com.
Welcome to the Keep Leading Podcast, the podcast dedicated to promoting leadership development and sharing leadership insights. Here's your host, the Leadership Excelerator, Eddie Turner.
Eddie Turner:
Hello, everyone. Welcome to the
Keep Leading Podcast
, the podcast dedicated to leadership development and leadership insights. I'm your host, Eddie Turner, the Leadership Excelerator. I work with leaders to accelerate performance and drive impact.I'm here today with the Accidental Accountant, Peter Margaritis. He is the author of Improv Is No Joke: Using Improvisation to Create Positive Results in Leadership and in Life. Peter is also the author of Taking the Num Out of Numbers: Explaining and Presenting Financial Information with Confidence and Clarity. Peter's mission is to have CPAs and business professionals believe that using plain English is the best way to communicate their technical knowledge. I am excited to welcome Peter Margaritis.
Peter, welcome to the show.
Peter Margaritis:
Thank you very much, Eddie. I've been looking forward to our conversation for quite a while.
Eddie Turner:
I have too. In fact, I should tell people how you and I met because, I guess, this was about three or four years ago at this point, my mentor, Bob Dean, and you are friends and he had been on your show. And I should say you have a fantastic podcast that we want people to tune into. And Bob Dean had been on your show. And, as a result, he said "Hey, you need to know Peter Margaritis." He said "I think he's actually a speaker like you." And so, of course, that intrigued me when he talked about someone who was a speaker and a fellow member of the National Speakers Association or NSA, as we always say. So, you and I got connected. And later on, you had me as a guest on your show. It's one of the first podcasts I was ever on.
Peter Margaritis:
And it was a great conversation and it was a lot of fun having conversations with you. I love your thought process and your approach to leadership and I congratulate you on your show. I hear it's just blowing up out there.
Eddie Turner:
Thank you. Well, I appreciate you saying that. Something else we now have in common, Peter. What happened in Denver? I'll let you tell Everybody,
Peter Margaritis:
Oh, in Denver, we received our Certified Speaking Professional credential, per se, in the form of a medal that we got to walk across the stage in Denver on the main stage and to the applause of the entire National Speakers Association members who were attending that day. And I will say to the audience I didn't hear my clap because you were so in the moment but I came up to you after was said and done and I said "Eddie, did you hear the people were clapping, how loud they were clapping for you?" And you said the same thing. You said "I didn't hear anything." I said "Man, they were like cheering for you, dude."
Eddie Turner:
Well, you're very kind. You'd have to say that but it was something where you're kind of in the zone for that moment, you're walking across the stage and I'm thinking "Don't trip." So, no, I didn't hear anything.
Peter Margaritis:
I was thinking the same thing.
Eddie Turner:
Walking on eggshells. And I'd never get nervous but I was nervous. I was nervous.
Peter Margaritis:
Same here. Same here.
Eddie Turner:
Congratulations to you, my friend. I'm so proud of you and all that you've accomplished and super thrilled to be able to share that with you.
Peter Margaritis:
Back at you, my friend.
Eddie Turner:
So, you wrote a book called Improv Is No Joke: Using Improvisation to Create Positive Results in Leadership and in Life. What motivated you to write this book?
Peter Margaritis:
I met a publisher, Advantage Media, the name is Adam Witty, and actually a colleague and I were talking about maybe co-authoring a book but just talking with them. I wanted to get a private audience and kind of discuss the stuff that I had in my head. I couldn't get it out and put it on paper. And I've been using improv as a leadership tool for 20 plus years. And it was just the ability to sit down and talk to Adam and go through the process that I was able to get these thoughts that I had swirling around in my head for years out of my head and on the paper. And it was just something I just wanted to do. I felt that I have a very strong passion for the use of improvisation as a leadership tool.
Eddie Turner:
Now, those seem like opposite or contrasting ideas, right? Improvisation, many people think of that when they think of comedy – "You're going to make people laugh? How does that relate to leadership?"
Peter Margaritis:
Actually, I love to make people laugh and that's how I first got involved with improv but when I started learning more about it, it's all about, one, being present, being in the moment and the ability to listen but listening to understand versus listening to respond. And if you think about leadership, those two factors right there, just the ability to be present in the moment with your team and listening to what they're saying and absorbing it and parking your agenda and truly, what's the old school term, giving them your undivided attention. Those two pieces of leadership, I've seen a lot of it in my day, is missing. And those are the key skills in Improv.
Eddie Turner:
Yes. So, when I hear you talk about being present, I hear you talking about listening with a view to understanding, not just listening to get your next words as they hear. These are foundations of coaching. And, as I listened to you explain that just now and I see you unfold that in your book, I thought about that and I didn't necessarily make the connection before that improvisation has to coaching but I could see that. And you actually get it to another aspect of the correlation between coaching and improvisation. And that is the use of "Yes but" versus "Yes and." Can you talk about that?
Peter Margaritis:
"Yes and" is the glue? "Yes and" is a way of life. I've got cufflinks that say "Yes and."
Peter Margaritis:
I've got custom-made cufflinks that say "Yes and" and I'm actually considering having "Yes and," in all seriousness … I've never had a tattoo but I believe in it so much that I'm thinking about having a tattoo on my arm that says "Yes and."
Eddie Turner:
Now, that's serious.
Peter Margaritis:
I believe in it so much because think about this way. If you have a conversation with a leader and they go "No because" and give their reason, when you hear the word "No," that stops the conversation completely. And if you're trying to have a conversation, it becomes combative. We've all had this conversation. Even to the point of "Yes but," it's like I'm getting lip service because there's someone pushing their agenda off on me and they're not listening to me. "Yes and" is about an agreement but not always agreeing. It's the agreement that I'm going to listen to you, that I'm going to be empathetic and try to put myself in your shoes to get a better understanding where you're coming from and I'm going to add something positive to it. It's about moving forward in a positive direction. And when you use "Yes and" in a conversation and add something positive to that conversation, the outcomes are endless. It motivates, it inspires, it drives, it solves problems. And we all have to report to someone. And in that role of reporting to someone, we're going to have to say "yes," even though maybe at times we don't want to but we should and we're going to have to. It just it a much more pleasant conversation.
Eddie Turner:
Well, if I'm listening to this as a leader and I'm wondering "Well, how do I use this? How can I make practical application?", do you have a practical example of how you've used this, Peter?
Peter Margaritis:
I got a gentleman who I interviewed who work for Honda. He shared with me once that he read the book and he was observing two colleagues at work. And he could clearly tell that leader was not listening to the person who's trying to communicate to them and it kind of became very combative. And he stepped in and just kind of "Have this conversation at a later time when you have the ability to spend the time to be able to listen to each other and each other's side of it" because this person was going from one meeting to another meeting and someone stopped him and said "Hey, do you have a moment?" He should have said "No, I don't know this time but let me find a time on my calendar when we can actually have this conversation and not be distracted." So, that goes to the whole listening piece. And he went on to say that he took the leader aside and said "You know what, you don't have to use the exact words but the essence the philosophy of "yes and" and put yourself in this person's shoes and try to figure out where they're coming from." And the gentleman that he was speaking with came back to him later that day and thanked him. He said it actually did work. They were actually having this conversation. It was kind of hard because he goes "I'm not used to saying yes." We have to make sure that we're agreeing with what we're understanding, where you're coming from and we're trying to add on or explore and trying to find out what the whole root of the issue is." And it goes to a lot of what we're doing right here – listening, asking questions, listening, accepting the response back, not getting defensive, asking more questions – but it's easier said than done.
Eddie Turner:
So, you have the ability to create options and keeping the door open versus slamming it shut. Is that what I hear you saying?
Peter Margaritis:
Exactly. And you said it much more eloquently. I just rambled on.
Eddie Turner:
No, no, no. So, that's the key, right? Interesting that he said he's not used to saying yes. So, kind of drawing a line in the sand, so to speak.The other component of that is to be able to make that shift. You have to listen and, in your book, you talk about listening with your eyes, not just your ears. Talk about that, if you would.
Peter Margaritis:
You also have to understand your environment, what you're in. Also, listening with your eyes, you're watching body language, you're assessing if the person you're communicating with is hearing you and understanding you or do they have that deer-in-the-headlights look or do they seem distracted. And that's a key piece is listening is am I engaging my audience, are they with me or am I boring them and they're not hearing a word that I'm saying. And that's a key piece as well.
Eddie Turner:
Listening to understand if I am engaging my audience and to do that, you can't do that just by the auditory capability of listening. You're saying we have to add the visual component.
Peter Margaritis:
Yes, the auditory part of it is you have to have some passion behind what you're trying to say, not trying to dismiss the anger or whatever but what you're trying to communicate to your audience and make sure that they're understanding or at least connecting with you through the visual aspect of reading their body language.
Eddie Turner:
So, you and I are having a conversation and we're two leaders in an organization and you're trying to talk to me and as you're talking, I am making notes on my mobile device. What message am I sending you?
Peter Margaritis:
The first message that probably comes out is it "What's Eddie tweeting now?" Or "Is he playing Angry Birds? What is he doing?" So, I think, when we use mobile devices, there's always that little bit of skepticism of what they're actually doing. So, if I know you, and we've been working together for a while, and we're having a conversation and I know that you're taking notes, I should, as that leader, just kind of slow my pace down a little bit because I see that you're trying to record what we're saying. So, I need to back off on my cadence and my speed and talk a little bit slower so you can take those notes and then we can continue the conversation.
Eddie Turner:
And then if you're not sure that I'm taking notes but you're talking to me and I'm just typing on my phone and you don't know what I'm doing?
Peter Margaritis:
I would ask you a question. When we're talking, I'd say "Eddie, I'm sorry, did you catch that when I said?" and just see if you kind of stumble over yourself. And then ask "Is there something going on? We're having a conversation but you seem very distracted. Is everything okay? Did you just get an important text from someone that you need to leave? I completely understand."
Eddie Turner:
Yeah, because the idea with what you're expressing there for us is that, and you and I could be speaking to each other and I am talking to you, and I say talking deliberately but not necessarily listening to you because I am multitasking. And so, I'm sending you a message and if I am doing that, I am not coming across as effective as a leader as I'd like to in that moment. And I am not listening to you with my eyes, just giving you my ears. So, it's important as a leader to make connections with people and to be effective to be able to do both when possible.
Peter Margaritis:
Right. And just so everybody in your audience understands, we are not wired to multitask. We are wired to single task. And when we multitask, whether it's typing something on phone, sometimes even taking notes, and this is when it becomes difficult, we miss part of the conversation. And as we're trying to listen to understand and being present, not getting ahead of ourselves, and I think being present and understanding the context of the conversation and then, at some point, when the conversation is done is sit back and take notes and kind of recap what was said.
Eddie Turner:
Yes, indeed. In fact, I believe there was a Harvard Business Review article that makes that same point and you just said, Peter, and that it's not that we are truly multitasking. We're just doing multiple things and giving it smaller percentages of our attention and, thereby, actually performing at a less than efficient rate than we would ideally like to be at. So, I couldn't agree with you more.
Peter Margaritis:
Exactly. Actually, a former CEO of the [inaudible][17:01], and I was chair of the board at one point in time, this guy, he loved his toys, he loved his blackberry at the time and he was a gadget kind of guy but every time I came into his office to speak, he would walk around his desk and sit opposite of me to a place where he can't see his computer or his devices so he could have that one-to-one conversation without those distractions. And I don't see that as much in corporate America as I used to but he knew that he needed that to bring his undivided attention and eliminate those distractions.
Eddie Turner:
I like that. No, that's true. That's a very good practice. So, this is interesting, as we make the connection, that you're talking about the ability for improvisation with leadership and you defined improvisation for us but this ability to pick up things in the moment using our senses and use what's in the environment, can you tie that for us as to how leaders will really benefit by doing that?
Peter Margaritis:
Well, in our daily lives, they are so busy and the workplace doesn't even resemble anything in the '70s, '80s, or '90s. Technology has helped us move at a quicker pace. And the ability for us to adapt to different environments, different situations, different business decisions that we can't be stuck on an agenda. We have to be open to other people's ideas and other people's lives because the collective knowledge outside of your office far exceeds the collective knowledge inside your office. And if you think you're always right, that's called ego and ego can get in the way of true leadership. And the ability to be adaptive, the ability to say "My idea might not be the right idea but your idea is better" will only help the organized grow and adapt in this very disruptive business environment.
Eddie Turner:
Thank you. We're talking to Peter Margaritis and he's explaining to us the importance of improvisation in leadership. We'll talk with Peter more right after this.
This podcast is sponsored by Eddie Turner LLC. Organizations who need to accelerate the development of their leaders call Eddie Turner, the Leadership Excelerator. Eddie works with leaders to accelerate performance and drive impact. Call Eddie Turner to help your leaders one on one as their coach or to inspire them as a group through the power of facilitation or a keynote address. Visit EddieTurnerLLC.com to learn more.
This is Yai Vargas, CEO and Founder of The Latinista, and you're listening to the Keep Leading Podcast with Eddie Turner.
Eddie Turner:
We're back, everyone. We're talking to Peter Margaritis, the Accidental Accountant, and he's explaining the importance of improvisation and leadership.Now, Peter, I enjoyed that conversation before the break but I'd like to switch gears a little bit how here as we go into the second half of the program. You wrote a second book and it's called Taking the Num Out of Numbers. I love that title. And your subtitle is Explaining and Presenting Financial Information with Confidence and Clarity. So, tell us why you wrote this book.
Peter Margaritis:
So, don't hold this against me, Eddie, I am a CPA but I'm not a very good one. Thus, the Accidental Accountant but in my 20 plus years beginning in the accounting profession, in a variety of capacities, the one thing I've noticed and one thing I know is that when financial people try to communicate to nonfinancial people, they put them to sleep, they bore them to death, and it's just not a productive conversation. And it dawned on me one day that I figured out the problem is that accountants don't realize they speak a foreign language, the foreign language of business called Accounting. And they need to look at that language as they would look at if they were speaking Greek, Italian, Chinese, Japanese, that the person who's listening, who's receiving this information, to them it sounds like, for those who remember Charlie Brown's Teacher, "Wa, Wa, Wa, Wa, Wa" but the information that the financial professional is trying to provide the nonfinancial is important. And they need to act on it versus "Oh my god, I can't wait until this conversation is over. I'm going to go watch grass grow and that's be more exciting." And that's what led me to really start to think about writing this book. And, as a presenter, and I have presented financial information, and this goes to financial information or any information when we're presenting, we need to make it engaging. We need to create stories, stories that have emotion which we remember. Facts and figures don't make decisions. Facts and figures are there to help support but it's the emotion that helps us make decision. And as john Medina wrote in his book Brain Rules, we don't pay attention to boring things. And numbers, figures, facts, statistics by themselves are just boring.
Eddie Turner:
But if you ever seen people explain those things, which of course you have, they don't think they're boring. They just are into it. They think it's fascinating.
Peter Margaritis:
And this has been a key piece here because they're thinking about themselves. And they want to use big words because they want to sound important. This switch came to me some years ago but I'm trying to get them to switch it and think about put yourself in that person's shoes. Think about your audience first. And if you know that you're speaking to, let's say, salespeople and you know they don't have a great financial background, as you do, the giver of the information, then how can you put the main points in context – can you use analogies, can you use stories – in order for them to understand. So quit thinking about yourself. Think about your audience and tailor your complex financial conversation to something that is more along the lines of plain English.
Eddie Turner:
And why can we say that is a leadership skill, Peter, the ability to take these complex concepts that need to be explained and explaining them with clarity and in English, as you say, really important?
Peter Margaritis:
You want the organization to act on what you're trying to provide them. The financial information is essential for the success of any organization, no matter the size. And the ability to communicate it in a way that everybody within the organization can understand and can act on will help the organization in the long run. The better we have an understanding of the accounting function per se and how it relates to decision making but take it out of the formal context of accounting language and put it into plain English, and in the book I talk about Delta Airlines and if I was the CFO of Delta Airlines and I'm trying to explain the income statement to the group and I know most of that audience doesn't have a financial background, I would explain it using something that everybody would understand. I would put in context of the dollar bill and say "For every dollar we receive from our passengers for the privilege of flying on our airlines, 22 cents out of that dollar goes to payroll costs." And I would start dividing that dollar into what those costs are to demonstrate the income statement and profitability but I'm not going to get into the weeds. I'm just going to give them enough for basic understanding but a lot of times, the CFO wants to go deep into the weeds and intricacies of accounting and tend to use facts and figures and stuff where that dollar bill is telling the story. There's a story behind the numbers and I'm just trying to get that story out so people can act on it and have a better understanding.
Eddie Turner:
Well, thank you and I really appreciate that illustration. Even I can understand that. And that's what we have to do and that is a leadership skill because people will not take action, as you said, if they don't understand. And so, being able to take the complex information and translate it into everyday speak, everyday English, moves people to action and allows the company to get its results.So, in addition to that illustration that you use, which makes it very clear and easy for us to understand, you give a blueprint to your readers in the book about how they can go about telling stories in such a way. Do you mind sharing that?
Peter Margaritis:
Absolutely. And it ties back into my first book, Improv. My storytelling system is basically using IMPROV as an acronym. The I is for 'Identify' – Identify a time where something went wrong or identify a time that you solved a problem. The M is taking that what you've identified in 'Mind' for details – Where, time, place, date what happened, what were the surroundings, was it raining that day – as many details as possible. We're not going to use all those details in the story but it will also help us in crafting that story. The P is the 'Pivot'. Now, all the stories have a hero and a villain. The pivot is when the villain comes in, when something happens, when something happens that you can't go back, you can't take a step back. And then we have the ability with the R to 'Raise' the stakes, to not lie, embellish a little bit, take a little creative artistic licensing here because the more tension that we add to a story, the more we keep the audience's attention. So, the ability to do this and then get 'Out' of the story with the O, and being out is I'm going to turn this back on my audience. I'm telling a story. I'm going to turn it back on them and I'm going to say "Has this ever happened to you? Have you ever been in this situation before?" And then you see the audience's head kind of connect with you. And if you put this all together and do it right, the V is 'Victory' because you succeeded in getting your point across to your audience. So, they all have some basic understanding.
Eddie Turner:
Very good. Thank you for sharing that. What a powerful tool for people to be able to use – the acronym of IMPROV to tell the stories.Now, Peter, when you think about the conversation you and I have had, how would you say you would like to summarize this? What's the overarching point you want the listeners of the show to take away?
Peter Margaritis:
The overarching point is just remember these two words – "Yes and." If you put your antenna up and listen to yourself, see how many times you say "no because" or "yes but" and when you hear yourself beginning to say those words, see if you can substitute "yes and" and spur a conversation. I think, I read a statistic that 73% of people leave work because of lack of appreciation, leave a job because of the lack of appreciation. The ability to listen to somebody else's thoughts and ideas is a way of showing appreciation. So, as a leader, we want to inspire, we want to motivate, we want to help build and show appreciation to our folks. Take the "Yes and" approach.
Eddie Turner:
Wonderful. Thank you. And on the Keep Leading Podcast, Peter, we like to give leaders something that they can think about that helps them to keep leading. Do you have a leadership quote you'd like to share with us?
Peter Margaritis:
Absolutely. My favorite leadership quote comes from Simon Sinek and he says "Leadership has nothing to do with your title. Leadership is a positive effect that you have on another person." And the first time I heard that, I really liked it and I parked it in my memory. And a few days later, I was going through Washington DC, Reagan Airport. It was like 9 o'clock at night, there was hustle and bustle, and I walked into the men's room and the place was full of guys and people washing their hands and stuff. Then I saw the restroom attendant and he looked like he had a bad day, bad week, bad year. His body language was just exhausted. So, I kind of made my way over to him and said "Excuse me, sir. I would just like to say thank you for keeping this restroom as neat and clean as it is during crazy times like this. You're doing a fantastic job," something along those lines. He looked at me first like I was crazy and he smiled and he began to stand up straight and stick his chest out and he goes "Thank you. Nobody ever talks to me. People just ignore me. My boss doesn't even say thank you to me. You just made my day."
Eddie Turner:
How about that!
Peter Margaritis:
And that's exactly how it went. It's right. So, everybody in the organization is a leader if they take this approach and have a positive effect on another person.
Eddie Turner:
Indeed, very well said. And every person is contributing to the success of the business even if it's a role that's not in an office and it's in a role where it's a task like that, keeping the restrooms clean because if restrooms aren't clean and tidy, you're going to have some complaints and you'll lose customers.
Peter Margaritis:
Exactly.
Eddie Turner:
Well, very nice. Thank you for sharing that. I liked that quote a lot. I first learned that principle in my studies at GE and GE University Crotonville. They taught us about the difference between leadership and influence. And later on, I had that cemented through my studies under Dr. Ron Heifetz. So, when I heard Simon Sinek saying that as well, I was like "Wow!" He's made it very popular. And I think more and more people are starting to see the value in that. So, really appreciate you sharing that.Where can my listeners learn more about you?
Peter Margaritis:
They can contact me at Peter@PeterMargaritis.com or then go to my website PeterMargaritis.com. And my last name is spelled M-A-R-G-A-R-I-T-I-S. It's spelled like an inflammation but pronounced like a cocktail.
Eddie Turner:
Peter, spelled like an inflammation but pronounced like a cocktail. I like that. And that's one of the things about you, you are not the normal accountant. I can see why you say you're the accidental accountant. You said this because you're not a good one. I don't believe that. You are a person who truly has an amazing personality. You're warm, you're funny, and you're down to earth. And I think people find you very relatable. So, no doubt, that is one of the reasons you've been so successful in reaching your audiences. And I see you're always traveling all around the country, jet setting from here to there. So, thank you for all that you're doing for the speaking community, you served as the president of the NSA, Ohio chapter, and certainly for what you're doing for the accounting community and helping folks to understand that everyday normal people will need you to bring it down to our level. So, great job, Peter.
Peter Margaritis:
Thanks, Eddie. Thanks for having me on the show.
Eddie Turner:
Thank you, Peter.And thank you for listening. That concludes this episode, everyone. I'm Eddie Turner, the Leadership Excelerator, reminding you that leadership is not about our title or our position. Leadership is an activity. Leadership is action. It's not the case of once a leader, always a leader. It's not a garment we put on and take off. We must be a leader at our core and allow it to emanate in all we do. So, whatever you're doing, always keep leading.
Thank you for listening to your host Eddie Turner on The Keep Leading Podcast. Please remember to subscribe to The Keep Leading Podcast on iTunes or wherever you listen. For more information about Eddie Turner's work please visit EddieTurnerLLC.com.
Thank you for listening to C Suite Radio, turning the volume up on business.
The Keep Leading!® podcast is for people passionate about leadership. It is dedicated to leadership development and insights. Join your host Eddie Turner, The Leadership Excelerator® as he speaks with accomplished leaders and people of influence across the globe as they share their journey to leadership excellence. Listen as they share leadership strategies, techniques and insights. For more information visit eddieturnerllc.com or follow Eddie Turner on Twitter and Instagram at @eddieturnerjr. Like Eddie Turner LLC on Facebook. Connect with Eddie Turner on LinkedIn.