Jennifer Brown
Award-Winning Entrepreneur, Diversity & Inclusion Speaker, Consultant & Author
How to Be an Inclusive Leader
Episode Summary
Jennifer Brown is a leading diversity and inclusion expert whose workplace strategies have been employed by some of the world's top organizations! Her goal: To help employees bring their full selves to work and feel Welcomed, Valued, Respected and Heard℠. We discussed her book: "How to Be an Inclusive Leader."
Check out this 60 Second preview of the episode!

Bio
Jennifer Brown is a leading diversity and inclusion expert, dynamic keynote speaker, best-selling author, award-winning entrepreneur and host of The Will To Change podcast, which uncovers true stories of diversity and inclusion. As the founder, president and CEO of Jennifer Brown Consulting, Jennifer's workplace strategies have been employed by some of the world's top Fortune 500 companies and nonprofits—including Walmart, Microsoft, Starbucks, Toyota Financial Services, T-Mobile, and many others— to help employees bring their full selves to work and feel Welcomed, Valued, Respected and Heard℠.
Website
https://jenniferbrownspeaks.com/
Other Website
https://jenniferbrownconsulting.com/
LinkedIn
https://www.linkedin.com/in/jenniferbrownconsulting/
Twitter
https://twitter.com/jenniferbrown
Facebook
https://www.facebook.com/jenniferbrownspeaks
Instagram
https://www.instagram.com/jenniferbrownspeaks/
Leadership Quote
"Meet the client where they're at."
Get Your Copy of Jennifer's Book!
https://jenniferbrownspeaks.com/inclusive-leader-book/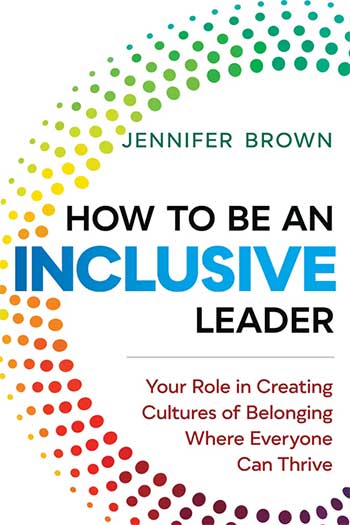 Transcript
If you're a small business owner looking to grow or expand your business, check out OnDeck Business Loans. OnDeck offers business loans online from 5000 dollars to 500,000 dollars and their simple application process only takes 10 minutes. Unlike banks they'll give you a decision quickly and funding in as fast as one day. Get a free consultation with an OnDeck loan adviser. Visit OnDeck.com/Podcast.
The key to sustainable leadership lies in the ability to thrive during uncertainty, ambiguity, and change. Grand Heron International brings you the Coaching Assistance Program, giving your employees on-demand coaching to manage through a challenging situation and arrive at a solution. Visit GrandHeronInternational.Ca/Podcast to learn more.
This podcast is part of the C Suite Radio Network, turning the volume up on business.
Welcome to the Keep Leading!® Podcast, the podcast dedicated to promoting leadership development and sharing leadership insights. Here's your host, The Leadership Excelerator®, Eddie Turner.
Eddie Turner:
Hello, everyone! Welcome to the
Keep Leading!® Podcast
, the podcast dedicated to leadership development and insights. I'm your host, Eddie Turner, The Leadership Excelerator®. I work with leaders to accelerate performance and drive impact through the power of executive and leadership coaching, professional speaking, and facilitation.
"Diversity and Inclusion," this is a powerful popular phrase in our world today but what really is diversity and inclusion? Should you care? If so, why? My guest today will help you and I as leaders lead differently by answering those questions. My guest today is Jennifer Brown. She is a leading diversity and inclusion expert. She's a dynamic keynote speaker, bestselling author, award-winning entrepreneur and the host of The Will to Change Podcast which uncovers true stories of diversity and inclusion. Jennifer's workplace strategies have been employed by some of the world's top organizations, including Walmart, Microsoft, Starbucks, Toyota Financial Services, and T-Mobile. Her goal is to help employees bring their full selves to work and feel welcomed, valued, respected and heard. I'm excited to have with me today, the amazing Jennifer Brown.
Jennifer, welcome to the Keep Leading!® Podcast.
Jennifer Brown:
Thank you, Edie. I'm so glad to be here. Thanks for having me.
Eddie Turner:
It's a pleasure to have you here. I was sitting in the audience at Harvard's Institute of Coaching Conference. And you came out, you instantly captured everyone's attention. I was very impressed and love your explanation of this subject, which I thought I knew a lot about, especially after having spent a couple of years ago listening to the brilliant Harvard professor Dr. Robert Livingston, a global authority on this topic, but I learned so many new things from you and I felt like "I just have to talk to her." So, I was so excited when you agreed to come on the show because I want my audience to feel the impact that you left on me. So, excited about our conversation.
Jennifer Brown:
Awesome. Thank you. Let's do it and I will try to replicate it. Feel all that energy of 600 people, right?
Eddie Turner:
Yes. And that was just it. It was so many people there. Almost everyone had an MD or a PhD after their name. I felt kind of out of place because I did not have that and that made it even more impressive what you did and how you were able to command that audience.
Jennifer Brown:
Thank you. I don't have those either. So, yeah, it's a trick but I'm glad it worked.
Eddie Turner:
Now, there's something about you I want to ask about first. When I looked at your website in preparation for the show and getting ready when I wanted to interview you, I went to JenniferBrownSpeaks.com and other online content that you have and noticed that you call yourself 'A Humanist'. And I thought "I love that." Tell us how that came about.
Jennifer Brown:
Yeah. Well, speaking of inclusion, I think the word, I'm not a scholar on the word itself, but I love what it evokes, which is almost this concept of when we say "bring your full self" or "your best self" to work and to life, it's kind of like bring your full human to work and to life, meaning that I am all about the full person, I'm all about the full potential of all of us. And it's a bigger word than say 'diversity' or even 'inclusion'. It's a global word that applies to all of us and what we're capable of, how we need to treat each other, how we need to see and value all of ourselves and also of each other, which is so core to my message. And I really like that because in my talks I'm framing diversity and inclusion as a much bigger conversation than I think people who have come before me and written on this topic and really focused more in on certain elements of diversity but right now, we are kind of expanding to all kinds of different kinds of visible and invisible diversity to the point where, as I say, everyone has a diversity story or stories. And my work is to really pull that out and enable everyone to feel like they're a part of this conversation so that we can all be a part of changing the situation that we're in now for a better future.
Eddie Turner:
Very nice. Now, I think it's important to maybe start there because a lot of people use the words 'diversity' and 'inclusion' interchangeably. And even I had not stopped for a long time to really stop and think about that they are two wholly distinct words with two wholly distinct meanings and applications. Can you explain that for some of us who may still not fully appreciate the weight of these two words?
Jennifer Brown:
Yeah, thank you for asking that because they aren't the same and they need to work together but they're complimentary. So, diversity you can think of as the who or the what, so the representation in a certain community or workplace, for example, the sort of visible aspects of diversity. So, that might be in some cases race and ethnicity, in some cases gender. And I'm saying in some cases because many of us can pass through the world and not have our diversity be necessarily visible or our identity is misinterpreted, right? So, diversity is the who, so what do you sort of observe, and then what's invisible which is harder to discern. And then inclusion is the how, the behaviors that enable that diversity to really shine. And so, you can imagine if you have one without the other, you only have half of the recipe and it's not going to work. So, if you've got a lot of diversity but no inclusive behaviors, that diversity could have a lot of conflict, there could be a lot of issues of people feeling comfortable to speak, invited to speak, they might be at the table but they're not being invited to participate in a meaningful way. So, that's where inclusion really kicks in. It's the how, it's the leadership behaviors, it's making that diversity mix work. And you can imagine if you have inclusion without diversity, of course, you can have a very inclusive environment but it could be full of homogeneous people. And that's what we see. I think we see that certain demographics are overrepresented in leadership of most companies, for example. So, that's the homogeneity I'm talking about. So, if you ask people, they might say it feels like an inclusive environment. It's easier, I think, to be inclusive with people who are like you but you are missing on the diversity of identity of thought and perspective that you really need particularly in the business world but in any entrepreneurial venture, any community organization, every educational board. I mean, any kind of system right now is thinking about "How do we get diversity to the table? How do we enable inclusion for the best contributions?" And then I might actually take to a third word which is 'belonging', which we can talk about, which, to me, that's like the ultimate goal is to enable everybody to feel a sense of belonging where they can thrive.
Eddie Turner:
And what makes that the ultimate goal?
Jennifer Brown:
Well, because 'belonging' is, I think, a resonant word with younger generations who are now becoming the dominant generation in the workplace. The sense of purpose that's embedded in belonging is a very deep motivator for people. And I think when we belong, it's that sort of "I'm home" feeling, right? There's not a lot of noise about who I am and whether I matter and whether I belong here or whether I'm a part of this group or that group.
Eddie Turner:
So, I'm not just here because I'm the diversity candidate. I check the box. I'm actually here and I feel welcomed. I feel I'm at home.
Jennifer Brown:
Yeah. I mean, isn't that deep?
Eddie Turner:
Yes, it is.
Jennifer Brown:
Just when you say that, can you imagine this? Because then you really relax. And, I believe, that creativity, our best stuff comes from when we're relaxed, our truthfulness, the depth of our stories, our insights, our wisdom. If we are navigating difference all the time, it's like we're working double time. We are paying attention to microaggressions and comments that people say and thinking about like "Am I going to say something?" or noticing that we're the only one of our identity on a day-to-day basis as we walk around and walk through our jobs and our companies. And so, all of those things are noise. And I think that noise takes away from our energy. It impacts our confidence, I think, too because constantly feeling like "less than" inevitably has an impact on how sure we are about our gifts and our values. So, it takes a number on us. And then, ultimately, we may choose to leave situations like this. And that leads to the retention problem we're seeing in companies where women and people of color and others, at some point, they're sort of still falling out of the pipeline and going and starting their own companies and doing other things, kind of like I did.
Eddie Turner:
It's interesting that you bring this up. I was just working with an amazing woman who made it into an incredible organization. And when we sat down for our session of coaching. She said to me "I don't feel like I belong. I don't feel like I deserve to be here."
Jennifer Brown:
Oh, my goodness!
Eddie Turner:
And that just blew me away. Here's this accomplished woman, extremely brilliant, extremely talented, and felt out of place. So, I love your explanation on this. And it shows why it is so important for organizations to take that extra step. And I can see why. And I have a new appreciation after that conversation just a couple days ago of why this is important and the ultimate, as you described it.
Jennifer Brown:
Yeah, that's too common for words what she feels. I meet executive women all the time and I'm just shocked. And they've had to deal with so many headwinds that are still there. And we have long memories. Many of us have a certain age, have achieved certain things, really paid a dear price, day-to-day survival, the blows we got constantly, the microaggressions, as I said, the unconscious bias or conscious bias that's sort of been in our way. And so, you don't forget those things and they're still occurring, sadly. And then we've internalized it too like that woman you shared about. It's the imposter syndrome. It's particularly, I think, in women and people of color and others who have not been represented in large numbers. And so, when we do get there, we feel this scarcity mentality like we have to hang on by our fingernails and we also have to work 150% because we think we're sort of one step away from losing our place. And so, we stress ourselves out. We overwork. I think all of those things exhaust us and they make it less sustainable to actually hold that seat at the table once you get that seat. And so, we talk a lot about like it shouldn't just be one person. It needs to be the rule of three. When we say there's three women on a board and not just one woman on the board, that means those women can show up as more than just a woman. They can show up in all of their fullness.
Eddie Turner:
I've heard the rule of three and why they matter. So, interesting.
Jennifer Brown:
Yeah. So, rule of three out of every 10 is a good benchmark to think about. If we could even achieve that in public company boards, it would be a miracle. I mean, California just introduced the rule of one – at least one woman board member – for all public companies by the end of last year think. That's like one. I mean, how difficult is that going to be for that first?
Eddie Turner:
Well, Goldman Sachs just announced that they will no longer take companies public that don't have at least one, it was one woman or one diversity candidate on the board. I can't remember the details.
Jennifer Brown:
It's really good. It's a good step but one isn't enough because that person's going to have major difficulties. It's kind of like Sheryl Sandberg's book, for all of its flaws, it's like Lean In. I always think "Well, you lean in and what if like somebody pulls the rug out from under you? You fall into a hole." So, to me, it's not just the quota which is so important. It's the environment into which people are stepping. What does that feel like? Have people done their work around the fact that they didn't have any women for so long and they thought that was just fine. So, if I were a woman stepping into that, if I were a diverse board member, new to the group, stepping into that, I would very much wonder "How much work have these people done on the importance of my being here or are they checking a box?" And then sort of how we're treated flows from there. So, I think it's very important to prepare the ground. It's sort of like if you leap and you're the first, will the net appear? And the net, to me, is the responsibility of every other leader who's not a woman or a person of color, LGBTQ, or in the majority. There work that has to be done for behavior change and mindset shifts on the part of everybody else in order to enable that one first board member to really thrive. And that's where the rubber hits the road on inclusion.
Eddie Turner:
Interesting. So, the rule of three. I love that. The rule of three and moving beyond diversity and inclusion to belonging. What a great start to our conversation! I'm talking to the amazing Jennifer Brown. She's a speaker, author, and humanist and author of the book How to Be an Inclusive Leader. We'll have more with Jennifer Brown right after this.
This podcast is sponsored by Eddie Turner LLC. Organizations who need to accelerate the development of their leaders call Eddie Turner, The Leadership Excelerator®. Eddie works with leaders to accelerate performance and drive impact. Call Eddie Turner to help your leaders one on one as their coach or to inspire them as a group through the power of facilitation or a keynote address. Visit EddieTurnerLLC.com to learn more.
This is Simon T. Bailey, author, and you're listening to the Keep Leading!® Podcast with Eddie Turner.
Eddie Turner:
Okay, ladies and gentlemen, we are back and I am talking to the amazing Jennifer Brown. She's a speaker, author, humanist, who's the author of How to Be an Inclusive Leader and we're having a fascinating conversation about diversity and inclusion. And before we go further, let me ask this, Jennifer. Why should leaders care? Is this just another nuisance from the HR department? I mean, what is the bottom line for business?
Jennifer Brown:
Not a nuisance. It's business critical. I mean, all you need to do is look at the changing demographics of the incoming workforce, full of all kinds of diversity. And they bring an expectation that their values which tend to be progressive and pro-inclusion, they want to see those values reflected in the company that they work for. So, any leadership team or leader or company that doesn't think this matters, is literally not paying attention to the need for followership essentially because those employees become your managers, become your leaders. You want to keep those folks moving through the pipeline. And if you're sort of blind to or uncaring about this topic, they will read that loud and clear and they will find the nearest exit. So, this is a talent argument. It's a retention argument. And it's a marketplace and products argument because companies can't build diverse products and services for diverse markets with the most innovation if you don't have the right people around the table and you don't have those people feeling comfortable to contribute and that those contributions are actually listened to and heeded. So, you need all of that in order to resonate with a rapidly diversifying marketplace. So, those are two really strong business cases.
Eddie Turner:
And there's a lot of research that does show that it's not just a human thing to do but it actually makes businesses more profitable when they address this.
Jennifer Brown:
That's right. And also, reputational risk. I think we see a lot of companies in the headlines now, they're very scrutinized for all of their advertising campaigns. Sometimes they make stumbles and it's really, really bad for the brand and other times they do these beautiful ads that are really inspirational and draw a whole new community of customers in and make the employees feel really good to and really proud to work for the brand. So, I do think these days there's tons of transparency that hasn't been there in the past and every move is being scrutinized and you can't afford a misstep. And so, thinking about how are you going to be truly beloved as a brand for employees and also for customers and make yourself kind of right in the heart of the conversation right now and being relevant and not remaining silent on things that really matter to your marketplace but also your employees too. So, it's a very interesting time in terms of like social responsibility, having a voice as a company. And I can tell you that the big companies are literally where I'm putting all of my money on generating social change and generating greater equity and equality because it is a business case and they're big actors in this in society. So, what a company does to protect like LGBTQ workers, for example, when we can be fired in 30 states but companies provide protections against that, that's a sign that companies are really saying "You know what, we're here for our employees" like "We want to be able to do business where we want to do it and we want our employees to want to come here, live here, move their families here, feel comfortable here" and this is what's on the minds of companies, I can tell you, because I'm in these conversations.
Eddie Turner:
Okay. Well, tell me this though, Jennifer, I agree with you. I agree that this is the human thing to do. It's the right thing to do for business. It will make us more profitable and make us more attractive, give us a competitive advantage, and I've tried as the HR leader to fix this and to do the right thing for my organization but I'm struggling to hit the metrics. What advice would you have for me?
Jennifer Brown:
I feel for my HR colleagues. It's so hard. They're on their own learning journey when it comes to diversity and inclusion. Just because you're in the people business doesn't mean a lot of this is necessarily really familiar to you either. So, yeah, the metrics are, yeah, they may be struggling to hit demographic metrics, they may be struggling to keep diverse talent in organizations because that diverse talent is frustrated with the experience and it's very difficult when where you sit with limited control. If you're in an HR role or any sorts of people-oriented role, there's only so much you can do to impact the culture. My favorite quote is "Culture eats strategy for breakfast," which is Peter Drucker, and this is a classic example of how the culture within a company is what people pick up on. And, honestly, culture is created by us every day.
Eddie Turner:
So, we fix that by just sending everybody to a class on unconscious bias or something like that, right?
Jennifer Brown:
No. You would think because that's what most strategies entail that and only that. It's like "Oh, I sent my people to unconscious bias training."
Eddie Turner:
Yeah, it totally works every time!
Jennifer Brown:
And, in fact, it's been shown, Harvard Business Review did something on why diversity training doesn't work. I hated that because I'm in the business of training but it has been shown to kind of repel people actually. When you learn about the science of how biased we are because of our wiring, and we all are, it can be very discouraging because you come out of those trainings with an understanding about the science of your blind spots and how they were good for cavemen and women, running away from the beast, however, not good for the workplace because we need to check that fight or flight response in our primitive brain with our more evolved part of our brain, which is to say "Hold on. I need to slow down and make a different kind of decision here, one that is not based on my gut because a lot of times our gut is going to be "I need to keep myself safe. I need to hire the same kind of person. I need to make sure that they're from the same schools that we always hire from. They need to look like me and have my background so that I can vouch for them. And, by the way, I'm having tons of pressure to fill these jobs."" So, that's like a recipe, that's a toxic mix for bias right there, yeah. So, the training is one piece but a lot of other pieces have to be in place beyond that. We have to learn what to do with that information and then we have to practice inclusive leadership skills, which is what I go into in my new book.
Eddie Turner:
Yes, yes. And something I want to address that you said at the conference that just hit me like a ton of bricks. You talked about the idea of covering. And when you talked about covering, I sank in my seat because I realized that for the first time I've been covering. So, I would love for you to share with my audience your perspective on covering and perhaps as they're riding in their cars or jogging this morning, they may feel the same way I feel.
Jennifer Brown:
Oh, yeah, I think everybody does. It really works. It works like a charm, Eddie. You find these things in your keynotes and you're like "Oh, okay, people know what I'm talking about." It means downplaying a known stigmatized identity. So, it was coined by Kenji Yoshino. He's a Constitutional Law professor at NYU. I feel that when I don't perhaps … I used to be an opera singer. So, I think artists aren't always taken seriously in the business world. So, I would cover that part of my background for years. I covered my being LGBTQ which I've been out for years but I just kind of conveniently leave it out of the conversation, right? I am constantly thinking about like "Is this going to hurt my ability to have this conversation or close this deal for my business?" So, it's something that if you can hide it, you may. And then if you can't hide it like skin color, gender, you may just not talk about it, meaning you won't advocate, you won't challenge a joke or a comment, you may avoid being seen with other people of your identity so that somebody can't say about you "Oh, well, she's all about those people" because so many of our community's identity that aren't like straight white and male, forgive me, but that's probably true, are stigmatized. I mean there is a lack of comfort, I would say, with some of our identities. And so, we sense that and we downplay who we are. If you have a kid who just came out to you, you probably do not talk about that, but it is a big thing that's going on for you in your life, if you have a kid struggling with mental illness, if you don't have the same educational background or you grew up incredibly poor, that's something you don't talk about. You didn't graduate from college, you don't talk about that. You don't talk about struggling with mental health yourself every day. And the reason that organizations don't change and culture doesn't change is because we aren't talking about these things. We are not normalizing this and we're saying "Look, I am successful and I am this also" or "This was true for me" or "is true for me" or "something I'm struggling with now." It's stigmatized but I want to talk about it because I know there's others that share my story. And this is how it starts.
Eddie Turner:
So much so that we don't even want to tell people how committed we are to our families at times, you mentioned.
Jennifer Brown:
Right? Yeah. I mean, I think didn't have a picture of my partner on my desk for years. I selectively told people about my life but the exercise we do with heterosexual audiences is we say "Imagine just changing the pronoun of the person you love and walking around and talking about your life and what you did on the weekend. How strange would that feel?" And that's what a lot of us do when we lie about who we are. And so, the covering stuff is subtle but it is so insidious to our sense of self and it sort of leeches our confidence out of us. It sort of makes us feel small, makes us feel like our lives don't matter. And then I think we make different decisions because we also deprive our colleagues from the opportunity to learn from us. And that's I think the big thing – If I don't tell somebody who I am, they can't show me that they're an ally. I would never know that somebody may turn around to me and say "Jennifer, I didn't know that. I feel so glad that you share that with me and trusted that information to me. And, by the way, like, I want to show you like I'm so supportive and here's the ways I'm supportive or I'm learning or I have some questions for you."
Eddie Turner:
Or not just being an ally but also being able to convert someone who may have previously held an opinion and went "Oh! Well, I know someone and she's amazing."
Jennifer Brown:
Yes, exactly. It always takes knowing one person beyond their identity and then standing up and saying "Hey, that comment is not right. I don't want to make that joke anymore. I don't want to be around that joke anymore." That's where our advocacy and our voice really start to say "Hey, that's not true. Let's take that stereotype and make it not acceptable here." And we need those allies to have those conversations because we that are on the receiving end of a lot of those are really, really tired from kind of defending ourselves or raising things or teaching all the time. It's really, really tiring. So, I'd say we need help to normalize things to make it for others to stand up for those of us who have been using our voice. I just think that it's very tiring and also, I think, we can increase the stigma sometimes when we are the squeaky wheel. I think there's some risk that comes with doing that over and over again. So, none of us want to have to be that person but we need help to make that happen.
Eddie Turner:
We definitely do. And so, to be fair, I love your coverage of this idea of covering, pun intended, but to be fair to my audience, I must let them know. They must go see you. They see you advertised someplace giving a keynote. Go hear this keynote because what you all don't have is my memory of how this hit me, nor the slides where she walks through this. It's about an hour keynote and it was thorough. It was substantial. And so, this is a really powerful thought. Now, people may be wondering "How can I become a more inclusive leader?" You wrote the book that gives the answers. Tell us a little bit about that.
Jennifer Brown:
I'll try. I have two books actually. The first book is Inclusion from 2017, which is if you love the recent book, go back and read that, but the most recent book is How to Be an Inclusive Leader. There is a very, I think, intuitive simple model for change in the book. It goes four stages and wherever you are in this journey, it suggests things that you can do to move along in the journey. And there's no really magic bullet in terms, I always say, you can't put a cold engine into fifth gear and expect the car to drive. So, be patient with yourself. What's important to me is that you're on the journey. What's important is that you're putting yourself in uncomfortable situations frequently so that you can learn a new competency because it's going to be very awkward. It's what we call conscious-unconfidence which means "Okay. Now, I know I'm incompetent. At least, I know. Okay. So, now how can I learn to ride that bike? What are the training wheels on the bike before I learn to ride it myself and then before I get to the point where I am unconsciously competent, meaning that I can ride the bike and think about 10 other things?" And that's really the journey that, I think, all of us are on as aspiring inclusive leaders. So, please pick that up. There's a free assessment that goes along with the book. Go to JenniferBrownSpeaks.com and you can take the free assessment that tells you where you are in the model in the book and gives you some good resources to listen to, to read, to watch. It's all about exposure. It's about broadening our frame of reference and then it's about sensitizing ourselves to our biases and really striving to change those in ourselves and also then become a voice for others to point them out when we see them and hear them and help them to change. And so, that's the journey in a nutshell. And definitely it's a quick read. I've been told the book is very easy to absorb. And what I love about it is it doesn't shame anyone for wherever they are on the journey. It celebrates all of our humanity. Inclusion includes everybody. We all have a diversity story and what's important to me, as I said, is that you're working on it.
Eddie Turner:
Indeed. And even though it came out in August, it is still placing in the top 10 in knowledge capital and in business consulting books. And so, it's doing really well because people are finding the value.
Jennifer Brown:
You're right. I'm so proud of that. I just love that that's true. And this whole conversation is cresting. It's in the Business World. Everyone is realizing that I actually can't just draw this out to the unconscious bias training once a year. I have to take this on board myself. And I think that's where we're going to see the paradigm shift. If we can achieve that, then I think we're going to see a critical mass of leaders who've been sitting on the sidelines but who now are stepping in. And that is going to create a sea change that I hope we can see in my lifetime, Eddie.
Eddie Turner:
Well, thank you for sharing the locations where people can find you and find your book. We're going to put that in the show notes. How would you summarize our conversation that we had today?
Jennifer Brown:
Well, I think we hit on some really key points, which is training isn't enough, that everybody has a responsibility. I think we defined the difference between diversity inclusion and belonging, which is an emerging word that is very resonant with new generations in the workforce. And so, I think we talked about a lot of the key topics that I like to leave leaders with so that you know that you have a role in change and to step into that role and read the book and get on the journey.
Eddie Turner:
Fantastic. And I really appreciate you illuminating me yet again with another phrase, another word, and this just has been an amazing conversation. So, we want to all of our
Keep Leading!® Podcast
listeners to follow you online, connect with you, go pick up a copy of the book, and I'm going to make sure that in the show notes we will put how to do that, make it really easy for everybody.
And, Jennifer, I just can't tell you though I'm excited and so grateful to you for coming on to the Keep Leading!® Podcast as a guest.
Jennifer Brown:
Thank you, Eddie. I really appreciate the opportunity. I look forward to hearing what your audience is going to create in the world.
Eddie Turner:
Indeed, indeed.
And thank you for listening. That concludes this episode, everyone. I'm Eddie Turner, The Leadership Excelerator®, reminding you that leadership is not about our title or our position. Leadership is an activity. Leadership is action. It's not the case of once a leader, always a leader. It's not a garment we put on and take off. We must be a leader at our core and allow it to emanate in all we do. So, whatever you're doing, always keep leading.
Thank you for listening to your host Eddie Turner on the Keep Leading!® Podcast. Please remember to subscribe to the Keep Leading!® Podcast on iTunes or wherever you listen. For more information about Eddie Turner's work please visit EddieTurnerLLC.com.
Thank you for listening to C Suite Radio, turning the volume up on business.
Hey, C Suite Radio listeners, in business is war, then you need the best possible ammunition and training to win the fight. Join us April 19 through April 21, 2020, on the USS Wisconsin in Norfolk, Virginia, for the C Suite Network Leadership Forum. Here distinguished military leaders discuss battle-tested management strategies as you network with America's top CEOs. Sign up today at C-SuiteForums.com/battleship and use code 'Battleshiphero'. You don't want to miss out on this once-in-a-lifetime experience. Again, that is C-SuiteForums.com/battleship, code 'Battleshiphero'. We'll see you there.
The Keep Leading!® podcast is for people passionate about leadership. It is dedicated to leadership development and insights. Join your host Eddie Turner, The Leadership Excelerator® as he speaks with accomplished leaders and people of influence across the globe as they share their journey to leadership excellence. Listen as they share leadership strategies, techniques and insights. For more information visit eddieturnerllc.com or follow Eddie Turner on Twitter and Instagram at @eddieturnerjr. Like Eddie Turner LLC on Facebook. Connect with Eddie Turner on LinkedIn.