Jeffrey Hull, Ph.D
Best-Selling Author, Psychologist, Leadership Coach, and Harvard Faculty.
Hyper Agility Leadership
Episode Summary
Jeffrey Hull, Ph.D. BCC is a Clinical Instructor in Psychology at Harvard Medical School and adjunct Professor of Leadership at New York University. Dr. Hull is an accomplished writer and researcher who has published articles in Harvard Business Review, The New York Times, Coaching World and other leading business publications. He is also the Director of Education and Business Development at the Institute of Coaching, a Harvard Medical School Affiliate. We discussed his bestselling book: "FLEX: The Art and Science of Leadership in A Changing World."
Check out this 60 Second preview of the episode!

Bio
Jeffrey Hull, Ph.D. BCC is CEO of Leadershift, Inc. a leadership development consultancy based in New York City and author of the best-selling book, FLEX: The Art and Science of Leadership in A Changing World, published in June 2019 by Penguin-Random House. A highly sought-after speaker, consultant and executive coach, Dr. Hull is a Clinical Instructor in Psychology at Harvard Medical School and adjunct Professor of Leadership at New York University. He is also the Director of Education and Business Development at the Institute of Coaching, a Harvard Medical School Affiliate. An accomplished writer/researcher, Dr. Hull has published articles in Harvard Business Review, The New York Times, Coaching World and other leading business publications. He can be reached at www.jeffreyhull.com
Website
https://www.jeffreyhull.com/
Other Website
https://instituteofcoaching.org/
LinkedIn
https://www.linkedin.com/in/jeffrey-hull-ph-d-bcc-062b09/
Twitter
https://twitter.com/Dr_Jeffrey_Hull
Facebook
https://www.facebook.com/jeffreyhullphd/
Leadership Quote
"Be a student even when you become a teacher."
Get Your Copy of Jeff's Book!
https://www.jeffreyhull.com/flex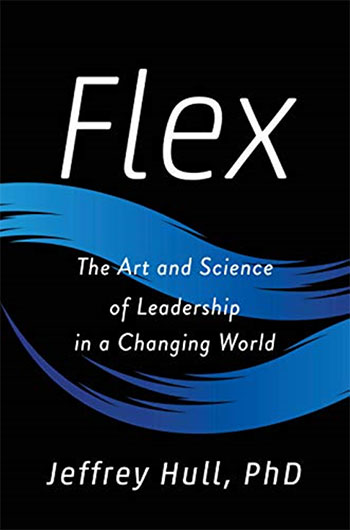 Transcript
If you're a small business owner looking to grow or expand your business, check out OnDeck Business Loans. OnDeck offers business loans online from 5000 dollars to 500,000 dollars and their simple application process only takes 10 minutes. Unlike banks they'll give you a decision quickly and funding in as fast as one day. Get a free consultation with an OnDeck loan adviser. Visit OnDeck.com/Podcast.
The key to sustainable leadership lies in the ability to thrive during uncertainty, ambiguity, and change. Grand Heron International brings you the Coaching Assistance Program, giving your employees on-demand coaching to manage through a challenging situation and arrive at a solution. Visit GrandHeronInternational.Ca/Podcast to learn more.
This podcast is part of the C Suite Radio Network, turning the volume up on business.
Welcome to the Keep Leading!® Podcast, the podcast dedicated to promoting leadership development and sharing leadership insights. Here's your host, The Leadership Excelerator®, Eddie Turner.
Eddie Turner:
Hello, everyone! Welcome to the
Keep Leading!® Podcast
, the podcast dedicated to leadership development and insights. I'm your host, Eddie Turner, The Leadership Excelerator®. I work with leaders to accelerate performance and drive impact.
Now, I may be The Leadership Excelerator® but my guest today really takes leadership to another level. I am super excited to talk to you Dr. Jeffrey Hull, a board-certified coach, who is a leadership development consultant based in New York City and the author of the book Flex: The Art and Science of Leadership in A Changing World. And we're going to talk to Dr. Hull today and understand just what he means by being able to flex. And when he says the art and science in his book, he is serious. There is a lot of science around leadership in this book and that's because Dr. Hull is a clinical instructor in Psychology at Harvard Medical School. He's also an adjunct professor of Leadership at New York University. He's the director of Education and Business Development at the Institute of Coaching, a Harvard Medical School affiliate. He's an accomplished writer and researcher whose published work appears in the Harvard Business Review, The New York Times, Coaching World and other leading business publications. I am super excited to have with me today, Dr. Jeffrey Hull.
Dr. Hull, welcome to Keep Leading!® Podcast.
Dr. Jeffrey Hull:
Hey, Eddie. Thank you. It's a pleasure to be here.
Eddie Turner:
I am so happy to have you with me. And I got to tell folks how we met. You and I met at the Institute of Coaching. They had a leadership retreat for the fellows and I met you and I was immediately impressed by you and your level of research and your scholarly intellect is just extremely impressive but what you shared with us, what you brought to us at that retreat was absolutely fascinating. And then you were kind enough to give me a copy of your book. I have a hardcover version of your book. So, I'm really happy about that. And this is really a good book. And so, I want people to get a chance to learn about you and about this book.
Tell us what we missed about you though before we get into talking about the book.
Dr. Jeffrey Hull:
You pretty much covered the landscape pretty well. I think the only thing I would add is that I was a corporate executive before I was a coach and a psychologist.
Eddie Turner:
Right. I forgot to mention that. Tell us about that.
Dr. Jeffrey Hull:
I mean, that's only relevant because I kind of did it backwards. A lot of people become psychologists and therapists and then they go into coaching and I actually did it the other way around. I worked in HR and consulting for Booz Allen Hamilton for a whole decade before I decided "I better go back to school and figure out what I'm doing if I'm going to start counseling and coaching leaders." So, that would be the only thing I would add is that I try to blend my corporate background with the psychology background.
Eddie Turner:
And that's quite telling because many people today are having to go back and retool, as it were, and it's encouraging to know that it's never too late and you can do it and still end up as a Harvard professor as you did.
Dr. Jeffrey Hull:
Yeah, exactly. I definitely was one of the older PhD students. So, never too late.
Eddie Turner:
And that business background comes through your book and, for me, actually made it even more interesting. When you start to describe the life of a consultant, that's when I had to remember that "Oh, you lived that. You aren't just talking. You lived that life."
Dr. Jeffrey Hull:
That's right.
Eddie Turner:
And I'm sure that serves you well as a professor of Business because you're not just doing Psychology at the New York University.
Dr. Jeffrey Hull:
Exactly. Yeah, I mean, my students at NYU are in business school entrepreneurial programs. I teach a course called C Suite Leadership.
Eddie Turner:
That sounds nice.
Dr. Jeffrey Hull:
Yeah. And it's all millennials. So, they keep me on my toes.
Eddie Turner:
Speaking of millennials, you say something very interesting in your book. You said we are all millennials. Tell us why you say that?
Dr. Jeffrey Hull:
Well, that's a great place to start. I think, two reasons. Number one, I think that as a researcher and as a student of leadership, I've been made aware that we have a tendency to get very caught up with our categories – millennials, Gen-X boomers. And to a certain extent that's relevant. There are definitely generations, generational differences, but those of us that work every day with folks on all of those different categories, what I come to realize is that many ways we're all dealing with the same disruptive changes. We're all dealing with technology that's 24 hours a day. We're all dealing with social media. We're all dealing with having our email in our pocket on our phone. We're all dealing with the global workplace and the multicultural diversity that's coming into the organizations. So, so many of the changes that we think millennials are grappling with and have a particularly different mindset around are all the same that we're all grappling with. And then I would add to it that when I work with boomers and I talk to them about "Well, millennials, they want to find a meaningful job and they want more feedback and they want to be coached" and my boomers kind of look at me and go "Well, so do we. We're not really different. We may be older." And they get a little frustrated because the millennials don't want to wait but fundamentally, I think, we're all going through the same kinds of change.
Eddie Turner:
Yes, yes. And so, I found that very interesting when I read that and when you said that because it is true that the millennial expectations and just a pure gravitational pull up, I guess, if you would say it that way, has really reshaped all of our expectations en masse.
Eddie Turner:
Well, you know it's a good book, ladies and gentlemen, when you pick up the book and the top executive coach in the world stamps the book with his approval by saying "It's a Tour de France, combining the art and science that makes for great leadership. With real life stories, the latest science and actionable strategies, this book is like a great coach, helping leaders up their game to a whole new level of success." And that comes from Marshall Goldsmith himself. So, when you pick up this book and you see that, it just really whets your appetite.
So, you got us off to a good start talking about how you believe we all are millennials and you've discovered that through your client work and I believe that that is a really true statement and I like when you say that. Tell us a little bit, if you would, please, about something else you mentioned that I think matters. You talk about getting in touch with our inner leader. What do you mean by that?
Dr. Jeffrey Hull:
Well, I think that's one of the basic premises that I'm really focused on in this book and in my work as a coach, which is to no longer consider leadership something that is the special trait of a very specific part of the population, that in fact everyone has the potential to become a leader, to step forth and express and be impactful as a leader. And it's one of the core themes of my book when I talk about the evolution of alpha leaders and the emergence of what I call beta leaders is that we've moved into, what I call, post-heroic age where you don't have to just be a charismatic extroverted personality to be a leader. You can be a quiet leader. You can be much more impactful just by being present in a whole different way.
Eddie Turner:
So, Jeff, you're saying that I don't have to be bombastic or obnoxious to be a leader? I can be quiet.
Dr. Jeffrey Hull:
In fact, being quiet may be even more impactful.
Eddie Turner:
Tell me more.
Dr. Jeffrey Hull:
Well, I think a lot of it is about the combination of the organizations are flattening, teamwork is becoming more important, the ability to collaborate and create an environment where everyone is participating. And so, the bombastic, driven charismatic leader has a place but someone who's actually a more of a listener, more of a collaborator, more of creating an environment where everyone participates is also really impactful in today's world. So, that opens up the door for everyone to find their inner leader.
Eddie Turner:
Absolutely. And I really appreciated reading that in your work because I've become very passionate about that, especially in my work with emerging leaders. I work at a couple of universities with emerging young people. And those who are introverts, those who are a little bit more on the timid side or the quiet side, as you say, they believe they can't be a leader. And so, your work reveals that quite the opposite is true.
Dr. Jeffrey Hull:
Right. Absolutely.
Eddie Turner:
Good. Now, you mentioned the alpha leader versus the beta leader. Talk about that.
Dr. Jeffrey Hull:
Well, first of all, I wouldn't say it's versus. I would say the alpha leader and the beta leader. And then sometimes they come in the same package.
Dr. Jeffrey Hull:
Yeah. So, one of the first case studies that sort of set me on the path, and I described this in the book, was recognizing that some of the leaders that I worked with that were the most effective in the past few years have started to demonstrate this ability to move back and forth in their leadership style between being charismatic and driven and more demanding and authoritative and then being more quiet and empathetic and listening and even being vulnerable. And so, I have a case study early in the book of actually a surgeon, which of all things you would think surgeon got to be the most dictator authoritative leader you could imagine and, in fact, of course, when you go under the knife with the surgeon, you definitely want them to be in charge just like your pilot in your plane, you want them to be authoritative and be able to make decisions, but at the same time, in fact, even during the same day, that surgeon that was my first case study was able to switch gears and be, what I call, hyper agile and actually become a listener, become empathetic, become a counselor and become a facilitator. And he did all of those things all in the space of one working day. Granted it did start at 5 o'clock in the morning. So, it was a long day but what he demonstrated and what I ultimately ended up researching in much more detail was this new ability of leaders be flexible in their style, that leadership is no longer a one-size-fits-all approach to working in organizations effectively.
Eddie Turner:
Fascinating. I really liked when you explained that and I hadn't thought of that. So, it's not either-or. It's yes-and.
Dr. Jeffrey Hull:
Exactly.
Eddie Turner:
So, this surgeon who is authoritative, who's commanding, he's in control in the operating room where everything must be precisely done according to a plan, then shifts gears and becomes an empathetic facilitative counselor at the bedside of the patient.
Dr. Jeffrey Hull:
Well, not even just the patient. He did that with his own colleagues.
Eddie Turner:
Oh, with the colleagues. I missed that.
Dr. Jeffrey Hull:
Yeah. Patient, yes, but even more profound when it comes from leadership is that the very people he was directing in the operating room, he would then two hours later facilitate and listen and be collaborative with. So, it's the ability to literally take off that hierarchical hat and put yourself down at the same level with everyone and be just one of the gang and do it authentically and have people really speak up for him to be more of a counselor in the room.
Eddie Turner:
I like that. Now, extrapolate that lesson for leaders today, if you would.
Dr. Jeffrey Hull:
Well, I think, really, it's an example, it's a scenario or a case of what I'm pointing to in my entire book, which is that there's an opportunity and a need for us to broaden the way we see leadership. And that tried and true sort of hierarchical authoritative style is absolutely appropriate in situations like surgery and flying a plane or in emergencies but at the other end of the spectrum, what we want today in our organizations is creativity and innovation and we want people to speak up with their ideas and be willing to take risks and try out new things. And that requires a leader to be able to step back and look around and become more of an invitation to having people share from a different place of authenticity. And it requires leaders to be humble. It requires leaders to be vulnerable. So, what I talk about in my book, when you look at flexibility or what we're calling hyper agility, is that ability to switch gears. It's like stretching that muscle of leadership and literally minute by minute reflect on what the context requires.
Eddie Turner:
So, Jeff, are you saying that hyper agility is the next generation of leadership?
Dr. Jeffrey Hull:
Absolutely, yeah, I think from one end of the spectrum to the other. I have some of my kind of alpha male type leaders say to me "Oh, so you are kind of putting us all out to pasture, right?" I'm like "No, that's not what I'm saying. I'm saying that you want to develop a flexible style so that you can change and be more welcoming and encourage the introverts or the more sensitive or creative, innovative folks to speak up." And, likewise, those same people that are more introverted, they need to get in touch with their inner authoritative style. So, they need to learn to speak up, be directive, and be able to be decisive. So, it's not an either-or combination. It's a plus. It's a being able to move back and forth and expand your leadership capabilities along a whole spectrum.
Eddie Turner:
Fantastic. Thank you.
We're talking to Dr. Jeffrey Hull and he is explaining to us hyper agility. It's the next generation of leadership based on his work in the book Flex: The Art and Science of Leadership in A Changing World. We'll have more from Dr. Hull right after this.
This podcast is sponsored by Eddie Turner LLC. Organizations who need to accelerate the development of their leaders call Eddie Turner, The Leadership Excelerator®. Eddie works with leaders to accelerate performance and drive impact. Call Eddie Turner to help your leaders one on one as their coach or to inspire them as a group through the power of facilitation or a keynote address. Visit EddieTurnerLLC.com to learn more.
This is Karen Jacobsen, the GPS Girl, and you have reached your destination because you're listening to the Keep Leading!® Podcast with Eddie Turner.
Eddie Turner:
Okay, we're back. We're talking to Dr. Jeffrey Hull. We're talking about hyper agility, the next generation of leadership based on Dr. Hull's book Flex: The Art and Science of Leadership in A Changing World.
I'm really enjoying this conversation. And you are highlighting areas of leadership that I believe in and you highlight it in a different way. And there's something that you said earlier that I want to ask you about, Dr. Hull. A lot of us as coaches, we believe in observing our clients real time in their environment. For most of us, in fact, everybody I know, that usually involves following them around an office, sitting around a boardroom table. I don't know anyone who is involved going into the operating room putting on scrubs. And in the book when you describe that experience, I went "Wow! How cool is that?" Tell us about that.
Dr. Jeffrey Hull:
Well, it was a rather unique experience even for me but I've done it actually more than once. I think when you're trying to coach executives in the healthcare space that are anesthesiologists or surgeons, it really is profoundly helpful to see them in action. So, I had to steal myself to be in the operating room and watch the blood spurt as they sliced open a body right in front of me but just the teamwork is an amazing experience to see firsthand. And I think anytime as a coach you get an opportunity to see people do their real job, I look to do that not just in operating rooms but also like in start-up situations where I've worked with teams where I've spent the day shadowing the CEO, shadowing the Head of Engineering, watching them in meetings, seeing them in real time. That's when you can really get to see the style of leadership that they use and what are their strengths, what are their special talents, and how then as coaches we can help to expand that repertoire.
Eddie Turner:
Absolutely. Yes. No, I take my hat off to you because you're the first I've heard going to the operating room. What was it like the first time?
Dr. Jeffrey Hull:
Well, I almost fainted. I mean, the thing that's shocking in an operation when you're observing it is the smell of blood because I forgot that. It's one thing to look at the squirt of the red blood but it's another to smell it. It's pretty intense. And the other thing that was funny or unique about it is I didn't realize and, of course, in retrospect, it makes perfect sense, but they draw on you. When you go to surgery and they put you out, then they use a magic marker to draw on your body exactly where they're going to cut. So, they literally make a drawing. And the surgeon was kind of doing a doodle on this poor guy's shoulder because it was his shoulder, he had broken his shoulder bone.
Eddie Turner:
Yes. Like I said, I just want to get your first hand perspective on that. You are a much better man than I am. I will follow my clients a lot of places. I'd have to really think long and hard about into the operating room. So, kudos to you. Thank you for bringing that alive for us in your book and drawing the connection.
Now, something interesting happens. You've referenced him a little bit in the first part of our interview but later on, you make a tie to this experience of following the surgeon and bringing him at the end of your book into the conversation about somatic leadership. Can you share that with my audience?
Dr. Jeffrey Hull:
Yeah, I think that somatic leadership or what I would call energy-based leadership, when you bring in the physical energy of the leadership act, is a really important component of leadership effectiveness that often gets left out of the mix. We wind up thinking about leadership as kind of talking heads, giving direction, coaching, mentoring, all of which is totally valid but one other aspect that's really crucial to the success of a leadership situation is the energy between the leader and his or her followers. And that energy is a physical experience and that physical experience has multiple components. So, for example, it's as simple as your physical gestures, your eye contact, your energy, where you put your hands, how you lean or don't lean forward with your subordinates as a leader but it's bigger than that. It also includes the space of the room that you're in, where are you holding your conversation, are you holding it in a board room where there's a power seat and a long conference table and the power person sits at the end of the table. Those kinds of energy aspects of leadership make a huge difference. And so, what I wanted to do in the book was to get leaders to really pay attention to how do they create a space and energy both with themselves as the leader and also with the room or the space or the time so that they can create an environment that gets the best out of everyone.
Eddie Turner:
Yes, very nice. Thank you for sharing that.
Now, you created a framework for your readers. Can you share what that framework is? I love the word. Can you share their framework and walk us through it please?
Dr. Jeffrey Hull:
Well, the framework evolved out of research that I did with over 1200 coaches because being involved with the Institute of Coaching, which is where you and I met, we have access to hundreds and hundreds of coaches. So, I did focus groups and surveys to find out what are the best coaches in the world working on with their clients these days. And out of that came a framework of six dimensions that more and more often are the areas that we coaches get asked to work on. And those are very quickly decision making, being flexible in your decision making, are you authoritative or are you collaborative, are you consensus driven in your decision making. Communicating is the second one and I call it intentional communication, do you communicate using just facts and data or do you communicate using stories and humor and emotional connection. So, there's a lot of different ways to communicate as a leader. And then emotional agility. We hear, obviously, about the research in emotional intelligence. So, the spectrum of whether or not you're more conservative around your expression of emotions or whether you're highly emotive and empathetic. So, there's a spectrum around emotional agility and that's the third dimension. The fourth dimension is about authenticity, how do you express your values as a leader, are you conservative and more restrained and competent or on the other end of the spectrum are you more vulnerable and humble and more open and transparent. And, again, it's not one way is right or wrong. They can both be valid and valuable but they are very, very different. And the fourth area in the spectrum is collaboration. So, how do you set up a collaborative environment? As a leader, are you directive, are you a mentor, an advisor or are you more of a coach? And coaching, as you know, Eddie, is really more about getting people to share where they're coming from by using powerful questioning. So, collaboration also has a spectrum, whether it's more directive or whether it's more coaching. And then, finally, my last dimension was about engagement. How do you engage? We just talked about the somatic side of that dimension but engagement is about whether or not you are very results oriented and productivity focused, which many leaders need to be at different times, or whether you're more creativity focused and innovative focus. And the innovation style level of engagement is really more fluid and more flexible because what you want in that domain is you want people to feel open to bringing up ideas and brainstorming. And that's a very different energy. You can't necessarily create new ideas and risk taking when you're trying to pound people for results. So, it is a very different dimension in the way you engage with people. So, those are the six different dimensions of the framework and they're basically a summary of all the different areas that are very commonly used by coaches in today's leadership coaching engagements.
Eddie Turner:
Excellent. So, thank you for sharing that framework. And to make it easier for us, what's the acronym you created, Dr. Hull?
Dr. Jeffrey Hull:
It's about being FIERCE. So, Flexible, Intentional, Emotional, Real which is the authenticity, Collaborative and Engaged.
Eddie Turner:
Excellent. I love it. Thank you.
Dr. Jeffrey Hull:
I just wanted something that people could hook into so that when they look at the framework, they can very quickly zero in on the dimensions that are of most interest to them.
Eddie Turner:
Absolutely. So, not only do I FLEX but I'm FIERCE. That's what makes this book so powerful. Very cool.
Well, Dr. Hull, I really enjoyed talking with you. And there's a couple of things that I want to make sure folks know. If you were to summarize our conversation, first of all, how would you summarize this? What's the key thought you want our listeners to take away from what we talked about?
Dr. Jeffrey Hull:
I think the fundamental theme of my book is that the days of having to be a particular personality to become a leader are over, that in today's flat, collaborative, team-oriented, diverse environment, anyone, everyone can step up and find their inner leader and the key is to reflect, develop your self-awareness and develop your strengths along those six dimensions because I believe that that's what the world needs. We need more people to step into leadership roles.
Eddie Turner:
Indeed, we do, and to step up the right way.
Dr. Jeffrey Hull:
Exactly.
Eddie Turner:
Yes.
This is the Keep Leading!® Podcast and on the Keep Leading!® Podcast, in addition to the fine content you've given us to consider today, we like to give leaders a short story or a quote that they can use as they continue to keep leading. What quote or words of advice have you received that you'd like to share with us?
Dr. Jeffrey Hull:
So, my favorite quote or thing to remember is that even if you become a leader, your journey is lifelong and that you need to remain a student. Become a student of yourself, of others and of leadership and never stop learning.
Eddie Turner:
Excellent. Thank you.
Where can my listeners learn more about you?
Dr. Jeffrey Hull:
They can look me up on my website which is JeffreyHull.com and they can write to me there. I'm very quick to respond. So, I would be more than happy to be in dialogue with any of your listeners.
Eddie Turner:
Thank you. And I'm going to put that into our show notes so that folks even on their mobile devices can get access to you. And you will have a page of course on the KeepLeadingPodcast.com website. You want to connect with Dr. Hull and read his book if you have any interest at all in improving your skills as a leader. Flex: The Art and Science of Leadership in A Changing World.
Dr. Hull, thank you so much for being a guest on the Keep Leading!® Podcast.
Dr. Jeffrey Hull:
My pleasure. It's great talking to you, Eddie.
Eddie Turner:
And thank you for listening. That concludes this episode, everyone. I'm Eddie Turner, The Leadership Excelerator®, reminding you that leadership is not about our title or our position. Leadership is an activity. Leadership is action. It's not the case of once a leader, always a leader. It's not a garment we put on and take off. We must be a leader at our core and allow it to emanate in all we do. So, whatever you're doing, always keep leading.
Thank you for listening to your host Eddie Turner on the Keep Leading!® Podcast. Please remember to subscribe to the Keep Leading!® Podcast on iTunes or wherever you listen. For more information about Eddie Turner's work please visit EddieTurnerLLC.com.
Thank you for listening to C Suite Radio, turning the volume up on business.
Hey, C Suite Radio listeners, in business is war, then you need the best possible ammunition and training to win the fight. Join us April 19 through April 21, 2020, on the USS Wisconsin in Norfolk, Virginia, for the C Suite Network Leadership Forum. Here distinguished military leaders discuss battle-tested management strategies as you network with America's top CEOs. Sign up today at C-SuiteForums.com/battleship and use code 'Battleshiphero'. You don't want to miss out on this once-in-a-lifetime experience. Again, that is C-SuiteForums.com/battleship, code 'Battleshiphero'. We'll see you there.
The Keep Leading!® podcast is for people passionate about leadership. It is dedicated to leadership development and insights. Join your host Eddie Turner, The Leadership Excelerator® as he speaks with accomplished leaders and people of influence across the globe as they share their journey to leadership excellence. Listen as they share leadership strategies, techniques and insights. For more information visit eddieturnerllc.com or follow Eddie Turner on Twitter and Instagram at @eddieturnerjr. Like Eddie Turner LLC on Facebook. Connect with Eddie Turner on LinkedIn.