Antonio Nieto-Rodriguez
The World Champion in Project Management
The Project Economy
Episode Summary
I enjoyed my conversation with The World Champion in Project Management—Antonio Nieto-Rodriguez! He is the author of the best-selling book, The Project Revolution. We discussed The Project Economy.
Check out the "60-Second Preview" of this episode!

Bio
Antonio Nieto-Rodriguez is a leading expert in project management and strategy implementation, recognized by Thinkers50 with the prestigious award "Ideas into Practice." He is the author of Lead Successful Projects (2019, Penguin), The Project Revolution (2019, LID), and The Focused Organization (2012 Gower). He has been teaching project management for more than a decade to senior executives at Duke CE, Skolkovo, Solvay Business School, and Vlerick. Antonio has held executive positions at PricewaterhouseCoopers, BNP Paribas, and GlaxoSmithKline. Former Chairman of the Project Management Institute, he is the co-founder of the Strategy Implementation Institute and the global movement Brightline. He is a member of Marshall Goldsmith 100 coaches.
Website
https://antonionietorodriguez.com/
Other Website
https://www.strategyimplementationinstitute.org/
LinkedIn
https://www.linkedin.com/in/antonionietorodriguez/?originalSubdomain=be
Twitter
https://twitter.com/ANietoRodriguez
Facebook
https://www.facebook.com/antonio.nieto.5439
Leadership Quote
Be the leader you would like to work for.
Get Your Copy of Antonio's Book!
https://antonionietorodriguez.com/the-project-revolution-purchase-form/
Full Episode Transcripts and Detailed Guest Information
www.KeepLeadingPodcast.com
Keep Leading LIVE (Live Recordings of the Keep Leading!® Podcast)
www.KeepLeadingLive.com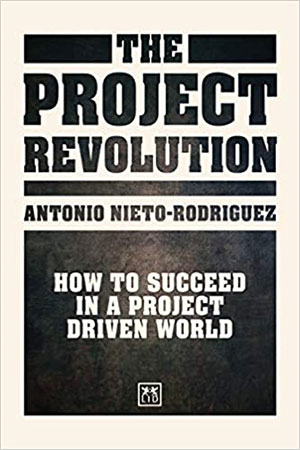 Transcript
The key to sustainable leadership lies in the ability to thrive during uncertainty, ambiguity, and change. Grand Heron International brings you the Coaching Assistance Program, giving your employees on-demand coaching to manage through a challenging situation and arrive at a solution. Visit GrandHeronInternational.Ca/Podcast to learn more.
This podcast is part of the C Suite Radio Network, turning the volume up on business.
Welcome to the Keep Leading!® Podcast, the podcast dedicated to promoting leadership development and sharing leadership insights. Here's your host, The Leadership Excelerator®, Eddie Turner.
Eddie Turner:
Hello, everyone. Welcome to the
Keep Leading!® Podcast
, the podcast dedicated to leadership development and insights. I'm your host, Eddie Turner, The Leadership Excelerator®. I work with leaders to accelerate performance and drive impact.
From our personal to our professional lives, from corporations to governments, from individuals to nations, projects are the new reality. These are the opening words to the book The Project Revolution because according to my guest today, projects are how business gets done and how individuals and organizations become successful. Today, we're going to talk about the project economy with my guest, the world champion in project management, Antonio Nieto-Rodriguez
Antonio is a leading expert in project management and strategy implementation. Thinkers50 recognized him with the prestigious Ideas into Practice Award. He is the author of Lead Successful Projects, The Project Revolution, and The Focused Organization. Antonio is the former chairman of the Project Management Institute, better known as PMI, and he is one of Marshall Goldsmith's 100 coaches. I'm excited to have Antonio Nieto-Rodriguez with me today.
Antonio, welcome to the Keep Leading!® Podcast.
Antonio Nieto-Rodriguez:
Eddie, good day and thank you for having me. What an honor to be in your podcast. You have so many stars. So, I just feel humbled to be part of the Keep Leading!® Podcast here with you. Thank you very much and I look forward to talk about projects.
Eddie Turner:
Well, I'm looking forward to talking about projects as well. Now, I've had some stars on the show but I got to tell you when someone opens your book The Project Revolution, talk about the stars of lining. I mean, Marshall Goldsmith, Alan Mullaly. Marshall Goldsmith world the number one coach, the number one leadership thinker. Alan Mullaly, the CEO of Ford. Dory Clark. I mean, the names on that jacket of people who've endorsed you are just phenomenal. It's the who's who.
Antonio Nieto-Rodriguez:
Yeah, I'm lucky to know them. These people who we have grown up admiring and learning from them for me was something that I really wanted to get close and learn from them and become friends and I'm happy to have been able to do that. Also, with you, Eddie, I think it's like a family in the end. They look distant when you're just following or reading them but actually when you get closer, very, very nice people.
Eddie Turner:
That's well said, Antonio. That is so true. The MG100 is like a family and that's how I got the honor to know you. You and I met at the annual meeting in January and that seems like it was so far away.
Antonio Nieto-Rodriguez:
Yeah, time seems to be going faster now since the COVID crisis. And you're right, Eddie. It's like I never know which day of the week we are. I guess you have the same, right?
Eddie Turner:
Yes, I was saying that to my wife the other day. Yes. And I saw something else about you. Congratulations! I saw that you just inked a deal with Harvard Business Review to publish a new book.
Antonio Nieto-Rodriguez:
That's correct, Eddie. My big question in my last 20 years has been to influence senior leaders about the value of projects and the importance of building competencies around project management and having competencies and people because when I started, first of all, I was actually fired from my job because people didn't see the value of projects. So, that was a big hit on my head. I said "What I'm doing here in this field that nobody recognizes. The partners tell me that anybody can do projects. That is very tactical. It's operational." So it's been something that I carry inside me and say "I need to show these people that actually projects are important. It's an essential part in any business, in any person. And managing to get HBR to allow me to write their next project management handbook, it's like a cherry on the cake. It's been something I've been chasing for 5-10 years maybe.
Eddie Turner:
How about that! Your company didn't see the value in projects and what you were bringing but Harvard sees it, Forbes sees it. And you're writing for several industry journals. You're setting the tone. And indeed, the industry leader when it comes to project management credentials, PMI, sees it. So, congratulations to you. That has to be deeply gratifying.
Antonio Nieto-Rodriguez:
Thank you. Yes, I have always liked the word feeling. I know many, many people in projects who share the same feeling. They've not been so lucky to get recognized by Thinkers50 or be part of the family of Marshall Goldsmith's 100 but I always share the achievements with them. Thanks to all these millions of project managers who fight every day. Eddie, you know how projects are. You never have an easy day. It's always struggling. So, I really always thank the millions of people who are behind doing projects for a better world and I just feel to be lucky to be one of their faces but I truly do it more for everybody, for the community of project managers.
Eddie Turner:
Now, Antonio, I have to confess something. In getting ready for the show, I started thinking about, and I was reading your book you were kind enough to send me, and I started really thinking about this concept. And I realized that one of the reasons I'm behind on my to-do list that my wife has assigned me is because I don't have a project management mindset. And that's why things are just like dragging on and dragging on and I've got to get my act together here. Otherwise, I'm going to be in trouble. You actually give the solution. So, I love what I said in the opening. I said that because when I read it in your book, it was just a big aha for me. It applies in our individual lives, not just our professional lives. So, can you talk about what project management? Give us a formal definition and just why it's so important.
Antonio Nieto-Rodriguez:
Well, sure, Eddie. First of all, when I do a workshop or a keynote, I ask all the audience who has never managed a project can you always find people who raise their hand and "I never manage a project." Actually, we all manage projects. Nobody has thought how to do it or what are the techniques we can use but we are all project managers since. We were teenagers we're doing projects. And it's one of the gaps I always claim is that we should be trained how to manage projects in our private lives, in our professional lives, in our family lives because it would make such a big difference. So, for me, a project is when you want to change something. There's a start. There's an end. there needs to be an end. One thing I've discovered about human beings is that we love to start. There's no better word in your company than "kickoff". When you have a kickoff, everybody wants to be there, the people you invite and the people you don't invite. They show up because it's exciting. Who comes in the second meeting? Half of the people because when you need to start getting busy and allocating tasks, that we like less. We like the kickoff parties.
Eddie Turner:
I'm laughing because I am guilty of that and maybe in organizations and perhaps even at home. So, you're right. That's so very true but you say that the reason this is so important is we're living in the project economy. Talk about that please.
Antonio Nieto-Rodriguez:
Well, yes, Eddie, I think there's no doubt that the world is very different than 10 years ago, 20 years ago. The speed of change has just dramatically increased. My last 20 years is like competition is fierce, there's products all over the place, everything becomes cheaper and commodity. So, in the past, 50 years ago, companies would have one project. There was no need to change. The strategies would last nine to 15 years. You will still focus on the same thing just trying to do better and better every time but now you need to change your business model, you need to acquire companies, you need to sell new products or services. So, change is everywhere. So, that's one of the big trends that we need to constantly change. When I talk about changes, Eddie, change is a project. So, companies have hundreds or even thousands of projects.
The other big thing that happens here, the other big trend is machines, artificial intelligence, robots are taking what we used to be doing, the day-to-day activities, the technical things that we learn for to be finance or corporate accountant. These things are being taken by machines. So, the type of work that we are doing today is much more project based. Many of my friends, five years ago, they didn't have to do projects. They were maybe partially involved in a project. Today, they shifted. They're all working in projects and the rest is done by machines. So, there's two big trends. That's what I call the project economy. More and more projects and we are becoming project based in our jobs.
Eddie Turner:
What made you interested in this field?
Antonio Nieto-Rodriguez:
Basically, I started project management when I was a consultant in one of the big fours and my first assignment, I was junior, I was really excited to join, it was a big ERP implementation in a big oil and gas company called Exxon Mobile. And they appointed me to spend their nine months in a project as a project assistant. I didn't have a clue what that was. I'd never seen a project in business. The first assignment was to bring coffee to the project director and the project management team and I thought "Wow! I want to be like them."
Antonio Nieto-Rodriguez:
And then I just got into it and I started to wonder because that project had started three years ago, it meant to be finished in two years, there were three years and still going on. So, it was like a mess. That kind of project was a complete mess but people kept working and the dates were shifting and the workload. So, I started to wonder why is it so difficult to do projects. So, then I researched. I did some global surveys. So, I was very curious to find out why projects fail. Second, it was not just one project. Companies have 200 projects. How can you manage 200 projects if managing one project is already very difficult? So, I kept thinking and thinking trying to find some solutions. So, that's what really excited me is that there's a huge problem, one out of two projects fail still today, and how can we fix that, how can we make things simpler, how can we be more successful. I just imagined it if one of the two projects failed, if we could just get a 25% increase, that would be such amazing benefits for organizations or society that, I think, is worth the effort to fight for that.
Eddie Turner:
Okay. So, that led you to what you're passionate about and leading the globe, quite frankly, in today.
Antonio Nieto-Rodriguez:
Basically, that connected to the fact that I wanted to become partner in this big firm and my pitch like business case for becoming partner was to develop project advisory services in this very fancy big four consulting accounting and I was like passionate and I had done research and I was like convinced they would make me a partner and I did a beautiful pitch and all researched. And then the day after they tell me "You're fired, Antonio. We loved what you did and we see the passion but we cannot build the business around projects. It's a commodity. Anybody can do it. It's tactical. It's not something fancy we can sell to executives." And that was like a big, big hit on everything. I had it really hard to go back into projects. I thought, maybe I should go to marketing or finance or sales that there's something like more clear and there's a clear career path but, somehow, I just came back and said "No, I want to prove everybody that there is lots of value." So, that's the other kind of big, big driver behind what I've been doing in the past 15 years, Eddie.
Eddie Turner:
Have you had a chance to go back to that firm as a consultant now and teach them about projects now that you've become a world-famous thinker on this topic?
Antonio Nieto-Rodriguez:
Good question. They made me an offer to go back. Actually, I think, 10 years after I was fired, they set up the project advisory practice and they have about 200 people today.
Eddie Turner:
Wow! Isn't that something?
Antonio Nieto-Rodriguez:
Yeah, it was. I was like "Okay, no, I was not so bad, not so wrong."
Eddie Turner:
You were truly ahead of your time.
Antonio Nieto-Rodriguez:
Exactly. You know that, Eddie. Sometimes it's a kind of a blessing or not so much when you're a bit of the curve. For me, I don't regret anything. I think it has been a big driver to my research, to what I wanted to do, to influence people to be Chairman of PMI. So, I think I don't regret it. I would have loved to be a partner, partners make big money and they're the big chiefs and you're popular but, yeah, it took me a bit more time to get there.
Eddie Turner:
Well, that's okay. I think you've been more than validated by the fact that they've set up an entire practice around what you asked for, they've staffed it with 200 people and I suspect that your book is probably being used as the bible inside the organization even though they may not tell you that.
Antonio Nieto-Rodriguez:
Yeah, I will not be surprised. I think it's being used by consultants. I think one of the biggest things, Eddie, I realized is that we are all project managers but the available techniques or methodologies or methods, they have been developed by engineers for engineers. So, the majority, 95% of the population who run projects or are busy will never read a book of 800 pages. That's what we propose in PMI or other methodologies. It's just too complicated. We made it too complex – a brilliant methodology but not everybody wants to build a bridge, not everybody wants to build a huge building. So, I think the methodology has pulled off people. And one of my biggest aims in my book and the one I'm working now is to simplify. I want to have something simple. There's one guy we both know, Alex Osterwalder, also from Marshall Goldsmith. They developed the business model Generation: The Canvas. And it's just one page. In one page you can discuss your business value and your business model and your proposition. So, I'm just copying a bit what they have in mind. In one page we should be discussing our private projects or corporate projects or strategic transformation project. So, that's a big work on my site is simplification from a very complex practice.
Eddie Turner:
Yes, indeed. And Alex is another fascinating individual. I can't wait to talk to him as well.
I'm talking to the world champion in project management, a member of the Thinkers50, the past chair of the Project Management Institute. He's an amazing executive coach and a member of Marshall Goldsmith's 100 coaches, Antonio Nieto Rodriguez. We'll have more with Antonio right after this.
This podcast is sponsored by Eddie Turner LLC. Organizations who need to accelerate the development of their leaders call Eddie Turner, The Leadership Excelerator®. Eddie works with leaders to accelerate performance and drive impact. Call Eddie Turner to help your leaders one on one as their coach or to inspire them as a group through the power of facilitation or a keynote address. Visit EddieTurnerLLC.com to learn more.
This is Whitney Johnson, host of the Disrupt Podcast, and you are listening to the Keep Leading!® Podcast with Eddie Turner.
Eddie Turner:
We're back. I'm talking to the world champion in project management about the project economy, Antonio Nieto Rodriguez. And he is also the past chair of the Project Management Institute, clearly an authority on this subject. He's written for Harvard Business Review, Forbes and many other publications including having just inked a deal with Harvard Business Review for a new book.
Antonio, we talked a lot about projects before the break and what you've done but can you tell us a little bit about the best way that people who have never run a project can get started.
Antonio Nieto-Rodriguez:
Sure, I'll give you a couple of tips that listeners can put in place. I think one of them is that every time you want to start a new project, think about really if it's something you want to commit time. Projects take time. I mean, it's serious time. I think maybe consider 10%, 20% of your available time. So, most of us, we don't have that time. So, every time you're going to start a new project, think about which projects are you going to stop or delay because you need to make room. When you start a project and you're already running 100%, that's not going to help you. Take an active decision and say "Okay, I want to start this Master or Certification. Fine but then I'm stopping this part. I'm stopping it for six to nine months." You need to make room. The same for organizations. They think that by starting a project people will be available. That's not the case. Always stop.
Second tip, Eddie. Before you decide to start a project, explore. Is this something that you really want to do? Don't jump into a project too quickly. I wrote an article for HBIR with Whitney Johnson, a good friend of both of us, and we talk about that, starting a project at the right time. Often projects can be just ideas. Let's test it. For example, you want to learn to play guitar. Don't buy the guitar. Don't buy and sign up for a year course. Test it. Do a test with a guitar for a day or a two or three and then you see "Oh, this is really what I want to do." Then you sign up and you start the project. So, it's important to have that phase of exploration, okay?
Third, I would say, Eddie, think about why you want to do the project. It's not because there's just a return on investing. We need to have a big driver behind and I call it the purpose of the project. So, what's the purpose? What's really in it for me? What's for my organization? People don't like to work in projects where there's no purpose. They sit at something mandatory, boring but if you're in a company and they want to discover the vaccine for COVID, that's so exciting. I want to work day and night for that. If they tell me "Do you want to work on a project because there's a 20% return on investment?", I don't care. I want to do things which have a meaning, which have a purpose. So, make sure that before you start you think about the purpose and clearly find what's the problem you're trying to solve. The bigger the purpose, the more people will want to work with you. And there's nothing more committed in a project, Eddie, than volunteers. This is a big mistake we always do. We select people "Hey, you're going to be part of that project and you too and you too." Nobody asks you if you have time, whether you like the topic, whether you're interested. No, the people who are most engaged are who wants to join this project – "We're going to solve this big issue. Any volunteers?" Once the people volunteer, they're stuck, they're going to be engaged, they're going to be 100%, 200% behind you.
So, these are just three tips to start with, Eddie. I don't know what you think but that's how I always think. The starting of the project is so fundamental that we often skip that and it leads to failure most of the time.
Eddie Turner:
No, I love those three tips. Thank you for sharing them. In fact, in my mind, as you're talking, I'm stuck on number one still because there is a new project that I'm undertaking. I have not announced it yet. And I literally had to sit down and get tough with myself and say "You know, I'm not good at saying no but I've got to stop doing some things to make room for this new project if it's going to be successful." And so, as I listened to you saying that's the number one thing we should do and where organizations go wrong, wow! Those three tips are so simple but so many get it wrong.
Antonio Nieto-Rodriguez:
So many people get it wrong, Eddie, indeed. And it's just because sometimes there's already pressure to go fast, sometimes people haven't heard about these tips. So, I think a good project manager will be able to challenge. More and more we need to challenge leaders and say "Listen, it's not the right time to start the project. This is not a project. This is just an idea. Let's prototype. Let's learn about the idea and then we launch a project." For me, project is a commitment. Eddie, I don't know if you're married but did you really think seriously about when you wanted to get married? Yes, we thought. And you tested. Well, the same for any kind of project. You have different phases but once you decide to go on, you go full on, right?
Eddie Turner:
Absolutely. And I am married and I let my wife do the whole project planning for the ceremony. I just kind of showed up. That was my lesson one in project management.
Well, you make this sound so important that the reason I had you on the show is I'm seeing this as a leadership skill but, as I listen to you, I'm starting to see it as more of a life skill. So, how can leaders learn this more formally? Is there a specific place that they can learn this? You talked about PMI earlier. Tell us where they can learn more.
Antonio Nieto-Rodriguez:
Well, I think that's one of the biggest gaps in the market. Most of the trainings on project management are for project managers. So, I've developed some specific trainings for senior leaders. And you're right in pointing this out, Eddie. About 30% to 40% percent of the success of a project is in the hands of the leaders. We call them sponsors. And they're accountable for the project. Most of them, they don't know that. Most of them, they don't know that their role is so important. Most of them, they say "Yes, I'm going to be sponsor of this project" but they don't show up because they have so much to do and they don't have the time, they don't know how their role is. So, I think if there's something we can change and help, it's having the sponsors train and help them to make their projects successful.
A quick example, Eddie. I've been working for a big company in the telecom and the CEO tells me "Listen, Antonio, I'm the sponsor of 25 projects. Everybody wants me to be the sponsor of their project. I'm the CEO, you know. Everybody wants to be me and I accept that. And listen, Antonio, you know what, I can only join two of these big projects. I just have time, I make the time, I'm personally interested about this digital transformation, this acquisition. I'm there. I mean, I'm pushing. You know what, Antonio?" – "No," I say – "Only these two projects have been fantastic. The other 23 have been a disaster. And I say "John, you realize what you just told me? It's in your hands. Just take three projects and sponsor them and be there and be present and support the teams, understand some of the fundamentals of projects and leave your team to lead the others but we need sponsors in the top projects." So, there is really not much available, Eddie. I think the best point to is come to me through my website and I'm happy to provide some free samples and some lessons learned. My specialty is training leaders to become better sponsors because it does make a huge, huge difference.
Eddie Turner:
And what is your website?
Antonio Nieto-Rodriguez:
It's AntonioNietoRodriguez.com. It's just so easy and LinkedIn as well. You can find me. I always reply. Like you, Eddie, I like to keep in touch with the people to learn from them to help them and it's quite easy and I have quite a lot of material to share but it's such a big need. That's why Harvard is such a big book because senior leaders are going to read it. So, I think the opportunity is there to make a difference.
Eddie Turner:
Wonderful. I'm going to put that in the show notes so that folks can get to your website so they can follow you on LinkedIn, follow you on social media, and read all these articles you publish as well. So, get your book. We're going to promote that. We're going to put that on our website as well. We're also going to ask folks to get your articles and start to download those and read those because you are right, you've made a lot of tools available to people at no charge and certainly, of course, for those that want to hire you and bring you to their organizations as both a speaker and a consultant on this, they would do themselves a huge favor by tapping your expertise.
What's the main message you want to leave with our listeners today?
Antonio Nieto-Rodriguez:
Well, listen, Eddie, thank you for the opportunity. I think we should see projects as propellers of hope and prosperity and change and really push our leaders in our organizations in the world to use projects better. I always take this to a higher level. Projects have been memorable events that we remember that makes us proud of belonging in a country or proud of being in an organization. I always ask when was the last time we were proud to be Spanish. And it was because there was a huge project and we had the Olympic games in Barcelona in 1992. I remember the dream team. I was there and that's the last time, 1992, because afterwards there has not been an exciting project that united Spain. When was the last time we were proud to be European? When the Euro was introducing. That's the last time, 2001. If you go to some countries around the world, they have amazing projects. In Middle East you find that. Recently, in my research of projects, Eddie, I saw Rwanda, for example. Rwanda had one of the worst genocides in recent history in 1994. They decided to stop that – "We cannot fight against each other." They launched a project to reconcile, Rwanda – Hutus and Tutsis – and they've managed. In 20 years, that country, they feel together, they feel strong, they're one of the strongest nations in Africa coming from a disaster because a project was put in place, inspirational, to drive change, to make people provide hope, engage the people. You need to feel part of the engagement. You need to contribute. And when was the last time you felt proud to be from the US or from your company? We need more projects. This is the best tool we can use to engage people to feel motivated. We need deadlines. So, we need a bit of pressure and see that coming but I really advocate for having one or two projects around you and your business that will excite everybody in the countries that will excite and make us proud. And I feel we don't have that and we need to push to have that. It's simpler than what it looks like. And that's maybe the last message I wanted to share. It is possible to feel good, to feel proud. We just need to find a few people who dream and have a vision and a deadline and we get all inspired behind that. And that's the most important thing we could do nowadays.
Eddie Turner:
Wonderful. And you said that projects are propellers for prosperity and hope. Beautiful.
I have thoroughly enjoyed talking to you, Antonio. Thank you for being a guest and helping all of us to understand the project economy on Keep Leading!® Podcast.
Antonio Nieto-Rodriguez:
Thank you, Eddie. It was such a pleasure. I could have talked to you for the next two, three hours for sure.
Eddie Turner:
Likewise, absolutely.
And thank you for listening. That concludes this episode everyone, I'm Eddie Turner, The Leadership Excelerator®, reminding you that leadership is not about our title or our position. Leadership is an activity. leadership is action. It's not the case of once a leader, always a leader. It's not a garment that we put on and take off. We must be leaders at our core and allow it to emanate in all we do. So, whatever you're doing, always keep leading.
Thank you for listening to your host Eddie Turner on the Keep Leading!® Podcast. Please remember to subscribe to the Keep Leading!® Podcast on iTunes or wherever you listen. For more information about Eddie Turner's work, please visit EddieTurnerLLC.com.
Thank you for listening to C Suite Radio, turning the volume up on business.
The Keep Leading!® podcast is for people passionate about leadership. It is dedicated to leadership development and insights. Join your host Eddie Turner, The Leadership Excelerator® as he speaks with accomplished leaders and people of influence across the globe as they share their journey to leadership excellence. Listen as they share leadership strategies, techniques and insights. For more information visit eddieturnerllc.com or follow Eddie Turner on Twitter and Instagram at @eddieturnerjr. Like Eddie Turner LLC on Facebook. Connect with Eddie Turner on LinkedIn.