Doug Winnie
Business and Profit Accelerator and World's #1 Business Coach
Business and Leadership BlindSpots
Episode Summary
Doug Winnie is an entrepreneur and global master coach. He has won several awards as an Executive & Business Coach, including being recognized as the World's #1 Business Coach. On September 1, he launches his new book, Business BlindSpots! Listen to my interview with him to learn more.
Check out the "60-Second Preview" of this episode!

Bio
Doug Winnie is an Award-Winning Certified Executive & Business Coach, Speaker, Motivator, Team Strategist, and Cash Flow & Profit Expert.
As a business coach, he has added substantial value to multiple organization's financial statements both in decreased costs and increased revenue and profits by using current management and motivational techniques obtained through my past experiences and continuous education.
Over the last decade, Doug has over 10,000 coaching sessions (each an hour or more) on marketing, sales, operations, finance, and team, which is the contents of his book "Business Blind Spots."
Website
https://dougwinnie.actioncoach.com/
LinkedIn
https://www.linkedin.com/in/americassmallbusinesscoach/
Twitter
https://twitter.com/USSmallBizCoach
Leadership Quote
"Work harder on yourself than you do on your job." – Jim Rohn
Get Your Copy of Doug's Book!
https://businessblindspotsbook.com/
Full Episode Transcripts and Detailed Guest Information
www.KeepLeadingPodcast.com
Keep Leading LIVE (Live Recordings of the Keep Leading!® Podcast)
www.KeepLeadingLive.com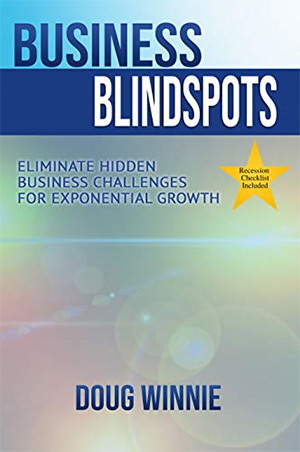 Transcript
The key to sustainable leadership lies in the ability to thrive during uncertainty, ambiguity, and change. Grand Heron International brings you the Coaching Assistance Program, giving your employees on-demand coaching to manage through a challenging situation and arrive at a solution. Visit GrandHeronInternational.Ca/Podcast to learn more.
This podcast is part of the C Suite Radio Network, turning the volume up on business.
Welcome to the Keep Leading!® Podcast, the podcast dedicated to promoting leadership development and sharing leadership insights. Here's your host, The Leadership Excelerator®, Eddie Turner.
Eddie Turner:
Hello, everyone! Welcome to the
Keep Leading!® Podcast
, the podcast dedicated to leadership development and insights. I'm your host Eddie Turner, The Leadership Excelerator®. I work with leaders to accelerate performance and drive impact.
"Oh, with some power give, us the gift to see ourselves as others see us." That quote from the 18th century Scottish poet and songwriter Robert Burns well describes what position we may find ourselves in as leaders at times. At times, as leaders, we don't see ourselves or our business as others do. We lack clarity or, as my guest today says in his new book, we have business blind spots. So, today, we're going to discuss business and leadership blind spots. We'll discuss what they are, how we identify them, and learn what to do about them. And we're going to do that with an expert.
My expert guest today is Doug Winnie. Doug is an entrepreneur and a global master coach. He's won several awards as an executive and business coach and just to name a couple, in 2012, he was recognized as the Executive Coach of the Year. Most recently, Doug was recognized as the World's Number One Business Coach. Doug's also a speaker, motivator, team strategist, and a cash flow and profit expert. Over the last decade, Doug has delivered a staggering 10,000 hours of individual coaching sessions. I am excited to welcome Doug Winnie to the Keep Leading!® Podcast.
Doug, welcome to the show.
Doug Winnie:
Hey, Eddie. Thanks so much for having me here. Man, what an awesome introduction. You're so good at this.
Eddie Turner:
Well, when I have a great guest to introduce, it's easy. Man, I'm so impressed with you and your background and all that you've accomplished.
Doug Winnie:
Well, thanks, Eddie. I really enjoy doing what I do and it does come from my parents being entrepreneurs and me doing the same thing and now trying to help a lot of other people have some of that similar success.
Eddie Turner:
So, are you saying entrepreneurship was in your blood?
Doug Winnie:
I would say yes even though the parents did say never ever, ever, never ever, "Would you never, please, never, Doug, own your own business." That's what they said. I do know the reasons they said it, might share some of that with you guys today and your listeners today. The reality is I didn't listen very well and instead I've built several multi-million-dollar businesses, sold a couple, I really enjoy doing that as well as teaching others exactly what to do and how to do it.
Eddie Turner:
Well, we absolutely want to learn that, Doug. In fact, when we think about what you've done and you've started your own business in spite of your parents' advice, some folks may be wondering about what they should do. So, if you're wondering, folks, listen in really close today because Doug's going to share that.
So, let's start off by understanding right away what is a business blind spot?
Doug Winnie:
It's really interesting because in today's day and time and, although it is really more apparent today, it's been, I guess, for as long as time has been time, there's blind spots. It's the things we don't yet see that once we see, hopefully, we recognize and then do something about it. Dr. Marshall Goldsmith's written the forward to this book and he starts off by saying something like "Business blind spots is a bit like someone telling you're fat when you know you're fat." And so, you don't necessarily do anything about it until somebody recognizes it and then you're aware. So, awareness is the first tool to eliminate a blind spot.
So, let's just say you don't have enough sales. And that may not be a blind spot. You might be like "Well, I know I need more sales" but the blind spot might be you actually don't have enough leads. You have a pretty good ability to take a lead and convert it to a sale but the blind spot is you have insufficient leads. Therefore, the bigger blind spot might be you don't even know how to generate leads. Here's a great example. Some of our clients are restaurant owners. So, in today's day and time, they didn't know their blind spot was carryout or pick-up or drive-through. Now, it's very apparent to them that had they built their business around carryout as well as maybe drive-through, well, their business could be booming rather than slow or even shut down.
Eliminating blind spots as soon as possible is what the whole book is about. Going through a bunch of categories, asking really good questions, hopefully causing people's blind spots to be aware. And then sort of like being a bit overweight, someone tells you "Hey, you're a bit overweight" and you're like "Oh, you're right. I should work on that" and then do something about it. So, really hoping that people read the book and then take action about their blind spots.
Eddie Turner:
So, it's conspicuous to observers in in some cases but not necessarily to the person themselves. So, I like how you said business leader may just say "Hey, I'm having trouble with sales," when really that's not the problem. They have another problem that is manifesting itself as a sales problem.
Doug Winnie:
Absolutely. And in the leadership world, you could be the leader of a sales organization and recognizing that the team is not selling and it might have nothing to do with sales. They'd have everything to do with leads, might have something to do with leadership, may have something to do with poor training, poor accountability, poor mentorship. All of these things are blind spots which, typically, are ignored. Well, maybe because they're blind, they don't see them. Somebody else from the outside goes "You know, your management skills are kind of weak. Your leadership abilities aren't so great." And once somebody tells them, shows them, hopefully, they go "Oh, maybe you're right. I do need some help. Let me work on that" and then they start working on it.
Eddie Turner:
Interesting. And I love how you mentioned because I was going to ask you when I was looking at your book and understanding the point of reference that you're making how this applies during the time of what we're living in, the coronavirus, the COVID-19 crisis that's affecting our globe. And so, you're mentioning that some people in your clientele, they had a blind spot about what business they could be in versus what they are actually supposed to be in.
Doug Winnie:
Exactly. Another really good example is a client that owns a wedding venue. Well, typically, weddings are a lot more than 10 people. So, so they're only allowed to have 10-person weddings. Literally two years ago I explained to this particular client they should be doing web, providing the grandparents that can't travel from years ago and they never did that. So, that blind spot was made aware and then they ignored it. Even today, three-four months into COVID, they still haven't done it. And now they're like "I'm just hoping that the weddings can come back, events can come back" and we're like "Look, stop being in denial. The reality is if you had built that, you would have built another revenue stream long ago and you could still be having weddings."
Eddie Turner:
I'm glad you said that because that was the other thing I was going to ask you. In some cases, this blind spot that we're describing, clearly, we don't see it as a business leader but in other cases, it's what you just described. We see it but we're ignoring it. So, it's not a lack of awareness. It's a lack of action or that denial stage.
Doug Winnie:
Denial, belief systems. A lot of things are critical to doing the actions because if you were in March of this year and like "Oh, okay, this is going to have some effect" and you believe it's going to have an effect for two weeks and then you believe it's going to have an effect for just six weeks, now we're into five months of it and maybe your belief should be this is going to change people's behaviors. I don't know about you, Eddie, but I know, for me, I have done more takeout of steak restaurants than last four months than I've probably eaten at steak restaurants in the last four years. Behaviors are changing. So, what if forever more people will come to weddings online than in person and you could figure out how to do that if you change your business model?
Eddie Turner:
And to your point about the wedding analogy, how many more people can attend than who would have attended otherwise, I'd neglected to mention earlier you are a member of the esteemed Marshall Goldsmith's 100 Coaches Organization and you aren't just a member, I believe you're one of the first 25. Am I correct?
Doug Winnie:
Yes, it's such an amazing group. Marshall has done such amazing things all around the world and now he's giving it to us. So, it's great to be a co-member with you, Eddie, and a fantastic group and just keep hearing from Marshall because in the group and thanks to COVID, we get to hear from him, early on it was every day and now it's every week.
Doug Winnie:
Continuously teaching us amazing things. So, yeah, really proud.
Eddie Turner:
And keeping us sharp.
Eddie Turner:
I mentioned that because that wedding analogy you gave was one that we saw in our group. We saw the beautiful wedding with the CEO of a major corporation and one of our members. They had a beautiful French wedding and everyone got a chance to be a part of it and that would not have happened otherwise. And Marshall served as the officiator of the services.
Doug Winnie:
Yeah, amazing ability, right? And really because of the situation we're going through with COVID that came up. And the same thing sadly with funerals. People can attend these used to be mass gatherings and they can do it remotely and then there might be new rules like one of the virtual weddings I was at, people weren't dressed well. Well, maybe there's new rules about you should dress well for a webinar. Go ahead, wear the suits for the events because, well, that's a reason to get dressed up, not just to go but to be part of. So, I think society is changing, our habits are changing and that's also a blind spot.
Eddie Turner:
Also a blind spot.
Doug Winnie:
Being able to handle the changes.
Eddie Turner:
Now, Doug, when I think about things, I often need to simplify them in my own brain. So, that means it becomes a sports analogy. So, bear with me, if you will. I'm thinking about football season which we're going to be missing here pretty soon but if you're a player on the field and you're the running back or you're the wide receiver, you're running, because of the helmet you don't always have visibility of that person who's coming up behind you. And when you get hit, you're hit, you're laid out sometimes, right? So, for the business leader listening to us, what's the consequence of not seeing what's coming from behind and about to take them out?
Doug Winnie:
Well, in some cases, you could get fired from a job. And we've seen this all around the globe, CEOs of major corporations being replaced because they didn't see a blind spot and then when it showed up, they didn't act appropriately. Even some recent, I guess, maybe it's a year or two ago, videos of people getting ripped off an airplane. And so, the response to that is truly a big blind spot. Now, in this particular example, at least the CEO did change the way he started to speak but that first response was a disaster, dropping billions of dollars in market valuation because of a blind spot of a response. So, it could be termination. It could be billions of dollars of shareholder value loss. And then for the business owner, it could be as bad as bankruptcy. You could be out of business. And right now, they're talking about 30% of businesses closing down because of COVID, a big number. Yet, as I said to many, did the market change or did just the business not change? As I talked about restaurant owners, did people stop eating? No. As a matter of fact, they're talking about the COVID-20, not for 2020 but the 20 pounds, right? People are putting on weight. So, they're eating more.
Eddie Turner:
Yeah, guilty as charged. Absolutely.
Well, I am talking to the amazing Doug Winnie. He's an entrepreneur and global master coach. In fact, he's ranked the world's number one business coach. We're talking about his latest book Business Blind Spots. We'll have more with Doug right after this.
This podcast is sponsored by Eddie Turner LLC. Organizations who need to accelerate the development of their leaders call Eddie Turner, The Leadership Excelerator®. Eddie works with leaders to accelerate performance and drive impact. Call Eddie Turner to help your leaders one on one as their coach or to inspire them as a group through the power of facilitation or a keynote address. Visit EddieTurnerLLC.com to learn more.
Hi! This is Sally Helgesen. I am an author and leadership coach and you are listening to the Keep Leading!® Podcast with Eddie Turner.
Eddie Turner:
All right, we're back. And I am talking to Doug Winnie, the world's number one business coach and an entrepreneur. We're talking about his latest book Business Blind Spots.
Before the break, Doug, you were telling us what business blind spots are and how we identify those blind spots and your book is going to be a key tool to doing that but, Doug, when they aren't just satisfied with reading your fantastic book, obviously, they can call you. And I say obviously because I spent a little time on your website and I read those testimonials and I was blown away because these are testimonials of local business people and local businesses that I recognize and many Houston-based folks will recognize those names of those clients you're working with. These aren't just any clients. And one of those clients said that you helped her to achieve a 300% increase in growth in just one year.
So, my first question to you is which one of your numerous success stories do you find yourself talking about the most because it really stands out?
And my second question is do you have any time after this interview is over because I need your help?
Doug Winnie:
I'll answer the second one first. Always time for Eddie Turner, always. I'm very happy to help anytime you think of it, love to help you out. And then really the first question is it's the business owner that I talk most about whose life changed because they took action. They took the mentorship, they learned and then they did it. There are some that think a lot and then don't do. There are some that do and didn't think enough. It's those that learn and then do and then they come back and say "Hey, you know what I did this week?" I said "What did you do this week?" They said "You know, I spent all week with my daughter." I went "Oh really? What? What did you do?" – "Oh, we went out and bought a horse." – "Oh wow! How cool is that!" – "Yeah, I took my daughter, you know, horseback riding on our new horse that I couldn't have done because before coaching, before working with you, it was 80 hours a week at the business. Now, the business runs without me and I can spend a lot of time with my family." And that's really why I keep doing what I do. I did retire, I guess, about 12 years ago and then got into coaching. Somebody said "Hey, why don't you teach others to do what you do?" and I'm like "Well, teachers don't get paid well. They're not respected enough." And they said "Well, you know, people need the help and, by the way, you get paid well for it." And I'm like "Okay, I'm an entrepreneur. Tell me more about that paid well thing." So, they talked me into the business because of the income and then I started to see the lives that people have because the website that you're referring to is Business as a Tool – BusinessAsATool.com – because it is a tool if you use it properly. Some people don't know how to use the tool and for some, it's just a job or worse, it can be an anchor and they're not really understanding how to use it as a tool. And those that learn really what to do, how to do it and then do it, those are the ones I talk about. And that's back to what I mentioned earlier before the break about my parents. The reason they didn't want me to own a business is because they never learned how to grow a business. They learned the business side of things. My mom had a maid service business. My dad had a painting business. Sadly, they were never really successful. As matter of fact, they were unsuccessful. We kind of got kicked out of our house a few times because of not paying the rent or the mortgage. Even after my parents divorced, my dad who supported us was on welfare several years. So, that's the reason they didn't want me to own a business because they thought owning a business meant failure. The reality is it can mean huge success. The only difference between me and them is that I learned how to grow businesses and they didn't learn how.
Eddie Turner:
Well, I'm sure they're very proud of you now but, boy, if only they ever had your wisdom that you have, how different their lives would have been.
Doug Winnie:
Yeah. I mean, my dad sadly passed away many years ago penniless and poor probably because he didn't have any money. And my mom, I now support.
Eddie Turner:
Well, you said something that is worth really putting some clarity around. I'm an executive coach but there's a difference between being an executive coach, coaching executives and a person like you who is a business coach who's also coaching executives but you actually tear up on your balance sheets with them. I am never going to touch a balance sheet. So, the kind of coaching and the business acumen that you're bringing is on a different level. In fact, if I'm not mistaken, you've got a graduate degree in Finance. And so, you really are academically equipped and then through your entrepreneurial success is equipped to really guide business leaders at all levels on how to take their business to the next level.
Doug Winnie:
Yeah, definitely, very P&L focused, income statement, as they say in the accounting world, focused. Do have a couple degrees in International Finance and Management of Information Systems which was my first business as an IT business. So, it is understanding how a business should create happiness because of great profits that you also allow yourself to take off all the hats and have a business that will run without you. That's one of the most important things is being able to take off all of the hats. And that's really one of the things that the book gets into is being sure you're wearing a hat that you might want to wear but not wearing all the hats. And so, I kind of talk about the five pillars of a business or even like the five legs to a stool. And if I think about it as the five legs of a stool, a stool can stand up with three legs. It's not going to stand up with two. And it can handle a lot more support if it has five. And so, in the book I kind of talk about these five pillars and how business actually should just be kind of working round robin and working on this pillar or this leg of the stool and then the next one. As a matter of fact, those two start to create troubles and the next one and you work on the third one and then the fourth one, the fifth one and then back to the first one again and you keep going around and round and round. Next thing you know you have a pretty big business and it totally can run without you and have great cash flow. It's just you know how big is the market, one of the things I ask. One of my mentors, Brad Sugar, says "Are you building a business based on your abilities or based on the market size? If you're building a business based on the market size, then you can build a great business. Based on your abilities probably it ain't going to get very big."
Eddie Turner:
Yes. And you've mentioned Marshall Goldsmith a couple of times. Marshall often says if you want to do anything big, you can't do it alone. You got to take others with you.
Doug Winnie:
That's right, absolutely.
Eddie Turner:
Hence the MG100.
That's good. And by doing that, I love this idea of the five pillars that you referred to and that you only want to wear the hat that you need to wear and not necessarily do everything because that frees you up to have the success you described earlier where the gentleman said he was so excited because he was able to spend time with his daughter. So, that's the other side of that business success, right? For some people it's going to be how big the business gets, how much money we make but then there are others that say "I want to have the business sustain my lifestyle so that I can have more time with my family."
Doug Winnie:
Exactly, yeah. And I'll just quickly run through the five pillars real quick just so everybody understands them. And it goes into great detail, of course, in the book Business Blind Spots.
First pillar is lead generation marketing. And so, getting the leads. So, that is an entire pillar. And most people do not understand marketing. Most people think it's sort of some crazy myth. Lead generation is huge. As a matter of fact, the most successful restaurants in the world probably aren't the best but they do have the best marketing. So, think about that. You're probably not going to take your next date, I mean, maybe some teenagers might but most adults aren't going on their first date at the biggest restaurant in the world but they are the biggest. Again, not because it's the best but because they do the best marketing. So, lead generation is marketing.
Next one is when you get a lead, you must convert the leads. So, the second one is sales. Lots of things inside of sales like the sales process, understanding your future customer's behavior patterns, up-sales, down-sales, all of the sales strategies that need to be employed in every business. So, sales is the second one.
The third pillar is actually doing the work. I call it operations. So, every business has operations. Coaching is our operations. First, we've got to have leads. Then we got to convert the lead. And then we got to do the work. By the way, every business has all five pillars. Marketing is the first. Sales is the second. Third is operations.
Fourth is Finance, the money side of the business. So, there could be cash flow issues, collections issues, could even be profitability issues which could be involved in the marketing and sales side but we do take care of all of the elements of the money on the Finance pillar.
And then the fifth and final pillar which is close to your heart and that is team, helping leaders build a great team.
So, we got Marketing, Sales, Operations, Finance and Team. Those are the five pillars. And you could be really good at a couple and your business will be okay. You want to get really good at all five and your business will be booming.
Eddie Turner:
Excellent. Thank you for that clarity because I misspoke when I said the five pillars earlier. That is wonderful. I like that. And we can get all those details in the new book.
So, when we think about our conversation that we've had today, Doug, and what we've covered, what's the overarching message you want to leave our listeners with.
Doug Winnie:
I guess, the overarching message is learn and do. It really is. There are so many books out there that some read, most don't and then those that read them, then don't do anything. So, one of the quotes that I've got in my book, one of my own quotes, is "Knowledge becomes valuable when acted upon." So, I highly encourage people get to the website BusinessBlindSpotsBook.com. My personal website is BusinessAsATool.com. Get to either one of those, learn and then do. Become a great person of knowledge acquisition and then be the person that takes that knowledge and acts on it because that's when you get great results.
Eddie Turner:
Yes, absolutely. I love that and I know that's going to resonate with the listeners to our show. And thank you for telling us where to go to find you to access everything. And I'm going to put that in the show notes to make sure it's easy for folks to be able to do just that. And I'm going to encourage everybody to reach out and connect with you and get to know this author, ladies and gentlemen, because he's more than just an author, as I've said. He's a business leader doing some great work out there. And I'm going to book my appointment with him.
Doug, thanks so much for being a guest on the Keep Leading!® Podcast and helping us to understand the importance of business and leadership blind spots.
Doug Winnie:
Thank you so much, Eddie. I really appreciate being here and can't wait to chat with you too.
Eddie Turner:
Thank you so much.
That concludes this episode everyone. I'm Eddie Turner, The Leadership Excelerator®, reminding you that leadership is not about our title or our position. Leadership is an activity. Leadership is action. It's not the case of once a leader, always a leader. It's not a garment that we put on and take off. We must be a leader at our core and allow it to emanate in all that we do. So, whatever you're doing, always keep leading.
Thank you for listening to your host Eddie Turner on the Keep Leading!® Podcast. Please remember to subscribe to the Keep Leading!® Podcast on iTunes or wherever you listen. For more information about Eddie Turner's work, please visit EddieTurnerLLC.com.
Thank you for listening to C Suite Radio, turning the volume up on business.
The Keep Leading!® podcast is for people passionate about leadership. It is dedicated to leadership development and insights. Join your host Eddie Turner, The Leadership Excelerator® as he speaks with accomplished leaders and people of influence across the globe as they share their journey to leadership excellence. Listen as they share leadership strategies, techniques and insights. For more information visit eddieturnerllc.com or follow Eddie Turner on Twitter and Instagram at @eddieturnerjr. Like Eddie Turner LLC on Facebook. Connect with Eddie Turner on LinkedIn.