Tony Chatman
Keynote Speaker, Corporate Relationship Expert, Certified Speaking Professional, Author and Bias Disrupter
The Force Multiplier
Check out this 60 Second preview of the episode!

Tony has worked with hundreds of corporations and government agencies including the U.S. Secret Service, Chase Bank, Estee Lauder, N.O.A.A. and N.A.S.A. to help people reach new heights of effectiveness by understanding themselves and others better. As a leadership keynote speaker, his passion is contagious and his messages provide practical, usable knowledge that people implement immediately for business and personal success. Recognized for his stage presence and intensity, Tony delivers the kind of results that consistently garner outstanding and enthusiastic reviews. His profound ability to connect with every audience member ensures they come away feeling that he spoke directly to them and impacted by his message. As an author, Tony recently completed his first book: The Force Multiplier — How to Lead Teams Where Everyone Wins.
Website
www.tonychatman.com
LinkedIn
https://www.linkedin.com/in/tony-chatman-6064054
Twitter
https://twitter.com/TonyChatman
Facebook
www.facebook.com/tony.chatman.92
www.facebook.com/tonyblueprint
Instagram
https://instagram.com/tonychatmanspeaks
Leadership Quote
"You are what we refer to as a Force Multiplier—the overall effectiveness and output of your group is increased by your very presence."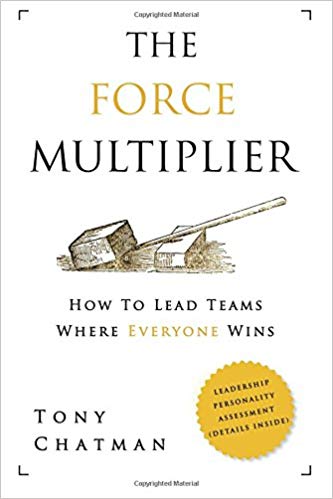 Transcript
This podcast is part of the C Suite Radio Network, turning the volume off on business.
Welcome to the Keep Leading Podcast, a podcast dedicated to promoting leadership development and sharing leadership insights. Here's your host, the Leadership Excelerator, Eddie Turner.
Eddie Turner:
Hi, everyone. This is Eddie Turner, the host of the Keep Leading Podcast. What is a force multiplier? How could you and I increase our impact on others as leaders? Well, my guest today is going to answer that question. I'm going to be talking with Tony Chatman right after this message.
This podcast is sponsored by Eddie Turner LLC. Eddie Turner LLC delivers executive and leadership coaching, professional speaking, facilitation services, and management consulting across the globe. Eddie Turner LLC also creates voiceovers, serves as a master of ceremonies, as a panel and event moderator, and provides national media commentary. Visit EddieTurnerLLC.com to learn more.
Eddie Turner:
Hello, everyone. Welcome to the
Keep Leading Podcast
, the podcast dedicated to leadership development and insights. I'm your host Eddie Turner, the Leadership Excelerator. I work with leaders to accelerate performance and drive impact.I am really excited about my guest today. Entrepreneur.com featured him in their Small Business Heroes section in a piece entitled True Leaders Bring Out The Best In Everyone Around Them. And he absolutely does that. He is the corporate relationship expert and simply one of the smartest and most multitalented guys I know. I'm excited to have Tony Chatman.
Tony, welcome to the show today.
Tony Chatman:
Hey, Eddie, thanks for having me.
Eddie Turner:
There's a couple of other things, I think, that's important that people should know about you. You've actually worked with hundreds of corporations and government agencies including the United States Secret Service, NASA, and some corporations like Chase and Estee Lauder and you've helped people to go to higher levels and of course you're a speaker and you cover some pretty interesting topics around leadership and Unconscious Bias which is one of the main reasons I wanted to have you on today. And the other big reason is because of your book. Your book has done extremely well. I fact, holding a copy of it here – The Force Multiplier: How To Lead Teams Where Everyone Wins. And until you wrote this book, I just thought you were a nice guy. When you wrote the book and I started reading through it, I'm like "Tony's actually pretty deep." So, yeah, this is just a fantastic book. So we're going to talk about all that but, yeah, I just want to share with everybody just kind of how we know each other. I mean, you are a member of the National Speakers Association. And when I first met you, you were taking photographers and you take great photos. Then I learned that the you're a musician. We hung out and you're a bass player, guitar player. I mean, tell people a little bit about you.
Tony Chatman:
Sure. So I'm a professional speaker and that's obviously how we know each other. A lot of what I do really circles around getting people to work together but, obviously, I'm more than just a speaker and an author. I do have a life. So I've been married for 24 years. I have two sons, both of whom are in college. One's a senior, one's a freshman. I'm a musician. I actually gig with a really cool band here in New York City. I'm a bass player primarily but I also do play guitar, a little bit of trumpet and some keyboards. I love playing golf. I train in martial arts. And really I just love life and love being around people.
Eddie Turner:
Yes. And it comes through in everything that you do. By the you're your wife's actually an amazing woman and she's a fellow Northwestern alumni, Wildcat. So, we got to get that plug in for NU.
Tony Chatman:
Oh yeah, I hear that every time Northwestern … Western Michigan.
Eddie Turner:
Absolutely. Well, Tony, tell us a little bit about the reasons why you wrote the book that you wrote, The Force Multiplier.
Tony Chatman:
Sure. So I spent a number of years speaking and training and traveling the United States, primarily training leaders but also trading people who are about to step into leadership and I realized there were certain trends. One of the trends was many of the people who were stepping into leadership roles had never really been trained. And, unfortunately, most of the books that were written for leadership were way too deep, way to theoretical, just not practical enough for your everyday leader. Most leaders don't have time to think about how do you change the culture, how do you turn the ship. They're more worried about "How do I get this person to stop coming to work late, how do I get this person to stop saying "That's not in my job description", and how do I get this team of people that I have to actually work cohesively and, even if they don't like each other, to function together?" And because that was such a void, I just wanted to write a book that the average leader could say "If I read this and apply it, it will change my career and it'll change my average workday and my effectiveness."The second thing was I just realized most people rarely have had a good boss. So the original title of the book was going to be called Why I Hate My Job, right? Yeah. And it was actually like Why I Hate My Job and then below was going to be like a multiple choice – Don't Like What I Do, Don't Like Such And Such. And then the third one was going to be a check under it- I Hate My Boss, right? And when I told people that, it just resonated with everyone because people were just like "Gosh, I've never had two good bosses in a row." That was something I've heard consistently. So my hope was that I could write a book that whether someone was a brand new leader or someone who was entering the C suite, they could read it and they could walk way and say "You know what, I could apply today and I could see measurable results."
Eddie Turner:
Well, you make a good point there and I thought about that when I was reading your book that, yeah, you're right. If I were to stop and really think, I've had great bosses in my career but never a string of great bosses where you went "Yeah, I had two or three in a row. There were great." No, it was that one who you couldn't wait to get away from. Then you had a great one and then things happened. So really good point. And you make the point also that we have so many great leadership books, why is it that so few people are really great leaders.
Tony Chatman:
Right. And that goes back to part of the thing about why some of the books are written. They're written by CEOs for other CEOs and very rarely are books written for just "Man, you know what, I just got promoted and I need to figure this out and my company doesn't offer any real training." And my hope is I want people to be able to read some of these other great books down the future because I have a lot of them but until you get the basics and set a good foundation, you can't really build upon it with all the other stuff.
Eddie Turner:
So you told me why you wrote the book but now for my listeners who may be wondering "Well, what is a force multiplier? I've never heard of that phrase before," can you answer the question about what that is?
Tony Chatman:
Sure. So let me tell you a story. Years ago a friend of mine was about to be deployed to Afghanistan and we were having kind of a going away deployment party where he and his family were in my living room and a bunch of people were wishing him well, talking about how we're going to take care of his wife and kids while he's gone and all these other things. Then a friend of mine who is a high-ranking officer in the army, he got up and he said something that I'll just never forget. He said "You're what we call a force multiplier because by your very presence you increase the performance of everyone and everything around you." And when he said it, it just resonated with me that we talk about leadership so often and people have all of these mantras from "Leaders have followers" to "Leaders create other leaders" to all these other things but rarely do we say "Because you're there, more stuff gets done," "Because you're there in your leadership position, we're more effective, we're more productive, we have higher quality output." That really should be there because it justifies the presence of that leader. And so that really stuck with me that a person should be there to literally multiply the force of everyone around them. And what a force multiplier actually is, it's a device or a tool. For example, a lever is a force multiplier because the amount of force that you put on the lever allows you to lift more weight, it multiplies its force, but as a leader we should be the same where we have people around us and by our presence, we used to use the word 'synergy' a lot, but by our presence that group is more effective because of our leadership.
Eddie Turner:
Very interesting concept, Tony. Thank you.Now you did something else in this book that not a lot of leadership books have. If I need to understand where I am at, what did you include in this book that every leader can use?
Tony Chatman:
Oh, sure. So I created a personality assessment. So I've worked with different personalities and assessments and tests like that since 1996. So that's an area I'm very strong in. And I realized if we just understood how we're all wired differently and because of that we have different motivators, we have different ways of dealing with things, if we understood our own style, we could leverage it, we could minimize our weaknesses and maximize our strengths, but then if we also understood the styles of everyone around us, it allows us to translate our style or shift our style to better suit the needs of those around us.
Eddie Turner:
Do you have an example of that, Tony?
Tony Chatman:
Sure, sure. So, for example, getting into the actual terms in the book, I'm a person who would be considered a conductor and an MC. So I am very extroverted but I'm also very much a "Let's get things done. Let's do them quickly. Let's be very productive." That's the type of person I am. What I'm not is I'm not a detail oriented introvert. And so what happens is for most people, and I saw this early on in my career, I was great at leading people who are just like me because I knew what they wanted. I could give them what they needed because I knew it but I was horrible at leading people who were not like me. In fact, I viewed them as being very difficult. I'm like "Hey, man. Okay, this person's always asking questions and I'm saying something and they want more detail and "Okay. Hey, look, the goal is going to be a little ambiguous. They could not function well ambiguously," all of this other stuff and I couldn't and I'm like "Hey, let's get moving. We got stuff to do." That's what's on my mind. Then as I became introduced to this concept, I realized there are people I'm going to have to stop and give more detail to, to better utilize them and take their input when they give me more details instead of saying "Hey, you know, we don't have time for that" because in many ways they actually have my back. So I had to learn to shift by style. And that really helped me, and it especially helped me when I delegated, because I often delegated and said "Hey, you know, I had a way to do it. We need to do this, do this, do that" but I realized that I'm going to have to sit down and walk through "Here's what we need to do. Here's why we need to do it. Here's the specific outcomes. Here's all the resources" and actually create a model for how to delegate because I realized giving people what I wanted was not sufficient for them.
Eddie Turner:
Well, I'm so impressed. I've taken instruments but they're always someone else's. You are so talented you just went out and wrote your own and included it here for everybody. So that's very impressive. And leaders who read The Force Multiplier will benefit from taking the assessment.What I'd like to do now is to pause for a word from our sponsor.
This podcast is sponsored by Eddie Turner LLC. Organizations who need to accelerate the development of their leaders call Eddie Turner, the Leadership Excelerator. Eddie works with leaders to accelerate performance and drive impact. Call Eddie Turner to help your leaders one on one as their coach or to inspire them as a group through the power of facilitation or a keynote address. Visit EddieTurnerLLC.com to learn more.
This is Julie Anne Sullivan, your business culture expert, and you're listening to the Keep Leading Podcast with Eddie Turner.
Eddie Turner:
Okay, we're back. I invite you to subscribe to the Keep Leading Podcast and share it with your friends. Please leave a review for me on iTunes so I know you're out there and I know what you're thinking. If you leave a review for me on iTunes or share this podcast on social media, please tag me and then send me a message so I'll know. I'll send you a digital copy of my bestselling book 140 Simple Messages to Guide Emerging Leaders and I'll also give you a shout out on social media and on the Keep Leading Podcast.Okay, we're talking to Tony Chatman, the author of The Force Multiplier. Tony has given us a little bit of an insight into the book and he's told us about the Leadership Personality Assessment that's included inside the book, which has made it not only a bestseller but, Tony, who else is using this book?
Tony Chatman:
Well, right now Morgan State University is using it as part of their Master's and Doctorate programs in education because there's the leadership component to it that they felt that when they read the book that it would be really good for their students who are going out into the real world to lead colleges to be able to use this as a model for how to lead. We're also in talks right now with Homeland Security. They're one of my clients and they want to possibly have all of their leaders read this book The Force Multiplier because I think that it would really increase the effectiveness of their leadership teams.
Eddie Turner:
Well, that's outstanding. It says a lot when a book has done well on Amazon and other book lists but quite a testimony that it is being used in academia and in our governmental agencies and be viewed as required reading. So hats off to you on that, Tony.
Tony Chatman:
Thanks, Eddie. Appreciate it.
Eddie Turner:
I want to switch gears now and go into the area that I five impressive. You've done some incredible work around Unconscious Bias and that's almost become a buzzword in corporations and even in our government agencies these days. First of all, tell us what is Unconscious Bias and why does this matter for a leader.
Tony Chatman:
Sure. So Unconscious Bias, the easiest way to say it, let's break it down into two words. Bias – I used to describe bias as your prejudices and your preferences but that's not totally true. Biases really are your narratives and your choices and the decisions you make and they create almost like a formula or an algorithm for how you make decisions. Now we have a conscious algorithm like, for example, undergrad, I was a chemical engineer and we have the saying "Once an engineer, always an engineer." So I have a very methodical way that I saw problems and make decisions consciously but subconsciously there's also this other algorithm that's going on that makes decisions in the blink of an eye. And the reason for it is this. Daniel Kahneman who wrote the book Thinking Fast And Slow said the brain basically has two thinking systems. It has the conscious rational thinking system which is the one we're normally most familiar with but the problem is that it's slow and it's easily overwhelmed. And then we have our sub conscious thinking system which is always running but is not very effective. And so where we're raised, what we've read, our experiences, who raised us, what we watch on TV, all this other media, it literally programs our subconscious. So when you say Unconscious Bias, it's literally the decisions that we make that happen below a conscious level. I know I kind of went a long way to get there but the reason it's important is because your Unconscious Bias is in no way related to what you consciously believe. So consciously you could know that all people are created equal but because you may have grown up in an area where there were, for example, no people of color or there are no people who were of a different sexual orientation. And so, all you have is what you saw in TV, what you heard from your parents, what you heard from church, you make decisions about people that are against what you consciously believe and not even realize that you're doing it.
Eddie Turner:
Where would I see this show up in my career in a corporation?
Tony Chatman:
The most common places, it starts off in areas like diversity. A lot of studies were done, for example, with women. If you take a resume, the exact same resume and put a man's name on it and then another one with a woman's name on it, the man's resume has a 60% greater chance of coming in for an interview than the women's resume. Same resume, same qualifications, but different output based on what's going on subconsciously. Same thing happens in race. For example, it's been stated that a white name on a job application is worth about 8 years of job experience but it also plays out in other areas that you wouldn't necessarily think. For example, height – 58% of CEOs are 6-foot tall or higher, 30% of CEOs are 6-foot-2 or higher. That's less than 4% of the adult male population but there's this tendency to think that taller means better leadership. Even this one, so they had women who had weight loss surgery. And this is actually a really interesting one. They took their before and after pictures and attached it to their resumes and sent it to HR professionals. The resumes with the thinner picture scored higher on leadership potential and starting salary. So thinner women on average make about 19,000 more than their heavier counterparts. And juries are actually, I said this at a meeting and the head of law enforcement was there and I said "You know, juries are more likely to convict an overweight woman than thinner woman" and said "Well, everyone knows that" and I said "Whoa! No, no, everyone does not know that but it's true." So we have all these biases because we assign characteristics to these tendencies. So where it effects a leader is you might not choose the best person because of a physical characteristic that you don't realize is influencing your decision. And so now you hire people … Gosh! I learned this in college, right? When I interviewed, I learned during the interview find something that I have in common with the interviewer and spend all your time talking about that. And I literally did that and got a job. And I was very qualified for the job but the truth of the matter is I charmed my boss. And once he liked me, he hired me. And that's what people do is they hire who they like but that's not always a good methodology of doing it. It's not always good to promote the people that you're most comfortable with or like because they're not always the most qualified for the position but we do that. And sometimes it happens simply because of our biases and we don't realize it. And then that begins to explain why corporate boards look the way they do or why leadership teams look the way they do. They look very homogeneous and there's very little diversity regardless of our efforts for diversity.
Eddie Turner:
And is there a cost to organizations? You mentioned briefly the idea that we end up having homogeneity and that sometimes we're passing the best candidate. Are there any other costs that corporations or organizations realize?
Tony Chatman:
Oh, absolutely. So, for example, companies rated on Fortune's 50 Best Companies for Minorities consistently outperformed the S&P 500 over three and five-year periods. SHRM says that diversity increases a corporation's ability to recruit, retain good quality candidates, it improves client relationships, corporate culture, innovation. All of these things that affect the bottom line are affected by diversity and inclusion.
Eddie Turner:
Very good. Now, as you said, the police officer felt that everybody knows this. What was the ratio, you would say, when you're speaking to audiences or sharing this content of people who put their hand in the air and say "Oh, I knew that" versus those that say "Wow! You just shared something that was really enlightening and this is the first time I'm hearing this."
Tony Chatman:
98% of it is "Wow!" I mean, there are certain stories and stats that a lot of people know. There's a story about Heidi Roizen, there's a story about Symphony Orchestras, but then when you really start digging into it, there's a lot of wow. For example, I spoke to days ago for the New Jersey Hospital Association. We started talking about how Unconscious Bias effects doctor-patient relationships. And there was just this extraordinary amount of wow that people are like on one hand "I can't believe this is happening" but then on the other hand the people who've experienced are like "Gosh! I knew I wasn't crazy. I knew that there was something more to it and I was feeling even though people were telling me that it's not really happening."
Eddie Turner:
Isn't that something!
Eddie Turner:
Now, Tony, you've gotten to be quite the expert on this and you mentioned that you are a chemical engineer and I know that you've even done some graduate level work at the University of Chicago. So how does an engineer, a person who's around stats, facts and statistics and who knows science far better than I do, how do you make a switch into this area operating in what some people call the soft skills in the leadership space?
Tony Chatman:
Well, that's an interesting thing. For me, it was definitely a journey, I left corporate America because I wanted to work in nonprofit and serve my community. And during that time I enhanced my speaking skills. I already had them. I was on the debate team in high school. I did a lot of presentations in corporate America but I really enhanced by presentation skills. But coming back to it, all of it mattered because those chemical engineering skills and that research skill that I have is important because I'm able to separate fact from fiction when looking at these. And even though we talk about soft skills, I think that's a misnomer because soft skills have a hard effect on the bottom line and there are often stats, studies, and metrics that can quantify that effect. And as an engineer I'm able to look at it and quantify that affect.
Eddie Turner:
And you've done such a great job in turning yourself from … You're still an engineer at heart but you bring a different level of intellect to the stage and a different level of intellect even to your published writing, as we talked about earlier. You've got to be so good, who is one of the first people you opened up for?
Tony Chatman:
Oh god! My first paid speaking engagement, actually, my first three paid speaking engagements were opening up for Les Brown.
Eddie Turner:
Now, for my listeners were listening and haven't heard of Les Brown, who is he?
Tony Chatman:
Les Brown is consistently ranked as one of the top five all time motivational speakers and he is, in my estimation, one of the best as far as actual stage presence and even as big as he is one of the most underrated because I don't think that there's a person on stage who can touch him. So many people are familiar with him. Really the best way to say it is I don't know of any other speaker who's influenced more people to become professional speakers than Les Brown because I know a lot of people in the speaking hall of fame who say "You know, I saw Les Brown on a PBS special and it changed my life and made me want to become a speaker." I've heard that dozens of times. So Les is one of the preeminent speakers of our day.
Eddie Turner:
Yes, indeed he is and he is also a member of our association, obviously one of our hall of fame speakers of the National Speakers Association. And so he's definitely made a mark. So congratulations to you for being a person who can say he's opened for the inimitable Les Brown. Quite a testimony.So, Tony, if we were to boil it all down and say to our listeners the big takeaway from our conversation, it sounds like we're saying that leadership is an art and a science and it is not automatic. It's not something that comes natural to many people. Would you say that?
Tony Chatman:
Absolutely. And if I can expound upon that for a second, whether we're talking about personalities or whether we're talking about Unconscious Bias, we all have blind spots. That blind spot maybe that there are people that we have an affinity to or that blind spot may be that we're good with people who are like us but people who are going to be the best leaders are able to lead people who aren't like them and they're able to lead, hire, and promote people who have a different culture, a different nationality, or just different likes than themselves. That's what really is going to separate the great leaders from the average.
Eddie Turner:
Very well said. And here on the Keep Leading Podcast we are interested in arming leaders with thoughts that they can keep in mind as they improve as a leader and continue the action of leadership. So what's a word of advice or a quote that you would like to leave with our leaders?
Tony Chatman:
Sure, I'd like to leave with what I mentioned earlier from the high-ranking, he's now a colonel in the army, when he said "You're a force multiplier. The overall effectiveness and output of your group is increased by your very presence." The thing I would like to leave everybody with this wherever you are, be a force multiplier. Be a force multiplier at work. Get the best out of everyone you work with. Be a force multiplier at home. Make your spouse or your partner amazing. Make your children amazing. Be a force multiplier in your community. Be that standout person that is able to make everyone around them better and by doing so you're not only make them better but they'll make you better and you'll reap the rewards.
Eddie Turner:
Wow! That's a great way to leave us for this interview, Tony. I'm so glad that you took the time out to come and be with me today because, like I said, I've gotten to know you and I'm just so impressed and it seems like every interaction we have, I leave more and more impressed because of all the great work that you're doing and, as you said, I see the impact that you're having on others and what you're leaving behind you to grow. Where can people are more about you?
Tony Chatman:
You can get obviously go to my website
www.TonyChatman.com
. You could find me on LinkedIn – Tony Chatman, Facebook – Tony Chatman, Twitter – Tony Chatman. I'm on Instagram. It's Tony Chatman Speaks. And you can just Email me at
Tony@TonyChatman.com
or
Speaker@TonyChatman.com
and I'm always available for people.
Eddie Turner:
And The Force Multiplier is available on Amazon.com and we'll put all of this in the show notes for people to be able to access.Thanks again, Tony, for being here.
Tony Chatman:
Eddie, thanks for having me. Really appreciate it.
Eddie Turner:
That concludes this episode, everyone. I'm Eddie Turner, the Leadership Excelerator, reminding you that leadership is not about our title or our position. Leadership is an activity. Leadership is action. It's not the case of once a leader, always a leader. It's not a garment we put on and take off. We must be a leader at our core and allow it to emanate in all we do. So, whatever you're doing, always keep leading.
Thank you for listening to your host Eddie Turner on The Keep Leading Podcast. Please remember to subscribe to The Keep Leading Podcast on iTunes or wherever you listen. For more information about Eddie Turner's work please visit EddieTurnerLLC.com.
Thank you for listening to C Suite Radio, turning the volume up on business.
The Keep Leading!™ podcast is for people passionate about leadership. It is dedicated to leadership development and insights. Join your host Eddie Turner, The Leadership Excelerator® as he speaks with accomplished leaders and people of influence across the globe as they share their journey to leadership excellence. Listen as they share leadership strategies, techniques and insights. For more information visit eddieturnerllc.com or follow Eddie Turner on Twitter and Instagram at @eddieturnerjr. Like Eddie Turner LLC on Facebook. Connect with Eddie Turner on LinkedIn.