Christina Martini
Partner and Co-National Hiring Partner, McDermott Will & Emery/"Legal Face-Off" WGN Radio
Host/ "Paradigm Shift with Christina Martini" Radio Show Host
Leadership and the Law
Check out this 60 Second preview of the episode!

Christina (Tina) L. Martini is a partner with McDermott Will & Emery and serves as the firm's Co-National Hiring Partner. She focuses her practice on domestic and international trademark and copyright law, as well as domain name, Internet, social media, advertising, unfair competition and entertainment law. She has extensive experience in counseling, prosecution, enforcement, due diligence and licensing matters. She successfully assists clients in protecting their intellectual property rights through litigation and other means, including the courts and uniform dispute resolution procedures.
Tina was selected as one of America's leading intellectual property lawyers and has been designated an Illinois Super Lawyer. In 2017 and 2018, Tina was named to the Crain's Chicago Business list of Chicago's Most Influential Minority Lawyers and was also the recipient of the prestigious Anti-Defamation League "Women of Achievement" Award. In 2013, Law Bulletin Publishing Company named her one of only seventeen "Women in Law: Women Making an Impact" and one of "40 Illinois Attorneys under Forty to Watch" in 2010.
Tina is a legal commentator and radio host. She is the host of "Paradigm Shift with Christina Martini" featured on C-Suite Radio, and is co-host of WGN Radio's popular show "Legal Face-Off." For many years, Chicago Lawyer has featured her legal column, "Inside Out."
Website
www.mwe.com
LinkedIn
http://linkedin.com/in/christinamartini
Twitter
@TinaMartini10
Leadership Quote
"You must do the thing you think you cannot do." – Eleanor Roosevelt
Check out Christina Martini's Podcasts!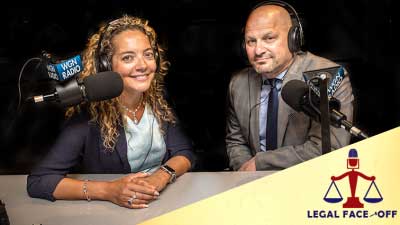 https://wgnradio.com/category/legal-face-off/
Transcript
This podcast is part of the C Suite Radio Network, turning the volume up on business.
Welcome to the Keep Leading Podcast, a podcast dedicated to promoting leadership development and sharing leadership insights. Here's your host, the Leadership Excelerator, Eddie Turner.
Eddie Turner:
Hello, everyone. This is Eddie Turner, the host of the Keep Leading Podcast, a podcast dedicated to leadership development and insights. I am excited about today's guests. She is a partner at McDermott Will & Emery, the host of WGN Radio's Legal Face-Off and she's a podcast host herself. She is one of the most influential attorneys in all of Chicago. And she is going to help you and I understand the intersection of business and law. You're going to want to listen to this interview with Christina Martini right after this.
This podcast is sponsored by Eddie Turner LLC. Eddie Turner LLC delivers executive and leadership coaching, professional speaking, facilitation services, and management consulting across the globe. Eddie Turner LLC also creates voiceovers, serves as a master of ceremonies, as a panel and event moderator, and provides national media commentary. Visit EddieTurnerLLC.com to learn more.
Eddie Turner:
Hello, everyone. Welcome to the
Keep Leading Podcast
, a podcast dedicated to leadership development and insights. I'm your host, Eddie Turner, the Leadership Excelerator. I work with leaders to accelerate performance and drive impact.I'm super excited about my guest today. She is a partner and the co-national hiring partner at one of the most influential firms in the world, McDermott Will & Emery. She's host of the podcast Paradigm Shift, host of WGN Radio's Legal Face-Off. In addition to being a great attorney, she's an engineer, she's a journalist, and a legal commentator. She was named one of Chicago's most influential minority lawyers in 2017 and one of Chicago's most notable minority lawyers in 2018 by Crain's Chicago Business. I can't believe we're so fortunate to have her on show today, the amazing Christina Martini.
Christina, welcome to the show.
Christina Martini:
Thanks so much, Eddie. I really appreciate being on and I'm very excited about our conversation.
Eddie Turner:
Please tell us a little bit more about your background.
Christina Martini:
I'm a practicing attorney and have been practicing for about 25 years in the area of intellectual property and grew up in what we affectionately call big law. So my whole career I've been working for big law firms and McDermott is my second firm and I really love my practice area. I work with a bunch of different types of companies, everywhere from Fortune 50 companies to startups. And I have a global practice which means that I help a lot of companies that are multinational and have intellectual property needs that extend beyond the United States to develop and protect and license their intellectual property. And, in addition to that, I do a lot of work, as you mentioned, in the hiring space for my firm. I'm the co-national hiring partner and focus my efforts on recruiting law students and relatively new lawyers into the firm and I really enjoy doing that very much. And also I have done a lot of work in the leadership space both in terms of hiring as well as practice group leadership, diversity initiatives, as well as women initiatives and work with clients very closely to help them as well in different types of initiatives, not just doing their work which obviously is first and foremost priority but I also work with them and help them to develop programs internally as well as on the pro bono front as well. And, as you mentioned, in my spare time I love to do a lot of journalistic type of activities. It's writing, it's speaking as well as my two podcasts.
Eddie Turner:
I can't believe you even have the word 'spare time' in your vernacular. That's why I was so fascinated with you when I met you. We met at the One World Trade Center for the big C-suite event. And you have a charismatic presence. You're very dignified and you're very refined but I would not have guessed you were an attorney. And then the more I learned about it, I was just like "Wow, she's amazing!" And then I learned that one of the most amazing things about you in addition of all your accomplishments is that you are a Northwestern University alum.
Christina Martini:
Yes, which you and I share. Proud Wildcats fans, yes. I went to Northwestern for law school.
Eddie Turner:
Absolutely. Go cats!
Christina Martini:
Go cats!
Eddie Turner:
Very cool.Now, when we think about what you are doing in a space of law, some of the people who are listening to this podcast may think that "Hey, only companies in the legal department should worry about law, specifically maybe even intellectual property but why should every leader be concerned about intellectual property, not just their corporation?"
Christina Martini:
Well, every leader should be concerned about intellectual property because intellectual property is one of those areas that really touches, I think, every facet of business. When you look at what a business is in the business for, which is really to go to market, advertising and offering a product or service, whether it's protecting the underlying offering or whether it's protecting the way in which and the brand under which a particular company goes to market or the works and the materials that are used to help facilitate that offering, all of those things that I just mentioned are encompassed by intellectual property. And when you have a company and you're a leader within a company, you need to understand that and know that. And separate and apart from that, even when you're talking about the day-to-day life outside of a particular organization, intellectual property is really an important thing for people, for example, who have a side business or have a hobby where they are creating and generating intellectual property. And it's important to keep in mind that even when you're pursuing a hobby, if you're generating some type of work output, you need to make sure that you protect yourself.
Eddie Turner:
Thank you. I do a lot of work in the space of knowledge management and knowledge management has become important because we are no longer an industrial society at large where it's all about making widgets and tangible goods but we are a knowledge-based society. And so would you say this becomes even more important given where we are and where we continue to head in the future?
Christina Martini:
Absolutely. I think when you look at the way that business has evolved, as you mentioned, we still actually manufacture products and there are tangible goods but there's a lot of the intangible property, for example, what you create in the context of online services, for example, as well as, as you mentioned, like thought leadership, the day-to-day generating written work product or doing a speech or things that are just not as easy to grasp. All of that is potentially protectable. And when it's not physical, sometimes it's harder for people to grasp that it can be just as protectable if not more so than things that you can grasp. And I think in the era of social media where it's so easy to share and distribute things, people, I think, sometimes forget to take a more cautious approach and think about a) are they distributing something that they should be protecting first and b) are they potentially infringing somebody else's rights with what they are distributing.
Eddie Turner:
Absolutely. So there's this awareness of the need to protect the company's intellectual data whether they're producing tangible goods or not. Many firms, as we know, their only profitable materials are the intellectual capital but then there's an opportunity for individuals to produce their own IP that leads to their own profitability as individuals. Then there's this aspect of what are we accidentally sharing that perhaps we shouldn't be sharing and putting out into the public sphere. So, to that end, some leaders specifically, especially the higher up in organizations, have taken a position that "Well, I'm just going to stay off social media altogether. I'm going to play it safe." Is that the smart thing to do?
Christina Martini:
That's a great question. I think it really depends on the industry and the context because I do think that there are certain people, depending on where they are in their professional career and what business line they are in, they may not be at a stage in their career or in a business line or have a network such that effective communication is driven by social media. And it's interesting because there are a number of folks that I know that are just not on LinkedIn, they're not on Instagram, they're not on Facebook. You name the social media platform and they're just not on it. Yet they have a very effective business and the people that are the most meaningful people that they really need to network with on a day-to-day basis may likewise not be on social media but I think if you're looking at a business or an area where a lot of people end up being connected through LinkedIn, if you're in a business where really what the value is that you bring to the table and what you're compensated for is driven by the relationships you have and if it's a situation where the more relationships you have, the more touch points you have with people, the more effective you will be and the more you will be compensated maybe directly or indirectly, then I do think that you absolutely need to figure out the most effective way to leverage social media within the context of your profession and what you're trying to accomplish professionally.
Eddie Turner:
Thank you. Now, the law can be broad at times and not as specific as we would like and we see examples of that daily in news and in publication but without being too broad, can you share what the biggest mistake is you see leaders making in business as it relates to the law?
Christina Martini:
I think that's a wonderful question. I think one of the biggest mistakes I've seen is when there's a situation or a circumstance that is going on in a particular organization and a leader is aware, and whatever team that person may be a leader of or whatever business line within a particular organization that leader may be responsible for, I think one of the biggest mistakes I've seen is not bringing in the legal team or the person that is on the legal team that is responsible for that part of the business, not bringing them in early enough because I think that sometimes people are concerned and get a little bit frightened by the prospect of bringing the lawyers in and always seem to think that there may be something very negative in terms of a stigma against it or that if you bring a lawyer in that you're somehow acknowledging or admitting that you don't have control over the situation but I've just seen a number of circumstances over the years where people bring in the lawyer or the lawyers too late. And not that you can't get back on track by bringing the person in later than you should but sometimes it ends up making it more complicated. So I would say that's one of the bigger mistakes I've seen.
Eddie Turner:
Well, certainly as leaders we want to make sure that we aren't having too much confidence in ourselves and our abilities or waiting too late. So thank you for that advice that as leaders we need to reach out to our legal teams early and often.
Christina Martini:
And I would also say, Eddie, just I'd like to add that understanding that lawyers are there to collaborate with the leaders and that it's not a binary sort of a thing, that lawyers really want to collaborate and partner with their clients whether they are external to the organization or internal to the organization and that business leaders should really look at the relationship with the attorneys in a collaborative fashion.
Eddie Turner:
Wonderful. Thank you for that.Right now what we'd like to do is take a pause for a word from our sponsor.
This podcast is sponsored by Eddie Turner LLC. Organizations who need to accelerate the development of their leaders call Eddie Turner, the Leadership Excelerator. Eddie works with leaders to accelerate performance and drive impact. Call Eddie Turner to help your leaders one on one as their coach or to inspire them as a group through the power of facilitation or a keynote address. Visit EddieTurnerLLC.com to learn more.
This is Jeffrey Hayzlett, Chairman and CEO of the C-Suite Network and you're listening to the Keep Leading Podcast with Eddie Turner.
Eddie Turner:
Okay, it's time for this week's shout0outs. This is where I knowledge friends of the
Keep Leading Podcast
that are promoting and reviewing this show. I want to start with my mom, Barbara. Thank you, mom. Yes, she gets a vote too. And Dr. Laura Sicola, thank you for your reviews on iTunes. Jordan Thomas and Emily Compton, thank you both for your reviews and for promoting the show on social media.I heard last week that nine other nations in addition to the United States are listening to the
Keep Leading Podcast
. Well, I had someone reach out to me from Egypt. Sulafa Ali who's on the ICF Board, the International Coach Federation, she was trying to access the podcast and was having difficulty. So she messaged me, she got connected to me, and I was more than happy to help her get on the right platform where she could stream it from her nation. And I understand a few of her friends are listening to it now as well. So I'm thrilled to welcome my listeners in Egypt, Iceland, the Netherlands, and Spain. They joined the United States, the United Kingdom, Germany, Canada, Italy, Kenya, Lebanon, Bangladesh, Switzerland, and Norway. Welcome to my listeners from around the globe. I appreciate you listening and I appreciate your support.
I also want to thank Sprint for making ad buys in the episodes last week.
Thank you all for supporting the Keep Leading Podcast. I invite you to subscribe to the Keep Leading Podcast and share it with your friends. Please leave a review for me on iTunes so I know you're out there and I know what you're thinking. If you leave a review for me on iTunes or share this podcast on social media, please tag me and then send me a message so I'll know. I'll send you a digital copy of my bestselling book 140 Simple Messages to Guide Emerging Leaders and I'll also give you a shout out on social media and on the Keep Leading Podcast.
All right, everyone, we're talking to the amazing Tina Martini. She is a partner with McDermott Will & Emery, a podcast host, a radio show host, an engineer, and one of the most influential minority lawyers in Chicago. So we're really excited have her on the show today.
Having grown up in Chicago, I'm very familiar with the three powerful letters WGN and AM Radio 720 is the source to go to when you want to hear especially legal or political perspectives. So your show Legal Face-Off is doing really, really well and you're talking about some really complicated issues. You tackle the big issues of the day. I saw that you had Michael Avenatti on there. You tackled Ken Starr, Mueller, Sandy Hook, all kinds of things and the banter between you and your co-host is just really engaging. Tell our audience about that.
Christina Martini:
Well, Rich Lenkov and I are the co-host of Legal Face-Off and it's a show that's on WGN Radio as a podcast and has been around now for about four years and I joined the show nearly two years ago. I had appeared as a guest on the show probably starting about three years ago with my husband, who I am co-columnist of a column in the Chicago lawyer magazine called Inside Out. And so he and I talk a lot about business of law issues. So we appeared as guests on the show. And about two years ago Rich asked me to be his co-host on the show. And we air about twice a month. And, as you mentioned, we talk about a lot of the cutting edge issues in the law and we really try to look at the intersection of the law across a number of different areas that are of interest to our listeners. So, for example, we do look at the headlines and we look at a lot of political issues. We also look at the way that law manifests itself in sports as well as entertainment. And we interview usually several people at the front end of the show and then we have what we call the Legal Grab Bag at the back end of the show, which is usually seven stories that are very timely and cut across a bunch of different areas. And we often invite guests to the show to talk about these issues. And it's been a lot of fun and is a really great way to meet people in addition to talking about some really interesting and timely issues.
Eddie Turner:
It's riveting audio to listen to and to kind of watch it on online. So congratulations on that.Now tell me and my listeners why they should subscribe to the Paradigm Shift because I've subscribed and one of the episodes that I listened to, which of course I will make it my first, the Essence Of Leadership which is the episode you did last year. Why should people subscribe to that?
Christina Martini:
I think Paradigm Shift is a really interesting look. And I do a combination of monologues as well as interviews of people. And what I really try to do is look at the multifaceted intersection of business and law. So I don't talk about cases so much as I talk about business of law, which I think really touches on pretty much every facet of the day-to-day of doing business but also personal growth and self-awareness. So we talk a lot about issues relating to emotional intelligence, being affective leaders, diversity and inclusion, business development. I just did a recording of an episode talking about addiction and eating disorders and how it impacts the legal profession but also our community. So these are all issues that regardless of whether you're a lawyer or not, I think, that listeners can get value out of hearing different frames of reference and different perspectives. And I really appreciate so much the guests I have on the show because they're able to bring a really interesting frame of reference to issues that I think are of importance to not just lawyers but to our community at large.
Eddie Turner:
Do you have a favorite episode or a favorite guest that you'd like to share with us?
Christina Martini:
I've had so many great guests, I have a hard time choosing one over the other but I have to say that the interview that I did of Brian Cuban, which is going to be airing in the next couple of weeks …
Eddie Turner:
Ooh, we get a teaser.
Christina Martini:
Yeah. It Is probably one of the most impactful on me personally and professionally of any conversation I think I've had with anybody in a long time. And not that the others aren't impactful, there are amazing conversations that I've had with many people but because the topic of addiction, particularly in the context of the opioid crisis, is really getting a lot of attention these days, I just felt like it was one of the most impactful conversations I've had in a long time.
Eddie Turner:
Thank you for sharing that with us and thank you for the teaser.So a lot of people are probably wondering you're an attorney in a major firm, you've got a podcast, you have this radio show. How do you juggle it all? What's the secret for us as leaders to be able to diversify our interests and still be firing in all cylinders in our careers?
Christina Martini:
I think it's a multifaceted approach. I think a lot of it is time management, which I think a lot of people say but sometimes don't provide a lot of detail around it. I really try to take a look at every day as opportunity to move the ball forward on goals that I have carefully articulated to myself. And I think by setting goals and breaking down the goals and figuring out what the steps are that you have to take and over what period of time you need to take them to accomplish them, I think that's a really important step. So there's time management and priority setting. And I would say focus is another really important aspect of this because you can goal set and you can try to figure out what your day's going to look like and I think you always have to account for the fact that you're never going to go exactly as you expect it to but I think it's really important to make sure that you focus on the bigger picture and try to make sure that every day you really try to cut the noise out and stay focused. And I think by doing that, leaders and everybody else are much more in a position to be able to accomplish their goals. And I think people have to take a step back on a regular basis and think to themselves whether what they've outlined for their day to day and what they've outlined as their goals really make sense for where they are. And I think people have to remember that over time your goals shift and your priorities shift and you need to take that step back periodically to make sure that you're still in alignment with how your goals are evolving over time.
Eddie Turner:
Well, thank you for that advice. As a coach, one of the things I see with leaders and with us all, I guess, at times we stop setting goals, especially when we reach a certain point in our careers where we feel like "Okay. Well, what could be higher than this? What could be better than this?" but the need to continue to have those personal development goals is really important. So thank you for sharing that.What would you say has been the biggest benefit to you increasing your media coverage by stepping outside of the law office briefly to appear on radio shows or podcast and to run your own podcast? How have you benefited?
Christina Martini:
There have been a number of things that I think have been beneficial. First of all, I really love being of service to people and sharing thought leadership. And I really started doing that with a lot of focus and intention probably about 15 years ago. And as time as has evolved, it went from doing more formal speeches at trade associations, for example, and writing in the more traditional formats of like a column, for example, to doing podcasts because I think that's how the medium has evolved over time. So I would say that just being able to help people and to generate thought leadership in the sharing of ideas has been a definite benefit.I also think that it's been a really a great profile and brand builder for me because I'm being able to share it through social media. I think it's been a big inflection point. Social media now is not what it was five or ten years ago. And I've noticed that I that I've had the opportunity to meet people and to share with people in a way that I otherwise would not have been able to a few years ago without social media being what it is today. And being able to offer opportunities to certain individuals and vice versa, I think, has really been a very fulfilling and very enlightening benefit to getting my name out there, particularly in the thought leadership context.
Eddie Turner:
Absolutely. I'm sure that especially as you're looking at different demographics in terms of age and whatnot coming into the firm, having someone like you so visible, it perhaps is giving younger attorneys different perspective about how cool it is to work at McDermott Will & Emery, I'd assume, right?
Christina Martini:
Well, I hope so. I have the good fortune of being at a really great firm, really great people who are terrific lawyers and wonderful clients. And I do think that law, like many other professions, is evolving. And I think that having multigenerational workforce with millennials really, I think, showing and demonstrating and teaching a lot of folks that may not be of the same generation, different ways to look at things and to approach things, I do think social media is a key component of that. And they are really, I think, showing and increasing awareness of things like collaboration in a way that I think can only benefit our profession and a firm like mine.
Eddie Turner:
Well, I think you're doing an outstanding job of modeling excellence in terms of social media and how senior professionals at all levels of the corporate enterprise and nonprofit enterprises can a benefit from using their position to get out there and meet other people, reach people who they normally wouldn't reach and thereby benefit themselves and their organization.So it sounds like, as we think about this conversation we've been able to have today, that people need to give more consideration as leaders to the legal aspects of what they're doing no matter where they sit in an organization or if they're entrepreneurs, the legal opportunities to both protect and even perhaps monetize their intellectual property and also being circumspect of their steps when certain questionable things may come up, not letting overconfidence get in the away or fear of doing something too soon get in the way but always looking to collaborate with legal professionals in their lives.
Christina Martini:
Absolutely. And I think that your last point is definitely important. The need to collaborate and to understand that lawyers, while they do bring a legal expertise to the table, one of the things that we really do try to focus on also is trying to understand the business context that underlies a legal issue or a situation. And so lawyers really want to effectively partner and develop relationships with business teams and business leaders.
Eddie Turner:
Wonderful.So here on the Keep Leading Podcast we want leaders to have different thoughts that they can keep in mind as they go about leading. Is there a leadership quote or some advice you would like to share with our listeners?
Christina Martini:
Well, I gave this a lot of thought as we were getting ready for our podcast and one quote that keeps crossing my path and I think that's one thing I'd like to just sort of tell your listeners is that when something crosses your path, especially when it crosses your path repeatedly, I think, it's sort of the universe's way of telling you to focus on something. And there's one quote, I believe it's attributed to Eleanor Roosevelt that I have kept seeing repeatedly particularly over the last three to six months and that is "You must do the thing you think you cannot do" and I find it very inspiring and I think it's very thought provoking and for me has really been a mantra for a number of the things that I've experienced both professionally and personally especially in the last year.
Eddie Turner:
Wonderful. Well, tell us more about where we can find out about you and all the great things you're doing.
Christina Martini:
Well, if you are interested in checking out my podcasts, you can find my podcast the Paradigm Shift Podcast at ParadigmShiftShow.com. You can also find my Legal Face-Off podcast on WGN Radio's website and if you type in "Legal Face-Off", it will pull up all the different shows that we've done. You can find me at McDermott Will & Emery and find out information about my practice, which is MWE.com. And I look forward to hearing from folks. And you can also find me on social media. My LinkedIn page, you can just type in "Christina L. Martini" and you can find me that way. And my Twitter handle is @TinaMartini10.
Eddie Turner:
Well, Tina, thank you so much being on the Keep Leading Podcast today. It's been a pleasure speaking with you and I can't wait to share your wisdom with my audience.
Christina Martini:
Thank you so much, Eddie. I've had so much fun and I hope we get a chance to do this again soon.
Eddie Turner:
Thank you.Well, that concludes this episode everyone. I'm Eddie Turner, the Leadership Excelerator, reminding you that leadership is not about our title or our position. Leadership is an activity. Leadership is action. It's not the case of once a leader, always a leader. It's not a garment we put on and take off. We must be a leader at our core and allow it to emanate in all we do. So whatever you're doing, always keep leading.
Thank you for listening to your host Eddie Turner on The Keep Leading Podcast. Please remember to subscribe to The Keep Leading Podcast on iTunes or wherever you listen. For more information about Eddie Turner's work please visit EddieTurnerLLC.com.
Thank you for listening to C Suite Radio, turning the volume up on business.
The Keep Leading!™ podcast is for people passionate about leadership. It is dedicated to leadership development and insights. Join your host Eddie Turner, The Leadership Excelerator® as he speaks with accomplished leaders and people of influence across the globe as they share their journey to leadership excellence. Listen as they share leadership strategies, techniques and insights. For more information visit eddieturnerllc.com or follow Eddie Turner on Twitter and Instagram at @eddieturnerjr. Like Eddie Turner LLC on Facebook. Connect with Eddie Turner on LinkedIn.