Tom Kolditz
Founding Executive Managing Director, The Doerr Institute for New Leaders
Doerr Institute for New Leaders
Tom Kolditz is the founding Director of the Ann & John Doerr Institute for New Leaders at Rice University—the most comprehensive, evidence-based, university-wide leader development program in the world. Serving all 6200 students at Rice, the Doerr Institute is among the largest leader development enterprises in Texas. Formerly teaching at the Yale School of Management, he was chairman of the Department of Behavioral Sciences and Leadership at West Point, the founding director of the West Point Leadership Center, cofounded the Thayer Leader Development Group, and built a leader development consultancy, Saxon Castle. Brigadier General Kolditz received the Distinguished Service Medal, the Army's highest award for service, and is a Fellow in the American Psychological Association. Dr. Kolditz has published in the Proceedings of the National Academy of Sciences and the World Economic Forum. In 2017, he received the prestigious Warren Bennis Award for Excellence in Leadership, a distinction shared by noteworthy leaders including Howard Schultz, Doris Kearns Goodwin, and Bill George. He is ranked #6 in Coaching by a UK professional ranking organization, Global Gurus. He holds a BA from Vanderbilt University, three master's degrees, and a PhD in psychology from the University of Missouri.
Website
https://doerr.rice.edu
LinkedIn
https://www.linkedin.com/in/tom-kolditz-7116a3/
Twitter
@ThomasKolditz
Facebook
https://www.facebook.com/doerrinstitute/
Instagram
https://www.instagram.com/doerrinstitute/
Leadership Quote
"We believe that ideas are easy, execution is everything, and in anything worth doing, it takes a team to win."
—John Doerr, Co-Founder of the Doerr Institute for New Leaders at Rice University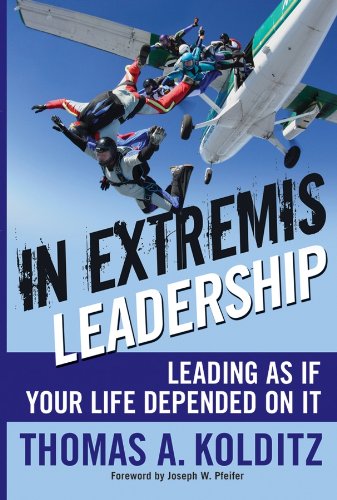 The Keep Leading!™ podcast is for people passionate about leadership. It is dedicated to leadership development and insights. Join your host Eddie Turner, The Leadership Excelerator® as he speaks with accomplished leaders and people of influence across the globe as they share their journey to leadership excellence. Listen as they share leadership strategies, techniques and insights. For more information visit eddieturnerllc.com or follow Eddie Turner on Twitter and Instagram at @eddieturnerjr. Like Eddie Turner LLC on Facebook. Connect with Eddie Turner on LinkedIn.