Tom Kolditz
Founding Executive Managing Director, The Doerr Institute for New Leaders
Doerr Institute for New Leaders
Check out this 60 Second preview of the episode!

Tom Kolditz is the founding Director of the Ann & John Doerr Institute for New Leaders at Rice University—the most comprehensive, evidence-based, university-wide leader development program in the world. Serving all 6200 students at Rice, the Doerr Institute is among the largest leader development enterprises in Texas. Formerly teaching at the Yale School of Management, he was chairman of the Department of Behavioral Sciences and Leadership at West Point, the founding director of the West Point Leadership Center, cofounded the Thayer Leader Development Group, and built a leader development consultancy, Saxon Castle. Brigadier General Kolditz received the Distinguished Service Medal, the Army's highest award for service, and is a Fellow in the American Psychological Association. Dr. Kolditz has published in the Proceedings of the National Academy of Sciences and the World Economic Forum. In 2017, he received the prestigious Warren Bennis Award for Excellence in Leadership, a distinction shared by noteworthy leaders including Howard Schultz, Doris Kearns Goodwin, and Bill George. He is ranked #6 in Coaching by a UK professional ranking organization, Global Gurus. He holds a BA from Vanderbilt University, three master's degrees, and a PhD in psychology from the University of Missouri.
Website
https://doerr.rice.edu
LinkedIn
https://www.linkedin.com/in/tom-kolditz-7116a3/
Twitter
@ThomasKolditz
Facebook
https://www.facebook.com/doerrinstitute/
Instagram
https://www.instagram.com/doerrinstitute/
Leadership Quote
"We believe that ideas are easy, execution is everything, and in anything worth doing, it takes a team to win."
—John Doerr, Co-Founder of the Doerr Institute for New Leaders at Rice University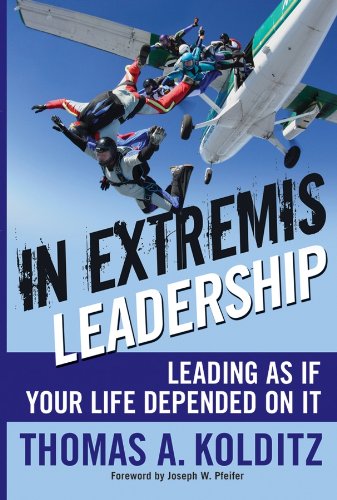 Transcript
This podcast is part of the C Suite Radio Network, turning the volume up on business.
Welcome to the Keep Leading Podcast, a podcast dedicated to promoting leadership development and sharing leadership insights. Here's your host, the Leadership Excelerator, Eddie Turner.
Eddie Turner:
Hello, everyone. This is Eddie Turner, your host for the Keep Leading Podcast, a podcast dedicated to leadership development and insights. I am excited I'm excited to talk about today one of the most comprehensive leadership development programs at the college level in the world and it's run by its founding managing director, Gen. Tom Kolditz, a true leadership expert. He'll talk about the work being done at the Rice University's Ann and John Doerr Institute For New Leaders. The work being done there is fantastic and you'll hear more about it right after this message.
This podcast is sponsored by Eddie Turner LLC. Eddie Turner LLC delivers executive and leadership coaching, professional speaking, facilitation services, and management consulting across the globe. Eddie Turner LLC also creates voiceovers, serves as a master of ceremonies, as a panel and event moderator, and provides national media commentary. Visit EddieTurnerLLC.com to learn more.
Eddie Turner:
Hello, everyone. Welcome to the
Keep Leading Podcast
, the podcast dedicated to leadership development and insights. I'm your host Eddie Turner, the Leadership Excelerator. I work with leaders to accelerate performance and drive impact.Whenever I see my guest for today, I'm not sure if I should shake his hand or drop down and give them 50 push-ups. He really knows about leadership, from the battlefield to the boardroom. He's been featured in countless media outlets including Bloomberg, the Wall Street Journal, Fast Company, NBC, Inc, The Washington Times. He's authored his own book and he's even authored articles for Harvard Business Review. In an article entitled Renewing The American Leadership, GE's former CEO Jeff Immelt said that they wanted to teach legendary leadership skills so much that they brought in my next guest and that is Gen. Tom Kolditz. He's an internationally recognized expert on crisis management and is the founding director of the Ann and John Doerr Institute For New Leaders at Rice University, the most comprehensive evidence-based university-wide leader development program in the world. It serves all 6200 students at Rice and the Doerr Institute is among the largest leadership development enterprises in the great state of Texas. He's led the leadership development program or leadership programs at West Point and Yale School of Management. He's a Brigadier General who received a distinguished service medal, the army's highest award for service, and as a fellow in the American Psychological Association. In 2017 he received the prestigious Warren Bennis Award for Excellence In Leadership, a distinction shared with noteworthy people such as Howard Schultz, Doris Kearns Goodwin, and Bill George. And he recently was ranked number six by Global Gurus of their coaching list. He holds VA from Vanderbilt, three Master's degrees, a PhD in psychology.
Please welcome Gen. Kolditz. Thank you. Welcome to walk to show. I'm so glad you're here, I'm stuttering.
Gen. Tom Kolditz:
Thanks, Eddie. That was a terrific introduction. I appreciate it.
Eddie Turner:
Well, I'm excited because you I'm used to seeing you, and probably in full disclosure I should let people know, you're not a regular guest, you're actually one of my customers and the fact that I'm one of the 30 coaches that were selected as a vendor to support your organization. And so, I'm used to hear you speak at Rice at different events and things that happen on around the campus but I didn't really get a chance to know you well and understand just how brilliant you were until we were working on the MEECO Designation with Rice and then taking the Gold Designation. And so I got a chance to work with you at a different level and I just became intrigued by your depth of knowledge. And there's not a lot of people that I consider to really be true leadership gurus but you really have a depth of experience about leadership and, of course, you've written a leadership book but I wanted to spend some time talking to you today about the work at Rice and what that means. Can you first of all tell people what the Doerr Institute is?
Gen. Tom Kolditz:
Sure, I can. The Doerr Institute for new leaders at Rice is a university-wide leader development enterprise with the mission of increasing the capacity of Rice students to lead. So we're not a research organization. We're not a classroom teaching organization. We're a leader development enterprise and we use a number of evidence-based methods to make sure that we are, in fact, developing students including offering one-on-one coaching to every student in the school who wants it. And, Eddie, you're great example of the level of professional coaches that we use in our program. We don't use any untrained advisors, any mentors, any alumni.. It's a completely professional program at the largest scale of any university that we know.
Eddie Turner:
Well, thank you, Tom. Now, here's the question. Some people might argue "Well, every university has coaching for students. How is this different?"
Gen. Tom Kolditz:
Well, first of all, most universities don't use professional coaches. They use coaches that they train on weekends. Some of them use student coaches. Most often leadership programs are not university-wide. They're internal to a business school or an engineering school but at Rice we offer this kind of opportunity to every single student in the school who wants it and we get about a 30% take rate. So we've coached more than 1700 students here at Rice, all with professional ICF-trained coaches like yourself. And it is truly across the university, all seven schools – Architecture, Business, Engineering, Music, Humanities, Social Sciences, and Natural Sciences. So we're vastly different in that respect in that we are a university-level enterprise. We're not a small boutique program that exists inside of a business school or engineering school.
Eddie Turner:
Wow! And you all do something very different. When you say you're university wide, you're touching every aspect of university, which is a big differentiator but you all do something different than what most not only universities do but even some of my executive coaching clients that corporations don't do. And can you tell the listeners about how you know how effective your program is?
Gen. Tom Kolditz:
Well, sure. Rice University is a tier one research university and hear evidence and numbers matter. Consequently, we have internal to our organization a position we call the Managing Director for Measurement and that person runs a small team of PhD research psychologists whose only job is to measure our outcomes. They don't have to create programs or fix programs. They just have to tell me as the executive director how our programs perform and they measure very sophisticated psychological variables like leader identity, developmental readiness. They measure 21 behavioral competencies. And we've been tapped by a significant number of organizations that want to learn more about how to measure leadership outcomes. For example, the Obama foundation has collaborated with us along with KIPP Schools and others who are interested in measuring leadership effects.
Eddie Turner:
Wow! So, yes, you all are measuring everything and you have a full-time tenured professor Dr. Brown who took over that role and just doing some amazing work and the things that get produced, the data that gets produced is just fascinating so much so that the rigor, not only do you all hire professionally trained coaches, as you mentioned, but what happens if a coach is not able to keep up to the level of measurement that's coming in from the baseline from Dr. Brown?
Gen. Tom Kolditz:
Well, we have a rating that Dr. Brown manages for every single coaching session from two perspectives – the perspective of the student and the perspective of coach. And if we ever get a rating from one of those individuals that is a 3 or lower on a scale of 5, the Measurement Director gets an immediate automatic Email through Qualtrics. And then he passes that to Ruth Reitemeyer who's our Assistant Director For Coaching and she contacts that individual by phone and asks and gets more information about what the issue or the problem was. So we are very, very aggressive at making sure that every single session from every single coach is effective for our students and well received. And this measurement really drives everything that we do. It drives, frankly, recognition of the need for the Doerr Institute. One of the things we've done is we've also measured the same leadership variables in students who do not engage in leader development and what we thought we would find is that over the four-year college experience there was a gradual increase in their ability to lead and that we could then accelerate that curve but what we found, Eddie, is shocking really that those students are no better the day they graduate than the day they walked in the Doerr.
Gen. Tom Kolditz:
And that's what happens at most universities. And, of course, Rice is a well-respected top-15 university in our country. And I think that most people would sort of intuitively believe that by going to a great four-year college that you would come out the other end naturally as a better leader. We find no evidence for that. If students don't work on their ability to lead, there is no measurable increase in their ability to lead, which really shouldn't be surprising what it is because of a presumption of development, not a reality of it.
Eddie Turner:
Fantastic insights there. So not only are students getting a professionally certified trained individual who does this at a high level through the International Coaching Federation but just because a person is hired doesn't mean that it's automatic that they stay. They must continue to meet these highest standards of measurement and then these things feed into other systems that decisions are made on to continue to take things to the next level with students so much so that you're seeing a big difference in the students who've received coaching versus students who've just received an education and a degree.
Gen. Tom Kolditz:
That's correct. And I will just tell you I'm very proud of our vendor coaches. They're part of our team. And every single one of them has proven themselves with quantitative measures that they can get the job done with our students. And I will also say that there are some coaches that are able to coach at the executive level that struggle with our students and they don't last very long. So if you run into someone, he says he's coaching for the Doerr Institute, you know you have a talented coach in front of you.
Eddie Turner:
Yes. Yes, indeed. And so that's saying a lot and that's a good point that you make just because of individual's success when executive space, it doesn't necessarily transfer to the academic space.Now, some may argue why are you doing this. Shouldn't you wait until the person's a little older, they have some life experience and they've been in a corporation a little while? Why start now?
Gen. Tom Kolditz:
Well, all of the research in developmental psychology suggests that a younger person is better able to learn and to pick up new skills and abilities than an older person. And so whether you're teaching someone how to swim or teaching them Mandarin or your teaching leadership, it's much better to start early. I mean, people that are coaching executive space with C level executives are going up against people in their 50s and 60s that have 40 years of practice at bad habits. And it is a much more challenging developmental task to improve someone who's older than someone who's younger. The allocation of resources in industry for leader development is an inverted pyramid. And what I mean by that is that about 50% of the resources get spent on the top 2% in the organization and the bottom 98% percent get the remaining 50%.
Gen. Tom Kolditz:
And so what that means is we graduate young people in the industry where it's pretty likely they're not going to get very much leader development until they are significantly older and they're missing all of that developmental opportunity, all of that ability to practice things the right way, when they're junior leaders, when they should really be excelling. And we're putting Rice graduates in the position of being able to do that.
Eddie Turner:
You brought in Jim Kouzes to talk to the coaches at the beginning of this last term and he said in his research it revealed that the average leader goes 10 years before they receive leadership training. I thought that was a staggering statistic, to your point.
Gen. Tom Kolditz:
Yeah, exactly. And this is all about resources and how resources are allocated. I think any competent leader developer would say that if they had unlimited resources that they would begin at the very beginning and they would develop people their entire career but resources are not unlimited in business. And the purpose of business is not to develop people. It is to provide services or make widgets or whatever the business does. And so it's incumbent upon universities to give industry much more highly prepared graduates. And across the country quality of leader development and the amount of leader developed in college and universities is remarkably poor and we're trying to turn that around in the Doerr Institute to provide an example for other schools and we share everything. We share our software. We share our techniques. We share our measurement tools. Whatever another school wants, we gladly give them because we want to change this nationwide.
Eddie Turner:
Yeah, there's a phrase you use that I often quote and that is that "The Doerr Institute is bending the arc early."
Gen. Tom Kolditz:
Correct, correct. We want to provide industry with graduates who are ready to lead the first day they get there. And with a 30% take rate in our university for these programs and the ability, frankly, for a student who comes to Rice to be involved with the Doerr Institute in every single semester, if they wish, we are in a position to provide industry with that kind of graduate. And we've actually had a request by a company to provide them a direct pipeline through the Doerr Institute into their company.
Eddie Turner:
Wow, that's wonderful.
Gen. Tom Kolditz:
Yeah, we had to decline. We don't want students coming to us because they think we'll get them a job but at the same time, it underscores how important it is in industry for new hires to have leadership skills.
Eddie Turner:
Well, thank you for sharing that. What I'd like to do now is pause for a quick word from our sponsor.
This podcast is sponsored by Eddie Turner LLC. Organizations who need to accelerate the development of their leaders call Eddie Turner, the Leadership Excelerator. Eddie works with leaders to accelerate performance and drive impact. Call Eddie Turner to help your leaders one on one as their coach or to inspire them as a group through the power of facilitation or a keynote address. Visit EddieTurnerLLC.com to learn more.
This is Dr. Diane Hamilton. I'm CEO and Founder of Tonerra and you're listening to the Keep Leading Podcast with Eddie Turner.
Eddie Turner:
Okay. It's time for this week's shout-outs. This is the portion of the show where I take a moment to acknowledge supporters of the
Keep Leading Podcast
. I want to start with those who've taken time to write a review on iTunes. So Todd Rider, Stephanie Miller, and Jackie Harris, thank you. I appreciate the encouragement on iTunes, especially because people are trying to decide which podcast they should listen to next and when they see your review and they see your star rating, that helps them make their decision. So thank you very much.And then Christine Gilroy, Kara North, Dr. William Brantley, Caroline Monaco, and Hayward Suggs, I want to thank all of you for your social media support. You all have either written post or you've shared a post along with your comments that I've put out and I really appreciate you doing that. That's helpful to others as they see and hear about the
Keep Leading Podcast
as we spread the word.
Now, here's something that I'm really excited about. Now that we have a couple of episodes that are out there for people to consume, I have reports that are now becoming available to me. When I ran the report and saw that not only are we reaching the furthest parts of the United States but we also have 10 countries listening to Keep Leading Podcast. I don't know who all you are as individuals but as countries, I want to welcome you and thank you for listening. So, those of you in the United Kingdom, Germany, Canada, Italy, Kenya, Lebanon, Bangladesh, Switzerland, and Norway, thank you for listening to the Keep Leading Podcast.
And last but not least, I must say a special thank you to Lenovo, Western Governors University and State Farm for making ad buys. I really appreciate your support and your endorsement of the Keep Leading Podcast. Thank you all.
I invite you to subscribe to the Keep Leading Podcast and share with your friends. Please leave a review for me on iTunes so I know you're out there and I know what you're thinking. If you leave a review for me on iTunes or share this podcast on social media, please tag me and then send me a message so I'll know. I'll send you a digital copy of my bestselling book 140 Simple Messages To Guide Emerging Leaders and I'll also give you a shout-out on social media. And on the Keep Leading Podcast.
Okay. I'm speaking with Tom Kolditz. Tom Kolditz is the founding executive director of the Doerr Institute for New Leaders. It's a program that from the time I found out about it I was super excited to learn about the amazing work that they were doing in the Houston community. And then I applied and it was so fortunate to get accepted to be one of the vendors providing service to the institute. And every day there I'm just fascinated by how the program has grown and the breadth and depth of what it is accomplishing.
You were telling us a little bit before we took the break, Tom, about what's happening and how you're sharing with other institutions. Who else is doing this?
Gen. Tom Kolditz:
Well, Seton Hall has built a similar though smaller program. They've hired my counterpart. They do operate across the university. The only have enough resources to do it for a select few students. So they're developing about 80 students a year in their program but they're using professional people, using evidence-based techniques. And we've had interest from other schools. We've had visits and sit-downs with representatives from the University of Toronto, from West Point, from Yale, from Simmons College and other schools that are interested in doing better at leader development. And measurement has really been the key. A lot of money gets spent on things that people call leader development but when you measure, there's no outcomes. The boot camps, the leadership speaker series where people just listen to someone and then leave the auditorium no different than when they were in there. And so when you stop doing things like that, remarkably there's enough money that you can do constructive things like professional coaching and professionally facilitated multi-session workshops and other things that do provide measurable benefits. That former category of activity, we refer to as 'Leadertainment'. There's a lot of leadertainment that's sold to people who think they're getting leader development but are actually just being entertained.
Eddie Turner:
Well, as professional speaker who does a little bit of that, I understand totally what you mean. So what are the things I've done to help my clients. In fact, I just had a client meeting yesterday. I explained something similar to what you said that I can give a speech that will be motivating that will be entertaining but then when the speech is over, people go back to work. How do they continue to make the adjustments and do things that they heard and enjoyed? Well, coaching is a nice complement to that and it's not just a matter of me trying to necessarily sell more services but really trying to sell impact and be able to move key players to the next level.
Gen. Tom Kolditz:
I agree with you completely. I began using professional coaches in my leader development programs in 2012 at Yale school of Management when I was building out a program there for that. And I was so impressed with the ability in professional coaches to actually increase a person's ability to lead that I really couldn't imagine not having them in a program, not because I'm just enthusiastic about coaching but because I've seen better results from that than other kinds of leader development strategies and activities.
Eddie Turner:
Yeah. I think I actually read about that when I was preparing for our interview. I'm not sure if it was Washington Times or was it Inc but one of the journalists quoted you and asked the question about when you were rolling that out at Yale, could it be possible that a place known for intellect would now start to measure people on their emotional intelligence? And so it was fascinating to be able to see what you did with that program and how people have really benefited. It's just really quite a testament to your work in the leadership space.
Gen. Tom Kolditz:
Yeah. People tend to settle too early when they're being sold some sort of leadership program. They don't take the time to ask themselves "Is this really going to make a difference? And if so, how will I know?" And we've been able to study this long enough now that we know what actually changes a person's ability lead, and what doesn't and it's key. We need better leaders in our country. Most of us are fairly disappointed with the quality of leaders in business and in government right now. And partly it's because we graduate about 2.2 million college students a year, most of whom have a college education but high school level leadership skills and we're going to fix that.
Eddie Turner:
Interesting point, at high school level leadership skills. Oftentimes I look at the work of Bob Keegan and Jeffrey Leahy and the stages of cognitive development that they explain and the ideal is that some people never reach past the instinct stage which is 0 to 3 but, yes, it's sad that we don't do a better job of developing leaders. I say sometimes tongue in cheek to friends but I say it jokingly but I'm kind of serious in that I have more renewed faith in the future because of working with the young people at Rice and seeing just kind of how talented they are and then how many of them have responded to coaching. And some of the great stories that we get come from the coaching sessions that really it's inspiring. And I believe that they will do a great job leading us in the future.
Gen. Tom Kolditz:
We want to make sure that's available to many students at many universities. And that's why we're so generous with giving away all of our processes, all of our practices, all of our tools. We want all boats to rise. This isn't a competition to us.
Eddie Turner:
Indeed. And I think that's a noble thing that's happening and it's so exciting to see other people following the lead. The Doerr Institute of New Leaders Program at Rice University is no longer the best kept secret in town. The word is getting out, it's spreading so much so, Tom, let me ask what advantage has the Doerr Institute for New Leaders created or given Rice University.
Gen. Tom Kolditz:
Well, I think what we offer is a very unique value proposition. Student can come here and engage in executive quality leader development every semester there at this university. And that can't happen anywhere else in the world right now. At other schools you have to compete to be in the top end leadership programs. They're very small which means they're graduating an insignificant number of improved leaders. And a lot of those programs are aimed at people who are already pretty good leaders – former student body presidents and so forth. At Rice we don't care what your background is. If you want to be a better leader, we're going to help you get there. And we think that's the way that universities ought to develop students. They ought to educate them in the best way possible. And then they ought to develop them as leaders so that they can take that education and do something with it.
Eddie Turner:
Yes. And I believe you mentioned that the president or one of the officials at the university came, it was pretty excited to share with you and the team that something was happening at admissions time related to the Doerr Institute. Do you recall that?
Gen. Tom Kolditz:
Well, we've had more -application this year than any other year, 27,000 plus for about a thousand slots. And we're seeing students who are applying to Rice write about the Doerr Institute in their admissions essays.
Gen. Tom Kolditz:
And that's a very positive development that shows that this is a special opportunity for students who want to grow during their university experience.
Eddie Turner:
Yes. I remember when you told that story that people had become so attracted to it purely because of that. I had a scenario where I gave a speech in Wisconsin and I talked about my work with Doerr as one of the vendor coaches. And at the end of the speech, one of the participants in the audience came up to me and she says "Listen, I'm trying to decide if I'm going to go to three schools" and Rice coincidentally was one of the schools. So after listening to me talk about it, she asked me more questions. I didn't think anything of it. Six months later she sends me an Email. She says "Hey, I'm in town because I did make my decision to go into the MBA program at Rice." And I was just so excited, I couldn't believe it, but she decided she wanted to go and the Doerr Institute for New Leaders Program was one of the things that made her think about how much different her life would be if she were part of a leader development program in addition to a top-tier business program.
Gen. Tom Kolditz:
Well, that's terrific to hear. We can't wait to see her here.
Eddie Turner:
Yes. Well, she's actually wrapping up her first year now. So that took place in August when she reached out to me. And I've seen her around campus a few times. It's always exciting to see her. So she's doing fantastic. And so she's wrapping up her first year of her MBA program here.
Gen. Tom Kolditz:
Well, I suspect she's got a professional coach for this.
Eddie Turner:
Yes, sir. Absolutely.And so coaching isn't the only thing that the Doerr Institute for New Leaders offer students. Can you tell our listeners a little bit more? Is coaching the only thing you can do to develop?
Gen. Tom Kolditz:
No, we have multiple other programs, sufficient that if the student wants to, they could do something different every single semester they're here. For example, we do excursions into the Houston business community where we bring 10 students to visit with a terrific leader. We've met with the CEO of the Museum of Fine Arts. We've met with the Executive Director of the Houston Ballet. We've met with the CEO of YES Prep Schools. And we do more than just meet with these leaders. We teach our students a reflective technique called the ORCA technique which stands for Observe Reflect Commit Act. And we're literally teaching them to teach themselves about leadership when they're conversing with other leaders. We also do multi-session workshops that are deep dives on very specific competencies like managing conflict or adaptive leadership. And the way those work, we start with a two-hour session with professional facilitators and coaches. And then there's a two-week break for our students to do a little bit of field work and do a little bit of practice. And then they come back after those two weeks and have another two-hour session with one another and with those instructors. And we find that to be much more effective than single-session workshops in actually changing a person's ability to lead. We also do some group coaching on specific topics that our students are interested in. So there's something for just about everybody and something for every semester if a student wants to put together an aggressive plan for developing themselves. And for , s students are always clients. So they get to develop along with us their plan for development. We don't dictate any specific path for them. We don't impose on them our own definition of leadership. We allow those students to come up with that themselves based on where they're headed and what their aspirations and goals are. So we're very tailored to each student's experience here.
Eddie Turner:
Yes. And that's another key differentiator. It's a different experience with a student sometimes when they sit in front of the coach because they feel like they're sitting in front of their professor until we explain to them "No, we will let you develop as a leader the way you want to develop, not a predefined method that we think works best." So that's always nice for them to see that they're in control.
Gen. Tom Kolditz:
Yeah. And it's a new role for them. They've spent their whole lives trying to please teachers, professors and parents. And now all of a sudden they're in a situation where a professional person is trying to please them according to their expectation of development. And we think that's terrific. For some of our students it's the first time they've really personally taken charge of where they're headed.
Eddie Turner:
Yes. So you all have put together an amazing series of steps for leader development. And to me, perhaps one of the capstones for some students is every semester you do something really unique with Coach Rice for students. A select group of students get a chance to go through Coach Rice. Can you tell our listeners a little bit about what Coach Rice is?
Gen. Tom Kolditz:
Yes. Coach Rice is our coach certification course. And we offer that to the Houston community, to the public through the Glasscock School of Continuing Studies but we also teach the identical course to about 50 students so year so that Rice students that are intensely interested in having leader development be one of their personal skills, they can take the same curriculum as professional coaches do and be eligible to be certified as a professional coach through the International Coach Federation if they follow through and do proper mentor coaching and coach enough client. No other school in the country does that to my knowledge. And we offer that to students like all of our programs free of charge.
Eddie Turner:
Yes. That's the part that's just so staggeringly amazing to me. And I share this with students that Coach Rice is certifying people and it costs a lot of money to get certified. The tuition is 7000 dollars starting with the September session. And Coach Rice is turning out more coaches for the Houston community. People are coming from every walk of life and every profession but the amazing thing is you offer that to the students at no charge. And so it becomes a life skill that they're able to take with them. I had a student who qualified for it this last semester and I'm so excited for him because he's 19 years old. So he's completed his coaching on his own, he completed some sessions of what we call activation in the leadership workshops, and he completed Coach Rice. So his career will be very different than anyone else his age. He has a true competitive advantage because of the program.
Gen. Tom Kolditz:
Yeah, he really will. I mean, can you imagine? We've had employers who've actually called us and said "You know, I'm looking at this Rice graduate and I'm thinking about employing him. And he says that he has been trained as a professional coach. That couldn't be possible, could it?" And we're like "No, that's true. They've had 60 hours of ICF credit and training and they have really good coaching skills." And I will tell you our students can coach, when they're finished with that course, they coach as well as any other graduates of that course, any of the adults. They have the same skill set and they are very adept at applying them.
Eddie Turner:
Yeah, it goes back to what you said earlier, right? It's better when you're teaching young people. For us as coaches who got trained later in life, for me, it's always hard to turn off the consultant who wants to give the answer but for these younger students, this is all they know. They started off knowing the right way to do it. So I look at this young man and I say "Wow! When he gets to be my age, he's going to be just scary because he'll have all these years of practice."
Gen. Tom Kolditz:
Can you imagine if he you a 24, 25-year-old old boss, you were a direct report to them and that person has that level of coaching skill and ability. I mean, they're really ready to be a supervisor at that point.
Eddie Turner:
Exactly. And they get a chance to enter in a way that unlike what Jim Kouzes, the author of the leadership challenge, says "It's ten years before management gets to training from the company." Rice has allowed people to go into the company already trained, already ready to coach. So it's fantastic.So, Tom, if we pull this all together, it sounds like what we're saying in our conversation today is that the educational model is broken and then higher education needs to professionalize the leader development. Is that what you would say?
Gen. Tom Kolditz:
That's exactly correct. And we're working hard on an objective rating for colleges and universities so that we can give them a reflection themselves as to where they stand in terms of professionalism and leader development. And we hope to have that rating fielded sometime next year.
Eddie Turner:
Oh, wonderful! That's great news.On the Keep Leading Podcast, we are focusing on leader development as this conversation has done but we also like to give people just a couple of words of wisdom they can take with them to help them keep leading. Do you have a leadership quote you can share with us?
Gen. Tom Kolditz:
Well, I've been doing this kind of work for 25 years. So I probably have a million of them but the one that's on my mind a lot lately is by John Doerr who along with his wife Ann helped found the Doerr Institute and what he's fond of saying is that "Ideas are easy. Execution is everything." That's how we operate at the Doerr Institute. We've had some good ideas, I think, but the reason we're being successful is that we execute at the highest level of professionalism that we know and we measure our outcomes. And I think any leader that takes that approach to their business is likely to be successful. Running startups, the Doerr Institute is my fifth startup myself, all startups were leader development enterprises and the ability to execute is what makes the difference between success and failure in a startup. It's not the big idea. It's the ability to execute. And of course John Doerr has built companies like Google, Amazon.com, Drugstore.com, SUN Microsystems, Compaq and that's what he's looking for in the leadership of those companies and somebody that can execute.
Eddie Turner:
Fantastic. Well, thank you for sharing that. I also want to let people know something that I only recently learned and that is that you wrote a entitled In Extremis Leadership: Leading As If Your Life Depended On It. And I just love the title. I love the ideal of leading as if your life depended on it. So we want to encourage folks to look for that on Amazon and pick up a copy. And maybe I can have you back one day to talk about that book because I'm fascinated by that as well.
Gen. Tom Kolditz:
I'd be happy to do that, Eddie.
Eddie Turner:
And something else that I saw you wrote before why leaders make bad decisions in one of your Harvard articles and you used this phrase "moral intuition" and I thought that was pretty powerful. So, yeah, I can just talk to you for hours but thank you for being on the show today. Tell people where they can learn more about you and the Doerr Institute.
Gen. Tom Kolditz:
Well, the Doerr Institute is easy to find when you Google. It's at Doerr.Rice.edu. And we've got many of our metrics out there. We have reports out there to our board. And our board is pretty impressive. We've got Al Gore, we've got Colin Powell, we've got Carolyn Miles, the CEO of Save the Children and a number of other notables that are helping us on a weekly basis to make sure that we're doing the best job we can here for Rice.
Eddie Turner:
Yes, I often forget about that. Yes, the level of sponsorship behind this is just incredible. So this will definitely be in the show notes for those who are driving or doing what you're doing as you listen to this show. We'll put that in there so you get the right spelling of Doerr, Doerr.Rice.edu.Boy, I can't thank you enough, Gen. Kolditz. Thank you so much being on the show today.
Gen. Tom Kolditz:
You bed, Eddie. Thank you for having me.
Eddie Turner:
Well, that concludes this episode, everyone. This is Eddie Turner, the Leadership Excelerator, reminding you that leadership is not about our title or our position. Leadership is an activity. Leadership is action. It's not the case of once a leader, always leader. It's not a garment we can put on and take off. We must be a leader at our core and allow it to emanate in all we do. So whatever you're doing, always keep leading.
Thank you for listening to your host Eddie Turner on The Keep Leading Podcast. Please remember to subscribe to The Keep Leading Podcast on iTunes or wherever you listen. For more information about Eddie Turner's work please visit EddieTurnerLLC.com.
Thank you for listening to C Suite Radio, turning the volume up on business.
The Keep Leading!™ podcast is for people passionate about leadership. It is dedicated to leadership development and insights. Join your host Eddie Turner, The Leadership Excelerator® as he speaks with accomplished leaders and people of influence across the globe as they share their journey to leadership excellence. Listen as they share leadership strategies, techniques and insights. For more information visit eddieturnerllc.com or follow Eddie Turner on Twitter and Instagram at @eddieturnerjr. Like Eddie Turner LLC on Facebook. Connect with Eddie Turner on LinkedIn.