Patricia Fripp
Executive Speech Coach, Keynote Speaker, Sales Presentation Skills Trainer, Online Learning Expert
Storytelling in Business
Episode Summary
In this episode, I sat down to interview the legendary Hall of Fame speaker, Patricia Fripp—THE Presentations Skills Expert! In true Fripp Fashion, she took over the show. She will "Frippnotized" you as she did me!
Check out this 60 Second preview of the episode!

Bio
Patricia Fripp, CSP, CPAE is a Hall of Fame keynote speaker, in-demand executive speech coach, sales presentation skills trainer, and online learning expert. She was the first woman president of the National Speakers Association. Companies of all sizes engage Fripp to gain a competitive edge by mastering important conversations and presentations. Patricia is virtually everywhere with her interactive, online training FrippVT Powerful, Persuasive Presentations.
Website
www.fripp.com
Other Website
www.frippvt.com
LinkedIn
https://www.linkedin.com/in/executivespeechcoach/
Twitter
https://twitter.com/PFripp
Facebook
https://www.facebook.com/groups/PatriciaFripp/
Instagram
https://www.instagram.com/frippvt/
Leadership Quote
My father said, "Don't concentrate on making a lot of money. Rather become the type of person others want to do business with and you will make plenty of money."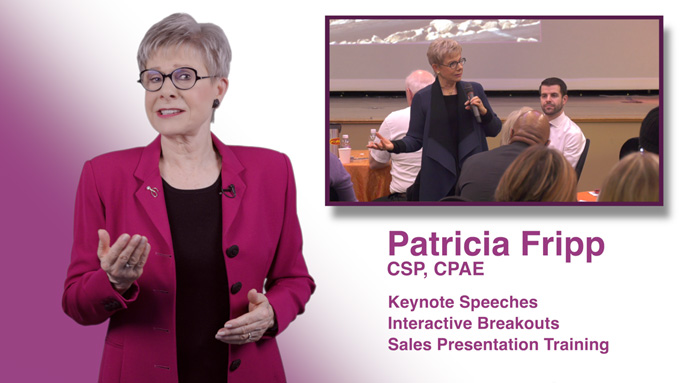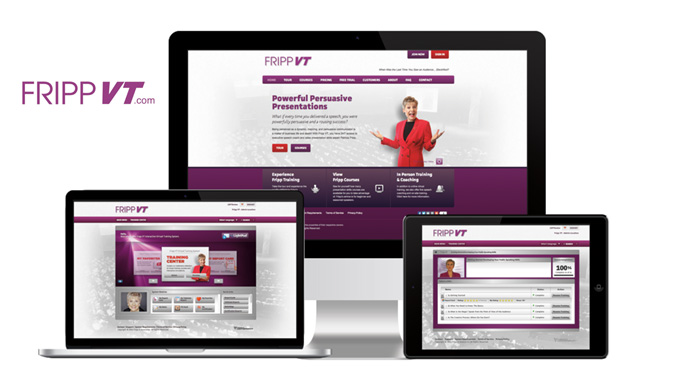 Transcript
If you're a small business owner looking to grow or expand your business, check out OnDeck Business Loans. OnDeck offers business loans online from 5000 dollars to 500,000 dollars and their simple application process only takes 10 minutes. Unlike banks they'll give you a decision quickly and funding in as fast as one day. Get a free consultation with an OnDeck loan adviser. Visit OnDeck.com/Podcast.
This podcast is part of the C Suite Radio Network, turning the volume up on business.
This podcast is sponsored by Grand Heron International. Through a growing network of credentialed and vetted coaches, Grand Heron International brings you on-demand coaching with coaching on site and the Coaching Assistance Program for corporations. Whether you are a company committed to investing in your leaders, an individual navigating a complex situation or a coach searching for a superb network of coaches, visit us at GrandHeronInternational.com.
Welcome to the Keep Leading Podcast, the podcast dedicated to promoting leadership development and sharing leadership insights. Here's your host, the Leadership Excelerator, Eddie Turner.
Eddie Turner:
Hello, everyone. Welcome to the
Keep Leading Podcast
, the podcast dedicated to leadership development and insights. I'm your host, Eddie Turner, the Leadership Excelerator. I work with leaders to accelerate performance and drive impact through the power of facilitation, coaching and professional speaking.
"And now you know the rest of the story." So are the words of the legendary radio broadcaster, Paul Harvey, at the end of his very popular broadcast. The art of telling stories seems to have been lost over time but it's experiencing somewhat of a resurgence. There is an interest in areas of business among leaders in understanding what it takes to tell a compelling story because if we are truly going to be effective as leaders, if we're going to bring people along with us and inspire them, stories are a powerful tool to that end. Today, I am absolutely thrilled to be able to speak to Patricia Fripp. Patricia Fripp is the presentation skills expert. She's a Certified Speaking Professional or a CSP and she's a CPAE which means she's a member of the hall of fame for speakers. She's an in-demand executive speech coach, sales presentation skills trainer, and an online learning expert. Even more interesting, she was the very first woman president of the National Speakers Association. And that's where I met the amazing Patricia Fripp. So, I'm excited to have her here with us and we're going to talk about the power of storytelling in business.
Patricia, welcome to the Keep Leading Podcast.
Patricia Fripp:
Absolutely fabulous to be with you. And as you quoted Paul Harvey, that reminds me of many decades ago I was on a program with him. We were both keynote speakers at a conference for realtors in Las Vegas. And he made a quote which I have been attributing to him for years. He said "For a company's advertising strategy to work, it has to be handled not only corporately but also individually." This, Eddie, ties so well into our subject because as I teach my clients, without consistency, there is no true quality. So, a leader might give stories at conferences about satisfied customers, as an example. The brand-new salesperson or a marketing department team member can learn these stories and need to tell them as well as the President or Chief Information Officer.
Eddie Turner:
That's phenomenal. I had no idea of course that you'd share something from Paul Harvey and that you have actually spoken with him, which speaks to your breadth of experience, which is just amazing. So, thank you for sharing that. That's a powerful point, when you think about the idea that every person in the company needs to tell the story as effectively as the senior leader.
Patricia Fripp:
Yes. So, what I believe would be valuable to your listeners is stories from two points of view. One, how leaders inspire action and commitment through stories. And two, then, how sales professionals use stories to drive business. Would that be of interest to you and you believe your listeners?
Eddie Turner:
It absolutely would be. And I love how you are setting the agenda for where we're going to go with this. And for those listening, if you don't know about Patricia Fripp, you must know that she is an absolute legend. So, I'm going to sit here and let her drive because this is one of the reasons I brought her on the show.
Patricia Fripp:
Well, good. As my brother, Robert Fripp, he's an acclaimed guitarist. In fact, I just watched him perform two nights ago at the Greek theatre in Los Angeles and tonight I will be seeing him perform at the Fox Theater in Oakland, but I digress, but my brother says "I'm not surprised my sister gets paid to tell people what to do. She's a very bossy little girl."
Eddie Turner:
And let us know please, for those who don't know, your brother, Robert Fripp is who?
Patricia Fripp:
He has a band called King Crimson. And according to the Rolling Stone magazine, he is the 42nd best guitarist in the history of the world, living or dead.
Eddie Turner:
That is awfully impressive. So, thank you for sharing that. I want to make sure everybody understood the gravity of who he is.
Patricia Fripp:
Exactly. Anyway. So, for example, how does a leader inspire action and commitment? So, I often hear "It's positive my everyday life. Patricia, our company doesn't have any corporate rock stars. We need you to work with the president of our company. He's not a bad speaker. He's an engineer. He's shy, modest, totally brilliant but we don't have any corporate rock stars. And we need you to write him a speech, turn him into a rock star, and you've got four hours." Now that is a normal assignment for me.
Eddie Turner:
Four hours to turn him into a rock star.
Patricia Fripp:
Yeah, I hear that. And people always think four hours will transform the world. This one particularly executive, I can tell you about, he was a wonderful man. He was French. And he just happens to be in San Jose the next week so I could meet with him. And I had never met this gentleman before. And they told me "We are getting ready for our big sales meeting. We have 1500 sales people that will be in the Bellagio. 40% of them were acquired. We bought the company. So, they did not choose to work with us. And we need them to know you're at the right company at the right time." So, when I met Bernard, he said "How do you do?" – "If you had one sentence rather than 45 minutes, what would you say?" He said "This is a brand-new company?" I said "Great. Write this down. This is your opening line. "Welcome to a brand-new company." Now, you said the people in the audience didn't decide this. So, who did?" He said "Board of Directors." – "Well, where was the board meeting?" – "In Paris." – "Who said what to whom?" And he said "Arnold Goldblum who've been on the board for 10 years. For now, what can we do once and forever to grab the market share?" And I told the board "We could do this, that, or take the boldest move ever and buy our competition," which is what they did.
And then he's talking through strategy. And I said "Bernard, when was the time you first realized the importance of strategy?" He said "It was the French Open in France and I was a 14-year-old ball boy. And when people came in to see the tournament, they didn't realize they would be watching a game of the ball boys. And I was playing my best friend and we were equally matched. Yet in that case, our ball boy was their sister and she was throwing balls really to sabotage my game because she wanted her brother to win. So, Patricia, that was the time when I was equally matched and at a disadvantage that I realized the importance of strategy." And that he asked me the question that all executives ask me "As I'm pulling out these personal stories, do people want to hear them?" Yes, because people will respect you of the President. People will fleet when they see the person behind the position. And also, they will have a lot more confidence when they know "Wow! Our president has been studying strategy since he was 14."
Eddie Turner:
So, just to recap that a little bit, what an interesting story. He told you this story that took him back to when he was 14 years old. And you said that he didn't think people wanted to hear these stories but you helped him to understand that people will respect him more because they want to understand the person behind the position.
Patricia Fripp:
Yes. And that is very important, especially in this case. They had 40% of people who didn't know much about the company, had never met him. So, that is important. And then later in the presentation, he was talking about corporate citizenship. And a lot of leaders, they're going to talk about their values and what their company stands for, but you have to make it memorable. And there's been a tsunami and they were taking the winners of a sales contest to where the tsunami was. Obviously, they canceled it but the sales people donated 360,000 dollars to the relief effort and the company matched it. And we were talking through this. And I knew we had to make this more exciting or more poignant. And the idea that all executives have to look at is how do you take a philosophy, a concept, an ideal, and make it real. And I said "Bernard, how do you describe corporate citizenship to children?" He said "It was the day after Christmas, I sat both my children, Diamond and I said "You are very lucky children. You have generous parents and even more generous grandparents. And perhaps you would like to take one of your gift certificates or one of your presents. People will take the money and will send it to the children who no longer have homes." And he said "I was so proud of my 14-year-old son. He said "Papa, how much do I give you because I could give you all of my savings, all of my pocket money, and all of my Christmas presents and it wouldn't be enough to make a difference. So, what do I give?" And Bernard said "Oh, you never give it all. You just given enough that it hurts a little." Now, that story takes less than one minute to tell. And if you had it transcribed, it's nearly all dialogue. I asked Bernard one question and it's what he tells me about his children what his son asks back and his answer. And that is one of the secrets, Eddie, of having a good story. Stories, no matter how simple, have characters. And the audience likes to hear the characters speak. So, you've heard me talk. So, you know I always say deliver the dialogue. So, if it were transcribed, there are quotation marks around the dialogue, rather than reporting on the dialogue.
Reporting on the dialogue would be "I sat my children down and told them that how lucky they were because they got generous parents and they might like to give us back one of their gift certificates, someone could cash in the money and would contribute it to a charity." No. You see, when you deliver the dialogue, you can put the emotion "Papa, how much do I give?" You can add the emotion that drives the story forward. And all leaders, to inspire action and commitment, perhaps have to share stories not themselves of how their ideals and principles are real and emotionally connecting. They have to sell a vision of what our company would look like in the future. They perhaps need to tell stories about their relationships with some of the best customers. They perhaps need to tell stories about how they began in their careers when they were sitting "in your seats" is the word – "When I was in your seat" – so that people "Wow! He started where I am. You mean, I could one day be president of a company?" So, you see, these are all stories. If you are welcoming people, I've helped a lot of people with new hire kickoffs, and I always suggest you say "Well, congratulations on making a wise decision that at least for this point in your career you will be working with the ABC Company."
Patricia Fripp:
"Welcome. And you're probably wondering "What am I really getting into?" So, let's reflect back on the last 14 years of our rich history and help you better understand the founders, the highs, the lows, the challenges, and why we are confident that you will believe this is the best company at the best time for you." So, you see, you're going to be telling stories. This is a way you can certainly give a lot of information in a short period of time.
Now, there are stories and there are words that have pictures attached that tell a story without really telling a story. Let me give you a specific action.
Patricia Fripp:
I was coaching a senior scientist at Genentech. And this was in the mid '90s and this was my first scientist. And he was working on developing an AIDS vaccine. And I said "Mike, I want you to come and speak to my women's professional organization. And you've got to understand we don't spend time with scientists. And even if we did, we probably wouldn't know what they were talking about. So, I want you to open your presentation and tell us what is it like being a scientist." And he said, "Being a scientist is like doing a jigsaw puzzle in a snowstorm at night when you don't have all the pieces and you don't have the picture you're trying to create." Now, those words have pictures attached. And I believe that is the most powerful way to describe the frustration of a job to a lay audience. And then at the end, I said "Mike, you need to have a circular technique. So, somehow tie your opening into the close." And he said "At the beginning of my presentation you heard the frustration of being a scientist. So, you're probably thinking "Well, why would they do it?"
Last story. Miami, fourth day of a medical conference. We've been in the same hot room, full days. That day we arrived at 7:30, it was now 3:30 and the last speaker walked to the front of the room, a young woman and none of us recognized her. She said "I am a 32-year-old wife. I have AIDS. Please work fast." So that's an example of picture words and tying your opening into your conclusion and answering the audience's unspoken question – "Well, it's so frustrating. Why would you do it?"
Eddie Turner:
Wow! Very nice. So, thank you for sharing those couple of stories there, Patricia, and helping us to understand how a leader can inspire action and commitment. And just to recap a couple of things you said, there are some very nice morsels that leaders can take with them from listening to you. You said "Make it memorable. And to make it memorable, we have to tell these stories." And I like how you said "What would you tell your children about something as complicated as a corporate citizenship and values?" And from that you gave us the power of not reporting it, in other words, saying what the kid said, but to deliver it. So, you said deliver, don't report because that gives us the ability to add emotion. And the emotion coming out of the children's mouths is completely different than the adult parent telling us. And then you led us into this other aspect where you were helping us to understand the new hire program and that the leaders can change everything by revealing themselves again, which was the thing you started off with – "Let me tell you what it felt like when I sat in your seat" – and having words with pictures attached.
I love it. This is a good point for us. And what I'd like to do is just take a quick pause here, Patricia. I hate to hit the pause button. Let's pause here for a word from our sponsors.
This podcast is sponsored by Eddie Turner LLC. Organizations who need to accelerate the development of their leaders call Eddie Turner, the Leadership Excelerator. Eddie works with leaders to accelerate performance and drive impact. Call Eddie Turner to help your leaders one on one as their coach or to inspire them as a group through the power of facilitation or a keynote address. Visit EddieTurnerLLC.com to learn more.
This is Tony Chapman, speaker, author and corporate relationship expert, and you're listening to the Keep Leading Podcast with Eddie Turner.
Eddie Turner:
Okay, everyone, we're back. I am speaking to the legendary Patricia Fripp, the presentation skills expert, and she's talking to us about the power of storytelling in business.
And so, right before our break, Patricia gave us some very important techniques that matter for a leader who wants to be more effective at storytelling and also to help us to understand the value of storytelling. Now, before we even went live, Patricia corrected me my language. So, she caught me slipping and I should not have slipped because I've learned from her in the past about this particular area. So, I'm going to ask her so she can share this with the audience now.
Patricia, you talk a lot about specificity and how the lack of specificity impacts a leader's credibility when they're not even just telling stories but in just an everyday speech. So, can you tell my listeners your point of view on this, which I find just absolutely fantastic?
Patricia Fripp:
Well, part of my mission in life, of course, is to wipe out boring speeches. And I would now add to that adding more specificity because specificity builds credibility. So, let me give you a couple of examples. And I make my executives and engineers and sales team, when they say naughty words, they have to slap their hand. Now, to me a naughty word is not perhaps what you would be telling your children not to say but a naughty word is 'stuff'. 'Stuff' is debris and rubbish. So, when people say to me "Oh, Patricia, I love your stuff," I say "You're insulting me. You are not congratulating me. Do you mean you like my content, you like my videos, you like my expertise, you like my ideas? What is it you mean because stuff should only be used in American language usually at Thanksgiving or Christmas, when you're talking about the turkey?" And then, of course, the other point, Eddie, is when you finish speaking, shut up. So, for example, and I have an assistant, I mean, his life was miserable until he wiped this out, he would make a statement and then he would say "and stuff." How many people say what they want to say and instead of really what they mean is etc. but just say what you mean, not "and stuff." Just stop. It's empty language.
The question I ask my leaders and engineers and executives more than any other is "If you pick one thing, what would it be?" And a specific example is twice a year right now I'm in the middle of it, I coach a hundred engineers, brilliant engineers, for a tech company get ready for their big customer conferences where they attract as many as 5600 people and very often from 71 different countries. So, if you have people from different countries, even people who use very good business English conversations, for many, there is a certain amount of interpretation. And if you're not specific, it's very difficult for them to know what you're talking about. So, this brilliant engineer said "There are two things people love about." And I asked "If they weren't things, what would they be?" – "Innovative upgrades."
Eddie Turner:
Much more powerful.
Patricia Fripp:
Exactly. And I said "Well, there are billions of people in the world. What people love your innovative upgrades?" – "Systems administrators." So, the difference between the quality of the language is "There are two innovative upgrades that systems administrators love."
Eddie Turner:
Very specific and adds a lot more credibility.
Patricia Fripp:
Exactly. And if English is your first language, if you're at a technology conference, you know innovative upgrades, you know "Oh, I'm a systems administrator."
Patricia Fripp:
So, I work with very technical presentations, a lot of which I vaguely know what they're talking about. I know what the company does and what the mission is but these are very complex technical conversations but it is amazing how I can help them get better. And these are the simple ways. I take the words that they use and make sure that they are understandable. And often I coach people who say "I know what you're saying. I mean by that because I'm British as well" but if you think you come from Israel, that phrase would be understood to them? No, take it out. De-jargoning and de-Americanizing, de-Britishizing. Whatever your idioms are, take them out if you're going to have all the audience from 71 countries. So, specificity builds credibility.
Here are few of my rules. If you can't weigh it, it's not tons – "Oh, I got tons of ideas." No, you can't weight ideas. Perhaps you have 18 pages of notes. You might have 12 actionable items. Be specific.
The next one is if it's not fruit, it's not bunch. You don't have a bunch of ideas. You don't get a great bunch of people. Well, you see, because, Eddie, we use words to communicate but so much of what we remember is because we see it and, you see, if you say" Oh, I went to the NSA Convention and there were tons of people," I have no idea how big I should imagine the ballroom when it's full. The same way "Oh, there were bunches of great people I met at NSA." No. How about "I wish you could have been at the NSA convention. I met 1200 interesting, fascinating new best friends who are also speakers." Now I can imagine the size of the ballroom that would take to have 1200 people.
Another one, and this came as a result of one of my very good customers and it is at this technology company, and I have her permission to tell them where it came from. Boatload. If it doesn't go to sea, it's not a boatload. And I was explaining that because I deliver all the presentation skills training in the executive briefing center and I said "Michelle, we can coach and have them on their feet multiple rounds a day but limited how many people watch the process, who will be preparing and delivering these presentations in the future?" She said "What a great idea because Greg has just hired a boatload of people." I said "Michelle, is it a dinghy or an ocean liner?" because if I imagined the amount of people that he hired in the dinghy, it would be very different than if I imagined it was a cruise ship.
Eddie Turner:
Absolutely.
Patricia Fripp:
I said "How many did he hire?" She said "Four." I said "What's wrong with saying "Good idea. Greg just hired four new team members." See, it's being specific. I'm sure everyone who listens think "Oh, I don't use any of these words. I'm specific." You will not improve what you're not aware of. So, I suggest you record your side of conversations, your side telephone calls, and perhaps a staff meeting and you will be appalled what comes out of your mouth because you don't think about it, which reminds me of one other example with a banker.
This was a highly educated gentleman and I said "How educated are you?", knowing the officer. "Well, PhD MBA, blah, blah, blah." And I said "Well, why do you use such sloppy language?" And I took his mouth, he said, "Everybody who reports to me was also in training with me." "In other words," I said, "you are trying to act like one of the guys. You are no longer one of the guys. You need to speak like the well-educated leader you are so that you can model to them because they know you got promoted a lot faster than they did. You need to show them "This is how you speak and act if you want to get promoted as well.""
Eddie Turner:
Absolutely.
Patricia Fripp:
"So, you bring others up." And I don't mean highfalutin language. And often there are words, I say to my clients, that is a written word isn't a spoken word. And some people who are very good writers use the same words that they would write. And very often writing is too formal for the way they present it. So, that's a couple of ideas about specificity, building credibility.
And then, I believe we were promising your audience another area of information?
Eddie Turner:
Yes, we were. So, thank you, Patricia. The second idea that you suggested when we started this conversation was related to sales professionals. And so, this business of storytelling, how can this benefit leaders who are in the sales arena?
Patricia Fripp:
There are two types of sales stories to use. The first and most popular is the happy satisfied customer that every sales professional needs to have in their back pocket. Now, in their back pocket, I mean, these are stories that are perfected. You need an arsenal of stories that are perfected, that are ready for when you need to use them.
Eddie Turner:
What do you mean when you say perfected?
Patricia Fripp:
Well, you've rehearsed it. So, for example, most people ask professional speakers like us "How do you know which story is going to work the first time you put it in a speech?" And the answer is the first time you use it in the speech is not first time you tell this over. You've practiced it on your friends and you've videoed it and watched it, you've had it transcribed and tightened it up.
Patricia Fripp:
So, you probably told the story 40 times to make sure it works before you put it in a speech. Don't you think that, Eddie, even speakers like us who are doing pretty well, you work with some of these tech companies, all these high-ticket items, makes you a lot more money we'd ever make in a month's worth of speeches when you make the sale. So, they need to work as hard on their stories as we do. That's my point. And what you want is a story that matches the problem, the challenge, or the opportunity of the person that you are talking to. So, you can say "Eddie, your situation sounds very much like Patricia's. Now, when I first spoke to Patricia." So, now, you're finding a story that your prospect would relate to. It could be the same industry. It could be the same problem, opportunity or challenge. It could be, if you're selling technology, the same basic technology system. It could be the size of the company. There's a match or it could be you're talking to a Chief Information Officer. So, obviously, you're going to tell the story about Patricia, who was the Chief Information Officer at a company about your same size.
Patricia Fripp:
It has to match. And you have these prepared in advance. So, if suddenly you said "Patricia, this isn't in your territory but John is on vacation. We've been working for this client for a whole year. So, we need you to go meet with him" or "her" or "meet with the executive team." So, one, this might not be in your normal client base but you know either where to find or in your arsenal are stories and situations that would match this. Now, this is an important part about this story because, and if anyone is taking notes, stories shrink time. And this is a principle from one of my friends who's a story consultant. And my audiences always laugh when I say this to them. Stories have to be true. They do not have to be accurate.
Eddie Turner:
Stories must be true. They do not have to be accurate.
Patricia Fripp:
And this is what I mean, because we have perhaps three minutes to tell a story, and they need to follow a format or the format that I teach is Situation Solution Success. And what I say is imagine you met with your prospect and they said "Help!" and could clearly articulate their problem. It's like "Help! We don't have any corporate rock stars. We need you to write a speech for our president. Turn him into a rock star." That's the help. Now where it's not 100% accurate because most, at least with my clients, the sales are somewhat complex, and I think this is the world we live in. It might take four months. With some of my clients, it might take a year to have a formal presentation. So, what you are doing is shrinking what might be an internal sales person doing the research, following up leads. It might be various people that talk till you get the right person till you have the prospect. So, that might be a team of 12 and four to six months before you're having the conversation where the customer says "Help!" and clearly articulates their problem. Perhaps they couldn't clearly articulate their problem until the engineers came in and did some research and work with their engineering team but in the retelling of the story, we are shrinking time.
Patricia Fripp:
That's the first part.
Patricia Fripp:
So, the situation is always in the words of the customer, how clearly they articulate the problem. The next part is solution. So, I might say, Eddie, "So, what we did for john who is a similar size company and similar complexity that you have, we went through this, this, this, this, this and once we get your okay, this is what we will do for you." And then the success, the happily ever after, is always in the words of your happy customer. So, you can say "If john were here, he would tell you "We would not have believed it was possible that we could take our boot up time from three hours to three seconds." It's in their words because, and, again, just as we heard with the Bernard stories, you have to deliver the dialogue, because when you are talking about yourself, it's difficult to say "Our clients cannot believe the difference in results" quite the same way as if John were here, he would tell you "We've been working with technology companies for 20 years and we would not have believed it possible that the ABC Company could not only do this, this and this, and the result has been that." And, again, when you're delivering the dialogue, you can put the passion that the customer has – "It saved my job! It made us a million dollars. It saved 700 work hours a day."
Eddie Turner:
Nice. So, that is all the part of the happy satisfied customer.
Patricia Fripp:
Yes, the Situation Solution Success. And the one other story that is good for sales professionals that have in their back pocket is the transport your prospect into the future story. And that starts with the word 'imagine'. It's a year from today – "And as you're getting ready to go to work, you take a moment to reflect that this was the most rewarding and satisfying and profitable year of your company history." So, you see, you paint a picture of the future and then you reflect back – "What made this major change?" And then you take him back to today's date – "It September 5th when I saw a demo of this, this, this, this this. I listened to a persuasive sales professional say this, this, this." And you said yes. So, it's a matter of you take them into the future of what will happen if they buy your technology, your training, your coaching, your methodology, your equipment, whatever it is, and then you bring it back. Will that happen? Only if you say yes.
Eddie Turner:
Very good. So, we have some more gems from the amazing Patricia Fripp. And if you're a sales leader or, quite frankly, I believe, any leader, you want to know how to have in your pocket happy satisfied customer stories that you've perfected. You are telling this for the first time when you give that speech, you're telling this many times and worked out the kinks and there's a 3S Solution. You're telling the Situation, Solution, and Success, that situation is always in the words of the customer. You tell the Solution and then the Success comes from the mouth of the customer again, as we had in this story with Bernard earlier and his children, because then you can have things said that you could not say about yourself and it carries a different impact.
Patricia Fripp:
And that is all part of the Fripp wisdom.
Eddie Turner:
And mighty wisdom it is. Patricia, my o my, I could talk to you for hours but thank you so much for sharing these points of wisdom and insight with my audience. How would you summarize our conversation that we had today?
Patricia Fripp:
If they take the advice that they've heard, it could business and impact, well, it could make incredible difference in the results of leadership presentations, business outcomes that come from inspiring action, and the business outcomes that come from driving more sales. When you tell stories, you are taking your happy satisfied customers with you on your sales calls. It's as if they bungee jump in and out of your presentation.
Eddie Turner:
What a nice way to put it. And this is the Keep Leading Podcast. And so, on the Keep Leading Podcast we like to give leaders words of wisdom they can use to help them keep leading. Do you have a quote or words of wisdom in addition what you've already shared that you'd like to leave them with?
Patricia Fripp:
Certainly. One of the greatest leaders who influenced me was my father, self-made successful entrepreneur in a small town in England. And the first day I went to work, he pushed me out the door and said "In your career, don't concentrate on making a lot of money. Rather focus and concentrate on becoming the type of person that people want to do business with and you'll most likely make a lot of money."
Eddie Turner:
Great words of wisdom from dad indeed – "Focus on being the type of person people want to do business with and then you will make a lot of money."
Eddie Turner:
Excellent. Thank you so much. Where can my listeners learn more about you?
Patricia Fripp:
Well, they can learn more about me at my website Fripp.com. However, if they really want to know how to improve their leadership presentations or their sales presentations, I suggest they take a free trial @FrippVT which is on powerful persuasive presentations. Highly interactive, learn at your own pace. It's like having me as your personal speech coach 24×7.
Eddie Turner:
Outstanding. So, Patricia Fripp, available virtually everywhere all the time, FrippVT. We're going to make sure we get that into the show notes so that folks can click on that and go directly to your site and be able to access that content for powerful persuasive presentations.
Thank you so much for being a guest on the Keep Leading Podcast, Patricia.
Patricia Fripp:
My pleasure.
Eddie Turner:
And thank you for listening. That concludes this episode, everyone. I'm Eddie Turner, the Leadership Excelerator, reminding you that leadership is not about our title or our position. Leadership is an activity. Leadership is action. It's not the case of once a leader, always a leader. It's not a garment we put on and take off. We must be a leader at our core and allow it to emanate in all we do. So, whatever you're doing, always keep leading.
Thank you for listening to your host Eddie Turner on The Keep Leading Podcast. Please remember to subscribe to The Keep Leading Podcast on iTunes or wherever you listen. For more information about Eddie Turner's work please visit EddieTurnerLLC.com.
Thank you for listening to C Suite Radio, turning the volume up on business.
The Keep Leading!™ podcast is for people passionate about leadership. It is dedicated to leadership development and insights. Join your host Eddie Turner, The Leadership Excelerator® as he speaks with accomplished leaders and people of influence across the globe as they share their journey to leadership excellence. Listen as they share leadership strategies, techniques and insights. For more information visit eddieturnerllc.com or follow Eddie Turner on Twitter and Instagram at @eddieturnerjr. Like Eddie Turner LLC on Facebook. Connect with Eddie Turner on LinkedIn.