JJ Ramberg
Co-Founder, Goodpods
Listening to Lead
Episode Summary
I interviewed JJ Ramberg! For 13 years, JJ hosted "Your Business" for NBC News. She is the author of the book "It's Your Business." JJ and her brother recently launched Goodpods—an app which lets you follow your podcast loving friends and hosts to see what podcast they're listening to by episode.
Check out the "60-Second Preview" of this episode!

Bio
JJ Ramberg is an entrepreneur, tv host, speaker, and best-selling author. Earlier this year, she and her brother launched Goodpods — an app which lets you follow your smartest, funniest, most curious podcast loving friends and hosts to see what podcast they're listening to by episode. This is their second company together. Their first, Goodshop, provides the best online coupons and gives the shopper cashback or a donation to their favorite cause for every purchase.
For 13 years, JJ hosted Your Business for NBC News, which focused on telling the stories of entrepreneurs and CEOs to find out what works and what doesn't when you're trying to grow a successful business. She is the author of two books — It's Your Business, and the children's book The Startup Club.
JJ has been honored for her work by organizations, including the American Women's Business Association, Self Magazine, and the Association of Women Entrepreneurs and often speaks for organizations ranging from the Vanity Fair Founders Fair to the US Chamber of Commerce.
JJ received her MBA from Stanford Business School and her BA from Duke University. She lives in Brooklyn, NY, with her husband and three children.
Website
https://www.goodpods.com/
LinkedIn
https://www.linkedin.com/in/jj-ramberg-6b7976/
Twitter
https://twitter.com/jjramberg
Facebook
https://www.facebook.com/jjramberg1
Instagram
https://www.instagram.com/jj.ramberg/
Leadership Quote
My mother, a very successful entrepreneur, gave me the book "The Little Engine that Could" as a kid. The best quote that I go back to all the time is …"I think I can."
Get Your Copy of JJ's Book!
https://www.amazon.com/Its-Your-Business-Essential-Transform/dp/1455509000
Full Episode Transcripts and Detailed Guest Information
www.KeepLeadingPodcast.com
Keep Leading LIVE (Live Recordings of the Keep Leading!® Podcast)
www.KeepLeadingLive.com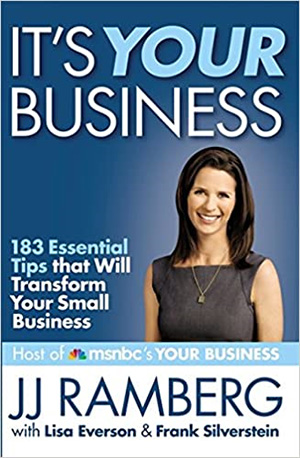 Transcript
The key to sustainable leadership lies in the ability to thrive during uncertainty, ambiguity, and change. Grand Heron International brings you the Coaching Assistance Program, giving your employees on-demand coaching to manage through a challenging situation and arrive at a solution. Visit GrandHeronInternational.Ca/Podcast to learn more.
This podcast is part of the C Suite Radio Network, turning the volume up on business.
Welcome to the Keep Leading!® Podcast, the podcast dedicated to promoting leadership development and sharing leadership insights. Here's your host, The Leadership Excelerator®, Eddie Turner.
Eddie Turner:
Hello, everyone! Welcome to the Keep Leading!® Podcast, the podcast dedicated to leadership development and insights. I'm your host Eddie Turner, The Leadership Excelerator®. I work with leaders to accelerate performance and drive impact through the power of executive and leadership coaching, facilitation, and professional speaking.
I have a very special guest with me today. And I say that all my guests are special but today, even more special than usual. My guest today is JJ Ramberg and I'm excited to have JJ with me today because I have watched her on TV for years. JJ and her show on MSNBC – Your Business – was pivotal to the entrepreneurial spirit inside of me and I enjoyed watching that show because most of the shows on MSNBC are news or politics but this show was uniquely dedicated to showcasing entrepreneurs and it was always inspiring to see how everyday people will take a simple idea and turn it into a brilliant business model. So, I'm excited to have JJ with me for that reason.
Now, JJ is an entrepreneur, a TV host, a speaker, bestselling author and so much more. What do I mean? She has launched a couple of amazing businesses. She launched earlier this year, with her brother, Goodpods. Now, Goodpods is an app that allows you to follow your smartest, funniest, most curious podcast-loving friends and host to see what podcasts they're listening to by episode. I think that's just a novel idea but that's not her first business. This is her second business. Her first business was a socially conscious business called Goodshop. It provides the best online coupons and gives the shopper cashback or a donation to their favorite cause for every purchase. JJ is also the author of two books – It's Your Business and the children's book The Startup Club. I am super excited to have JJ here with me today.
So, welcome to the Keep Leading!® Podcast, JJ Ramberg.
JJ Ramberg:
Hi, Eddie. How are you?
Eddie Turner:
Hey, JJ, I am just smiling ear-to-ear. Can you feel it?
JJ Ramberg:
It's coming through the lines.
Eddie Turner:
Oh my, thank you so much for being with me today.
Now, I am privileged to say that I have met almost every person who's appeared on the Keep Leading!® Podcast with very few exceptions. Now, if we were on the live version of the show, Keep Leading LIVE, I'd be showing the photo when you and I met. JJ, do you when I finally got a chance to meet you?
JJ Ramberg:
It was at the C Suite Conference. That was quite a while ago though, Eddie, now. It feels like a lifetime ago, now.
JJ Ramberg:
Especially, now.
Eddie Turner:
I had to look it up and I found a picture. It's November 2017. So, yes, now it doesn't seem like forever but especially now, we don't know when we'll be able to go to another conference and certainly be able to take pictures with people again, right?
JJ Ramberg:
Oh, I know. I took a picture with my niece yesterday. She was standing six feet away from me. I was trying to take a selfie.
Eddie Turner:
Wow! Now, that's interesting, a socially distanced selfie.
Eddie Turner:
Well, cool. We have to look for that online.
Yes, I enjoyed meeting you there and it was a great event. Jeff Hayzlett always puts on a spectacular event and we were, as usual, talking about all things business. And so, who better to serve as the host for that event than you.
JJ Ramberg:
Oh, thank you. Yeah, that was a lot of fun that conference.
Eddie Turner:
So, now, I have to start off by asking you about your time at MSNBC hosting Your Business. I read that you said you got that show by luck. Tell us how it all started.
JJ Ramberg:
I did get that show by luck. So, I kind of flip-flopped between journalism and entrepreneurship throughout my career. So, at the time I had just left CNN where I had been first a host and reporter to start my company Goodshop which you had mentioned earlier, which is a an online coupon company where money for every purchase goes back either to a cause that you care about or back to yourself, so cash back. So, that's Goodshop. And I had left CNN to start Goodshop but I was filling in once in a while just to help them out. And I was at the stock exchange one day reporting and over at MSNBC they had signed this deal to do a show about entrepreneurship called Your Business and they needed a host. And so, the executive producer of that show happened to look up at CNN that day, saw me there at the stock exchange and then called a mutual friend of ours over at CNN and said "Is she under contractor? Does she work for CNN full time?" to which Sam, of course, said no. And so, they called me up. And that show was only supposed to be six months which is why I agreed to it because I was just in the midst of starting a company and it ended up going on for 13 years.
Eddie Turner:
How about that? Six months turned into 13 years.
Eddie Turner:
Wow! Now, this sounds like a bad question. Over 13 years, I just have to know, is there one episode or one entrepreneur that stands out more than the others?
JJ Ramberg:
I met, as you can imagine, so many incredible people. So, I mix up my answer to this all of the time but there was one family in Missouri who had started, it's called the Kansas Star Quilting Company and it's just an amazing story about a group of kids. I mean, they weren't kids. They were kids to this woman who got there when she was a quilter. She retired from her job. They bought her a quilting machine and she started doing these tutorials online, it's the Dorn family, and became kind of the YouTube quilting superstar. And so, they started this company. And then the company was so successful that they, in essence, transformed their entire town. So, if you go into the town where they started this company now, which basically used to have nothing on main street, now it has all of these quilting stores. They helped friends have theirs start restaurant so that they could service the people who were coming for the quilting stores and to meet this woman who was the superstar quilter. And so, they transformed their family, they transformed their town and it's just an incredible, incredible story and they were a very nice family as well.
Eddie Turner:
Interesting. Thank you for sharing that. What a powerful story!
Now, as you spent those 13 years interviewing all these successful founders and CEOs, is there a common denominator you found? What's the one thing that seemed to make them all successful that they had in common?
JJ Ramberg:
There is. And it's not what school they went or how much money they had or who they knew. Some things certainly give you a leg up in some ways but they do not mean that you will absolutely be successful but the one thing that everyone had is this ability to deal with failure. And so, when things went wrong, they do not hide under the sheet, right? Maybe they would cry for an afternoon or a minute or feel despair but then they would bounce back and say "Okay, this happened. Now, how do I deal with it? How do I move forward?
Eddie Turner:
So, JJ, are you saying that everyone was not an overnight success and just magically happened?
JJ Ramberg:
I don't know anyone who is an overnight success.
Eddie Turner:
That's good to hear because sometimes, especially as a coach, I'm working with clients and individuals are not prepared to deal with failure and they feel like if failure happens that they are a failure. And so, I really appreciate how in fact even the most successful people we know all had to experience a failure.
JJ Ramberg:
Everyone experiences failure. Some of them are really big and very public. Some of them are small but really impactful on their business or on their lives. And it's just a part of business. It's a part of relationship. It's a part of life.
Eddie Turner:
Yes, I always give an example Walt Disney, Steve Jobs and others but in your show, you, I'm sure, could highlight several of those other individuals who may be not as well known.
So, you ran one company Goodshop but this year you started a new company and that company, I would love you to tell us. I won't say the name. You tell us the name of the company and what it's about.
JJ Ramberg:
Sure, I'm so happy to talk about this. This is what I love talking about most. The company is called Goodpods and what it is, is a podcast-centric social network. So, for anyone who loves listening to podcasts, this is for them, or podcasters. And on it, picture Instagram or Twitter, right? You go on, you follow your friends, you follow influencers like you, Eddie, or we also have people like Malcolm Gladwell and Kim Kardashian and Dan Harris and all these amazing people and your friends and you see what they are listening to.
Eddie Turner:
So, JJ, I'll send you the check later for putting my name in the same sentence as Malcolm Gladwell.
JJ Ramberg:
You deserve it but the neat thing is as a listener, what I found happen all the time is I had maybe the few podcasts that I kept going back to but I knew there was all of this great stuff out there, it's kind of daunting to figure out what's worth my ear time. And so, I just wanted recommendations from my friends or other people that I respected. It's hard to get those, right? I can go text someone but then I have to wait for them to get back to me or spend time looking for lists but I just wanted the immediacy of "Okay, what's my brother listening to? What's Eddie listening to? What's my sister listening to?" or like "I'm interested in something sciency right now. Let me see what my friend Gordon's listening to." And so, that's what Goodpods is for and it's really, really cool because we're seeing some really interesting podcast episodes get passed from friend to friend to friend on Goodpods.
Eddie Turner:
I love how you say that you wanted something that was worth your ear time. So, in other words, you're selectively listener as we all should be, right?
JJ Ramberg:
Well, I'm selective and I'm not. It's a funny combination because I'm selective in that we all have limited time and we want to listen to something good but I really love listening to brand new things. If you look at my feed on Goodpods, you'll laugh because you'll be like "Who is this woman?"
Eddie Turner:
And I am looking at your feed. I follow you.
JJ Ramberg:
Yeah, I mean, just this morning, I listened to a true crime podcast Motive for Murder and then before that I listened to this cool one about the History of Monopoly and then I listened to some meditation ones. And I'm getting all of these as suggestions from friends because I'm seeing that they listen to it and they liked it.
Eddie Turner:
Yes, and that's what I meant. Thank you for the clarification that in terms of ear time, we only have a certain amount of time. And so, we want to make the best decisions we can but you're still open. And so, you have a variety and you post that and you share that and those of us who are following you are able to discover something we may not have discovered otherwise. And since it's social, we trust you, we are more likely to listen to something that JJ has said is good and that Lou Diamond has said is good, your brother. So, wonderful concept that you and your brother came up with.
Eddie Turner:
And what trends are you seeing so far as you have launched this? You just launched this last month, right?
JJ Ramberg:
We did. It is brand new and it's interesting. So, some of the things that go viral on Goodpods are some of the big ones that you'd expect that always are in the top 10 podcasts but then we see these podcasts that I never heard of before and a lot of people haven't heard before. So, for example, this was early on, somebody listened to this podcast called The Art of The Exit and the episode was about a 100-million-dollar art heist. It was a really fun episode. I'd never heard of that before. I am 1000% sure that most of the people hadn't heard of it but one person listened to it and then one of their friends listened to it and then one of their friends listened to it. so, it just spread through the community and I followed every one of those times. And so, it was just so fun for me to see how it went from person to person to person. So, what I think is so neat about Goodpods is that it's an opportunity for podcasts that never make the top 10 list, that don't have huge marketing budgets with hosts who don't have a zillion social media followers, those podcasts can really surface so that they can grow listenership and listeners can be exposed to them.
Eddie Turner:
Wonderful. Now, you don't know this, JJ, but on my live show Keep Leading LIVE on Mondays I've been promoting your show, I've been doing a live reading and, on that show, I have the ability actually to show the site. So, I show the site and I tell people to go to Goodpods.com. So, right now, even though I can't show people the screen, I want to tell people to go to Goodpods.com, download the app on your mobile devices and start following JJ, start getting good selection and recommendations on podcasts.
JJ Ramberg:
Start following you. I will tell you something that actually when you come on, you are forced to follow me. Oh my God, Eddie, you know what I mean? I was just blowing up your feed right now and you were asking about trends. One of the podcasts that went viral on Goodpods which was so funny, it was called You Need to Calm Down and it was just white noise like literally the episode was just white noise. And that went from person to person and I'm your feed and you listen to it.
Eddie Turner:
You know why? Because I saw your recommendation and I realized I needed to calm down.
JJ Ramberg:
I'm liking your feed right now. I like all the things you're recommending here. This is great.
Eddie Turner:
JJ, how does listening to podcasts help leaders?
JJ Ramberg:
I learn so much from podcasts and this is after 13 years, actually more than that, but 13 years in the last job of being in front of the camera, I am really enjoying just being behind the microphone or behind the camera and just getting to soak everything in but to be a good leader, you need to be a good listener. And you can learn a lot from listening. And so, anything that you feel like you're a little weak on in your leadership, you can go find a podcast that will teach you something about it, you can go get inspired by somebody even if it's not within your field. There are so many great entrepreneurial podcasts out there. I think that the way we started this conversation about how good leaders are people who can deal with failure, I think it's really helpful to hear stories of people talking about the struggles that they had while growing their business. You don't feel so alone and I think you can learn a lot of that through podcasts.
Second, I think just having an open mind and learning about new things is great for leadership because it comes in all kinds of ways when you're leading. And podcast is really a low-commitment way to be able to get exposed to all kinds of things.
Eddie Turner:
Thank You, JJ.
I'm talking to JJ Ramberg, the co-founder of Goodpods and she's talking about the importance of listening to lead. We'll have more with JJ right after this.
This is a challenging time for businesses. We're all anxious to get back to work as quickly as we can but also as safely as we can. Business leaders must uphold a duty of care, a responsibility to make sure that they and others are safe in the workplace. C Suite Network created C Suite Supplies, a trusted source of quality protective equipment. Whatever your reason is for wearing a mask, do your part and protect your most valuable assets, your employees and customers. Go to C-SuiteSupplies.com.
Hey C Suite Radio listeners, Gregg Greenberg, General Manager of C-Suite Radio here. If you're enjoying this great show, then you're obviously aware of the power and explosive growth of podcasting. That said, you may not know the amazing reach and ease of podcast advertising. Here are the C Suite Radio Network, we have 150 podcasts reaching millions of listeners each month and all with affordable advertising slots ready to promote you and your business. We even help create and record your ad at no extra charge. From business to lifestyle and entertainment, we have shows that target your audience. We even have the technology to geo-target ads by state. So, why not speak to directly to your customers right where they live in and on the podcast they love. Reach out to C Suite by email and me at Gregg.Greenberg@C-SuiteNetwork.com.
This podcast is sponsored by Eddie Turner LLC. Organizations who need to accelerate the development of their leaders call Eddie Turner, The Leadership Excelerator®. Eddie works with leaders to accelerate performance and drive impact. Call Eddie Turner to help your leaders one on one as their coach or to inspire them as a group through the power of facilitation or a keynote address. Visit EddieTurnerLLC.com to learn more.
This is John Perry, Organization and Leadership Development Consultant and Strategic Coach and you're listening to Keep Leading!® Podcast with Eddie Turner.
This is Carl Mecklenburg. I'm here with Eddie Turner on the Keep Leading!® Podcast. I'm a former Denver Bronco captain, a teamwork and leadership speaker traveling the country doing keynotes.
Eddie Turner:
All right, we're back with JJ Ramberg, someone I've been a fan of for years. She is the co-founder of Goodpods, a new app service that I'm super excited about. We want you to go over to Goodpods.com, download that app so you can start to listen to podcast that you know about and discover a whole bunch of new ones you don't know about it all and you'll be following JJ Ramberg herself and watching her recommendations.
So, JJ, you told us some of the good things that are happening in the podcast world on Goodpods before the commercial break. Now that we're back, I'd love to understand a little bit more about the role of Goodpods and the biggest thing I'd like to know is what are you seeing the role of Goodpods during this pandemic.
JJ Ramberg:
It was really interesting, Eddie, because we launched in the middle of this. We have been working on this for a long time and we had really big launch plans and it's gotten all these influencers that I mentioned early on like Gwyneth Paltrow and Malcolm Gladwell, etc. on board and then COVID hit and our world was turned upside down. And the team had to really sit down and get together and say "Should we launch this? Is this appropriate given what's going on in the world to launch a brand-new company right now?" and we had to do a lot of soul-searching and talking to each other. And we decided the way we would figure this out is to say "Okay, let's put ourselves in the shoes of our users. And are we doing anything that is valuable to them at this time given what's going on in the world and how uncertain and scary etc. it is?" which was a bit hard because we were all users when the app had been in beta for a while. And so, we were all avid users of it. And so, I just said myself "Okay, do I need this right now? Would I be happy if somebody told me about this?" And what we realized is that it was really helpful and it continues to be for all of us and we've gotten great feedback from people because we want to connect with people at this time and it's so hard being isolated. And Goodpods is a really positive way to connect with your friends around great podcasts and great content and great things that you're listening to. And beyond that, I have found myself really turning to podcasts right now in part for information, in part for entertainment, and in part with my family. So, for example, I have three kids who are 10, 11, and 12 and my son, he was 11, came down one day and he said "Mom, let me show you how I remember these things" because he had listened to a Charles Duhigg podcast on how to remember everything. And he had listened to it because my other son had listened to it and he saw it on his feed. And so, that became our dinnertime conversation.
Eddie Turner:
10 and 11-year-olds listening to Charles Duhigg and talking about that at dinner? I mean, come on, that's pretty impressive.
JJ Ramberg:
Well, I'll tell you, Eddie, the one thing about having your kids home when you're launching your company is suddenly your kids are like free interns.
Eddie Turner:
Speaking of free interns with the kids, I, in preparation for the show, always do a lot of research on the guests. And I, of course, went through your social feeds and I saw the amazing video that your kids did. Tell the audience about this cool video that they did to promote this.
JJ Ramberg:
Sure. This was early on in the quarantine. And so, we are quarantined here with my three kids and then with another family, they have two kids. I gave them an assignment one Friday when they didn't have school saying "Here's your Marketing job. Create a video explaining what Goodpods is." So, they got a lesson in Marketing, I got some free videos that I could then post on social media and it was fantastic.
Eddie Turner:
I loved it. What I saw was your daughter, I assume, kicking the chair and your son is in the driver's seat and he basically tells her to stop. So, there she's bored and she starts playing music and then he says "No, no, no, we're not going to listen to music." And he puts a sophisticated podcast and then starts to discuss that. I just thought "Wow! That is so well done."
JJ Ramberg:
And here what's really funny. That was my daughter and then the other family that lives with us, the kid in that family.
Eddie Turner:
Okay, fantastic. So, yes, what a great way to get the entire family involved in not only the Marketing and Production component but, of course, your brother is your co-founder, correct?
JJ Ramberg:
Not only that. So, yes, my brother is my co-founder. My brother is a super impressive guy. This is his third company. His second one was Goodshop which we founded together and his first one he co-founded with my mother and it was called Jobtrack and it was in the job listing space and became Monster.com's biggest acquisition ever. So, I am incredibly lucky to have him as my partner but I don't only have him. In this company, we also have my sister who I recruited to work with us here and incredibly well-accomplished and smart woman as well and then my nephew is working with us too.
Eddie Turner:
Wonderful. Now, that could be a little tricky to manage at times. How do you lead when it comes to family?
JJ Ramberg:
In our family, it works really well. I mean, the one thing we do, so Ken and I have worked together for years, we started Goodshop 13 years ago. So, we are quite used to it. And, of course, we have other non-Rambergs working on this company too but we have four Rambergs on it. We did have to tone down some of the family conversations sometimes so it doesn't distract the rest of the team but we work really, really well together. I come from a family of family businesses. My dad worked with his dad. As I told you, my mother and brother started a company together and I worked there for a little bit and my sister worked there for a little bit. Ken and I started good shop together. For us, it works really, really well. It's nice. I love working with them.
Eddie Turner:
Wonderful. So, as the co-founder of the Goodpods organization, you not only have your finger on the pulse of your company but on the podcast industry overall. What would you say is the number one trend you're seeing? You kind of addressed this a little bit earlier but I want to dig a little deeper for those who may not follow it as closely.
JJ Ramberg:
I mean, podcasting is still in its infant stages, infancy and people are still figuring out how to monetize podcast and what works and what doesn't and how long should podcast be. And what's interesting during this period of time that I have heard from some of the hosting companies is I've heard different statistics about listenership being down on, listenership being flat up but what I have heard is that a lot more people are starting podcasts. And it's pretty cheap to start one, it is hard to get the word out which is why we started Goodpods but I think it's a neat thing for people to try their hand at and it's accessible to anyone.
Eddie Turner:
And is the market too saturated? Are there room for more podcast?
JJ Ramberg:
I think there is. I think good content wins any time no matter what, right? And so, if you have a niche podcast that you want to start and you can find that audience, I think there's space for it. I wouldn't say there are too many TV shows, right? Wouldn't say there are too many radio stations, there are too many songs. I think there's room if you something good.
Eddie Turner:
Indeed. And some people say that podcasting is the new blogging.
JJ Ramberg:
Well, that's how I think of it because you used to have to work for a magazine or a newspaper in order to write an article and suddenly there are blogs, right? You used to have to be an amazing photographer who worked for, again, a magazine and now there's Instagram, right? And so, it's just a way to get people who didn't have access to some of these well-established neat mediums but who may be incredibly talented. Now, all those people have a way to get their podcasts out.
Eddie Turner:
Yes, my journalism professor said so eloquently in the early days of blogging that blogging has deputized people as journalists in the same way, yes, you're right, it gets with podcasting. It's deputized many of us as broadcasters.
JJ Ramberg:
Exactly, yeah. And I think it's great.
Eddie Turner:
So, what is the future of podcasting?
JJ Ramberg:
I think it will continue as it's going. What I think is that it will get a little more sophisticated and that is on the backend in terms of earning money and advertising. And I think, also, the shows will get more sophisticated as well.
Eddie Turner:
All right. We will be on the lookout for that. I haven't had a chance to log into the app this week yet. So, I haven't seen your recommendations. For those who have not had a chance to download the app yet, can you tell us what's on your playlist? What are you looking at?
JJ Ramberg:
Oh gosh! Okay, I'm going to tell you guys what I've listened to recently, okay?
Eddie Turner:
Outside of the Keep Leading!® Podcast, of course.
JJ Ramberg:
Keep Leading!® Podcast, number one. Motive for Murder. I used to work for Dateline and Josh Mankiewicz who is a Dateline correspondent and has done this amazing true crime series called Motive for Murder which I cannot get enough of. Then I listened to Monopoly and Academic Decathlon which has the history of monopoly, the German Coconut Cult from the Fantastic History of Food. I'm just reading all these so you know how crazy this is. And the Art of Happiness – Three Equations for a Happy Life. After Hours from Harvard Business Review – Reimagining Capitalism. Poetry Unbound.
So, you can see it is all over the place because I'm getting so many great recommendations.
Eddie Turner:
And one thing I want to specify is your recommendations aren't just an entire podcast. You have got it down to the episode level that people are able to share so they don't have to sift through an entire 100 episodes that someone has produced.
JJ Ramberg:
You got it. I mean, for instance, I'm not a big poetry person. I'm probably not going to listen to poetry everyday but I love when my friend Hilary posts something because I know it's going to be good.
Eddie Turner:
Yes, yes.
I have so enjoyed talking to you, JJ. And may I ask what is the one message you'd like to leave our listeners with today?
JJ Ramberg:
Well, it could be an easy one which is please, go download Goodpods and give it a shot, we're new, but also what I would love from everyone there is the only way this company is going to continue to be great is if we get feedback from our users. Good, bad, we want to hear everything. So, I would ask and invite everyone once you download Goodpods, if you have suggestions, just email me and it's
JJ@Goodpods.com
, it's easy, or you can do it in app but we really, really welcome and appreciate all feedback we get because we're just starting and this app has lots of amazing places it's going to go.
And one last thing. Go follow Eddie on Goodpods.
Eddie Turner:
Thank Lou, JJ. And I want to thank Lou Diamond for getting me into the pilot program with you. So, he's got a great podcast as well, Thrive LOUD with Lou Diamond. Appreciate him. And, JJ, you have just been amazing.
By the way, on the Keep Leading!® Podcast, we always like to give leaders advice that helps them keep leading in addition to the content you provided. Do you have a favorite quote or a piece of advice that you live by that you can share with our leaders?
JJ Ramberg:
Simply listen. I mean, that's one of the biggest lessons I learned about leading because I'm talk a mile a minute sometimes and want to get my point across and the best thing I learned is just calm down, be quiet and listen.
Eddie Turner:
Thank you. You've heard it from JJ Ramberg herself, ladies and gentlemen.
So, thank you for being a guest on the Keep Leading!® Podcast.
JJ Ramberg:
Eddie, was so fun to talk to you. This was a fabulous way to start my day. Thank you.
Eddie Turner:
And thank You, JJ. I'm still just smiling from ear to ear the way I was when we started.
JJ Ramberg:
Oh, me too. Thank you.
Eddie Turner:
And thank you for listening. That concludes this episode, everyone. JJ helped us to understand the importance of listening to lead on the Keep Leading!® Podcast. So, we want to remind you that leadership is not about our title or our position. It's not the case of once a leader, always a leader. It's not a garment we put on and take off. We must be a leader at our core and allow it to emanate in all we do. So, whatever you're doing, always keep leading.
Thank you for listening to your host Eddie Turner on the Keep Leading!® Podcast. Please remember to subscribe to the Keep Leading!® Podcast on iTunes or wherever you listen. For more information about Eddie Turner's work, please visit EddieTurnerLLC.com.
Thank you for listening to C Suite Radio, turning the volume up on business.
Hey C Suite Radio listeners, Jeffrey Hayzlett here, Chairman and CEO of the C-Suite Network. Has your business been seriously affected by COVID-19? Are you having trouble getting a loan to meet payroll? Is government red tape causing your business to shut down? Well, we're here to help. C-Suite Loans is a business program designed to provide companies just like yours with immediate access to capital that will keep your business not only afloat but driving and thriving. C-Suite Loans works in conjunction with vetted funding to provide you with the best options based on your financial needs. We understand the challenges and we have a solution. Visit C-SuiteLoans.com today to learn more.
The Keep Leading!® podcast is for people passionate about leadership. It is dedicated to leadership development and insights. Join your host Eddie Turner, The Leadership Excelerator® as he speaks with accomplished leaders and people of influence across the globe as they share their journey to leadership excellence. Listen as they share leadership strategies, techniques and insights. For more information visit eddieturnerllc.com or follow Eddie Turner on Twitter and Instagram at @eddieturnerjr. Like Eddie Turner LLC on Facebook. Connect with Eddie Turner on LinkedIn.