Lenora Billings-Harris
Diversity Strategist and Hall of Fame Speaker
Leading Through Inclusion
Episode Summary
I interviewed Lenora Billings-Harris, an award-winning authority, a diversity strategist, researcher, author and Hall of Fame speaker. She is one of 100 Global Thought Leaders on Diversity and Inclusion was named by Diversity Woman Magazine as one of the Twenty Top Influential Diversity Leaders in the US. We discussed, Leading Through Inclusion.
Check out the "60-Second Preview" of this episode!

Bio
Lenora Billings-Harris is an award-winning authority as a diversity strategist, researcher, and author. She has been included as one of 100 Global Thought Leaders on Diversity and Inclusion by The Society of Human Resource Management (SHRM) and was named by Diversity Woman Magazine as one of the Twenty Top Influential Diversity Leaders in the US. Her award-winning diversity leadership research is recognized in academic journals internationally.
Lenora's ability to transform multifaceted diversity and inclusion concepts into immediately applicable "how-to's" have enabled her to help Fortune 500 companies, professional associations, government agencies, and educational institutions facilitate change to attract and retain top talent, expand multicultural markets, and heighten the number of engaged employees. She partners with organizations to help them make diversity a competitive advantage.
Lenora is the co-author of TRAILBLAZERS: How Top Business Leaders are Accelerating Results through Inclusion and Diversity, and she is often an expert guest on TV and radio internationally. She serves on the adjunct faculty of the business schools of Averett University and the University of North Carolina-Greensboro and leads a full-service diversity consulting firm. She has presented to audiences in over twenty countries on six continents, including in the middle of the Atlantic and Pacific oceans.
Lenora is a Certified Professional Speaker (CSP) and a Council of Peers Award of Excellence (CPAE) Speaker Hall of Fame inductee. She holds a Bachelor of Science degree from Hampton University and a Master of Arts in Adult Education from the University of Michigan. She has held key positions with General Motors and CIGNA Corp.
Website
https://www.ubuntuglobal.com/
LinkedIn
https://www.linkedin.com/in/lbillingsharris/
Twitter
https://twitter.com/LBHdiversity
Facebook
https://www.facebook.com/lenora.billingsharris
Instagram
https://www.instagram.com/disruptingbias/
Get Your Copy of Lenora's Book!
https://www.amazon.com/Trailblazers-Business-Accelerating-Inclusion-Diversity/dp/0470593474
Full Episode Transcripts and Detailed Guest Information
www.KeepLeadingPodcast.com
Keep Leading LIVE (Live Recordings of the Keep Leading!® Podcast)
www.KeepLeadingLive.com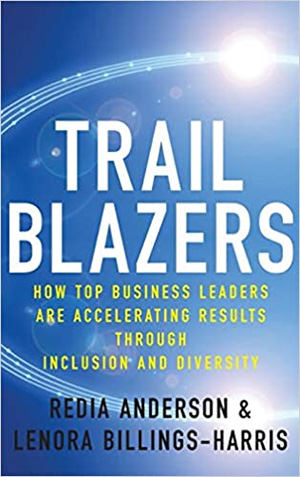 Transcript
The key to sustainable leadership lies in the ability to thrive during uncertainty, ambiguity, and change. Grand Heron International brings you the Coaching Assistance Program, giving your employees on-demand coaching to manage through a challenging situation and arrive at a solution. Visit GrandHeronInternational.Ca/Podcast to learn more.
This podcast is part of the C Suite Radio Network, turning the volume up on business.
Welcome to the Keep Leading!® Podcast, the podcast dedicated to promoting leadership development and sharing leadership insights. Here's your host, The Leadership Excelerator®, Eddie Turner.
Eddie Turner:
Hello, everyone! Welcome to the
Keep Leading!® Podcast
, the podcast dedicated to leadership development and insights. I'm your host Eddie Turner, The Leadership Excelerator®. I work with leaders to accelerate performance and drive impact through the power of executive and leadership coaching, facilitation, and professional speaking.I have a very special guest with me today. I am super excited. I'm a member of several associations and one of them is the National Speakers Association. And in the National Speakers Association, my guest today is considered NSA royalty. My guest today has one singular goal in her work and that is to help individuals and organizations understand we are all connected. Thus, we can all achieve more significant results when we learn how to build relationships with all people regardless of their packaging.
We're going to be talking about leading through inclusion. Yes, leading beyond bias. We're going to do that with Hall of Fame speaker Lenora Billings-Harris. Lenora Billings-Harris is a certified speaking professional and a past president of the National Speakers Association. She has presented to audiences in 18 countries on six different continents. She's a diversity strategist and author with more than 25 years of experience in public and private sectors and she's developed a unique way of presenting sensitive topics in a fun, thought-provoking and non-judgmental way. It is truly an honor to welcome Lenora Billings-Harris
Lenora, welcome to the Keep Leading!® Podcast.
Lenora Billings-Harris:
Thank you so much, Eddie. And I'm so impressed you have actually read some of the things that go deeper than just what's in my introduction. So, I do appreciate that.
Eddie Turner:
Oh, are you kidding me? I am fascinated by you. I have followed your career since joining NSA and you are a true Trailblazer. I don't just say that. That's one of the first things I recognized when I saw you on stage. I believe the first time I saw you is when you were receiving the Cavett Award. And I didn't understand, because I was new, "Well, what's the significance of this award? People, explain." This isn't just something you give to everybody. You also have the CSP, something else that's not just given. It's earned. You are a Hall of Fame speaker and one of our past presidents. So, yes, I have been following you and you are somebody who I look up to and it's because of you that I can do what I do in this organization and outside.
Lenora Billings-Harris:
Oh, I'm very humbled by your kind words. Thank you so much.
Eddie Turner:
So, tell us a little bit about your career as a speaker and the work that you're doing is a leader to make leaders through your use of the art of the spoken word.
Lenora Billings-Harris:
So, unbelievably, when I think about it, I've been in this business of professional speaking for just a little bit over 34 years at this point. However, my background was in corporate America and before that it was with the Graduate School of Business with University of Michigan. And when I was at University of Michigan, I discovered that I enjoyed working with adults who wanted to learn how to do what they do better. And I was working with leaders, the high-level managers. At that time, I wasn't teaching them. I was actually hiring people we now call professional speakers, interestingly enough, but I really realized that "Oh, education doesn't stop when you get your high school diploma or your advanced degree. It's continual." So, that's what got my attention. And then, as time went on and my husband and I moved around the country to follow his career, I ultimately realized I wanted to do this on my own. I wanted to start my own consultancy because as much as I loved managing and leading other people, I wanted to do my own work essentially and share my thoughts about what makes a good leader. So, fast forward quickly because initially I delivered all different types of learning and development programs but then when I realized that I was put on the planet to do diversity and inclusion work, I really got focused. And the more focused I became and the more I studied and observed as leaders interact with their teams, the more I realized that leaders want to do the best job they can but very often don't realize how their own biases get in the way of getting them the result that they want. So, it's not about good people, bad people, bad biases, good biases. There's just bias, really. And all of us have it because we all see the world through our own lens. So, I realized "I need to do something that will help leaders recognize that diversity truly is an advantage if you also know how to include, meaning include all of your talent and all of the talents of your team members not just a few."
Eddie Turner:
So, you're saying that at one point in your career you were not always on this side of the mic. You were on the other side hiring and buying speakers.
Lenora Billings-Harris:
Exactly, exactly.
Eddie Turner:
And I love what you said also about education. It doesn't stop. I was doing a speech this morning and listening to Dr. George Fraser. He said that he spends 15%, even at the age of 75, 15% of his income every year still investing in himself. And I thought "Wow!" I invested myself, I'm not sure I'm spending 15%, but this goal of constant continual improvement. And so, you clearly are doing that and you're helping others to do that. And you said you started to understand the importance of diversity. So, is this what made this shift for you where you began to become the strategist that you are?
Lenora Billings-Harris:
Well, one of the things that I started realizing as I learned as a member of National Speakers Association that you need to pick a lane, you need to either determine you'll be an expert in an area of focus, meaning a particular topic, or an expert in an industry. And I had background in the automotive industry as well and I loved it but I didn't think that's where I wanted my consultancy to focus. So, I was looking for topic while I was still delivering programs I already had learned while I was in corporate America. So, long story short, I had the opportunity to go to South Africa several times after Mandela was freed from prison. And on one of those trips, I actually was there to deliver a leadership development workshop, a full-day workshop. And it was South Africa and it was 1994. So, I knew that was going to be most likely all men and they would all be white because no black people had risen to that level just yet because apartheid really had just been outlawed, so to speak, at least on paper. And while I was there, the first person that happened to come in the room was a woman and I wasn't expecting a woman. So, I rushed over to her and said hello and extended my hand and she didn't shake my hand. Now, I happened to be there the month before Mandela was to be elected president. I'd been there several times before but this time was really different because everyone was very, very afraid because no African country had ever transitioned to democracy without lots of bloodshed. So, she wouldn't shake my hand. She sat down in the back of the room. And I proceeded to deliver the workshop. And at the end of the day, and I actually tell this as a story when I present, by the way, but in a different fashion than I'm doing it now just because I'm sensitive to time, so I want to get to the point quickly, at the end of the day, we ended up in each other's arms crying because what she said to me, she waited until everyone left, and what she said to me, through tears, I mean, her tears were dropping to the floor, she was crying so hard, she came up gave me a bear hug and then she said "I'm an Afrikaner. Do you know what that is?" And I said "Yes." And Afrikaners were the people who kept in place apartheid. And she said "When I walked in the room this morning, every bone in my body, every ounce in my being wanted to turn around and leave when I saw that you, a black woman from America, was the presenter. I couldn't imagine anything you could possibly teach me." Now, she's crying through all of this she said "But I couldn't leave because my bosses were going to be here. So, she sat through the day and she said "I now realize why I was here. I needed to experience you as 100% human. I needed to see you," and I knew she was meaning a black person "as a professional." She said "As we speak, my husband, my sons, and my brothers are gathering guns and ammunition to be prepared to kill every black person they see. I now know that I have to go home and convince them to lay down their guns and ammunition."So, the next day I had a 17-hour flight home, I had a lot of time to think and I realized that diversity and inclusion was more than just the numbers which is how people think of diversity. It was more than just being politically correct. It was about creating a safe space for people to be authentically who they are and to allow other people in your space to be authentically who they are. She for the first time saw me authentically who I am as a black woman and discounted me initially but realized that there was more to it. And, unfortunately, this was way before social media and the internet. So, I have no way of knowing if her conviction when she left what her intention was. I don't know if she was able to do that. I just pray that she was.
Eddie Turner:
Lenora, you can't see me right now, the expression on my face and how I'm feeling but wow! You just took me back to another area of my life and what you said was very profound. And just to think about that time period, I started reliving that period in my mind but I also started a bit of similar times even right here in the States. I can only imagine that that was not the first time someone had treated you as if you weren't 100% human but it was probably the first time someone actually admitted it. And that is the case of so many of us, whether we're black, whether male a female, but so many of us who are in that minority demographic, that's a daily experience for us that people treat us less than human but when she said she was so revealing, she just thought of you as less than human, less than 100%. And we don't always get a chance to dispel those myths in their minds.
Lenora Billings-Harris:
Yes.
Eddie Turner:
And you got a chance to do that because she didn't leave. I'm thinking about what would have happened had she left.
Lenora Billings-Harris:
Well, I do believe that everything happens for a reason. And I was in pursuit of what my area of focus should be. She was in pursuit of going to a workshop and having it over real quick. And things changed though once her spirit and my spirit came together. And that helped me know that I needed to find a way that people could hear this message and not see it as being judgmental. I needed to find a way to do this work where everyone would recognize that there's something in it for them, that everyone would recognize there was something in it for them to get to know people different than themselves.
Eddie Turner:
And what a pivotal time in history that you were going to do that, right" Everything associated with Mandela and everything with that country at that point in time, we're not talking about 50 years ago. So, wow! How far we have come.
Lenora Billings-Harris:
And yet how much work we still have to do, unfortunately.
Eddie Turner:
Still have so much to do, yes. So, wow! What an amazing story. Thank you for sharing that. and I'm still reflecting on that.
Lenora Billings-Harris:
I can appreciate that.
Eddie Turner:
Something else you said that I'm still reflecting on and you and I will definitely have to talk this over. You said you got here because you were forced to pick a lane. NSA has often talked about that – Pick a lane in a topic area or in an industry. And I have been resisting that. And I have finally come to the conclusion that I need to get with the program. So, I will talk to you later.
Lenora Billings-Harris:
And just know you're not forced to do anything one direction or another but you want to be clear about why you are doing whatever it is you choose rather than just doing it.
Eddie Turner:
Yes. I think the phrase was, someone said, "If everyone's your customer, no one's your customer." So, especially in a time like this where we're all going through a seismic shift in the world around us, it's even more important now to have that clarity about exactly who you serve. So, thank you for sharing that story and thank you for prodding my conscience in two ways.I'm talking to the amazing, in fact, the legendary Lenora Billings-Harris. She's a Hall of Fame speaker, certified speaking professional, past president of National Speakers Association in addition to being a diversity strategist. We're talking about leading through inclusion, leading beyond bias. We'll have more with Lenora Billings-Harris right after this.
Hey C Suite Radio listeners, Gregg Greenberg, General Manager of C-Suite Radio here. If you're enjoying this great show, then you're obviously aware of the power and explosive growth of podcasting. That said, you may not know the amazing reach and ease of podcast advertising. Here are the C Suite Radio Network, we have 150 podcasts reaching millions of listeners each month and all with affordable advertising slots ready to promote you and your business. We even help create and record your ad at no extra charge. From business to lifestyle and entertainment, we have shows that target your audience. We even have the technology to geo-target ads. So, why not speak to directly to your customers right where they live in and on the podcast they love. Reach out to C Suite by email and me at Gregg.Greenberg@C-SuiteNetwork.com.
This podcast is sponsored by Eddie Turner LLC. Organizations who need to accelerate the development of their leaders call Eddie Turner, The Leadership Excelerator®. Eddie works with leaders to accelerate performance and drive impact. Call Eddie Turner to help your leaders one on one as their coach or to inspire them as a group through the power of facilitation or a keynote address. Visit EddieTurnerLLC.com to learn more.
This is John Perry, Organization and Leadership Development Consultant and Strategic Coach and you're listening to Keep Leading!® Podcast with Eddie Turner.
Eddie Turner:
Okay, we are back. I am talking to the legendary Lenora Billings-Harris. She is a certified speaking professional, Hall of Fame speaker, past president of the National Speakers Association, a diversity strategist and we're talking about leading through inclusion, leading beyond bias.Lenora, you told a very riveting story before we took our break. And now, I'd like to look at a little bit about what's happening in our world today. When we see what's unfolding, a lot of businesses are struggling to survive. Should organizations still have concerns around diversity?
Lenora Billings-Harris:
Actually, I see this time as an opportunity. As devastating as this pandemic is, all of us in the whole world are going through it and the opportunity that I see for leaders because many of them are forced to lead and manage virtually, this is an opportunity for them to see their team members as individuals, meaning without the facade of the clothes people wear, their height, their size, how they talk, all of that kind of thing. Without that facade that you would see every day normally as a leader, now as a virtual leader, you pull people together either individually or with teams and you're focused on a result. What we know normally, and we know these are not normal times, but what we know normally is that when people work virtually, they are more productive than when they're in the office because they can really focus on the outcomes that are necessary. However, the negative is that when part of the team is together and only a few individuals are virtual, then the people who are working virtually miss out on part of the socialization, the team-building. So, the reason I say this is an opportunity is this is an opportunity for leaders to really think "What does my team need? How can I make sure that they are engaged and that I am really sincerely interested in the work that they're doing?" What that means is leaders have to learn how to lead virtually, how to manage these virtual team conversations, not let people talk over each other, they have to learn how to pull in the introverts. So, there are several different things and you can Google how to lead virtual teams and you'll see many lists of things to do but the point is that they'll have an opportunity if they're open to it to see their team members differently, to see really all the value they bring. And it doesn't matter if they're sitting in a wheelchair or it doesn't matter if they're visually impaired. It just matters are they doing the work and can they do the work and how can you as a leader help them going even further.
Eddie Turner:
Wonderful, wonderful advice. Thank you for that. And it requires a new leadership style for sure, as you alluded to. And so, leaders can't expect to lead the same way they did pre-COVID-19 or in an office environment online.Now, there are a lot of lessons that are emerging from this pandemic. I hear people say they wish they had listened to mom and dad when they said "Put some money away," mom and dad said "Put it away for a rainy day. We didn't know about a rainy." Looks like this is going to drag on for a while. And then other things about "Wish we'd spend more time with people. We're starting to really miss face-to-face interaction." Are there any other lessons, especially about diversity, that you see coming out of this pandemic?
Lenora Billings-Harris:
Yes. In the past, I would say in some of my presentations "How interesting it is that when people experience some type of devastation like a hurricane or a tornado or if they're in the military and now they're at the frontline, how when people are focused in that way, they don't care what your color is, what your beliefs are. They just care that both of you are focused on the same thing which is survival but then, once that gets handled, people go back to the stereotypes, etc. that they might have. So, what I see in this pandemic are two things. One is people are recognizing the breadth of heroes, and I would say sheroes that we have from Maya Angelou, the heroes and sheroes that we have. They're not just the doctors and the nurses and all of the medical professionals, although, clearly, they are. So, please know I'm not discounting them but they're also the sanitary workers, they're also the people who work in grocery stores, they're also the people that are working in our post offices. And I have to tell you I do get annoyed when I see customers coming into any of those places with no mask, no glove, no nothing and talking around [inaudible][23:51] that are in place.
Lenora Billings-Harris:
So, we have those heroes. So, the positive that I see is that everyone can see that we are all in this together and we need to celebrate each other. And, again, the people we're celebrating are all different types of people, highly educated, very affluent, and people who work for 12 dollars an hour. So, that's the positive.On the sad side, on a more negative side, is the disparity in medical care. I have done a good deal of work with different medical systems around the country. Those systems, it's not just one hospital anymore. they're all connected to several other hospitals.
Lenora Billings-Harris:
So, in those systems, the good news is that most of them are very interested in learning how to mitigate their biases because they do realize that their decisions literally are life and death, their decisions are literally life and death. And so, the more they can be aware of the disparities, the better. Some of the things that are coming to light, for instance, is when a African-American in particular but people of color, if a person of color goes into the hospital and, let's say, he, I'll go with men because that's where the research is, it appears he has a heart condition and maybe he needs to lose weight. For several doctors, especially if they're young and thinner than their patient, apparently, the bias is "I'm not going to have him on a lot of medication because he's probably not going to take it anyway and he's going to continue not to eat the proper food." So, that's an assumption they make, which could be true with some people but the statistics show that the bias is pervasive. So, we have to become more aware, we have to uncover those biases. So, I think that in the hospitals today, with all of the medical treatment that people need for the virus as well as for other things that just normally everyday people getting sick going to the hospital, more medical professionals are seeing those biases and working with their colleagues to disrupt them, to mitigate them, to go beyond them because the death rate is so high, we know that it's impacting our medical professionals physically and mentally as well.
Eddie Turner:
Wow! That is really insightful and I appreciate the emphasis on the heroes and sheroes and not just those in the operating room and working on the front line that we see in the white coats. We certainly honor them and recognize them but it's also those that have the gloves on, that are doing the mop and doing the cleaning and making it possible for the work to take place at higher levels on the organization. So, I appreciate you highlighting that and then those folks in the grocery store and for many of whom, it simply is not an option. And so, thank you. And that is so true. And we're seeing that disparity highlighted, seeing the lack of healthcare options and also how this disease is ravaging minority communities at a far greater level than it is others.How would diversity look after social distancing?
Lenora Billings-Harris:
Well, the diversity will still look the same because diversity is just who's on the team. And when you're looking broadly, it's the same people in your communities that were there before will be there after, obviously of course, except for unfortunately those we lose to this virus. So, there will still continue to be a mixture of people who are different. The inclusion part which is the action we take, so easy way, I think, to remember the difference between diversity and inclusion, diversity is who's on the team however large the team might be and inclusion is who gets to play. From a leadership perspective you want to have diversity on your team not just for the sake of diversity, not just for the sake of difference. You want to have people who are different on your team so that you get to diversity of thought but you won't get to diversity of thought unless you are an inclusive leader, that is unless you have fine-tuned some skills to really make your team members feel valued and respected and all of them having dignity. So, what concerns me around inclusion after the pandemic is because of the polarization that we currently have in this country and we see it in several other countries, is that once the pandemic is managed, so to speak, people will go back to their own corners because several of them are in their own corners now.
Lenora Billings-Harris:
I mean, we just have to turn off the TV and not just watch news all day long or have it on in the background. So, what my hope is, is that the leaders, especially corporate leaders because we spend more time at work than anywhere else, corporate leaders who had to produce even with their teams being scattered, they will more clearly recognize that it's to their benefit to convince other leaders, others of their colleagues to look for ways to be more inclusive, to be more respectful of their teams because I know absolutely that when people are treated well at work, that doesn't just end at work for behavior on either side. They carry it with them to their communities. They carry it with them in their own personal decisions. So, that's what my hope is.
Eddie Turner:
Excellent. I've so enjoyed talking to you today, Lenora. What's the main message that you would like to leave our listeners with?
Lenora Billings-Harris:
Well, I'll leave this message which is a Zulu proverb that I also learned on one of my trips to South Africa I had made a real commitment to being on the trail of diversity and inclusion. The Zulu proverb is Ubuntu. Ubuntu means "I am because we are. We are because I am." Leaders can't lead if they don't have followers and followers only want to follow leaders that value and respect them.
Eddie Turner:
That is absolutely beautiful. Where can my listeners know more about you?
Lenora Billings-Harris:
Well, you can go to my website and the website is UbuntuGlobal.com. You can follow me on Twitter. My last name is so long that for most of the social media, it doesn't fit. So, on Twitter you can find me @LBHDiversity. You can also find me on Facebook by my name and then my business page is Diversity Coach. And if you would like to capture lots of diversity information, not just articles that I write but articles that I curate from around the world, then follow me by going to the DiversityAdvantage.info and once a week you'll receive an email newsletter that will have headlines that you can click on and read about diversity, good news and not so good news, but mostly good news around the world.
Eddie Turner:
Fantastic. Well, we'll put all that in the show notes so that folks can connect to you, get to know you, and follow your work because you're doing some amazing things for the world. Thank you again for being a guest on the Keep Leading!® Podcast.
Lenora Billings-Harris:
Absolutely my pleasure. Thank you, Eddie.
Eddie Turner:
And thank you for listening. That concludes this episode, everyone. I'm Eddie Turner, The Leadership Excelerator®, reminding you that leadership is not about our title or our position. Leadership is activity. Leadership is action. It's not the case of once a leader, always a leader. It's not a garment that we put on and take off. We must be a leader at our core and allow it to emanate in all we do. So, whatever you're doing, always keep leading.
Thank you for listening to your host Eddie Turner on the Keep Leading!® Podcast. Please remember to subscribe to the Keep Leading!® Podcast on iTunes or wherever you listen. For more information about Eddie Turner's work, please visit EddieTurnerLLC.com.
Thank you for listening to C Suite Radio, turning the volume up on business.
The Keep Leading!® podcast is for people passionate about leadership. It is dedicated to leadership development and insights. Join your host Eddie Turner, The Leadership Excelerator® as he speaks with accomplished leaders and people of influence across the globe as they share their journey to leadership excellence. Listen as they share leadership strategies, techniques and insights. For more information visit eddieturnerllc.com or follow Eddie Turner on Twitter and Instagram at @eddieturnerjr. Like Eddie Turner LLC on Facebook. Connect with Eddie Turner on LinkedIn.