Eric George, MD.
Hand Surgeon, CEO, Venture Capitalist, Author, and Philanthropist.
The We of Leadership
Episode Summary
I had the tremendous honor of interviewing Dr. Eric George! My conversation with him made me revisit my personal goals in life! Dr. George is an internationally renowned hand surgeon, a serial entrepreneur, venture capitalist, published author, and philanthropist. We discussed the WE of leadership.
Check out the "60-Second Preview" of this episode!

Bio
Dr. Eric George is an internationally renowned hand surgeon, serial entrepreneur, investor, philanthropist, and author. He is the founder and CEO of ERG Enterprises, founder and CEO of Hand Center of Louisiana, CEO of Omega Hospital, and chairman of East Jefferson Ambulatory Surgical Center.
Nationally regarded as among the most successful entrepreneurs and investors in the Southeastern United States, George brings exceptional expertise in the area of small business. Over his 27-year career, he has established several healthcare organizations, which he continues to lead and credits for teaching him how to grow an enterprise consistently beyond the startup phase. He has also developed a proven track record for investing in small businesses demonstrating viability but lacking the capital and know-how to reach their potential. Additionally, he has pioneered novel forms of investing, including a focus on historic preservation through real estate investment.
George is a thought leader and frequent speaker on leadership, entrepreneurship, and investing. He has appeared in or contributed to several leading media outlets, such as Entrepreneur, Forbes, and Thrive Global. He is a regular guest on leading podcasts, including Eddie Turner's Keep Leading!® podcast, David Meltzer's The Playbook, Henry Kaminski's The Brand Doctor, and others. He is also the featured subject of an upcoming episode of Behind the Scenes with Laurence Fishburne, which will explore his commitment to historic preservation in New Orleans through commercial real estate investment and entrepreneurship.
As a philanthropist, George established the Colonel Aaron C-Dot George Scholarship at Marshall University, an annual fund named after his brother, who died as a fighter pilot in a training accident. He also serves on numerous civic, charitable, and educational boards, and contributes to many causes including the New York University Law School, the St. Martin's Episcopal School George Cottage in New Orleans, and a school for orphans in Mombasa, Kenya.
Website
https://www.ergenterprises.net/
Other Website
https://handsurgical.com/
LinkedIn
https://www.linkedin.com/in/eric-george-md/
Instagram
https://www.instagram.com/ericgeorgemd/
Leadership Quote
"Leadership is earned not appointed."
Get Your Copy of Eric's Book!
https://www.amazon.com/We-Ditch-Mindset-Change-World/dp/0999888838
Full Episode Transcripts and Detailed Guest Information
www.KeepLeadingPodcast.com
Keep Leading LIVE (Live Recordings of the Keep Leading!® Podcast)
www.KeepLeadingLive.com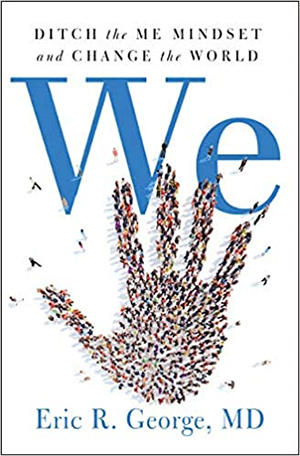 Transcript
The key to sustainable leadership lies in the ability to thrive during uncertainty, ambiguity, and change. Grand Heron International brings you the Coaching Assistance Program, giving your employees on-demand coaching to manage through a challenging situation and arrive at a solution. Visit GrandHeronInternational.Ca/Podcast to learn more.
This podcast is part of the C Suite Radio Network, turning the volume up on business.
Welcome to the Keep Leading!® Podcast, the podcast dedicated to promoting leadership development and sharing leadership insights. Here's your host, The Leadership Excelerator®, Eddie Turner.
Eddie Turner:
Hello, everyone. Welcome to the
Keep Leading!® Podcast
, the podcast dedicated to leadership development and insights. I'm your host, Eddie Turner, The Leadership Excelerator®. I work with leaders to accelerate performance and drive impact through the power of executive leadership coaching, facilitation and professional speaking.
How can you succeed as a leader in today's world? An ancient African proverb says "If you want to go fast, go alone. If you want to go far, go together." My guest today puts it in another way. My guest today is Dr. Eric George. He says as leaders our success in life and in business is based on understanding the difference between me and we. To that end today, we will discuss the We of Leadership. Dr. Eric George is a renowned hand surgeon, serial entrepreneur, venture capitalist, and philanthropist. He is the founder and CEO of Omega Hospital, New Orleans' first physician-owned hospital, the Hand Center of Louisiana where he actively practices, and Erg Enterprises, a one-billion-dollar investment firm committed to changing communities worldwide.
I am excited to welcome Dr. Eric George. Welcome to the Keep Leading!® Podcast.
Eric George, M.D.:
Well, thank you so much for having me, Eddie. I'm really honored to have the opportunity to talk with you and your listeners today.
Eddie Turner:
Well, I am honored to have you. You and I were introduced by our mutual friend Todd Stanchfield and he's told me so many wonderful things about you. So, getting a chance to meet you this morning and talk to you, it is truly a pleasure.
Eric George, M.D.:
Well, thank you and that's mutual. Todd said the same thing about you and I've kind of had an opportunity to follow your career and I love what you're doing for your audiences. I've actually read your 140 Simple Messages for Emerging Leaders and very impressive you are, my friend.
Eddie Turner:
Thank you. I really appreciate that, Dr. George.
Now, you're a renowned doctor who has a reputation for being really good. I watched several of your media clips because you've been on a lot of the media there locally and I've read your national print articles. And so, I just would love to know or have you explain to our audience because I know which area specifically do you practice in.
Eric George, M.D.:
For your audience, my specialty is the care of the hand and the upper extremity. To get there, we typically do either general surgery or orthopedic surgery first following medical school. And then in my career I did general surgery, then I did plastic and reconstructive surgery and then I did an orthopedic hand fellowship. My wife thought I was going to never stop training and actually get a job. It was about nine years of training and I was probably 30 years old and so far in debt, I looked like a felon. And so, when I came out, I really specialized in the care of the hand and upper extremity and it brought me to the deep south in New Orleans where there was a lot of oil and gas work out in the gulf. And many of those people early on with the rigs and the new systems had a lot of traumatic injuries. And the companies were really good to their employees and they would helicopter them in and they really needed some help down here with the hand injuries. They say one out of every nine ER visits is an injury of the hand. And when I moved here, there was only a few hand surgeons in the area. So, that kind of started me off.
Eddie Turner:
I had no idea. That's a really high ratio.
Eric George, M.D.:
Yes, it is. And I think that most people have worked with their fingers. I think we've all done something where you pinch the end of your finger or catch it in the garage door or hit it with a hammer. I don't think there's anybody that you'll talk to that doesn't say "Oh yeah, I injured my hand." I think because you're using it every day to work in the world.
Eddie Turner:
Yeah. Now that you say that and give those illustrations, I'm thinking about my best friend who recently did injure his hand and you're right, it's now starting me to think about more people in my life who that precise injury has happened to. So, wow!
Eric George, M.D.:
And the other thing that people don't understand with hand surgeons, it's really not hands anymore. I did my hand fellowship at the Mayo Clinic and they changed it. When I finished, they called it 'Hand and Upper Extremity' but it's really how the arm affects the hand. So, we do elbow. We do forearm. And then what really drove my interest in it, it's very interesting, I think you'll like this and your audience will, was I really didn't want to be limited to just one people or person type. I really love the fact that you see all walks of life when you are doing hand surgery. So, every day in my office I'll see young children, I'll see elderly, you see rich, you see poor, you see the laboring class, you see presidents of banks and all walks of life hurt themselves. So, every day you get a whole smattering of what I say the world is.
Eddie Turner:
Wow! Very interesting. Well, thank you for sharing that part of your background with us. When I listen to you talk about what you're doing with the hand and especially in an area like that I spent some time in the oil industry, so I am familiar with what happens on those rigs and the inherent dangerous nature that that business has. And so, I know that they're excited and very happy to have someone like you there taking care of them in the industry.
Eric George, M.D.:
Thank you.
Eddie Turner:
Now, I suspect that a person like you in your profession works a lot of hours and is very busy. So, when I saw that you are also running a billion-dollar firm and you are a serial entrepreneur, in my mind I went "Wow! I am such an underachiever. I got to do more." s
Eric George, M.D.:
No, it's good help, my friend, I promise you. It's just good help.
Eddie Turner:
So, tell us how does a successful doctor become a serial entrepreneur.
Eric George, M.D.:
Well, my journey kind of started with, starting off, as we talked about, in my early career was really participating as a hand surgeon and working in the hospitals. And what I found was they were fairly inefficient systems and it was very difficult for a surgeon that does a small amount of cases … I wouldn't say … we do a lot of cases but very short turnovers. It doesn't take four hours to do a repair of a finger. It takes sometimes 30 minutes to 45. So, I decided that I wanted to get involved more in the hospital system because they were having difficulty getting our patients in. So, I had an opportunity to acquire and put together a group of doctors for a small hospital. And we started the first physician-owned hospital and we were able to do the things that were more conducive to the patient and more conducive to the doctor then the corporate side that really was more interested in, I would say, trying to build the empire. And it really took off for us. And as that hospital grew, we started a surgery center and that kind of got me into the game. And then the growth of the company really came about with finding experts who I could trust and help grow the investment company.
Eddie Turner:
Very nice, very nice. So, as you've grown the investment company, you've got the experts, as you said earlier, part of the success is having a lot of help and I suspect that having the right help is what makes that difference, what are some of the lessons you've learned?
Eric George, M.D.:
Absolutely. I think probably for your audience and anybody out there that's young or old that's trying to change the game and get involved in business, I strongly encourage people to do it. I mean, I think that you have to find and recruit the right people. And when I say this, sometimes it sounds very harsh but it really isn't. And I believe in the theory of "Hire slow but fire fast or terminate fast." And what I mean by that is no, I'm not "you're fired" kind of nonsense. What I'm saying is you really want to select the people who you know have your same mentality, the We versus Me. And I think every entrepreneur knows that you can spot that pretty quickly whether they're going to work or whether they're not. And I think there's a mentality of "Let's keep them. Let's see if this is going to make it happen." And I've learned over time that it's not good for them and it's not good for us. So, we really take our time to find the people with the talents needed. And then what I typically do is I give them small projects and really let them take full charge of that and it gives them that sense of responsibility. And then we pretty much let them in the deep end and they have to make a few mistakes in order to take ownership.
Eddie Turner:
Okay. And along the way somewhere you found time to write a book and I love the title We: Ditch the Me Mindset and Change the World. I absolutely love that. Tell us about the book.
Eric George, M.D.:
Well, it's really about approaching life with the question "What can we accomplish together?" And I think there's a lot of mentality, especially in this country today, it's all about me, me, me. I think all of us know what I'm talking about. And I believe that everyone can win in a deal. No one really has to lose. You have a far better chance of success if you partner with someone who really is an expert in that area. And that's worked very well for me. In other words, I think in all of our businesses, instead of me saying "Oh wow! I'm a hotel expert," what we've always done is partnered with someone who's involved in the hotel industry. And if we get involved in a startup or a company that's entertainment, we try to hire those people who really know that industry better than we do and we listen to them. And I think we work together with those people and everybody wins.
Eddie Turner:
Yes. And thank you for sending me an advanced copy of the book. I thoroughly enjoyed it. And one of the items that becomes very clear to the reader is you are able to talk about this from your unique perspective as a physician because there is always a team involved in what you do.
Eric George, M.D.:
That is so great. Thank you for picking up on that. Yes, sir, I think one of the questions I was asked many years ago and that was "How do you know and what drove you to think about the we mentality?" And I think the answer is during the career as a hand surgeon, we have a contract, you and I. When someone gets hurt, I'm going to perform the surgery but you have to participate in the care of yourself and that is go to therapy, take your splints off, do exercises, care for your wound and the therapists work with you, the x-ray technicians work with you and we come together. And, hopefully, I do my part, you do your part and at the end of the day, it's a win. And I think business is exactly the same way.
Eddie Turner:
Wonderful. Well, I want to dig into that a little bit more on the other side of our break.
I'm talking to Dr. Eric George, a renowned hand surgeon, serial entrepreneur and venture capitalist. We'll have more from Dr. George right after this.
This podcast is sponsored by Eddie Turner LLC. Organizations who need to accelerate the development of their leaders call Eddie Turner, The Leadership Excelerator®. Eddie works with leaders to accelerate performance and drive impact. Call Eddie Turner to help your leaders one on one as their coach or to inspire them as a group through the power of facilitation or a keynote address. Visit EddieTurnerLLC.com to learn more.
This is Patricia Fripp, the presentation skills expert, and you are listening to the Keep Leading!® Podcast with my friend Eddie Turner.
Eddie Turner:
We're back, everyone. I'm talking to Dr. Eric George. Dr. George is a renowned hand surgeon, serial entrepreneur, and venture capitalist.
I am really enjoying our conversation, Dr. George. And before the break you were telling us about your new book We: Ditch the Me Mindset and Change the World. How can leaders listening to our conversation benefit from this philosophy?
Eric George, M.D.:
Well, Eddie, I think particularly in the world of business, it's all about the leader at the top. And what we found is the people who work for that type of leader tend to just do the minimum because it's going to be the way that person wants it no matter what. And what we found is if you empower your employees or the people who work with you to succeed, we don't micromanage them and we make them feel as if they're an owner. And I think, if you ask anybody who work me, not only do they feel that way, they are an owner. And we just provide them with guidance, we keep them accountable, and we let them know that at the end of the day, you're relying on them for results and really nothing else. And we try to come up with a desirable outcome. And it's been a home run for us in every way.
Eddie Turner:
Yes, if you have people who work for you who don't feel like an employee but they feel like an owner, that's empowering.
Eric George, M.D.:
It really is. And I think when you feel defeated because something didn't go well in your own heart then you don't have to discipline or in fact, I'd say, we spend more time saying "That's okay. These things happen. You didn't get the deal" or "You didn't get the price." And the party that works for me, she probably spends more time worrying about it than I do about the fact that we didn't get it. And boy, on the next one, they really want it because they own it. And I think that if you're leading people, that's so important.
Eddie Turner:
I couldn't agree with you more. Dr. George, when I grew up, as I look at your background, this is making me think about my life. I mean, I've announced here that you're a hand surgeon, you are a serial entrepreneur, many businesses, and a venture capitalist and you've also done a lot of philanthropic work. And I think about growing up how because of my father's work in the steel mills in Northwest Indiana and what he saw in terms of layoffs, he taught my brother and sister and I to have multiple skills and to pursue multiple technical talents if we could develop those and even careers. And that that advice served me well throughout my life initially. And then as I started to make my way through corporations, I was always told "No, pick a lane. And when you pick your lane, stay in the lane." And I look at you and you're in four or five different lanes.
Eric George, M.D.:
Wow! I'm so glad you said that and talk about agreeing with you. These MBA schools used to say "Oh no, you're an oil and gas person. That's where you should stay. You should only invest in oil and gas. Stay away from these other things." Wow! Do I agree with you, Eddie! We're innately intelligent individuals. Some of the most successful people in the world have diversified and that is what really gives you the interest to move on. And I disagree completely with that MBA axiom "Stay in your lane." I think that you can hear wonderful success stories … I mean, look at yours. They didn't keep you channeled just to work in the steel mill like your father or I could only be a doctor. That means I could only come in, see patients and then go home. And you miss a lot of life's opportunities that way. So, I really encourage your audience and I think you do as well, listen, if you're in a job that you're not happy with and you've always thought about opening a coffee shop or starting a restaurant or getting involved in a startup or you have a great idea that you want to try to market, I encourage you to do that. And if it's in a world you don't understand, learn about it and hire people or work with people who know it. I've never met a person in my life, especially one that's been in the business a long time, that's not flattered by an opportunity to share what they know. So, in other words, if you're going to get into a hotel business and you want to talk to a man who's worked in the hotels for 30 years or a lady, I've never heard one say "Oh, I won't help you." They all say "I'd love to tell you my trips and my falls along the way." And I think any businessman that just tells you about his successes is really not honest because you want to learn about their failures as much as you want to learn about their successes.
Eddie Turner:
Yes. And indeed, it might be argued that we can learn more from the failures than the successes. Nelson Mandela said "Don't judge me by my success. Judge me by all the times I failed and then got back up."
Eric George, M.D.:
Love that. One of my heroes, by the way. Absolutely one of the greatest heroes in the world, by the way.
Eddie Turner:
Wonderful. So, thinking about that, some might say "Well, it came good or it came natural or it came easy for you, Dr. George. You were a physician, you were put in an area, you saw a need and you started to build a practice that allowed you to do that. It just kind of came natural for you but it doesn't come natural for me. What can I do to start to diversify or to find another path like you?"
Eric George, M.D.:
Well, I'm going to disagree with that. I think that I want your audience to hear, no, it did not come easy for me and I'll tell you why. The medical training, not my career as a doctor, but the medical training teaches you to be one way, make the decision, make the call and do what you think has to be done. And as a surgeon, you really can't use a We mentality in a trauma unit. If you think about that, you can't say "Well, Ed, what do you think we should do? And Bob, what do you think?", right? I mean, you roll and make those decisions. And so, for me, to come from that surgical mentality, in fact, and this is a quote, it's a little bit humorous in surgery and I learned it in Michigan and I really don't mean it to be negative, I'm just saying, they said "You may not always be right but you're never wrong as a surgeon." And you get that mentality a little bit, meaning make your decision, don't waffle. And I think that in business, if you're only it's your way or no way, it's a mistake. So, I think that it was a big change for me and it wasn't until I met patients and got to know that it was really more of a partnership than a dictatorship. So, I think your people who it didn't come easy for will be better businessmen than the ones that it came easy for. In fact, I've said that many times in some of the talks I've given, if it comes easy for, you probably won't love it and dig into it and spend your life impressed by it. And if you work for it, you want it more than anything in the world. Don't you agree?
Eddie Turner:
I agree completely. And I must say I love that quote and I guess I know far more surgeons than I thought because I know a lot of guys walking around with that mentality.
Wonderful. So, what are the next plans for you. You've got so much going. You've got the book out now. What's next?
Eric George, M.D.:
Well, I'm really focused on trying to get back. I think that we're very involved, we have over a billion dollars in assets. We've invested in multiple companies now, five different industries – Pharmajet, Modern Teacher with our friend Charles Fred, hotels – but what I'd like to accomplish is helping others and that's a great reward for us now. And we're always looking for new young ideas and partnerships with new people that are interested. And that's really been fulfilling for me moving forward.
Eddie Turner:
Yes, mentioned Charles Fred. I forgot about him. When I learned that you two knew each other, I said that I automatically knew that Dr. George was a good man because Charles Fred is the best. He was someone who I met in my ATD life. He was the chair of the board for a few years. And so, yes.
Eric George, M.D.:
I love that. And he just recently did a thing with Gallup. he did some tremendous research. He found that everybody wants to invest in these startup companies because they're going to go to a 100 to 1 or 1000 to 1. And in reality, his research showed us that really the businesses that are stuck between the 2 and the 10-million-dollar range are the ones that you can really help. And most of those are the ones that become successful. And very few of these rocket ships make it. And he really has some wonderful tools to look at how those companies that are stuck in that range can be helped. And I know your leadership would really dovetail nicely with him on that project.
Eddie Turner:
Well, I'm definitely going to have to reach back out to him for sure. Thank you.
Eddie Turner:
I got to say this. My listeners are not able to see your amazing office. Now in this time of COVID, all of us are doing virtual sessions. And so, the cool thing is to see what everybody's home or office or zoom background looks like. All those different hand models behind you are incredible.
Eric George, M.D.:
Well, thank you, my friend. I'm glad I'm not a urologist. The bottom line is all of those hands are gifts from patients.
Eddie Turner:
Oh, are they?
Eric George, M.D.:
It has a real sentimental value for me. I treated a man from South Africa who brought me a hand that was made by the woods. I have some hands that were part of rain forest. I've had a famous artist and a clock maker who made a clock out of a hand that I treated. So, so many of them. I have a steel worker. I have a coal miner who actually carved out of coal a set of hands. So, it really means a lot to me. And I have a lot of professional athletes that have signed baseball balls for me. My favorite is Kathy Bates. I took care of her, the actress, and I wish you could see this. She was in a series called the American Horror Story. And apparently, they made a fake hand for her and she brought that to me for Christmas.
Eddie Turner:
How about that!
Eric George, M.D.:
It was made in Hollywood. So, it really looks as real as it can be.
Eddie Turner:
Well, the next time I'm traveling, if I find a hand somewhere, I'll be sure to send you.
Eric George, M.D.:
I would love that very much.
Eddie Turner:
Now, watch, all my listeners in 80 different countries now are going to start sending Dr. George hands.
Eric George, M.D.:
Well, I would take them and be honored by that. I really would.
Eddie Turner:
Dr. George, I have thoroughly enjoyed talking to you. What's the main message you'd like to leave with those who have listened to our discussion today?
Eric George, M.D.:
Well, thank you. I thought long and hard about the title of our book before we completed it. And I really think, more than anything today, I want people to realize that with COVID and with all the crises that's happening, with the BLM issue, I really, really want people to know it's time that we really do come together. I mean, the world has to be a We. And I think, since the COVID crisis we've all had to wear masks, we've all had to stay home for the good of the entire whole and it's not about one person, it's not about a group that gets to control everything. It's really about all of us together working to solve a problem. And when you have a common enemy, i.e. COVID, nothing makes you stronger than everybody standing together. So, for me, it's all about We, not me.
Eddie Turner:
Beautiful, beautiful. And on the Keep Leading!® Podcast, in addition to the great content you've provided in this discussion, we always have to give leaders a quote or the best piece of leadership advice you've ever received to help us all keep leading.
Eric George, M.D.:
Oh wow! Well, let me tell you I think one of the most valuable ones that I use many times in our board meetings and that is "Pause is not a delay. It's a discipline." And for your audience, what that means is when you come across an issue that you think you have to make a decision, I think very effective leaders are far more effective when they recognize that pause versus acting impulsively leads to better results, and that is look at it, analyze it, talk to a guy like Eddie Turner, have him come and help you set up your company, get a brand doctor to help you with branding, and find an expert to help you. And then you will all want to work together for a win.
Eddie Turner:
Wonderful. And thank you for the plug there.
Eric George, M.D.:
It's absolutely true, my friend.
Eddie Turner:
Well, thank you again, Dr. George. Where can my listeners learn more about you?
Eric George, M.D.:
Well, I encourage them, we have a website it's called ErgEnterprises.net. If you google just "ERG Enterprises", you'll find our website. We have a section at the bottom that we encourage ideas, reaching out to us. We have a whole team of people who would love to talk to you if we can help you. If you have a business that you're interested in looking for some capital or some thoughts on our process, we'd love to hear from you.
Eddie Turner:
All right. Well, we're going to put all of that in the show notes so people can reach out to you and connect with you and certainly, if they're looking for a great hand doctor, you're the man, you're the one that they want to go see. We're going to put links to your books as well so they can get that and get to learn more about you.
Eric George, M.D.:
That would be so nice of you. Thank you, my friend.
Eddie Turner:
Thank you for being a guest and helping all of us understand the We of Leadership on the
Keep Leading!® Podcast
.
That concludes this episode everyone, I'm Eddie Turner, The Leadership Excelerator®, reminding you that leadership is not about our title or our position. Leadership is an activity. leadership is action. It's not the case of once a leader, always a leader. It's not a garment that we put on and take off. We must be a leader at our core and allow it to emanate in all we do. So, whatever you're doing, always keep leading.
Thank you for listening to your host Eddie Turner on the Keep Leading!® Podcast. Please remember to subscribe to the Keep Leading!® Podcast on iTunes or wherever you listen. For more information about Eddie Turner's work, please visit EddieTurnerLLC.com.
Thank you for listening to C Suite Radio, turning the volume up on business.
The Keep Leading!® podcast is for people passionate about leadership. It is dedicated to leadership development and insights. Join your host Eddie Turner, The Leadership Excelerator® as he speaks with accomplished leaders and people of influence across the globe as they share their journey to leadership excellence. Listen as they share leadership strategies, techniques and insights. For more information visit eddieturnerllc.com or follow Eddie Turner on Twitter and Instagram at @eddieturnerjr. Like Eddie Turner LLC on Facebook. Connect with Eddie Turner on LinkedIn.