Tasha Eurich
Organizational Psychologist and Executive Coach
Success through Self-Awareness
Episode Summary
Dr. Tasha Eurich is an organizational psychologist, researcher, and New York Times best-selling author. Tasha was named one of the top 30 emerging management thinkers in the world and a top 50 world leader in coaching by Thinkers50 and ranked #13 on the Global Gurus list of worldwide organizational culture experts. She is also one of Marshall Goldsmith's 100 Coaches.
Check out the "60-Second Preview" of this episode!

Bio
Dr. Tasha Eurich is an organizational psychologist, researcher, and "New York Times" best-selling author. Over her 15-plus-year career, she's helped thousands of leaders and professionals—from public company CEOs to early stage entrepreneurs—improve their self-awareness and success. Her diverse client list includes organizations like T-Mobile, KPMG, Walmart, IBM, and the Miami Heat.
As an author and thought leader, she helps people create sustainable, positive change at work (and at home) by applying the principles of psychology in a fresh and actionable way. In 2019, she was named one of the top emerging management thinkers in the world by Thinkers50, as well as a Top 50 World Leader in Coaching.
A contributor to "Harvard Business Review", Dr. Eurich's work has been featured in outlets like "The Wall Street Journal", "The New York Times", NPR, "New York Magazine", "Fortune", "Forbes", and "Fast Company". Her TEDxMileHigh talks have been viewed more than three million times.
Dr. Eurich's first book, "Bankable Leadership", debuted at #8 on "The New York Times" best-seller list. Her latest book, "Insight", delves into the connection between self-awareness and success. Hailed as a "bold, exhilarating take on self-improvement" by "Success Magazine" and a "fascinating read" by "The Guardian", "Insight" was named a best book of 2017 by "Strategy+Business" and nominated for best book of the year by 800CEOREAD.
Website
https://www.tashaeurich.com/
Other Website
https://www.insight-book.com/
LinkedIn
https://www.linkedin.com/in/tashaeurich/
Twitter
https://twitter.com/tashaeurich
Facebook
https://www.facebook.com/tasha.eurich.524
Instagram
https://www.instagram.com/tashaeurich/
Get Your Copy of Tasha's Book!
https://www.insight-book.com/Buy
Full Episode Transcripts and Detailed Guest Information
www.KeepLeadingPodcast.com
Keep Leading LIVE (Live Recordings of the Keep Leading!® Podcast)
www.KeepLeadingLive.com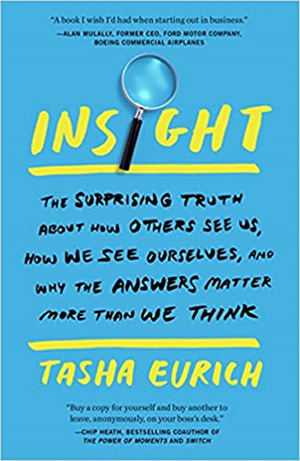 Transcript
The key to sustainable leadership lies in the ability to thrive during uncertainty, ambiguity, and change. Grand Heron International brings you the Coaching Assistance Program, giving your employees on-demand coaching to manage through a challenging situation and arrive at a solution. Visit GrandHeronInternational.Ca/Podcast to learn more.
This podcast is part of the C Suite Radio Network, turning the volume up on business.
Welcome to the Keep Leading!® Podcast, the podcast dedicated to promoting leadership development and sharing leadership insights. Here's your host, The Leadership Excelerator®, Eddie Turner.
Eddie Turner:
Hello, everyone! Welcome to the
Keep Leading!® Podcast
, the podcast dedicated to leadership development and insights. I'm your host Eddie Turner, The Leadership Excelerator®. I work with leaders to accelerate performance and drive impact through the power of executive coaching, facilitation, and professional speaking.
In a 2013 article in Psychology Today, Dr. Mark Sherman explained that Robert Burns, the great 18th century Scottish poet and songwriter, wrote the words "Auld Lang Syne," a traditional song used to say goodbye to the old year and welcome the new year on New Year's Eve. And, by extension, it's also sang at funerals, graduations, and other occasions. And he is also famous at other occasions. He is also famous for something else, the line "Oh, with some power, the gift gives us to see ourselves as others see us."
My guest today, also a psychologist, builds on that idea, that phrase I really love, the idea of being able to see ourselves as others see us as leaders. My guest today has written the book Insight: The Surprising Truth About How Others See Us, How We See Ourselves, and Why the Answers Matter More Than We Think. How's that for a provocative title? My guest today is Dr. Tasha Eurich. She's an organizational psychologist, researcher, and New York Times bestselling author who has helped thousands of leaders and professionals improve their self-awareness and success. In 2019, she was named one of the top emerging management thinkers in the world by Thinkers 50 as well as a Top 50 World Leader in Coaching. Dr. Eurich's first book, Bankable Leadership, debuted at number 8 on the New York Times Bestseller List. Her latest book that I just mentioned, Insight, delves into the connection between self-awareness and success. Hailed as a bold exhilarating take on self-improvement by Success Magazine and a fascinating read by the Guardian, Insight was named a Best Book of 2017 by Strategy in Business and nominated for Best Book of the Year by 800 CEO Read.
With that, I welcome Dr. Tasha Eurich to the Keep Leading!® Podcast.
Dr. Tasha Eurich:
Thank you. Great to be here, Eddie.
Eddie Turner:
Thank you for being here. I am absolutely fascinated with your work and I got a chance to meet you in person at the very first Marshall Goldsmith Annual Meeting for the 100 Coaches, which I should mention you're part of.
Dr. Tasha Eurich:
Yeah, it was just a few months ago but it feels like a lifetime, doesn't it?
Eddie Turner:
It does. It does, doesn't it? And it's like "Wow!" We knew it was important that Marshall was bringing us all together for that very first meeting but now in hindsight, it seems like it was even more important that we were all pulled together from around the globe.
Dr. Tasha Eurich:
Well, said. I agree.
Eddie Turner:
Well, tell us the motivation for your book Insight.
Dr. Tasha Eurich:
I've been an organizational psychologist for almost the last 20 years and I have a lot of areas that I'm passionate about and have worked in but about six or seven years ago I started to see this very clear pattern emerge. And what it amounted to was every time I worked with an executive, and usually I coach the top two or three levels in mid-sized to large organizations, I get paid to essentially tell these very powerful, very successful people the truth that everybody else was afraid to tell them about how they were coming across and how they were perceived. That sort of over simplifies the process but in some sense that's the essence of what our role is, right?
Dr. Tasha Eurich:
And what I saw was I'm constantly inspired by my clients and those that had the courage and the commitment and the smarts, frankly, to look themselves square in the eyes and say "This is who I am. This is what matters to me. This is how people see me" were able to make these really dramatic transformations in not just their effectiveness as leaders but in how they were living their lives as human beings, as spouses, as parents, as friends. And as I sort of scanned outside of that work, I looked at a world that seemed to be less and less self-aware with every passing year, we were getting more and more self-absorbed and less and less self-aware. And what I began to wonder was sort of scientifically is the skill that we call self-awareness as important as I thought it was. And so, I convened a research team in a pretty large scale first-of-its-kind study where we wanted to basically answer the following questions scientifically – What is self-awareness? it It's sort of those words we toss around but what does it really mean? Where does it come from? Why do we need it? And how do we get more of it? And what's been so fascinating about this research which eventually I published in Insight and in other places as well was how surprising so many of the findings were. We discovered that a lot of the most commonly accepted pieces of wisdom about what it takes to be more self-aware were actually wrong.
Eddie Turner:
Really? How so?
Dr. Tasha Eurich:
Oh gosh, how long do you have? I almost don't even know how to answer that question because there are so many aspects to it but maybe they'll emerge during our conversation.
Eddie Turner:
Okay. And that's also a teaser to read the book, I take it. So, let me say this. I love what you said and this is going to be the new way I introduce myself. When people ask me "What do you do for a living?", I'm going to say "Well, according to Dr. Eurich, I get paid to tell the most powerful people the truth." I love that.
Dr. Tasha Eurich:
Sometimes I add to it "And I've only been fired once."
Eddie Turner:
I absolutely love it. Yes, yes, that is beautiful. I'm serious. I love that. And I love how you said that unlike me, I may have just went and gotten a couple more books and did some more reading about it, you convened an entire research team to dig into this, to study it and you came up with the what, why, and how. So, just fascinating. And I also like how you talked about how you move people from being self-absorbed to self-aware.
Dr. Tasha Eurich:
I love the what, why, and how. I never thought about it that way but that's exactly what we did. And what was interesting about the study, I think, was I sort of had this naïve view of like "Oh, I'll get some research assistants and find a couple of academic colleagues and we'll really figure this out in under a year." And it was this huge undertaking where we basically had to read every study that was ever done that was remotely about self-awareness. We collected data from thousands and thousands of people around the world. And then probably most interesting for our purpose is we identified 50 people like my clients that I mentioned, maybe who didn't even start out as particularly self-aware but who made these dramatic transformations in their level of self-knowledge. And that was where we found a lot of our surprises was when we thought people would be doing A, we found that this group of people was doing B. We thought "Well, that's really interesting." And so, we were able to peel back that onion with a lot of investigating and a lot of science. As usual, science came to the rescue for us.
Eddie Turner:
And what's been the reaction?
Dr. Tasha Eurich:
It's interesting because people say "Yeah, I read a lot of articles about self-awareness" and there's all these platitudes – "Ask yourself questions about yourself" or "Get feedback" – but what I think people appreciate about our work is sort of two things. Number one is it really is asking these questions empirically. It's not just making assumptions or using someone's opinion but then I think two is there are so many practical takeaways. And what was a wonderful surprise was the most self-aware people in the world don't actually spend as much time on seeing themselves clearly as you might think. They, if anything, had daily practices that didn't take too much time but that gave them these opportunities to just slowly and incrementally see themselves more clearly. And if you add that up over months or years, it's no wonder they're so self-aware.
Eddie Turner:
And self-awareness is something that's severely lacking in our world today at all levels but most painfully at the highest levels of leadership. And one of the things you did at the MG100 event is … For those who may not know, Marshall Goldsmith's 100 Coaches are some of the top thinkers, coaches, speakers, CEOs in the world … Tasha walked out there on that stage and blew everyone away. This high-level audience, she mesmerized us. And that's why, after I listened to you, I said "I've got to bring her on the show." And one of the things you covered was this idea of self-awareness and how important it is to success. Can you share with us just a couple of the highlights around the connection?
Dr. Tasha Eurich:
I'd be glad to. And thank you for your kind words. That's really humbling. It was such a wonderful experience talking to that group. The findings are very clear around self-awareness. And, if anything, I'm even more convinced that it is the central skill that determines our success and happiness in the 21st century. So, this is just a couple of examples but I think some powerful ones, hopefully.
So, we and others have discovered that people who are self-aware perform better at work, they're more promotable, they're more effective and respected leaders with more engaged employees, they're better communicators, they're better influencers, they are less likely to lie, cheat, and steal, they're good for companies, right? And then if we sort of toggle over to life outside of work, most of us have them, people who are self-aware tend to be better parents who raise less self-absorbed and less narcissistic and more mature children. They tend to be happier in their romantic relationships. They're more satisfied with their friendships. And so, all of these things at the individual level are really powerful. And then if you add to that, there's been some recent evidence that shows that companies who are led by self-aware leaders as well as companies who are made up of large numbers of self-aware employees tend to perform better financially. And so, the skill, when people hear if I'm at a cocktail party when we used to go to cocktail parties, people are "Oh, she's a …"
Eddie Turner:
That's so long ago.
Dr. Tasha Eurich:
I know. People sort of say "Oh, self-awareness, isn't that a nice soft skill?" And, again, I am more confident than ever before is that the people who work on their self-awareness, as we'll discover probably in the rest of our conversation, there's not very many self-aware people out there, so if you work on the skill, you will have a phenomenal leg up. And it's one of those things that almost no one does. And so, if anybody who's listening to this can improve their self-awareness by 10%, just think about what that would bring up for you in terms of your success and your happiness and your influence, it's really incredible.
Eddie Turner:
So, you had me hanging on your last few words that you said there are not that many people like that out there. Really? I didn't know that.
Dr. Tasha Eurich:
So, I'm going to give you a statistic that is really dramatic but then if you think about it, it feels exactly right. So, according to our research, we've discovered that about 95% of people believe that they're self-aware. Only 10% to 15% of us actually are.
Eddie Turner:
All this time, I've been thinking that I'm self-aware but you're saying I may actually be a part of that 90%.
Dr. Tasha Eurich:
You and me both. I'll get to that. That's all in due time but 95% and 10% to 15%. Of course, it's not as simple as you are self-aware or you're not but just for the purposes of illustrating this phenomenon, on a good day, that means that roughly 80% of us are lying to ourselves about whether we're lying to ourselves. And what I've discovered along with everyone else is I too am in that category of people. Most of us think we're a lot more self-aware than we actually are but I've come around on this. And for all of us, it's kind of a tough slog sometimes but what this means is no matter what we know about ourselves, there's always more to discover. And highly self-aware people that we studied, that I mentioned earlier, they are the most self-aware and they spend the most sort of time and energy focused on developing it. And so, to me, I actually see it as this wonderful lifelong journey where there's always more to learn. And so, that's the way I like to frame it for people. Otherwise, it feels like this huge undertaking that could take forever and we'll never get there. It sits on the contrary.
Eddie Turner:
All right. Well, I'm talking to the amazing Dr. Tasha Eurich who has me actually questioning my own self right about now. She's the author of Insight and she is helping us to understand the importance of self-awareness to success and says that self-awareness determines the success in the 21st century. We'll have more work right after this.
This podcast is sponsored by Eddie Turner LLC. Organizations who need to accelerate the development of their leaders call Eddie Turner, The Leadership Excelerator®. Eddie works with leaders to accelerate performance and drive impact. Call Eddie Turner to help your leaders one on one as their coach or to inspire them as a group through the power of facilitation or a keynote address. Visit EddieTurnerLLC.com to learn more.
This is Lou Diamond from Thrive Loud with Lou Diamond and you're listening to the Keep Leading!® Podcast with Eddie Turner.
Eddie Turner:
Okay, we're back. I'm talking to the amazing Dr. Tasha Eurich. She is an organizational psychologist and she revealed something quite interesting before the break. She said that self-awareness is a central skill that determines success and happiness in the 21st century.
Now, you said something also, Tasha, that I want to cover. You said that if we could just improve our self-awareness 10%, we'd be better as leaders. So, the big question is how.
Dr. Tasha Eurich:
That is the right question, by the way. In order to answer that, I'm going to give your listeners two really specific tools but I want to talk about what do we know about ourselves when we are self-aware because I think that's really important as a foundation. So, we've discovered that self-awareness at a high level is the will and skill to see ourselves clearly but if you drill down one more level, you start to see what do we know about ourselves when we see ourselves clearly. And we've discovered two main categories of self-awareness that are independent and I'll come back to why that's important.
So, the first type of self-awareness is something we named 'Internal Self-Awareness' and what that means is seeing yourself clearly from the inside out. In other words, who are you, what are your values and principles, what do you aspire to and what do you want to accomplish, what are you passionate about? So, kind of those things who are you and what makes you tick.
The second type of self-knowledge that's just as important is something we named 'External Self-Awareness' which is self-awareness from the outside in. And what that's about is understanding how other people see us. In other words, how are we coming across, what's the impact we're having on the people around us? And each of those types of self-knowledge is sort of independently acquired. And what I mean by that is just because a person sees themselves clearly internally doesn't necessarily mean that they're going to be seeking feedback from others and vice-versa. Just because someone cares about how they're seen coming across doesn't necessarily mean that they're doing the work to know who they are and what they want. And that's where this starts to chart a path for us is to say "Okay." So, I think the first thing, and I'll give your listeners a specific resource to do this towards the end, but the first question to ask is "Where do I fall in both of these areas? How much time and energy do I spend really trying to understand who I am and what I'm about? How much energy am I spending getting feedback from other people and sort of checking my perception against theirs?" If you're like most of us, you might find one thing that you're doing a little better and then maybe one thing that you've neglected. And I think that's an important place to start because if we simultaneously start firing on all cylinders of self-awareness, we're not really setting ourselves up for success. So, what I recommend is to pick one type of self-knowledge to sort of focus on. So, let's say someone is saying "You know, I have a clear understanding of sort of who I am on the inside but I want to learn how I'm coming across. So, in other words, I'm good on internal or I'm better developed. I want to learn how other people see me." So, one very specific tool to use if you want to get more feedback from others is something I call 'Loving Critics'. And what is so cool about this is, this was one of our surprising findings that came from studying those 50 people who didn't start out as self-aware, and we were thinking they would say like "Oh, I get feedback from everyone. I just listen to it. I weigh it equally. Someone passes by my cubicle and says "Can I give you some feedback?", I say "Sure.""
Eddie Turner:
The most dreaded phrase in English language.
Dr. Tasha Eurich:
Exactly, exactly. No one should ever say that ever again as far as I'm concerned but that's for another podcast. What we heard instead from these people was "I've got three to five people maximum that I regularly turn to for honest feedback." And as we try to figure out what were the characteristics of the people they relied on, we found two things. And I think as you're listening to this, most of us can identify a lot of people that fit one category but not both. So, the first thing they had to have was the feedback giver had to have their best interest at heart, right? So, no frenemies need apply. It's "I know this person wants me to be successful" but the second characteristic, again, just as important, was they had to believe that that person would tell them the truth and not just "Oh, your new haircut looks great. Do you really want to know? Okay, that's not the best haircut for you." And if you put these two things together, you have what we named 'Loving Critics'. So, a lot of people will tell us we're great no matter what, some people might have an ulterior motive but the true power in getting more feedback isn't necessarily as much about how we ask people. It's the more fundamental question about who we ask. So, as a practical next step, what I would suggest for any listeners who want to improve their external self-awareness is to make a list of start simple, two people that you want to be your loving critics. And I talk about this in a lot more detail in Insight but, again, to keep it simple, figure out some kind of regular system where you can quickly ask them for feedback on something you're working on. So, you might say "Hey, listen, I've decided that I want to be a better public speaker because I really want to do a better job of getting new clients." So, maybe you'd say "You're someone who sees me in these initial client presentations. How would you feel about letting me take you out to coffee or virtual coffee once a month? We'll chat for 15 minutes and we'll just see how you feel like I've been doing, what ideas you have for me moving forward." And if you do that with two people, call it 30 minutes a month, the amount of insight and not just insight but actionable insight you'll get will be astonishing. So, that's for people that want to work on their external self-awareness. That's one tool from many but I think it's a powerful one.
Let's say somebody has a different focus. They say "You know, I've got a lot of feedback already but maybe I want to have clarity on who I am and what I want." They want that internal self-awareness. There's a phenomenal tool that we learned from our research subjects that I named the 'Daily Check-In Process'. And going back to your question earlier about what are the things that people think make us self-aware that actually backfire, one of them we discovered was too much introspection, really trying to figure out like "Oh, why am I the way that I am and what does it all mean?" Sometimes it can lead to a false sense of confidence about what we learn when there's a lot of stuff going on outside of our conscious awareness that we just can't appreciate or understand. And so, what the daily check-in process is, is a way to simplify and inject our introspection with insight. So, almost every single one of our research participants asked themselves a version of these three questions. And the idea is you ask them of yourself in five minutes or less and you don't have to even write down the answers. Just think them through as you're getting ready for bed, as you're brushing your teeth, as you're winding down for the evening.
Question 1 – What went well today? Question 2 – What didn't go so well today? And then Question 3 – How can I be smarter tomorrow? And what I just adore about these questions is they're designed to give us sort of quick practical hits of insight that don't take us down the rabbit hole of "Why am I the way that I am? It's because I had an absent father," who knows where that could lead but it's really about focusing on that actionable daily insight as an internal self-awareness practice. So, hopefully, one of those two things or both will be helpful for your listeners.
Eddie Turner:
Both were extremely helpful. I appreciate you sharing that with our listeners. And it made me think about something else that you said. As you're going through this analysis to see who you are and building your love of self-awareness, you said that most leaders are surrounded by walls, mirrors, and liars.
Dr. Tasha Eurich:
That is one of my favorite leadership quotes from a management professor but you really think about what that means. It means that the more power you have, the fewer people are telling you the truth.
Eddie Turner:
Absolutely. And so, all the more reason why self-awareness is so important.
Dr. Tasha Eurich:
Exactly. And taking a proactive stance. Here's the interesting thing. A lot of leaders walk around and think "I'm a pretty approachable person. I'm the boss but I'm a human just like everybody else, surely, but if I was doing something particularly egregious, someone would tell me." And there are decades and decades of findings that show that even without that power dynamic, most people tend to withhold the truth when it's difficult.
Dr. Tasha Eurich:
And so, if you add on top of that this idea that not only is it hard to give honest feedback but it might be career limiting, I'm not going to go and sort of proactively provide this information to the person that sets my merit increases. And so, for leaders, I think there's something really empowering about taking full 100% responsibility for getting that critical feedback because no matter what happens, it's always better to know. And the reason for that is when you know, you get to decide what you're going to do about it instead of being a victim to your circumstances.
Eddie Turner:
Absolutely. So, so very important. I appreciate you sharing these insights that help us grow as leaders and I love how you defined it as the central skill that determines success and happiness and 21st century leaders. That is simply very not only provocative but thought-provoking. So, thank you very, very much.
How would you summarize our conversation today?
Dr. Tasha Eurich:
How would I summarize it? I would say the journey of self-awareness for leaders and for everyone is a lifelong process. And what we discovered was that the people who are the most self-aware and therefore the happiest and the most successful have a lifelong commitment. And in having a lifelong commitment to see ourselves clearly, I think it removes some of the pressure that we have to get this instantaneous insight or we have to wait for a lightning bolt to hit us or this crazy dramatic thing to happen, that it really is about those incremental moments where we can say "Wait a minute, I may see myself this way but what if other people didn't see me that way?" or "This interesting outcome just happened that I wasn't predicting. What might be going on there?" and just sort of having this curiosity. One of our research subjects who is a middle school science teacher gave this great analogy about discovering who we are and what that lifelong journey is. He said it's a lot like exploring space because no matter what we have learned already, there's an almost infinite amount that there is still to learn and that's what makes it so exciting. And I find that really inspirational.
Eddie Turner:
That is very inspirational indeed. I often ask what's the best piece of advice or the best leadership quote you've ever heard that helps you lead that you can share with our leaders to help them keep leading.
Dr. Tasha Eurich:
I'm a big quote person. So, it's hard to pick my favorite but I think for our purposes today, Rumi once said "Yesterday I was clever. So, I wanted to change the world. Today, I'm wise. So, I'm changing myself."
Eddie Turner:
I like that. I like that. That is very, very nice. You've been fascinating to talk to and I am not surprised because you were fascinating to listen to live in person. So, I'm going to tell my listeners and if they ever see you speaking someplace, go. If they have a chance to book a speaker, book you and certainly pick up your book. Where can they get information about how to book you, read about you, etc."
Dr. Tasha Eurich:
You're so kind. Thank you. I have found that it is actually not about me. It is about what I can offer to others. And so, I'll give you a resource here in a minute that if anybody wants to find me, I'm very findable. Actually, Google me. I'm the only Tasha Eurich in the world, as far as I can tell, but in terms of the resource for your listeners, a lot of times in these conversations people say "Well, how do I know where I'm starting? How do I know how self-aware I am internally and externally?" and we put something together for the launch of Insight back in 2017 that we never thought we would keep available for this long but we've had literally hundreds of thousands of people use this resource. And so, I sort of see it as a public service to help the world be more self-aware for anybody who is brave and smart enough to start that journey. So, it's basically a five-minute quiz that is a subset of our longer exhaustive validated self-awareness assessment. It's 14 questions. You fill it out and then you send a survey to someone who knows you well. They fill out the 14 questions and then you get this really nice report back on your very high-level internal and external self-awareness and then a couple of tools, given your results, to help you improve. The only thing I tell people is since this as a very short subset of our longer assessment, please don't make any major life decisions based on your results. Just create a bit of data but we've gotten such great feedback and I'm really happy to make it available. So, if anybody wants to take that, totally free, no strings attached. It's www.Insight-Quiz.com.
Eddie Turner:
Excellent. Thank you so much for sharing that and thank you for being a guest on the Keep Leading!® Podcast.
Dr. Tasha Eurich:
My pleasure. Thank you.
Eddie Turner:
And thank you for listening. That concludes this episode, everyone. I'm Eddie Turner, The Leadership Excelerator®, reminding you that leadership is not about our title or our position. Leadership is an activity. Leadership is action. It's not the case of once a leader, always a leader. It's not a garment we put on and take off. We must be a leader at our core and allow it to emanate in all we do. So, whatever you're doing, always keep leading.
Thank you for listening to your host Eddie Turner on the Keep Leading!® Podcast. Please remember to subscribe to the Keep Leading!® Podcast on iTunes or wherever you listen. For more information about Eddie Turner's work please visit EddieTurnerLLC.com.
Thank you for listening to C Suite Radio, turning the volume up on business.
The Keep Leading!® podcast is for people passionate about leadership. It is dedicated to leadership development and insights. Join your host Eddie Turner, The Leadership Excelerator® as he speaks with accomplished leaders and people of influence across the globe as they share their journey to leadership excellence. Listen as they share leadership strategies, techniques and insights. For more information visit eddieturnerllc.com or follow Eddie Turner on Twitter and Instagram at @eddieturnerjr. Like Eddie Turner LLC on Facebook. Connect with Eddie Turner on LinkedIn.