Laura Gassner Otting
Founder and Chief Catalyzing Officer, Limitless Possibility
Becoming Limitless
Check out this 60 Second preview of the episode!

Laura speaks with change agents, entrepreneurs, investors, leaders, and donors to get them past the doubt and indecision that consign their great ideas to limbo. She delivers strategic thinking, well-honed wisdom, and catalytic perspective informed by decades of navigating change across the start-up, nonprofit, political, and philanthropic landscapes.
Website
www.lauragassnerotting.com
LinkedIn
https://www.linkedin.com/in/lauragassnerotting/
Twitter
https://twitter.com/heylgo
Facebook
https://www.facebook.com/heylgo/
Instagram
https://www.instagram.com/heylgo/
Limitless Life Assessment
https://limitlesspossibility.outgrow.us/limitless
Limitless. Your Best Self – The #1 Course to help you get more of what you want from life.
http://www.heyLGO.com/learn
TEDx Talk: Stop Asking "How Can I Help?" | TEDxCambridge
https://www.youtube.com/watch?v=XYMM9joekdE
Leadership Quote
"If all we get in life is what we deserve, we would never get what we demand." – Laura Gassner Otting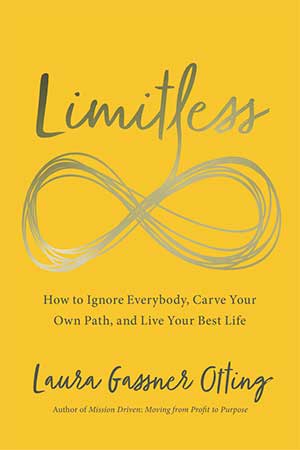 Transcript
This podcast is part of the C Suite Radio Network, turning the volume up on business.
Welcome to the Keep Leading Podcast, a podcast dedicated to promoting leadership development and sharing leadership insights. Here's your host, the Leadership Excelerator, Eddie Turner.
Eddie Turner:
Hello, everyone. This is Eddie Turner, your host of the Keep Leading Podcast, the podcast dedicated to leadership development and leadership insights.Have you ever felt stuck? Well, today's guest has written a book that will help us get unstuck and achieve extraordinary results. We're going to learn how we can become limitless from Laura Gassner Otting right after this.
This podcast is sponsored by Eddie Turner LLC. Eddie Turner LLC delivers executive and leadership coaching, professional speaking, facilitation services, and management consulting across the globe. Eddie Turner LLC also creates voiceovers, serves as a master of ceremonies, as a panel and event moderator, and provides national media commentary. Visit EddieTurnerLLC.com to learn more.
Eddie Turner:
Hello, everyone. Welcome to the Keep Leading Podcast, the podcast dedicated to leadership development and leadership insights. I'm your host Eddie Turner, the Leadership Excelerator. I work with leaders to accelerate performance and drive impact. I'm incredibly excited about my guest today. My guest today helps people get unstuck and achieve extraordinary results. Her 25-year resume is defined by her entrepreneurial edge. She served as a presidential appointee in the Bill Clinton White House. She helped shape AmeriCorps. She left a leadership role at a respected nonprofit search firm Isaacson Miller to expand the startup ExecSearches.com and found it and ran the Nonprofit Professionals Advisory Group which partner with the full gamut of mission-driven nonprofit executives from startup dreamers to scaling social entrepreneurs to global philanthropists. She is the author of Mission Driven a book for those moving from profit to purpose and Limitless: How To Ignore Everybody, Carve Out Your Own Path, And Live Your Best Life and that goes live tomorrow, April 2, 2019. It's already a best seller. It's at number eight this morning on Amazon and Washington Post had it as number two right behind Michelle Obama's book last week. She's an instigator, a motivator, and a provocateur and she's never met a revolution she didn't like.I am excited to welcome the amazing Laura Gassner Otting. Well, welcome to the show.
Laura Gassner Otting:
Thank you. And, boy, I love your crystal ball. Let's hope that the Washington Post books me.
Eddie Turner:
Well, that's where I found that. I was doing some research about you before the show and I saw that. Well, first of all, when I met you, I just thought you were a nice lady in New York City. And then I learned later on "You know what, she's really a big deal."
Laura Gassner Otting:
I actually have a little plaque on my desk that says "I'm kind of a big deal." When I sold my last business to my team, I sort of went through this moment of like identity crisis like "Who am I when I'm no longer CEO of this big thing?" And a friend of mine who knew I was suffering with it and trying to figure out what my next thing was going to be, instead of having a little plaque that has your name on it, bought me one that just says "I'm kind of a big deal." So I even have a plaque to prove it that I'm kind of a big deal.
Eddie Turner:
I love it. Well, that is so apropos for you because that's just how I felt. And you're everywhere. I mean, you are published, you've done a TED talk. And even last month I saw that you were in Inc.com, featured 20 Little Things Highly Successful People Do and the rest of us probably don't. What a great article.
Laura Gassner Otting:
Well, thank you very much. It's been quite a fun ride.
Eddie Turner:
Now, Laura, your book is receiving just amazing accolades all over place. And, in fact, you've received advanced praise from Amy Cuddy, a famous TEDx speaker herself, a New York Times bestselling author, and Dorie Clark who I've become a big fan of for her bestsellers and her series of Harvard Business Review articles, her work at Duke and she's on the speaking circuit now, and even former Governor Patrick Deval. So everybody's talking about you and this book. So tell us a little bit about what motivated you to write it.
Laura Gassner Otting:
Well, I spent 20 years interviewing leaders as I was running a search firm that works specifically in the nonprofit sector. And we always assume that people who work in nonprofits have purpose, lofty purpose, higher goals, all this stuff. And so they must feel like their work matters, they must be happy in their work. And I noticed that they really weren't. They were coming to me as a recruiter looking for new jobs. And I was constantly amazed that success didn't always equal happiness. And then I started to look at my own career and said "You know I was successful too. I filled in all the right checkboxes along everybody else's path to everybody else's version of success and I don't know that I'm entirely happy. I leaned in. I did all the right things. I got to the top but the top of what?" And when I started to look around at people that were millennials coming up, that were boomers retiring, that were my peers as Gen-Xers, I realized that this was not just a problem I had but it's a problem that a lot of us shared that really we work and we strive and we push to get to success. And then we don't really feel that successful because it's hard to be insatiably hungry for someone else's goals. And so the book really is based around the idea that is success doesn't equal happiness, then what does? And the answer is that it's not just success writ large for everybody or defined by other people. It's success as it is defined for you and personally and only you.
Eddie Turner:
Wow! You said a mouthful there.
Laura Gassner Otting:
I often do.
Eddie Turner:
First of all, I can't imagine you not being happy. I mean, you are so vicious once one meets you in person and you're just a bundle of joy and so optimistic. And one of the things that I did take away is the level of success that you had achieved. I think you now spend more time talking about your work in Executive Search and I think that's kind of where we connected but for you to say that you've reached a point that you've had to kind of reexamine things, it's very insightful.So you wrote the book. And as you wrote it, you came up with a couple of different frameworks. For example, you talk about Four Elements Of Consonance. Can you talk about that a little bit?
Laura Gassner Otting:
Yes. So what I learned is that in order to be successful, it has to be defined for you and what works for you personally. And that means consonance. That means alignment. It means flow. It means some way where everything that you do the best of what you are or asked to do is being assigned to the task at hand. Consonance is when what you do matches who you are. And I learned that it comes from four elements. Number one, calling – this larger goal, this purpose that you have, this thing that's bigger than you and, as I mentioned, it doesn't necessarily have to be from the nonprofit sector, it doesn't have to be a lofty purpose. It has to be your purpose. So if your purpose, if your calling is curing cancer, great. If your calling is building your own business, great. If your calling is buying a Maserati and a beach house, great but the only one who gets to vote about your purpose is you. And the problem is that we spend a lot of time giving votes to people who shouldn't even have voices in our lives. So that's the first element.The second is connection – how do we know that our work at this moment, in this box, in this organizational chart, in this company matters? What if we called in sick to work tomorrow? Would it make a difference? Would anybody notice? And is the work that you're doing actually connected to the calling that you're wishing to serve? That's number two.
Number three, contribution – so if the connection to the work is all about the work, then contribution is all about you. How does this work allow you to manifest your values into the world on a daily basis, to have the life style that you want, the flexibility and the money that allows you to have the kind of life you want or does it allow you to have the career trajectory that you're looking for, the velocity and the speed at which you want to build your career?
And then lastly, control – how much personal agency do you have over how you build your career so that it fills the life that you want so that you are connected to your calling and have contribution to the kind of life that you want to have?
And each one of us at every age and at every life stage is going to want some version of calling, connection, contribution, and control in different ways. So what worked for me, Eddie, might not work for you. And what works for me right now at 48 years old probably didn't work for me at 28 and probably won't work for me at 68. So each one of us at every different age and every different life stage is going to sort of ebb and flow through the seasons of our lives so that we can actually use work to help us build the kind of life that we want to have.
Eddie Turner:
So you have a nice mnemonic there for us to be able to remember it. So the four elements of consonance are four Cs. So, Calling, Connection, Contribution, and Control, but if I'm struggling to figure out what my real calling is, how can you help me? How does the book help me figure that out?
Laura Gassner Otting:
So the book helps you but I also set up an assessment because everybody likes to take quizzes about themselves. So I set up an assessment. It's at LimitlessAssessment.com and LimitlessAssessment.com will walk the respondent through 60 questions or so. It doesn't take a ton of time but it's not super short. It's about 10 to 15 minutes. And these questions are pretty catalyzing questions that get you really thinking about who you are and what really matters to you personally. And at the end of the quiz the respondent gets a really beautiful radar chart that I'm super proud of myself for learning how to make. One of the diagrams shows you how much Calling, Connection, Contribution and Control you have in your life. And the other one, which we hope overlap somewhat, shows you how much of each of the elements of Calling, Connection, Contribution, and Control you want to have in your life. And then, of course, where these are not aligned is where you're not in consonance. If the graph's not in consonance, you're not in consonance. And then it gives people tips about things that they can do to get there. So that's the first thing that I would say.The second thing I would say is don't give up hope. We all go "Yeah, yeah." I mean, this sounds all well and good but I listen to a lot of self help stuff and I don't really get there. And I think that's because we spend a lot of time thinking about things like "follow your passion" which is lovely and incomplete, right? It's an Instagram meme usually with a flaxen haired blonde with the flower crown looking over a sunset at Coachella or something but it doesn't actually give us the roadmap. And so the reason that I think that the framework in this book works is specifically because it's a framework. Albert Einstein said that all knowledge is experience and I do firmly believe that. You don't really know something until you've experienced it. With all due respect to our friend Al, I believe that if all knowledge is experience, then all wisdom is framework. And the difference between a wall of smarts and going like "Wow, she's right. I could never do it but she's right" and wisdom that actually allows you to take actionable steps to get from here to there is the framework that you have. That's when somebody goes "Oh, that's right and I can see how I can apply that to my life."
Eddie Turner:
Wonderful. Thank you for sharing that. And I noticed that you had the assessment and I thought that was fascinating. And I think that listeners will want to definitely take advantage of that. We're going to put the link that you mentioned in our show notes for those who are listening to this and you're in transit. So it's LimitlessAssessment.com but it will be in the show notes.What we're going to do now is pause to have a word from our sponsor.
This podcast is sponsored by Eddie Turner LLC. Organizations who need to accelerate the development of their leaders call Eddie Turner, the Leadership Excelerator. Eddie works with leaders to accelerate performance and drive impact. Call Eddie Turner to help your leaders one on one as their coach or to inspire them as a group through the power of facilitation or a keynote address. Visit EddieTurnerLLC.com to learn more.
This is Jeffrey Hayzlett, Chairman and CEO of the C Suite Network and you're listening to the Keep Leading Podcast with Eddie Turner.
Eddie Turner:
We're back. I invite you to subscribe to the Keep Leading Podcast and share with your friends. Please leave a review for me on iTunes so I know you're out there and I know what you're thinking. If you leave a review for me on iTunes or share this podcast on social media, please tag me and then send me a message so I'll know. I'll send you a digital copy of my bestselling book 140 Simple Messages to Guide Emerging Leaders and I'll also give you a shout-out on social media and on the Keep Leading Podcast.Okay, everyone, we're talking to Laura Gassner Otting. She is the author of Limitless: How To Ignore Everybody, Carve Out Your Own Path, And Live Your Best Life. It goes on sale everywhere April 2, 2019, and I was privileged to get an advance copy and I just think it's an amazing book. You've done a really nice job putting this book together, Laura.
Laura Gassner Otting:
Thank you very much. I have my editor to thank for that together with all whole lot of stuff and she actually made it. She made it sound really good but it's interesting. I think we give ourselves ideas and labels and we try to fit ourselves into them and this book was originally called Purpose: How To Do Matters and it wasn't until I felt like that was in fact limiting me that I had a conversation with a great speaker friend of mine Clay Baer who's brilliant about how to make introductions to people. He's working on a great book about how to make the perfect introduction. You should definitely have him on your show. And he's like "No, that's not going to work. And what do you want people to feel like when they finish reading the book?" And I sort of talked to him about it, we spent 45 minutes at the end of which he was like "So you want them to be limitless? You want them to ignore everybody, carve their own path, and live their best life?" And I was like "Yes1?" And he goes "Good. That's your book." And I said "I love you, man. I don't speak to you enough. I would love to talk to you like for hours and hours but I need to hang up the phone right now and go write that book." And I think the book poured out of me in like three weeks because it became something that was so true to my core and so who I am that I ended up being able to talk about it, to say it, to put it in my language, put it in my words, put it in my own cadence, tenor and tone, which when we do that, here's something here, here we go, meta, put me in consonance, right? It allowed me to be the full version of myself so that I could bring this book out into the world in a way that's crazy, lands on this Washington Post list behind Michelle Obama.And Michelle, if you're listening, call me, girl.
Eddie Turner:
Yes. And that's one of the things is so fascinating about you. You have this amazing political background, having served not many people that I know can say they served in the White House. You are an executive in Executive Search and very successful but then you believe in giving back and you're doing a lot of work in the nonprofit space. So you just are so well rounded.
Laura Gassner Otting:
Thank you for that. I appreciate that. I'm a firm believer that you show up for people who show up for you and you show up sometimes for people who don't show up for you, right? You show up for the things that matter to you. And you never really know how that's going to come back into your life. And so we had this big book party last night to celebrate the launch of the book tomorrow and I it was pouring rain and we had 120 people in my house and they were everyone from the managing editor of The Boston Globe to friends of mine on my rowing team that are 24 years old and it's just the mix of people that are there. And, I don't know, I've always issued labels where somebody says "You're a nonprofit person" or "a political person" or "a corporate person" and I think those are just tax statuses. And you show up as well as you possibly can everywhere you go and you collect great people everywhere. I just do the things that I think are right and I do good work and if that work begets more good work, then great, wonderful. And if it doesn't, then that's not what the market was looking for. So I do something different.
Eddie Turner:
I'll have to keep that in mind. Those are all just different tax statuses.
Laura Gassner Otting:
I think that you can be somebody who makes a bajillion dollars working at a hedge fund and donate money to a nonprofit cause and you're considered a philanthropist or you could make not a lot of money working in a nonprofit organization and sacrifice and you don't get your name on the side of the wall but who's to say one of those people is more valuable to the nonprofit than the other. They're both valuable in completely different ways.
Eddie Turner:
Very well said, very well said.Now, I want to ask you about how you open your book. You open the book with a very riveting story. And then you say, and I'd like to read this verbatim and let you kind of talk about it and share it with our listeners, "What I learned is this. The void is often clearer than the solution. We know when things aren't right. We just don't always quite know what's wrong. When you're confused or unsatisfied in your work or your life, the void is all too obvious. Solving for the void is where things become difficult." I thought that was powerful. And I just love to have you speak to that and the story that made you come to this conclusion.
Laura Gassner Otting:
So the story that I talk about is a story of Josh Mantz. And Josh Mantz is a guy that I met when he and I were both speaking, we were volunteering to speak at an army base in Japan on behalf of a nonprofit called American Dream U. American Dream U works with soldiers who are transitioning out of the army to help them figure out how to find a job when they leave. The Transition Assistance Program in the armed services is historically known to be incomplete, to be pretty terrible. And so this nonprofit works with them to go around to different army bases around the world and help them figure out how do you network and how do you put together a LinkedIn profile and how do you figure out what you might want to do next. So they put together a group of about six speakers. There was me. There was a vet who works with homeless women. There was the COO of Starbucks, Japan. And there was Josh. And Josh died on the field in Iraq. So right now your listeners are going "Wait? He was speaking?" Josh died on the field in Iraq and was brought back to life 15 full minutes later, miraculously and also, miraculously, with this full brain working perfectly fine. And when the nonprofit called me up, I was like "All right, I'm happy to do whatever you need. I'm happy to speak whenever you want. Just don't make me follow the dead guy" like "I'm a pretty good speaker but I can't follow the dead guy. That's way too hard. Nobody can follow the dead guy."
Laura Gassner Otting:
And I was sort of joking around about it and then I went and I actually end up speaking right before him. And so I sat down … And when you speak to a group of soldiers, they sit in this very sort of upright postures, they're staring straight at you, and you have no idea if they're plotting your death or if they're loving what you're saying. They're just like in full information intake mode. And so it was a little disconcerting and they did this throughout my talk. And then I sat down. And then he got up to speak. And as he speaks, he starts saying things like "I knew exactly what was happening when the bullet ripped through my armor. I knew exactly what was happening when it pierced my femoral artery. I knew exactly what was happening as my blood was pooling into my chest cavity in a last ditch effort to save my life." And he tells the story and every one of these soldiers just like leans forward in a way that was like "Okay, see? You should go back and follow the dead guy." Josh was in this incredibly meteoric rise. He was the youngest to be promoted over and over and over again. He was leading his troops in their surveillance when he was shot by an enemy sniper and killed. When he came back to life, he tried to attack the recovery. He tried to attack the continued career in the army with so much ferocity that he had another health attack that almost killed him again. And so he had to leave the army. And so he did what? He went to the fastest growing private sector company in the world, Tesla, because he thought "Well, that's who I am in my core." And he did the same thing. He leaned in and the pace was like military, the mission was taking over the world, the leader was this inspirational, charismatic, iconoclast. And it all felt very familiar to him but he kept getting called to speak at conferences, at universities, for corporations about trauma and what really happens to soldiers when they come back to work for more. And he said he had an allurement, he was drawn to this but he didn't have alignment in his life with what he was doing. He would do all this work for Tesla, building employment engagement programs, and he would race to the airport and go somewhere and speak and then he would race back and he would go back to Tesla. And he was sort of caught between the two. And he knew something was missing that he couldn't figure out what. And the problem he was having was that all along the way everybody he encountered was like "You're the luckiest guy in the world." Meanwhile, he didn't feel like he was lucky because he was exhausted, he felt guilty, he was in suicidal spirals, he was having PTSD spells. And I tell the story of him in the beginning of the book because I wanted people to understand that if the luckiest guy in the world couldn't figure it all out, then we're all okay, the fact that we're trying to figure it out too that it's pretty difficult. So the void for him was that he knew something was missing. He couldn't figure out what it was but he knew he had to do something different. He couldn't continue to be in this place where work was on one side of the fence and life was on the other and they were battling against each other. And he had to figure out a way to align these two parts of himself. And so what that ended up looking like was him leaving Tesla and going into healthcare and he's now getting a PhD and he is now moving into this role where he's creating a consulting practice where he works with individuals, with corporations to help them and their people turn their scars into their strengths.
Eddie Turner:
Well, how about that? I was just fascinated by that story. And I feel that my listeners are being rewarded by hearing you tell it because, as I was reading it, you can't see me but even now I'm kind of cringing because you tell it so vividly. And I did not even want to attempt to try to recount it. And so I'm so happy you did that for our listeners because it's a great story and helps us to be able to look at our own lives through another lens.
Laura Gassner Otting:
I've only had the opportunity to read from the book once and I did not quite know where to start but that was the one that I started with because I just feel like it grabs people so quickly. And it's sort an unimpeachable story. If this guy can't get it right, then I think we can all give ourselves a little bit of a break.
Eddie Turner:
Absolutely. And I agree with you as a fellow speaker there's no way I'd want to follow that story if I was speaking.
Laura Gassner Otting:
And not only that, I mean, Josh is incredibly charismatic. And his book The beauty of A Darker Soul actually tells the story of him dying and the fight coming back to and through the light that he's built. And I'd recommend it for your listeners as well.
Eddie Turner:
Thank you. Well, we always appreciate good book recommendations. If I could, I would love to have you tell one other story that I think is going to really resonate with my listeners and that is this radical personal life shift. Can you talk about Tom Webster briefly, Laura?
Laura Gassner Otting:
Yeah. So Tom Webster is someone I know on the speaking circuit. Tom is somebody who's always prided himself on an incredible amount of professional rigor. He works at a company called Edison. And Edison, if you don't know them, if you've ever watched election results, you know them because they are the people who provide data to the national pool of journalists who report on who's won what election when they call the races. It's because Edison has given them information. Now Edison has that contract because in 2000 another company had that contract and they called the race for Al Gore in Florida before that was actually official. So, as you might imagine, they lost that contract fairly quickly and Edison got the contract. And so Edison's, their whole ethos is they'd rather get it right then get it first. And he deeply believes in data above all, above honesty and things being right. And he had to do a ton of traveling for work. And he would travel for days. He would come home and travel for days again. His work put him on the road all the time. And really when he would get home … He loved traveling. I mean, he's like me. He's got wanderlust. He's like you. We all travel for living as speakers. And he would find himself almost cringing to come back home. He didn't want to be home. He liked being on the road and he would get home and he would go to work and he would start nitpicking about all the things he thought was wrong, the job that he had at Edison, and why it didn't work. Now, Tom has been at Edison for 14 years. And at 14 years he's still one of the shortest tenured people there. People don't leave. People love working at Edison. And then one day he realized that it wasn't the job that made him unhappy. It was the home life that made him unhappy. And so he made the very difficult decision to get divorced. And the very good decision to get remarried. And when he did that, everything snapped into place. He became a better father. He became a better worker. He became happier in his life. And the story is in the book because we think if I'm using my career to have the life that I want, then if something's wrong, I should fix my career but sometimes it's the life that you've built that's not actually aligned with the career and that's the thing that's really giving you consonance.
Eddie Turner:
Wow! You've really given us a lot to think about Impact, your book, in this interview with some really interesting stories that we can think about and examine ourselves under a different light. If I had time, I would just love to talk to you because you're so fascinating, I'd love to talk about some of your work in search and some of your work in public speaking and I'd love to know more about the TED Talk and then encourage my listeners to go and look up your TED Talk. And you discovered your inner athlete at age 40. Tell us a little bit about that because I think that that's just amazing.
Laura Gassner Otting:
So I ran my first mile when I turned 38 years old. I mean, I was the kid who had every single possible excuse to get out of PE class. And I was never like fat. I was never thin. I was just kind of there. And I had two kids, I was walking into my kids' school one day and I saw the Head of School and I said "Ellen, you look amazing." She's like 65 years old. And I said "You look incredible. Either you've been really sick and you've lost a lot of weight or there's a new man in your life and you look way too good, way too good to have been really sick. So what's his name?" And she's like "Well, there is a new man in my life and his name is Mike, coach Mike." And I was like "Wait a minute." And so she takes me to this boot camp and at the end of this boot camp it was dirty, dusty, boys and girls scout basement. You run laps around the gym and it's like 37 laps or something so you can finally get to a mile and get these little teeny straws that you have to throw down on the ground every time you pass the door. And it took me full six weeks before I could actually get all 37 of those things without stopping and gasping but once I did, I was like "Oh, hmm, what if I strung three of these together? Could I do a 5K?" So I signed up for 5K and six weeks later me and Ellen and Mike ran the 5K. And at the end of the 5K I was like "Well, what if I could do a 10K?" So I signed up and I did a 10K and at the end of that I was like "Wouldn't it be cool if I could do a half marathon? That's crazy beans." So I signed up to do a half marathon. And while I was training for that, I was like "You know, I live in Boston. The Boston marathon's kind of thing. Why don't I do the Boston Marathon?" And my husband was like "You're crazy. That's the silliest thing I've ever heard." And I said "Well, if I can get a bib in the next 5 minutes, would you like fully support this and not tell me I'm crazy for the next six months of training?" And I remember the Boston Marathon is a marathon you have to qualify for. And I'm old and slow. So I can't qualify for it but you can also get a charity bib and raise money. Now, as we've discussed, I spent a lot of time working in nonprofits. So I post on Facebook "Today the sidewalk. Next April, the road. Who's got a bib for me?" And within 5 minutes four different nonprofit executive directors were like "Hey, run for us. Run for us. Run for us."
Laura Gassner Otting:
So I got a bid and I started trading and I ran the Boston Marathon. Now 'ran' is a little bit of a generous term. I had been training for a sub four-hour marathon. That's like the gold standard. Sub-four you can. So I said "Okay, I can do this." And then it was 92 degrees on marathon Monday.
Eddie Turner:
Are you serious?
Laura Gassner Otting:
I'm serious. I saw my husband at mile 16 and he took bags of ice, Ziploc bags, and like shoved them in my sports bra. When I saw a friend at mile 17, she was like "Oh my god, bags of ice. That's so smart." And I was like "Where did these come from." I mean, I was so out of it. I was not lucid whatsoever. So it was hot and it took me 5 hours and 12 minutes and I was really sad. And so a friend called me up and said "I know that you're sad. I know we've talked about maybe one day doing Chicago. What do you think we do Chicago?" And I said "Okay." And she goes "Good because I've already signed you up for it."
Eddie Turner:
That's a friend.
Laura Gassner Otting:
Yeah. Six months later I'm running Chicago with her. I'm sad to say I didn't make 4 hours. I did 4 hours 09 minutes but I also had an injury and I couldn't feel my left foot for like 23 of the 26 miles. And then I was deeply involved in the charity group and the marathon bombing happened in 2013. And while I said I was never going to run another marathon, I felt the need to do it. So 2014 I ran another marathon. Now, running three marathons, having never run a mile before, running three marathons in the course of two years is not very good for your body. So I was hurting everywhere. And I joined a gym really for the first time in my life and I was assigned a random trainer. And that random trainer was a rower and he was trying to get Olympic rowing campaign going. And he taught me how to lift weight. And suddenly I'm like bench pressing 225 pounds. You've seen me but your listeners haven't. I'm five 5-foot-5 and weigh 130 pounds and I'm 48. So I'm moving weight around. And he's like "You should try out for the competitive team." So I fast forward through a lot of learning how to roll over the course of years. I now row on a women's competitive team. So this person who was never athletic now is on a boat at 5 a.m. Monday, Wednesday, Friday and the coach calls me an athlete – "Hey, athletes, we're going to do this and that." I'm giggling to myself like "Oh my god, she's talking about us."
Eddie Turner:
How about that? Well, I got to admit because when I met you, it was cold, we were in New York City, and you we wearing sweaters and such. As I was getting ready for the podcast interview and selecting the photo and things I want to use for you, there were several photos of you. And I got to admit, there was one photo of you out there where you can give Michelle Obama a run for her money not just on the book rankings but I tell you, you got the guns going there.
Laura Gassner Otting:
Well, it's funny because she was here in Boston speaking at a conference and I was talking to a friend of mine who organized it and I was like "I would do anything you want if you could get me a picture of her and she and I could pull out the guns together."
Eddie Turner:
Oh wow! That would be a great photo. That would be a great photo.
Laura Gassner Otting:
It would be a great photo. It'd be super fun.
Eddie Turner:
Well, Laura, thank you so much for having spent this time talking to me and allowing my listeners to hear your stories. It's been fascinating. And I guess if we could say the big takeaway for our listeners is to be limitless. What do you think?
Laura Gassner Otting:
I think it's to stop listening to everybody else's definition of who you are and what you are and what you've been and find those multitudes within you and grow and change and become who you want to be. We can all be limitless.
Eddie Turner:
And here on the Keep Leading Podcast we want our listeners to have a leadership quote that they can live by. Can you share a leadership quote that you like to use?
Laura Gassner Otting:
Well, I like to tell every time something goes well, you have a party or a celebration, you buy a nice car, you go on a vacation, somebody goes "Oh, it's so great. You deserve it." And I started getting really angry about that because nobody deserves anything. We work really hard for it. And so I like to tell people if I waited around my whole life for everything I deserved, I'd never get what I demanded.
Eddie Turner:
I like that. And where can our listeners learn more about you?
Laura Gassner Otting:
So they can find me on all the socials at 'Hey LGO' and online it's
HeyLGO.com
.
Eddie Turner:
Thank you. That also will go in the show notes as well. I really appreciate you being here, Laura, and I want to say thank you again.That concludes this episode, everyone. This is Eddie Turner, the Leadership Excelerator, reminding you that leadership is not about our title or our position. Leadership is an activity. It's about action. And it's not the case of once a leader, always a leader. It's not a garment you put on and take off. We must be a leader at our core and allow it to emanate in all we do. So whatever you're doing, always keep leading.
Thank you for listening to your host Eddie Turner on The Keep Leading Podcast. Please remember to subscribe to The Keep Leading Podcast on iTunes or wherever you listen. For more information about Eddie Turner's work please visit EddieTurnerLLC.com.
Thank you for listening to C Suite Radio, turning the volume up on business.
The Keep Leading!™ podcast is for people passionate about leadership. It is dedicated to leadership development and insights. Join your host Eddie Turner, The Leadership Excelerator® as he speaks with accomplished leaders and people of influence across the globe as they share their journey to leadership excellence. Listen as they share leadership strategies, techniques and insights. For more information visit eddieturnerllc.com or follow Eddie Turner on Twitter and Instagram at @eddieturnerjr. Like Eddie Turner LLC on Facebook. Connect with Eddie Turner on LinkedIn.