Lou Diamond
Founder & CEO, Thrive
Master the Art of Connecting
Check out this 60 Second preview of the episode!

Lou Diamond is an energetic, humorous and inspirational speaker, business development strategist and performance mentor. For over 25 years he has delivered winning tactics that have increased results of leading performers from companies all over the world.
He is the CEO of THRIVE, a company focused on helping brands become even more amazing through the power of connecting.
When he isn't speaking or working on his top-rated Thrive LOUD podcast, he is watching his kids grow up too fast, obsessing over how bad his sports teams are, listening to country music…and playing some 'not-so-great' golf.
If you or your organization are trying to find the right way to make the connections essential to achieve your business goals, Lou Diamond is the man to help you make it happen.
Websites
thriveloud.com
loudiamond.net
LinkedIn
https://www.linkedin.com/in/thriveloud/
Twitter
https://twitter.com/ThriveLouD
Facebook
https://www.facebook.com/ThriveLouD/
Instagram
https://www.instagram.com/thriveloud/
Leadership Quote
"Be so good they can't ignore you" – Steve Martin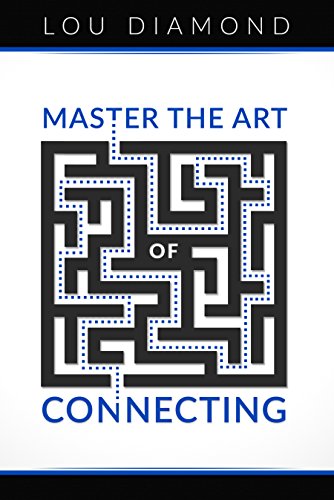 Transcript
This podcast is part of the C Suite Radio Network, turning the volume up on business.
Welcome to the Keep Leading Podcast, a podcast dedicated to promoting leadership development and sharing leadership insights. Here's your host, the Leadership Excelerator, Eddie Turner.
Eddie Turner:
Hello, everyone. This is Eddie Turner, host of the Keep Leading Podcast, the podcast. In today's episode, we will be reminded of the fact that we cannot truly thrive without powerful connections. To do so, we have to master the art of connecting. We'll learn how to do that by listening to Lou Diamond right after this message.
This podcast is sponsored by Eddie Turner LLC. Eddie Turner LLC delivers executive and leadership coaching, professional speaking, facilitation services, and management consulting across the globe. Eddie Turner LLC also creates voiceovers, serves as a master of ceremonies, as a panel and event moderator, and provides national media commentary. Visit EddieTurnerLLC.com to learn more.
Eddie Turner:
Hello, everyone. Welcome to the
Keep Leading Podcast
, the podcast dedicated to leadership development and leadership insights. I'm your host Eddie Turner, the Leadership Excelerator. I work with leaders to accelerate performance and drive impact.I am incredibly excited today to interview a man with a golden voice. And when you hear his name, his name really says it all, but let me tell you a little bit about my first guest. For over 25 years he's been a top sales performer, keynote speaker and performance mentor. He is also the CEO of Thrive, making the most amazing people, businesses and brands become even more amazing through the power of connecting. When he isn't speaking or working on his top-rated Thrive LOUD Podcast, he's watching his kids grew up way too fast, obsessing over how bad his sports teams are or listening to country music and playing some not so great golf.
Please join me and welcome in from New York City bestselling author, podcaster and former club DJ Lou Diamond.
Lou Diamond:
I'm taking you on the road, Eddie. People say I have the golden voice. You are smooth, my friend. Thank you so much for having me and thank you for that intro.
Eddie Turner:
Oh, man. Lou, welcome to the show. And I got to tell you, Lou, it wasn't until I read your bio that I was reminded of the fact that you were a DJ in the past. And I didn't know that until Influence last year, Influence 2018, because you were out there, dude. You got some moves. And I had no idea. I'm looking at you on the dance floor and I say, looking at you on the dance floor because I have no rhythm and I'm on the sidelines, and I asked you where did you learn how to move like that and that's when you told me that you were a DJ. So just give us a little bit of insight on that.
Lou Diamond:
Yeah. So I think my parents have still been left in the dark on this one. So I grew up in the '80s. I think that's pretty fair. And I think as a New York City kid I always wanted to be cool, rap music was just coming on the scene, club music was out there and I actually had an older friend that I hung out with over the summer who actually had a DJ company. So I was in high school when he was in college. And he actually got these really cool gigs at some places in New York City that are pretty famous. He was actually a popular DJ at Webster Hall. And there were a couple of times I backed him up and that led to him maybe not being able to show up a couple of times and me sneaking into the city in the middle of the night of a weeknight and actually DJ. And I DJ'ed at Webster Hall. I DJ'ed at a place called Limelight. For those who know New York City, these are pretty popular places from back then and it was DJ Louis D back then.
Eddie Turner:
DJ Louis D.
Lou Diamond:
Yes. And that was back in the days of still actually spinning records. There might have been some cassettes that we mixed in as well but for the most part, CDs hadn't come out yet. So that was actually like real DJ work but I loved dance music, I loved dancing and what you might have had a little bit of liquid courage in me but that's something I've always been. I've always liked being on the stage. I've always liked doing moves. I did shows and stuff like that when I was in high school and I always loved to dance. I will say that something in those moves I did probably warranted maybe putting them away a little bit. I need to get a little bit more flexible, trying to reenact my teenage years and bring them to life but those DJ days are long behind me and I think I've moved on since then but it was always good to bring up and remind others and myself that, yeah, I actually did that.
Eddie Turner:
And move on you did. You've now moved on from DJ and being Louis D to really connecting people in amazing ways. And I'd love to hear it because you and I, we met and became friends as a part of the founding C Suite Network Advisor 100 Group in New York City. Do you remember that night?
Lou Diamond:
It was a great night and I can't remember if it was the first night or the second night because I remembered it was one long day thing. We actually ended up going out to dinner. Sylvie di Giusto was there as well at dinner. That's when I really got to hang out and chat with you more and a lot of unbelievable thought leaders that have become really close friends of mine and business associates. So, yeah, I remember that instance. And my book was just coming out at that particular point. So I remember you and I were even talking before your book came out, the whole process of writing a book and marketing it and then communicating that message. And you saw me that first time back at that meeting in New York City and wherever we meet, I love meeting people and I love helping people meet people. And somehow I kind of decoded all the skills that you need on how to connect with other individuals and how companies can do that as well. And that has kind of been my specialty.
Eddie Turner:
Yeah, I remember you telling me, Lou, that your book was coming out and your book went on to become a bestseller. So you wrote Master The Art Of Connecting. And it's such a great book. I have the physical hard copy in front of me, paperback edition, and I also have a Kindle edition.Now tell our listeners how important is connecting for leaders?
Lou Diamond:
It is maybe the most essential skill. Yet it is probably the most underestimated and underrated skill that great leaders, great salespeople, and great marketers, all need to have is the ability to connect. And I recognize that everyone thinks that there are people who sell or people who market and people who lead and there are avenues and ways that you can follow those practice lines effectively and with tremendous success and obviously learn your lessons along the way and there are many practices in each one of those silos. Yet without the ability to connect as your underlying baseline, you cannot succeed or you cannot thrive in each of those specific fields. And recognizing how you can do that and when you focus on, what I like to call, your connecting core, which are those muscles that you have that enable you to lead well, that enable you to sell well, that enable you to market and brand yourself effectively, when you stretch those muscles and flex them, you actually don't have to worry so much about going out and connecting with others or networking with others. What ends up happening is if you do it properly, others want to be drawn in and come connect with you.
Eddie Turner:
Interesting. Do you have a situation of someone who you've coached or one of your readers who has told you about how they have made the shift and it's worked for them as a leader?
Lou Diamond:
Yeah, I'm going to give a very recent situation. And I want to make this key part that's important. When you think of a great leader, you always think of the face of an organization and a lot of people have that perception from the outside because there are many more people that are outside of an organization than those that are inside, I mean, except maybe the US government. That might be the only one that the math is a little different but for most companies that's the truth. There are many more people outside. So the face of this CEO and how the CEO connects that brand or that product or that service or that organization to the rest of the world kind of flows through the leader of the company. What we often forget about though is that only works really well if the CEO is connecting to the people within the company, their peers. Is the CEO actually really understanding the ins and outs of the people in his organization of how they work together, how they communicate? Has he created a culture that has enabled people to be successful, that offers fluidity in the way they communicate, so much so that a great leader connects through to his people and they connect to each other in what I love to call a connecting culture where they embody those muscles which, I guess, I can talk about, Eddie, here within the organization. And I'll share them with your listeners here.Very simply, I call it the SAFE. I'll work backwards, just to be difficult. E is the power of empathy, the ability to stand in the shoes of another and see things from their perspective and their world. Great leaders do this effectively not just with other clients and external people but, obviously, as I mentioned, internally, to understand what the learning curve is for a junior person that's just joined the firm, someone who's been there a long time, the assets and values that they have and where their careers are trying to go, where the area of expertise that they have that they might be able to share with another organization. Great leaders can help bring those people together.
F is a fearless mindset and that is the ability to move through the fears that hold you back into courage. We all have fears, Eddie, and great leaders are the ones who know how to help their organization address those fears, understand what they are and how to move through them as best as they can by recognizing them, identifying them, and figuring out the best code on how they can deliver successfully through that fear.
A is authenticity. By the way, when I think of authenticity, if I put a picture in a dictionary next to it, it's the face of Eddie Turner. When you think of people who are honest, direct, heartwarming, really authentic and genuine, I think of exactly someone like yourself, incredibly authentic. And it's that characteristic that we look for in many different people but for people to shine through their own authenticity, their own uniqueness in an organization, what great leaders are able to almost unearth and bring forward because great companies and great leaders have the ability to make sure that people are using what the S is in our last working backwards for the word SAFE, which is their superpower, their super why – why they are in this organization, why they are on this planet and that's living and breathing their superpower each and every day.
Summarizing this as best as I could, Eddie, a great leader is able to unleash the SAFE of your connecting core within everyone in their organization. And when that happens, your organization moves onward and upward and starts to thrive.
Eddie Turner:
Wow! Really well said. Thank you for sharing that and I appreciate the acronym that our listeners will be able to use as a mnemonic to be able to remember. Thank you.
Lou Diamond:
You're welcome.
Eddie Turner:
Well, what I'd like to do here is just pause for a quick word from our sponsor.
This podcast is sponsored by Eddie Turner LLC. Organizations who need to accelerate the development of their leaders call Eddie Turner, the Leadership Excelerator. Eddie works with leaders to accelerate performance and drive impact. Call Eddie Turner to help your leaders one on one as their coach or to inspire them as a group through the power of facilitation or a keynote address. Visit EddieTurnerLLC.com to learn more.
This is Laura Gassner Otting, Founder and Chief Catalyzing Officer of Limitless Possibility and you're listening to the Keep Leading Podcast with Eddie Turner.
Eddie Turner:
We're back. I invite you to subscribe to the
Keep Leading Podcast
and share with your friends. Please leave a review for me on iTunes so I know you're out there and I know what you're thinking. If you leave a review for me on iTunes or share this podcast on social media, please tag me and then send me a message so I'll know. I'll send you a digital copy of my bestselling book 140 Simple Messages To Guide Emerging Leaders and I'll also give you a shout out on social media and on the
Keep Leading Podcast
.Okay, everyone. So we're back with Lou Diamond, the CEO of Thrive and the author of the bestselling book Master The Art Of Connecting. So Lou gave us a very nice tool we can use, the SAFE mnemonic that we can use as a memory aid.
And now, Lou, I want to talk about another memory that you give readers in your book. This is a tool that you use every time you meet someone new for the first time that helps in connecting. Can you share that with us, please?
Lou Diamond:
Yeah, this is one of the more unique visual aids you'll ever see in your life. The best way to describe this is how I see people, Eddie, and it was a helpful tool for me because I guess everyone always knew my name because Lou Diamond is a tough him to forget. It's kind of funny. It sounds like a show name. People always might say "Are you Lou Diamond Phillips? Are you the singer Neil Diamond?"
Eddie Turner:
You were born a celebrity.
Lou Diamond:
Born a celebrity, exactly, but there is some difficulty to that and that is that not everyone else has as memorable of a name. And therefore for some reason I have not always been very good at names. So I needed not necessarily mnemonics but I needed to understand the visual assets, for lack of a better word, of what that person was about so I can connect my own memory of who this person was if I met someone. So I'll use Eddie as a good example here, Eddie Turner. By the way, one of the things I always think about you is you're a very tall man, larger than life with the biggest smile, but believe it or not, when I look at Eddie, I don't just see Eddie and the smile and this very good looking gentlemen. Kind of around him I see these visual assets. So I know that Eddie went to Northwestern University and I know he got an advanced degree at Harvard University and I see those logos and I also know that Eddie actually wears a Harvard logo ring on his finger. And I have visuals of those when I see him or when I'm talking to him just as I am right now. And I know Eddie's also got a certain attire, he's always well put together – tie and jacket and suit. And he also comes from Houston and I think of the city of Houston and I've associated him with the C Suite. So those logos or those images, I actually see floating around Eddie. And then within that I also think of the people that I know through Eddie as well. So I'll go back to that initial story I started in the beginning. The first time I met you, I met you with one of my favorite people on the planet Sylvie di Giusto who has her own many visual descriptions and we all love her but I see these images around Eddie. And imagine if you would, it's almost like Eddie has an orbit around him. And the assets that he has in his life, his wife and, and I remember him when he had his wedding pictures and all that stuff that he got out there and the social media pictures because, by the way, if I was able to store all of them, I'd imagine every single one of them around. These visual devices for me enable me when I see someone walk in a room, I almost see them as if they're like surrounding you like clouds in a planet. And the reason that I do this is this is actually Eddie's world. And I could see the visual assets outside of it. And when I meet another individual, maybe in a networking situation or other people that I see and I see them similarly, obviously, with different assets but maybe they're overlapping assets in there. I know Eddie happens to be one of the best facilitators and incredible coach. And there are certain aspects of what I do that that Eddie doesn't do and vice versa, things that Eddie does that I don't do. I'm actually always looking to connect people who could benefit from Eddie's services – what are their messages or who needs a facilitator of a leadership conference that Eddie can actually help out. And I'm literally trying to bring those worlds together visibly in my mind but also when I see people in the room, that's how I'm trying to connect them. And what a wonderful device for me because I am able to store these assets as I see someone but then I'm also imagining an entire room of people that I know just like Eddie, how I'm able to bring them all together – "Hey, do you know this and that?" And, obviously, those overlaps only continue to make these worlds bigger. If you took a circle of Eddie's world and someone else that I connected him with, when they overlap, it's like we're adding something to Eddie's world and Eddie's giving something else to that other person's world, your world gets bigger. It kind of emphasizes how connecting can actually help you grow as an individual. Literally your world grows through the connection. That's how I visibly see it and that visual device of literally those visual assets in your orb or your world is the best way I can describe it. And what's really weird is this is how I see things. It's not even making it up. That's just how I need to picture it and, I guess, a very helpful tool for me throughout my career and in my entire life actually,
Eddie Turner:
And you talked about in the book how this made you a more successful salesman. So would you say that for our leaders listening to the Keep Leading Podcast for more insights and how to develop themselves that based on especially what you said earlier and tying it with this visualization technique that this will allow them to do a better job of connecting for not only business purposes but also maybe even in their personal life with family and such?
Lou Diamond:
Without a doubt. Someone had made a comment to me and it was really interesting. When I wrote the book, Eddie, and I received a lot of feedback, obviously, there was a lot of business-related feedback because it was marketed as a business book. So many people commented that they utilize these skills in their personal lives on how to associated better and connect better with their friends or family. Great leaders, obviously, as I mentioned before, that way to connect inside your organization, just imagine if you can look at your whole company and not just think of people and worry about what their name is and what they do but understand all their assets of what make them up and be able to look at them in that way and just to see how those things grow, those skills grow, those experiences of theirs grow. And that's true in personal life as well, Eddie. What a wonderful thing to do to appreciate those moments. And I can give social media a little bit of a thank you for that because their main purpose was to connect us and getting touch with our friends and colleagues, which we were never able to do, not so much use it as a business and marketing tool as much as it has become but what a wonderful thing. Isn't it great when you see someone have a special occasion in their life like a kid being born or a birthday party or a big celebration of a family member and being able to utilize and highlight that visual. I see those sometimes and I kind of like looking through them like "Oh, I just saw that you had a wonderful celebration in your family" and to be able to talk about that is such a great thing but also be able to visually use that in the real life. And that's very important. You can't just do this in one digital space. You have to utilize it and see people in person.
Eddie Turner:
Very nice. Thank you.
Lou Diamond:
You're welcome.
Eddie Turner:
So I want to ask you about your concept that you mentioned in your book as well about moving through being afraid they'll say no. I hear this a lot from leaders and, in fact, in my work when working with emerging leaders, sometimes leaders are afraid to make a connection or take the next step in their career or in a relationship because they are so afraid of hearing that dreaded word. Can you talk about your advice to leaders that you offer in the book?
Lou Diamond:
I love the word 'no', Eddie. And most people don't understand why initially but when I share this point with you, I think they will. You've all heard the terminology. If you think about the most successful baseball players, they hit 300 and that's pretty great in the stats of baseball but we forget that that means that they failed 7 out of 10 times. It's very true in every instance that you deal with whether in leadership or in sales or any outbound connection with others. You are not going to succeed on everything you do. You are going to fail more times than you succeed. The key is to utilize those lessons from the failures to maximize the opportunities that you can succeed on. So I love getting to the word 'no' faster. I want you to get to 'no' faster so that you can spend more times on the ones that are more likely to become a 'yes'. Too often when we are rejected, when we hear the word 'no, we feel that this failure can totally blow up everything that we've believed to be true about our organization or our product. And you can get people sinking in doubt – "Are we doing the right thing? Are we selling the right thing? Do we have the right service? Do we bring the best things to our table? Do we have the right people? Do we have the right organization?" It sounds like a panic attack of negativity brought on by just one simple 'no' but when you get to that know, at that moment you probably are given a gift. The gift that you're given Eddie, is that 'no' is actually the perfect example of the connecting I was showing about where they're not going to overlap, that you're not actually able to help that particular person at this time because your assets don't match, there might not be a need, this isn't the right time it just doesn't fit. We don't want to be delayed in that response. We don't want to waste any more energy to learn that it isn't going to work. We want to learn that as soon as possible. So the fear of hearing the word 'no, is just because we don't want to be rejected, just because we always want to win because there's such a great feeling when we do win and there's such a great understanding that win means more money and means your business looks great and the bottom line is going to improve and growth is going to be achieved. When you hear the word 'no', you have to recognize the exact same thing for the exact opposite reasons – "No? Okay, now I get to focus more on these yeses." And we push and don't waste our time on the stuff that's not going to move us forward. So I love the word 'no, Eddie, and I always spin fears like that on its head. Understand that 'no' means that I'm getting to those yeses faster.
Eddie Turner:
So it allows the person to get unstuck and use their energy more efficiently.
Eddie Turner:
Well, I'll tell you, I watched a documentary yesterday and there was a quote from Einstein that I do not ever remember seeing him before. And I really think it's appropriate based off what you said. He said "I didn't fail 10,000 times. I just figured out 10,000 things that don't work."
Lou Diamond:
Love that guy.
Eddie Turner:
Talk about a paradigm shift, right?Well, Lou, thank you for sharing these tips with us. I mean, when you think about what's happening and as you talked about with social media and so many other aspects, when you think about connecting people in our globalized society that's so technologically driven, just could you button it up for us nicely the big reason why all leaders crave more connection now more than ever?
Lou Diamond:
Don't underestimate, they're craving attention too. So you're right about all these technologies. If you think about it, Eddie, we have so much screen time today between the time that we spend on our phones and our computers and even a lot of our meetings are done either remotely or on video chats and whatnot that we're staring a lot at not other individuals and not connecting with others but really just having this foray or this medium to go through. And because of this, our bodies are actually looking for that literally. I think it might have been Freudian but it's true. They are looking for attention and connection. They want to be with others. We learned this statistic that in 2018 attendance at trade shows was up something like 12% to 13%. And of the attendees that went to these big trade shows, big events, 38% of the attendees represented first time attendees, first time attendees. So more than a third of the people there are there for the first time. And the number one reason that they are there is to network with others. What I question is it's actually not to network with others. And one of the messages that I've been working on is I've actually been delivering this speech at conferences, Eddie, called Connect Working. I don't want them to network at the conference. That's going to happen anyway. Network is the environment, it's the place that you need to be to, to meet other people. The networking is the verb though that I have the issue with because you're not there just to meet and see other people. You're there to really establish those strong connections that I talked about earlier. You're trying to get your worlds to overlap and connect. So what I want them to do is how they can utilize their time at events like that to connect in a faster amount of time, expedite the process in which you identify who you need to connect with at that event, soon thereafter, or even building a plan or a pipeline to work on when you can connect next with those that you couldn't get to at that big conference where all those people were. That ability to maximize and crave that connection because we are craving it, we need it, we want to grow, these screen times that we have, we want to see other people, we want to touch other people, shake their hands probably, obviously, we want to be in a group, Eddie, where we have the ability to take advantage of what humanity offers us, the growth of connecting with others, the benefits of learning from amazing other people. And we have to position ourselves in a place where we can connect because our craving is constantly there. And because of all this incredible technology, you're right, we're able to think that we're connecting with others but we're really not getting that true in-person deep connections that we can establish with other individuals, which we then can expand and grow further and keep flowing through the technology medium but we need to have that in-person contact.
Eddie Turner:
Well, thank you, Lou. And so the book is Master The Art Of Connecting, available on Amazon, but you also have a podcast. Can you tell us about your podcast?
Lou Diamond:
I have a podcast, Eddie? First of all, Eddie was an amazing guest on my podcast. My podcast show is called Thrive LOUD with Lou Diamond where we are connecting the most inspiring and amazing people that are thriving each and every day. And we are following those that are thriving in their lives, their businesses, and their passions. I can legitimately tell you, Eddie, that if you would have told me, first of all, by the time this episode launches, we probably would have reached our 300th episode and the show would have been out for now a little over two years. And it has grown in so many different ways, it's actually helped me to create new business lines off of podcasting. I've been speaking about the business of podcasting and how you can make money as a host, as a guest, and as a listener. I've even been helping other organizations. They have been hiring me to come in as a host to interview their guests and actually help package together great testimonials and endorsements of their business and we've created kind of a podcast like package so that those audio interviews can exist very easily on websites for certain brands and companies, even on the podcasting platforms so people can learn more about their brand. So really great cross marketing, helping people to connect through this wonderful audio medium because, as we learned earlier, the SAFE, the E is empathy. And one of the key parts to empathy, to step in the shoes of another, Eddie, is to listen. And the ability to listen really effectively and concentrated in a way that works well, podcasting is ideal for that. So I love using this medium, whether as a guest like I am on your show, which I'm very excited about, or to sit in the hosting chair and meet and connect with some of the most incredible people. It has been a passion project, a guilty pleasure, but also a wonderful way to continue to carry forward this message of Mastering the Art of Connecting through a medium that just continues to, as I like to say, thrive loud each and every day.
Eddie Turner:
Wow. Well, congratulations on 300 episodes. That's a monumental achievement.
Lou Diamond:
Isn't that crazy? It's crazy. It's actually really crazy.
Eddie Turner:
Wow! Well, it's fitting. I'm a long way from 300. It's fitting that you are the very first guest on the Keep Leading Podcast because you and I were bantering before we went live on your podcast probably about this time last year and I told you in confidence that I was contemplating launching a podcast in 2019. And then when we went live, you announced it to everybody. So now I was basically forced into making sure I lived up to the announcement that you made a year ago.
Lou Diamond:
Which was great but I want to make this clear to your listeners. And this is so important. One, you have a great host in here. Listen to this voice. He's calling me the golden voice. Eddie's got a great personality. He's also really connected to great people. And I will say this. When I'm excited about when you ask me to come on the program, I love talking about connecting as it relates to leading. And the ability to get people to understand how that power of connecting is so important for leadership is wonderful. And there are so many nooks and crannies around leadership. I had John C. Maxwell on my show, Eddie, who is literally the guru of leadership books.
Lou Diamond:
And I remember to asking him a really fun question because he speaks so often, he writes so many books, and he spends a lot of time doing that research coming up with the concept of leadership. And I found it really interesting where I loved to speak and he liked … and I didn't like the writing process as much. He loved the idea creation process. He loved coming up with a new concept of where leadership is going to. And I just thought it was great just to have those conversations, which I can't wait to hear the type of people you're going to speak to on this program. This show is just going to knock the cover off because 'Keep Leading' is such a great concept because so many people are constantly adapting, a vital skill that every organization and every individual really needs in their own lives. Leading your own life is a very important skill. Take these skills for yourself on how you can conduct the way you live on this planet earth. And I'm excited to see and listen to more to come.
Eddie Turner:
Well, thank you. One of the things I'm doing, Lou, is getting a set of quotes and lessons for people around leadership. So do you have a quote that you have heard that you think about that epitomizes leadership to you?
Lou Diamond:
Yeah, there's still one. And it's funny. I never would have thought that it was a quote for leadership but it is such an important quote as it relates maybe to what each of us do every day, Steve Martin's very famous quote – "Be so good they can't ignore you." I always loved this message. It inspires me on many levels. And I'll just use my world to help understand what that quote means to me – "Be so good they can't ignore you" – as it relates to how I deliver my podcast and the quality of how I want my guests to be. I always want to up the game, not even with the types of guests that we have each time on the show but even the intros and the outros we keep changing and making more fun, the way I ask my question on the interview, what I try to draw out of the guests, I always try to up my game. I always want that show to be so good that they can't ignore it.Be so good they can't ignore you. That's how I want to be as a speaker. I told you I delivered this speech about Connect Working. I also have this whole program called Connect To Thrive and when people work with me, they're used to two aspects. And my company Thrive, they're working with me on really everything that happens before the pitch and after the close and to combine that together. That's why I've always been about growing incredible sales, which is all the stuff you need to do before you ever walk into actually doing the pitch itself. It's that preparation. It's those connecting skills. It's setting yourself up so that when the pitch happens, you're literally walking into how you start working together and not whether or not you will or not. And then once you have those clients, retaining your client is such a vital important component to every business, so understanding what's needed after you close the business to continue to grow and establish those strong connections. So when I speak on that whole Connect To Thrive platform, those two key messages are the things that I talk about. And I work on being so good that they cannot ignore this fact and they want to hire me to either speak that message to their organization or to work with their companies on each one of those facets.
And I think the last part is be so good they can't ignore you as a human being. It's leading my life each and every day. You've gotten a good chance to meet my lovely wife and obviously my kids.
Eddie Turner:
You have beautiful family.
Lou Diamond:
Yeah, I know. Well, I married a much prettier woman than me but I recognize that I want to be the best dad, husband. person in my community as best as I can be always, not so they wouldn't ignore me but more so that that I'm able to deliver something that people respect. And I want my kids to grow up in that same environment. So carrying that quote from Steve Martin into everything I do is something that's always resonated with me. And it's actually written on my wall here, Eddie, with Steve Martin's quote on there. We actually printed it out and one of those little mixed tiles because I liked it so much.
Eddie Turner:
Wonderful. Well, where can people learn more about you?
Lou Diamond:
So people can find me everywhere on social media at @ThriveLoud. I'm also at ThriveLoud.com which is where my company Thrive's business is and all the platforms of what we do to help the most amazing companies thrive through the power of connecting. And if you're interested in having me speak at your event or conference or work with your organization, you can also go to ThriveLoud.com or my speaker page which is LouDiamond.net. And, by the way, the Thrive LOUD Podcast is accessible on both of those websites.
Eddie Turner:
Wonderful. And this information will also be listed in the show notes for those who may not be sitting in front of a machine at this point.Lou, thank you so much again for coming on the Keep Leading Podcast. What a joy to have you today, man.
Lou Diamond:
It's truly a pleasure. And, Eddie, you are so far ahead on the curve. If this was Episode One, you're a pro. I can't wait to continue to listen and hear who else you have on the program and continued success to you. Very excited to be on this side of the microphone.
Eddie Turner:
Thank you, Lou.Well, that concludes this episode, everyone. This is Eddie Turner, the Leadership Excelerator, reminding you that leadership is not about your title or your position. Leadership is an activity. Leadership is action. So whatever you're doing, always keep leading.
Thank you for listening to your host Eddie Turner on The Keep Leading Podcast. Please remember to subscribe to The Keep Leading Podcast on iTunes or wherever you listen. For more information about Eddie Turner's work please visit EddieTurnerLLC.com.
Thank you for listening to C Suite Radio, turning the volume up on business.
The Keep Leading!™ podcast is for people passionate about leadership. It is dedicated to leadership development and insights. Join your host Eddie Turner, The Leadership Excelerator® as he speaks with accomplished leaders and people of influence across the globe as they share their journey to leadership excellence. Listen as they share leadership strategies, techniques and insights. For more information visit eddieturnerllc.com or follow Eddie Turner on Twitter and Instagram at @eddieturnerjr. Like Eddie Turner LLC on Facebook. Connect with Eddie Turner on LinkedIn.