The Keep Leading!™ Podcast is a C-Suite Radio Headliner!

Eddie Turner
The Leadership Excelerator®, Eddie Turner LLC
Welcome to the Keep Leading!® Podcast
Organizations who want to accelerate the development of emerging leaders call Eddie Turner, The Leadership Excelerator®. He has been described as "The Consummate Friendly Professional" and has worked for several of the world's "most admired companies." He is passionate about working with leaders to "Accelerate Performance and Drive Impact!"® through the power of coaching, facilitation and speaking.
Eddie is a C-Suite Network Advisor and a national media commentator who holds international certifications as a trainer, facilitator and coach—including being one of around 15% of speakers in the world to earn the Certified Speaking Professional™ (CSP®) credential from the National Speakers Association. He is also a published writer of content for Forbes.com and the best-selling author of 140 Simple Messages to Guide Emerging Leaders. Eddie is the host of the Keep Leading!™ podcast which is a headliner show on C-Suite Radio.
Website
www.eddieturnerllc.com
LinkedIn
https://www.linkedin.com/in/eddieturner
Twitter
https://twitter.com/eddieturnerjr
Facebook
https://www.facebook.com/eddieturnerllc
Instagram
https://www.instagram.com/eddieturnerjr/
YouTube
http://www.youtube.com/EddieTurnerJr
Amazon Author
amazon.com/author/eddieturnerjr
Leadership Quote
"There is more happiness in giving than there is in receiving." These Biblical words from Jesus apply to many areas of life. Great leaders realize this applies quite nicely to leadership development as well. When we give of ourselves to develop others, we simultaneously develop ourselves.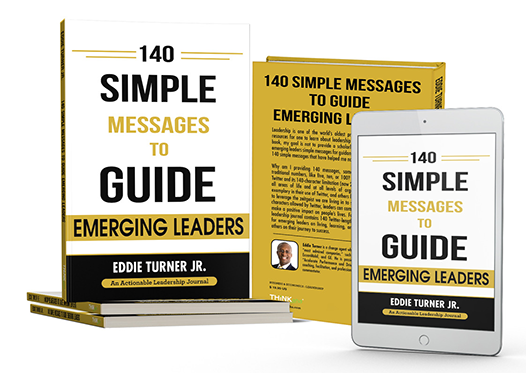 The Keep Leading!™ podcast is for people passionate about leadership. It is dedicated to leadership development and insights. Join your host Eddie Turner, The Leadership Excelerator® as he speaks with accomplished leaders and people of influence across the globe as they share their journey to leadership excellence. Listen as they share leadership strategies, techniques and insights. For more information visit eddieturnerllc.com or follow Eddie Turner on Twitter and Instagram at @eddieturnerjr. Like Eddie Turner LLC on Facebook. Connect with Eddie Turner on LinkedIn.