Joel Block
Hedge Fund Manager, CPA, Venture Capitalist, Keynote Speaker and Author
Business Leadership Strategies
Episode Summary
Listen to this episode to hear my interview with Joel Block as he shares business leadership strategies. He explains how we can leaders can lead with financial integrity, intelligence and why it matters.
Check out this 60 Second preview of the episode!

Bio
A money business insider, Joel's a long-time venture capitalist and hedge fund manager (gobbledygook for professional investor) who lives in a Shark Tank world like on TV. Since selling his publishing company to a Fortune 500, Joel reveals the inside track for money and success to business executives and their teams. Twice annually, Joel headlines the standard-setting Real Estate Syndication & Hedge Fund Symposium, helping CPAs, attorneys, investment bankers, and others to organize & run investment pools. Joel is on NSA's board of directors and is co-chair of the elite Million Dollar Speakers Group.
Website
www.joelblock.com
Other Website
www.BullseyeCap.com
LinkedIn
https://www.linkedin.com/in/joelblock
Twitter
https://twitter.com/JoelBlock
Facebook
https://www.facebook.com/joelblock
Profit From the Inside™ Podcast
https://podcasts.apple.com/us/podcast/profit-from-the-inside-with-joel-block/id1435311561
Leadership Quote
Avoid kneejerks….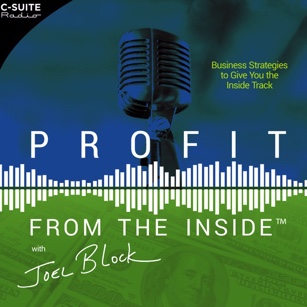 https://podcasts.apple.com/us/podcast/profit-from-the-inside-with-joel-block/id1435311561

Transcript
This podcast is part of the C Suite Radio Network, turning the volume up on business.
This podcast is sponsored by Grand Heron International, your online service provider for on-demand coaching and a wide range of services for coaches. Through a network of vetted credentialed coaches Grand Heron International offers coaching onsite, a professional coaching service for individuals seeking guidance. Whether you are a company committed to investing in your leaders and individuals seeking guidance or a coach searching for a superb network of coaches, visit GrandHeronInternational.com.
Welcome to the Keep Leading Podcast, a podcast dedicated to promoting leadership development and sharing leadership insights. Here's your host, the Leadership Excelerator, Eddie Turner.
Eddie Turner:
Hi, everyone. This is Eddie Turner, your host of the Keep Leading Podcast, a podcast dedicated to leadership development and leadership insights. And today we are going to be listening to Joel Block. Joel's one of the sharpest financial guys I know and Joel's go share business leadership strategies with us, how we can lead as leaders with financial integrity, with financial intelligence and why it matters and other strategies that we can use if you're an entrepreneur or small business owner. He'll share all of that with us and more right after this.
This podcast is sponsored by Eddie Turner LLC. Eddie Turner LLC delivers executive and leadership coaching, professional speaking, facilitation services, and management consulting across the globe. Eddie Turner LLC also creates voiceovers, serves as a master of ceremonies, as a panel and event moderator, and provides national media commentary. Visit EddieTurnerLLC.com to learn more.
Eddie Turner:
Hello, everyone. Welcome to the Keep Leading Podcast, a podcast dedicated to leadership development and insights. I'm your host Eddie Turner, the Leadership Excelerator I work with leaders to accelerate performance and drive impact. Today I am really excited to speak to a fund manager, venture capitalists and keynote speaker who provides clients disruption-proof strategies to give their company the inside track. I'm talking about Joel Block.Joel, welcome to the Keep Leading Podcast.
Joel Block:
Eddie, hey, thank you very much. How are you man?
Eddie Turner:
I'm doing well. Thank you. before I get into this Joel, please tell people a little bit about your background because you have a phenomenal background. I want people know a little bit about who you are.
Joel Block:
Sure. Well, I started in the CPA business but really wasn't destined to stay in that business and when I was at Pricewaterhouse years ago started working as real estate syndicators. Those are people that raise capital by assets. And I just thought "Gee, that's a business I want to be in. So I quit Pricewaterhouse, went in that business and then I felt into a venture capital transaction along the way and raised a bunch of money. So I really learned how to raise money and I learned how to acquire deals and be involved in the deal business and I've spent the last 30 years doing that and I've gotten pretty good at it.
Eddie Turner:
Yes, I'd say, given some of the things I've seen you've accomplished in some of the things that you do. And I got a chance to actually hear you do what you do in front of a live audience not long ago. And you and I met because you shifted from just doing your work in the finance world to speaking about it and you are now a member of the National Speakers Association and you're on international board. So tell us about how you use speaking in your business and why that's so important.
Joel Block:
Well, in 1995 I sold a company that I had raised a bunch of money for and that I had spent some years working on. And after that transaction I thought "You know, entrepreneurs and business owners across the country really could benefit from learning from what it is that I learned as an entrepreneur and what is that I did when I was out in the field." And it took a little while to kind of get up and running but I started telling stories to different kinds of groups and explaining things and people really like this, they find it very inspiring, very motivating but they also really find it very tactical because I'm not making this stuff up as I go along. I mean I really did the things that I talk about. And as a result of that, I've just continued and then along the way a big real estate company called and asked if I would do a seminar program for them. And so that's turned into something pretty substantially. I teach real estate investors how to set up syndications and funds and how to raise money.So, listen, I've been in a variety of businesses and I just talk about them and tell other people about them and I love sharing what it is that I do and I love helping other people learn.
Eddie Turner:
That's one of the things that's so impressive about you. You do have just a vast amount of knowledge from your different experiences in this area. And when you are speaking you come across as an authority. There's just no question that you know your stuff but then also you kind of have people on the edge of their chairs, they're hanging on your every word because you really are not just sharing regular knowledge that people can get out of a book. You really are giving people the inside track, if you will, as to how things work on the back end and give a perspective that the average person wouldn't normally hear.
Joel Block:
Well, people in the money business are on the inside track. And everybody wants to be in the inside track but most people really have a hard time getting there. It's one of the things that I talk about. I talk about that there are retail investors which is almost everybody and then there are professional investors which is me and the people that that I spend time with. And there are reasons that professional investors make more money in five days than everybody else makes five years and it's because they know certain things, they understand certain things, they look at the world in a certain way and that's the inside track. And the inside track, by the way, is not that you get secret tips from people and that people know everything because that's not always true. Listen, we all have networks, we all know people, and we all have different kinds of capital. We have intellectual capital, financial capital, we have relational capital, reputational capital. We have all different kinds of things and we need to put those things to good use. And the inside track to me is the best, smartest and fastest way to get things done. And if you're not doing it that way, then you're going to lose to people who are on the inside track and they really have an advantage over you. So I hope that people will start to learn how to take advantage of being on the inside track.
Eddie Turner:
Yeah, your formula for how to make more money in five days than some people we'll make in five years, that was phenomenal to see you unpack that in front of a live audience. And so I'm going to encourage people to definitely look at your next offering so that they can learn from you directly. Now, they don't have to wait until they're sitting in one of your sessions. You actually wrote a book where you detail a lot of information that is just very straightforward, easy to read, it makes so much sense. The title of the book, share that with us, please.
Joel Block:
Stop Hustling Gigs And Start Building A Business.
Eddie Turner:
And then the subtitle is what I really love.
Joel Block:
101 Tricks Of The Trade To Help Entrepreneurs And Self-Employed People Build A Money-Making Machine.
Eddie Turner:
Yeah that's powerful. I know a lot of entrepreneurs, I am one myself, of course, and self employed people both in the speaking business and outside of the speaking business. So, your 101 tips, it's like "Wow! This is common sense stuff here" but you make it real and you make it tangible, something that we can actually put into action. Can you share with us perhaps, and it's like asking a parent which one is their favorite child, but out of the 101 tips that you share, what's your favorite?
Joel Block:
Well, first of all, let me say that I spent a lot of years in venture capital, investing in companies. I've probably been inside more than a thousand companies. And I've watched what successful companies do and I've watched a lot of other companies that are not so successful and they consequently aren't around anymore. And there are things, there are patterns that exist. So I documented that some of these patterns over a long period of time and that's what the book is. It's really a collection of all these different things that I learned being in the field and investing in companies and investing in management teams and being involved with these different kinds of people. I would really probably say the one that I go to the most often, there's 101 or 105 or whatever, I forget what's in the book, but "Money follows expertise. The better you get at something, whatever the underlying thing is, you need to get better and better and better at your craft. The better you get at it, the more money you're likely to make." Now does it happen once in a while that somebody's mediocre and they skyrocket? Yeah, once in a while but for most people the trick really is to get really good at your craft and then things are going to take care of themselves.
Eddie Turner:
So how do I know I'm good at my craft because I think I'm okay, right? The average person might be thinking what they should use.
Joel Block:
I can't really give you a barometer for each industry. Everybody has to kind of know for themselves what that means. Maybe that means that they get a coach. Maybe that means that they have a teacher or instructor that helps them. Maybe they're on a mastermind group with some high-level people. There's probably a lot of different components honest to that but you have to really work hard to be near or at the top of your game, be the best you can be, and when you feel like you're really on track to be the best you can be, other people are going to stand up and take notice and that's when money starts moving in your direction. And that applies not only the people. It applies to companies. If your company is the best in the space, money's going to be attracted to it. So you got to add value. You got to be really good at what you do. Do not go online and tell everybody how great you are if you can't deliver, if you don't have the goods.
Eddie Turner:
Very good advice. All right. Well, in your career, in what you are doing now in venture capitalist, it's been very successful and you have all these lessons around finance, around business. You told us that money follows the expertise but is there another key piece of advice you by yourself often giving leaders, giving entrepreneurs.
Joel Block:
Money is a complicated thing. And one of the things that I tried to make people aware of is that you have to understand the character of money. And people look at me like I have four eyes when I say character. People are saying "Joel, money doesn't have character. It's green and it goes in your pocket and that's it" but the truth is that money is very, very complex. I studied money in college for years and interest rates and accounting is how to write it down and then finances, how to organize it and get more. The difference between me and other people, the way I look at money in the way that non-professional money people look at money, well, let's put it like this. To an accountant, for example, or most people in general, they tend to look at money like poker chips. It's a way of keeping score. And that's fine. You definitely can keep score with money. If one person's really, really good and they do a great job, that's fantastic, but to me, I look at it a little differently than that. I look at it as a tool. To me, money is the tool that I use to make more money. Most people do not use money as a tool. Most people just keep score with the money but I actually use it as a tool. And so the character of the money is very important and you really have to understand the money. And by the way, the federal government understands the character of money very, very well which is why our tax code is so incredibly complicated. There are hundreds of different characters of money and most people are sitting there and saying "I can't even think of one" but I'll tell you that it's very complicated.And as you get into the nitty-gritty, there's a lot to understand and the more you understand, the more likely you are to get a seat at the table, to keep your seat at the table, and to really be part of the decision making in a business organization because at the end of the day, businesses are about making money. Now I would go a step further and I would say as much as I'm about money, business is really not only about money. Business is really about people because people make money.
Eddie Turner:
Well, tell me more about this idea that you use money as a tool because to your point, many people are probably thinking "Well, I just keep score with it?"
Joel Block:
Well, I mean, look, investors give me their money. So I have a bank account full of money and then I take that money and I go buy things. I buy assets and those assets, we add value to those assets that makes those assets more valuable. Than we sell those assets to other people and then we make money and the money comes back in our account and we share that profit with our investors. So that's how we use money as a tool. I mean, the fact that we have the capital ready to go, and I talk about there being a readiness premium, we actually make money because our money's ready to go. If your money's not ready to go, you're going to pay more money. If your money's ready to go, you're going to pay less money when you go buy something. So the fact that we're organized, we're ready to go, we get a readiness premium and then we put the word out, the word in the marketplace, deals start coming our way because we're the guys with the money and then we start buying things and then we start investing in things or we start in a moving money in a certain way. And those are the things that help us to make more money on the money itself. So we make money on the money and that's what most people do not know how to do.
Eddie Turner:
Okay, very interesting. So I'm an entrepreneur and if I'm an entrepreneur listening to this podcast who is a leader, who's leading their own business, they're leading their our own community organization, whatever it may be, can you tell them about something that you wrote in Chapter 13 of your book where you talk about building your revenue octopus.
Joel Block:
Oh yeah. Listen, this is really important. A revenue octopus, the concept is that great businesses have multiple streams of revenue that are all derivative from the same origin. And what that means is that you want to repurpose your money and you want to repurpose your revenue streams in different ways. So you get one thing going and then you do something that's similar but enough different that new money's coming in, so you're reaching new markets, new people and you're really maximizing the way that the money moves. What you don't want to do is spread yourself so thinly you can't control what you're doing. So you have a supermarket over here and a restaurant over there and some other kind of business down the street and you're doing this and doing that, that doesn't work, but a revenue octopus … Let's think about a couple of great companies. So, for example, Starbucks is a great company and I think about Starbucks, how they might have got started. They first started brewing coffee, great coffee. And then a couple guys probably sat down together and said "Gee, we have this great coffee and we have these customers. So what are our assets? Well, one is the recipe for the coffee. The other asset we have is our customers. What else could we give these customers? How can we go deeper with these people and give me more? So what else do they like to buy? They'd probably like to buy maybe a coffee machine for their house or maybe they'd like to buy some clothing with our logo on it because now our logo is becoming popular or eventually down the road they'll say "Well, gee, maybe people would like to buy gift cards" or maybe they'd like to get a credit card with our company's name on it." And then eventually Costco calls and says "Hey, could we sell your beans in bulk?" So you see where that goes. So over time they have many, many different ways for you to leave money at Starbucks. There's a lot of ways Starbucks can make money on you. And that concept is what I think of as a revenue octopus. Great businesses have eight, sometimes even more than eight. I talk about put your faith in eight. You have to have a lot of revenue streams in order to have a really successful business. If you have only one, you're subject to seasonality, downturns and other kinds of things including concentration which is really dangerous. So there's all kinds of things that can go wrong and you want to be very careful that you're strategically planning to be smart and ahead of the curve and really good. And when you do that, you're going to find out that you've got a great business.
Eddie Turner:
Put your faith in eight. Revenue octopus. All right, that's a phrase that you own. You've trademarked the 'Revenue Octopus'. Thank you for sharing that with us, Joel. So you've given us a lot of good things to think about here – Money follows the expertise, use money as a tool, and have a revenue octopus. We're talking Joel block right now.We're going to Joel Block. Right now I'm going to pause for a word from our sponsors.
If you're a small business owner looking to grow or expand your business check out OnDeck Business Loans. OnDeck offers business loans online from 5000 dollars to 500,000 dollars and their simple application process only takes 10 minutes. Unlike banks they'll give you a decision quickly and funding in as as fast as one day. Get a free consultation with an OnDeck loan adviser. Visit OnDeck.com/Podcast.
This podcast is sponsored by Eddie Turner LLC. Organizations who need to accelerate the development of their leaders call Eddie Turner, the Leadership Excelerator. Eddie works with leaders to accelerate performance and drive impact. Call Eddie Turner to help your leaders one on one as their coach or to inspire them as a group through the power of facilitation or a keynote address. Visit EddieTurnerLLC.com to learn more.
This is Judy Miles Lewis. I'm the director and founder of Mountain High and Judy Lewis Consulting and you're listening to the Keep Leading Podcast with Eddie Turner.
Eddie Turner:
We're back.So we're talking to Joel Block, one of the sharpest finance guys I know, and he's letting us know as leaders, as entrepreneurs, as self-employed people some of the things that we need to think about when it comes to running a business and around the ideal of finances.
Joel, our good mutual friend Rochelle Rice said you asked her what in coaching I would call a powerful question. She said you asked "Are you building a business or hustling the next gig?" And she said it knocked her out of her chair.
Joel Block:
Well, listen, that's the concept of the book is that most people do not have a business. They really just have a job that they've given themselves. Now, we're talking what about smaller operations. The middle-sized companies, they understand the concept of strategic planning. They understand the idea of having multiple streams of revenue. So we're talking now about smaller companies or smaller groups. And it's very dangerous. If you go out, you sell something, you deliver the service and then you run back to your office, get back on the phone and start calling more people, somebody else gives you a little something to do, you run out, you do it. That's a really hard way to live for a long period of time. So you have to have some way of having the business do some of the work. If you're doing all the work, that's not really a business. That's either a practice or it's something else but you really got to have that business helping you. It's got to do some of the work. Your reputation, your brand, they all have to be working for you.
Eddie Turner:
Do you have any examples that come to mind, Joel?
Joel Block:
Examples of which part of this?
Eddie Turner:
You said having the business work for you.
Joel Block:
Yeah, in any really good business, you're going to develop referrals. So referrals might be one way that business comes in. And then your reputation, people are going to get to know who you are over a period of time. And you have to have different things that they can buy. You have to be able to productized yourself in a way that you have to turn some of your things into products where somebody says "You know, Joel, we don't need a speaker right now but we need some advice" or "Our CEO wants to be part of a group of other CEOs, a private group that maybe like what I run" or somebody needs some sounding board or somebody needs this or … There's the different ways that I interact with people that I deal with. That's part of what it is. So you have to have lots of different ways that people can work with you. And then you might have your Marketing department using social media, so social media is helping drive leads. You might have lots of different ways that you're generating referrals or you might have sales people that are helping you. So somehow or another you're not doing all the work. The business is doing a large portion of the work.
Eddie Turner:
Thank you for sharing that. Now you believe that everyone, as a leader especially, should prioritize financial literacy so much so that I'm told that you demand that everyone who works for you or sits on the board with you masters basic finance 101. Can you tell me a little bit more about that?
Joel Block:
Well, that's true. I can't always demand it but I was the chairman of the board of the Los Angeles Boys and Girls Club which is a pretty big club in Los Angeles. We serve about 7000 children a year. Many of those children are from disadvantaged families. And the job of the board of directors, like the job of the officers in the company, really the job of those people is to make sure that our executive director had the resources that she needed to take care of the children that we're charged with taking care of. And if you don't understand how the money works, it's very difficult to really be taken very seriously in a larger company and it's hard to be successful. You could be great at many other things but at the highest level of management, in order to really be taken seriously, you have to bring some financial acumen to the table. And so when I was chairman, there were many people who were not financial people and we'd take out the balance sheet, the income statement, we'd do the financial report for the month and I would explain, I do a little less than a 15-minute lesson on some financial concept that I wanted everybody to understand. And there were people that didn't like it because they thought it wasted a lot of their time but at the end of the day, after learning a lot of this stuff, people really come around and they say "Gee, it's really good that we did this because number one, we're stewards of capital, we're responsible, we're making decisions and if you don't understand the decisions that you're making, you're going to find yourself in a pot of trouble after a while." So I try to encourage groups do this. Not everybody is equally open to it but I certainly think that groups inside companies and there are particular sectors inside of companies, for example, HR, HR people, they bring so much value to the table but they're not always taken seriously at the most senior level of the organization because they can't contribute in a financial capacity. And they really need to bone up on these things because that's the way they're going to get their seat at the table and that's how they're going to keep their seat at the table as being able to understand what the financial contribution of their department is to the company because they're human capitalists and that's pretty much the most valuable component the whole company and they responsible for that. So they have to get above the compliance of the HR and really kind of get into the value driven component that they're delivering. And when they get above that and they get into that new level, it really makes a huge difference and their performance starts to go up, their recognition goes up, the respect they get goes up. All the way around it works out for them.
Eddie Turner:
So to be a leader at any level in any organization, we must understand finances. It's inextricably linked to being taken serious. I like how you said that.
Joel Block:
Well, listen, there are people that will take offence to "Well, I'm taken seriously and I don't know about money" and you know what, you absolutely can be taken seriously but at the highest level of the organization in a business which is all about delivering value and converting that into profit, it's very difficult to be a significant contributor if you don't have financial wherewithal and capacity.
Eddie Turner:
Okay, thank you.So, at times as leaders, we might not give a lot of thought to some decisions that that we need to make and we may kind of have a knee jerk reaction and just make a decision off the cuff. What advice would you say to leaders who are making knee jerk decisions?
Joel Block:
I'd say "Count to 3." A big part of the problem that we have in our society, Eddie, is that people, they do a lot of knee jerks. Now, I'm not talking about intuition, and you know I'm very intuitive and I make decisions based on my intuition, and understand you can never have 100% of the information. If you get 60%, 70%, 80% of the information, you have to be able to make a decision with the data level of information. The thing is you don't want to make a decision with 10%. You want to gather enough information to be smart. And it's really my opinion that if the people in our society in general just counted to 3 and didn't blurb dumb stuff out and they just thought about what they were about to say, so many of the problems that we have as a society would subside.
Eddie Turner:
All right. Well then, Joel, I really appreciate all this information that you've shared, these insights that you've shared with myself and the leaders listening to our program. What would you say is the big takeaway from our conversation station today that you want every leader to know?
Joel Block:
I want people to learn enough that they can take the inside track because there are people who are taking the inside track. Now you may not yourself know how to take the inside track but you need to get around people who are on the inside track, they can share with you how to take the inside track. And when you do that, you're going to find yourself being a lot more successful. And actually, if I could give a little plug, my own podcast show which you've been on is called Profit From The Inside and for every single week we deliver different kinds of approaches and techniques for taking the inside track.
Eddie Turner:
Thank you. So your podcast Profit From The Inside, strategies to give your business the inside track and then you've also provided for our listeners a list of your top tools for leaders for 2019. I'm going to put that in the show notes for folks. And you've got an impressive list of tools that you're sharing.
Joel Block:
Yeah. Smaller companies have to produce 20 times what our corporate counterparts produce. And we have to lean on really good tools to help us to do that. So many of our smaller companies, we don't have janitors emptying our trash and we don't have, I don't know, technicians changing the printer cartridges in our printers and we really have to be good at doing more things in a lot less time than some other people do. So I just have these great resources that I've used over a long period of time and I always am adding new ones, different kinds of things that help me to be more efficient and optimize and stay on the inside track.
Eddie Turner:
All right. On the Keep Leading Podcast we want to make sure leaders can keep leading. What words of advice would you have for them?
Joel Block:
I would tell your people that money follows expertise and just make sure that you are the best that you can be and it will start to be recognized.
Eddie Turner:
All right. Well, Joel, thank you so much. Where can my listeners find out more about you?
Joel Block:
Probably the best place to go to is JoelBlock.com and there's a lot of information about me. We produce weekly completely commentary beside the podcast. We produce all different kinds of commentary and most of the information about those things are available on the website.
Eddie Turner:
Excellent. And we'll also make sure we put links to your social media profiles so folks can follow you on social media.
Eddie Turner:
Well thank you again, Joel, for being on the Keep Leading Podcast.
Joel Block:
Thanks for having me.
Eddie Turner:
And thank you for listening. That concludes this episode, everyone. I'm Eddie Turner, the Leadership Excelerator, reminding you that leadership is not about our title or our position. Leadership is an activity. Leadership is action. It's not the case of once a leader, always a leader. It's not a garment we put on and take off. We must be a leader at our core and allow it emanate in all we do. So, whatever you're doing, always keep leading.
Thank you for listening to your host Eddie Turner on The Keep Leading Podcast. Please remember to subscribe to The Keep Leading Podcast on iTunes or wherever you listen. For more information about Eddie Turner's work please visit EddieTurnerLLC.com.
Thank you for listening to C Suite Radio, turning the volume up on business.
The Keep Leading!™ podcast is for people passionate about leadership. It is dedicated to leadership development and insights. Join your host Eddie Turner, The Leadership Excelerator® as he speaks with accomplished leaders and people of influence across the globe as they share their journey to leadership excellence. Listen as they share leadership strategies, techniques and insights. For more information visit eddieturnerllc.com or follow Eddie Turner on Twitter and Instagram at @eddieturnerjr. Like Eddie Turner LLC on Facebook. Connect with Eddie Turner on LinkedIn.