Dorothy Siminovitch
Speaker, Author, Executive and Mentor Coach
Gestalt Coaching
Episode Summary
In the world of leadership development there are many options. In this episode learn how leaders can support leaders using an approach pioneered by Dr. Dorothy Siminovitch—Gestalt Coaching and Awareness IQ.
Bio
Dorothy E. Siminovitch, PhD, MCC is an international leadership, team, and organizational coach, mentor coach, speaker, and author. She is the founder of and Director of Training for the Gestalt Coaching Program, and a co-owner of the Gestalt Center for Coaching. Her specialties are assisting peak performance, mobilization toward innovation, enhancing one's signature presence, teaching competencies for group leadership, and supporting practices that develop personal mastery. Dorothy promotes optimism as the essential, professional mindset for success. She uses Gestalt theory and awareness process tools to support personal and professional development at the individual, group, and organizational levels. Additional best practices from neuroscience and mindfulness are used to help executive clients find greater creativity and resilience, and to foster a grounded presence and more choiceful use of self. Dorothy is the author of A Gestalt Coaching Primer: The Path Toward Awareness IQ. She is co-author of the Awareness 20/20™ leadership awareness instrument.
Website
https://www.gestaltcoachingworks.com
LinkedIn
https://www.linkedin.com/in/dorothysiminovitch/
Twitter
https://twitter.com/dsiminovitching
Instagram
https://www.instagram.com/dorothysiminovitch/
Facebook
https://www.facebook.com/dorothy.siminovitch
Leadership Quote
"Awareness without needed action leads to regret."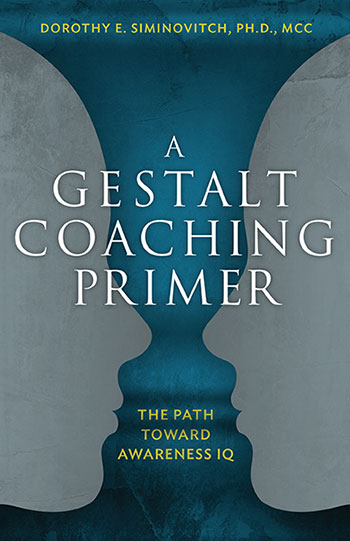 Transcript
This podcast is part of the C Suite Radio Network, turning the volume up on business.
Welcome to the Keep Leading Podcast, a podcast dedicated to promoting leadership development and sharing leadership insights. Here's your host, the Leadership Excelerator, Eddie Turner.
Eddie Turner:
Hello, everyone. Welcome to the Keep Leading Podcast, the podcast dedicated to leadership development and insights. I'm your host Eddie Turner, the Leadership Excelerator.In the world of leadership development, there are many options for developing leaders. Today I want to talk about how leaders can support leaders using an approach pioneered by Dr. Dorothy Siminoivtch – Gestalt Coaching And Awareness IQ. Dr. Siminovitch is one of the few Master Certified coaches in the world through the International Coaching Federation. So she truly is an authority on this subject and she will talk to us about this subject right after this.
This podcast is sponsored by Eddie Turner LLC. Eddie Turner LLC delivers executive and leadership coaching, professional speaking, facilitation services, and management consulting across the globe. Eddie Turner LLC also creates voiceovers, serves as a master of ceremonies, as a panel and event moderator, and provides national media commentary. Visit EddieTurnerLLC.com to learn more.
Eddie Turner:
Hello, everyone. Welcome to the
Keep Leading Podcast
, the podcast dedicated to leadership development and insights. I'm your host, Eddie Turner, the Leadership Excelerator. I work with leaders to accelerate performance and drive impact.In the world of leadership development, there are many options to help leaders develop. Today, I want to talk about leaders supporting leaders using an approach pioneered by Dr. Dorothy Siminoivtch – Gestalt Coaching And Awareness IQ. Dr. Dorothy Siminoivtch is an author, a speaker, and an international leadership team and organizational coach. She is also an International Coach Federation mentor coach. She is the founder and director of training for the Gestalt Coaching Program and a co-owner of the Gestalt Center for Coaching. Dr. Siminovitch is the author of the book we'll be talking about today – A Gestalt Coaching Primer: The Path Toward Awareness IQ. She's also coauthor of the Awareness 2020 Leadership Awareness Instrument.
I am so excited to have with me today all the way from Canada Dr. Dorothy Siminovitch. Welcome to the Keep Leading Podcast.
Dr. Siminovitch:
Thank you so much, Eddie.
Eddie Turner:
Please tell my listeners a little bit about your background, Dr. Siminovitch.
Dr. Siminovitch:
Thank you again and please call me Dorothy. And to everybody, hello. So I am from originally Montreal, Quebec, which is eastern part of Canada and is considered the French part of Canada. And somewhere early in my adulthood I got married and moved to Cleveland, Ohio, did my graduate training there and started my professional career. And it really is in Cleveland at the Gestalt Institute of Cleveland that I had the wherewithal, this moment of true inspiration to blend Gestalt Thinking which was mostly used in the world of therapy or consulting to marry it to coaching as a vehicle to serve leaders and those people that really wanted to add better quality to their life. So for the past 20 years I would say that I've been really going around the world, a lot in Istanbul, Turkey, and teaching Gestalt Coaching to those who want to learn how to be an executive coach and also an applied coach but mostly those who want to learn how to be executive coaches to leaders who carry so much importance in our world and also mystery about how to serve them. It's a little bit about me. I live part time in Toronto, sometime in Cleveland and a little bit in Istanbul.
Eddie Turner:
All right. Well, you get around.
Dr. Siminovitch:
It's quite lucky, I think.
Eddie Turner:
Well, I feel quite fortunate to have met you. I met you just a short time ago because you and Dr. Marcia Reynolds ran a coach mastery workshop there in Canada where you live. And it was one of the most transformational events of my life. And I don't say that lightly.
Dr. Siminovitch:
Thank you. It honors me to hear you say that. And it was a wonderful workshop. It was our inaugural version of those people really wanting to take their coaching to a higher level of mastery. We were thrilled that you came and the group that arrived. We say that those that came were the right people. Thank you.
Eddie Turner:
It really was and we are all still connected and still meeting and messaging each other and helping each other continue to grow that level of mastery and it was a fantastic workshop. And so got a chance to meet you. And you are truly not only a global thought leader in coaching and one of the premier experts, especially in gestalt, but you're just a down-to-earth, warm genuine person. And so you really melted our hearts and you really gave us outside of your expertise deeper reasons to feel connected to you and model ourselves as executive coaches and leaders after your leadership.Now, something else I neglected to say that is pretty important about what you do is you're not just a regular executive coach. Can you explain to my listeners the level of coaching credential you hold?
Dr. Siminovitch:
Yes, I'm glad to be able to say that I'm a Master Certified coach through the ICF, which I think is designed to stand for the best that we can do with level of certification.
Eddie Turner:
And so for those who may not know, ICF is the International Coach Federation, the largest and the most recognized credentialing organization in the world. So to hold the MCC, that's not a light credential. It is the top credential. And not only do you hold an MCC which less than 1% of coaches in the globe have, how long have you held that MCC?
Dr. Siminovitch:
Well, you're asking the big question. 2004. Actually, I applied in 2004. I think I got it in 2005. Every three years you have to renew your credential. And to do that you need to take 40 hours of coach training. And, again, I think that's a commitment to ongoing learning. They say the expert sees but the novice always sees with fresh eyes. And I think no matter what level of mastery we have, we have to keep asking ourselves "Am I still learning?" I've renewed four times since getting the credential and I have a PhD and I think I'm just as proud, if not prouder, of the MCC. Isn't that interesting?
Eddie Turner:
It is very interesting and I says a lot about the rigor and the prestige that credential holds for you to say that. So, yes, not only are you one of the top coaches in the world but you've held that credential almost as long as it has existed. And so that's not something to take lightly. That's a pretty powerful thing to be able to say and all the more so why that workshop you and Marcia Reynolds held was so important and so pivotal for those of us who are privileged to attend because we were able to learn from to the best in the world but there's something about you that stretches outside of just general coaching and your credential as a coach. You took things to another level and you've pioneered something where you married two worlds – coaching and, as you mentioned in your introduction, the practice of gestalt. So can you tell us what is gestalt coaching?
Dr. Siminovitch:
Well, in some ways you gave the answers. It's two worlds that come together. The first world is really this new world, it's now some 20-22 years old basically within coaching. What is coaching? It is a collaborative encounter between the client and the coach in service of the client's learning agenda, very democratic learning experience, which is very needed in today's very demanding world but gestalt thinking has been around for actually some 80 years, even a little longer, with the early studies in perceptual psychology. And gestalt thinking has been mostly used in the world of therapy or consulting. And I had the kind of moment of, I would call it, entrepreneurial rumination, where I truly envisioned gestalt married to coaching because gestalt thinking allows us in the coaching experience to understand the person and a whole system approach from an analytical approach, from the emotional approach, from the heart-centered approach, and also from the somatic approach. So it's a way of being able, literally as a coach if you have gestalt training, to see the client in multiple dimensions. You see them from what you're noticing but you also use yourself as an instrument to kind of get a sense of "What am I noticing about the client that's standing out?" based on perceptual cues, somatic cues, emotional cues, and behavioral cues. And all of that has actual conceptual theory and tools from the Gestalt approach that assists us in reading the client. That's pretty powerful. And when I say reading the client, Eddie, I don't play cards but those people who play cards, think really about poker, it's kind of an analogy, people that play poker are able to read other people whether they're holding good cards or holding bad cards. This is kind of something they called a tell. I love those stories about that but that's a very kind of interesting way of understanding the gestalt approach. We get trained and begin to understand ways of reading our clients based on the tell which could be perceptual, which could be emotional cues. The face, the eyes, the mouth, the movements gives us a sign what's happening that we can read the kind of are they interested, we can read that, are they not interested, we can read that. Something just happen, no matter what they're saying that we need to pay attention to because something shifted for them. Again, it's something very small but we can be actually reading that based on these kind of cues that we get if we're really trained from gestalt systems thinking.
Eddie Turner:
Thank you. Now, there's a couple of phrases you used I'd to break down just a little bit for our audience. Can you tell me where the word 'gestalt' comes from?
Dr. Siminovitch:
Yeah. No, it's that question everyone always asks, Eddie, because it's a German word. Gestalt is a German word that means the whole. And it's pretty mainstream. People always use this phrase "The whole is greater than the sum of its parts." When we think of a face, you see the face, even if maybe you're missing some feature of the face, you'll be able to recognize someone's face based on their eyes, the whole from a feature, or you just see the outline of a person's face, the whole, you may not even see the mouth, you go "Okay, that's Eddie's head" because we actually think in wholes. So isn't it interesting? You hear a little bar from music and you're able to name that tune. Some people can name it in a very short bar. Some people need a whole cord because we actually fill in what we think is missing to get the whole. And gestalt is that concept that really describes that. So if you think of this phrase "Give me a picture of what you're talking about," that's a gestalt. So when we say "What's your gestalt?", we're saying "What's your picture of this situation? What's your gestalt of this issue? What's your picture of this issue?" If you think about a picture is more than 1000 words, the idea of "What's your gestalt?" means there are so many parts. It captures the so many parts of the whole. And the reason people keep saying "What does it mean?" is because the word gestalt stays German. So people keep saying "Well, what is it?"
Eddie Turner:
Yes, yes. So I wanted to make sure we just gave a little bit more clarification around that. And I love your illustrations on how you brought that to life.And then another phrase you were using, and for those who may not be in the coaching world, they may not readily recognize it and that was 'Somatic'.
Dr. Siminovitch:
Yes. Well, the idea of being able to read a person's kind of relevance of what's happening in the moment or even their character based on the way they're standing and moving. We know that the way a person stands already conveys a lot about their life story. Do they stand a little bit forward and slouched over? Do they stand backwards and kind of apprehensively waiting? Right there we can already tell a story. They say that biology, the way that you're feeling about something becomes biography. So somatic gives us kind of the eyes of being able to recognize what's going on with a person just by how they are embodied, how they're standing, how they're sitting, how they're eating, how they're looking. It's the embodiment that we start reading or I would say this, the lack of embodiment. Someone says to you "I really care about something" and you hear the voice and you go "Okay" but then they say "I really care about something" and you think "Where are they?" Because you don't hear that in the voice, they're not embodied in their voice. The somatic tells us kind of at a visceral level what's happening.
Eddie Turner:
Yes. And so as coaches we're trained in that and it's something that benefits our client. How can that benefit leaders? If they're not a coach, how can they benefit from this discussion that we're having?
Dr. Siminovitch:
Wonderful. I think that in the last probably, really it's been about since the '90s when Daniel Goldman wrote his Emotional Intelligence, and many people would always know emotions are important but in organizations and leaders emotions were considered to be troublesome in the way. And in the last 25 years there has been a paradigm shift of really recognizing that those soft skills, the soft cues, the emotional intelligence which is the intelligent use of your emotions, being able to become more self aware of that is so critical in being able to both manage yourself, be self aware, and also understand and work with people. So that's where if I can read my emotional cues, then I understand what's going on with me. And not only that, I will then be more able, if I can read myself, I will be more able in reading other people. And if I can read other people, it's kind of like a line. I can then talk with them about where they are and more thoughtfully. And this is the awareness intelligence piece. If I'm aware of myself and I can read you, I then can use my awareness to maybe deliver my message with more understanding if they want to ask you to do something but I am aware that something about you either looks tired or distracted, instead of just giving the order or they request, I may even say "I'm going to ask you for something I'm not sure if this is the best time but I'd like to ask you given everything that's going on. Would that be okay?" I might deliver my message as a leader with more thoughtfulness and more understanding of what's happening in the moment that nothing else could give me except my emotional capacity to read the situation. And, Eddie, for so many business leaders, that really is the underdeveloped side. What do we notice in business leaders? We notice that most business leaders arrive at being a leader because they have analytical skills, they have strategy skills, they have deliverable skills, execution skills. And where do they need to develop themselves? The soft side of being able to read people, and here's the other thing, read themselves.
Dr. Siminovitch:
And they have not really gone to school for that. And as a person becomes higher in their leadership status, what we know is that syndrome of more and more people telling them less and less.
Dr. Siminovitch:
Yes, lonely at the top is an old syndrome that we know about but we see it enacted all the times where people would say, and I have clients who tell me, "Well, nobody tells me." Well, they're afraid to tell you. And also are you aware of your signals? Are you aware of your emotions? And this is where I think that we as coaches particularly, how do we co-create a very safe learning environment for our leaders, because leaders have so much pressure put on them to be strong and to take risks but not fail. Well, that's a very impossible situation.
Dr. Siminovitch:
Where is a safe environment for them to have kind of a dress rehearsal of "How could I look at that in a second way so that I don't feel so naked publicly?"?
Eddie Turner:
Very interesting. Wow! Thank you for sharing that and getting us off to a great start here, Dorothy. I'm enjoying this discussion with Dr. Dorothy Siminovitch and she's talking to us about gestalt coaching and how we use this to help leaders support leaders.We're going to pause for a word from our sponsors at this time and we'll be back right after this.
This podcast is sponsored by Eddie Turner LLC. Organizations who need to accelerate the development of their leaders call Eddie Turner, the Leadership Excelerator. Eddie works with leaders to accelerate performance and drive impact. Call Eddie Turner to help your leaders one on one as their coach or to inspire them as a group through the power of facilitation or a keynote address. Visit EddieTurnerLLC.com to learn more.
This is Lou Diamond from Thrive LOUD with Lou Diamond and you are listening to the Keep Leading Podcast with Eddie Turner.
Eddie Turner:
We're back. We're talking to Dr. Dorothy Siminovitch and she is telling us about gestalt coaching and how leaders can more effectively lead other leaders.And so before the break, Dorothy, you were explaining the details about what gestalt coaching is, where it comes from, and why it matters for leaders and how it really is a leadership competency that you're building in the folks that you run through your organization. And so we talked about the definition that your book was based on but there's something else that you share in your book that I'd like to talk about. And you have come up with this phrase about Awareness IQ. What is Awareness IQ?
Dr. Siminovitch:
Well, thank you. I think, again, I'd like to identify what I think is happening as a paradigm shift in the world where it's always been important to get knowledge and it still is but one of the things that we understand today that drives knowledge is in the moment we may have to be adaptive because even existing knowledge presumes history, something that we know and it's already kind of formed and we have knowledge about something but the knowledge that we have may not have met the current circumstances that we are facing. And the current circumstance in the moment may have some emergent issue that the only way to recognize is through this phenomena called Awareness. Awareness is a knowing in the moment of something that is emerging that maybe we know something about or we recognize as something. And one of the pieces about awareness now is how do I recognize something in the moment and use that to deliver the knowledge or adapt the knowledge to meet the moment. And so, the example I could give is let's say a business leader goes into a meeting and he or she has a message to deliver. Communication is one of the key deliverables of any leader, how to deliver this message, and they have the text really identified. And as they go into the meeting, what they kind of get a sense of is they can feel something is perhaps not quite right. They notice that people have a look on their faces, no one's really looking at each other, and people aren't even asking questions. That doesn't seem to be the same strong greeting that he or she typically gets. And one of the cues that are coming is "Something is going on." Now if time is tight, many leaders with good cause would say "Okay, this is the message I'm going to give" but later on they can go back and say "What was I missing? Why didn't I ask "Okay, guys, let's take a moment. I feel something is happening. Could everybody make a statement what's going on here like an awareness statement?" And the reason I say that is it may be later on we realize something was going on in that meeting. And if the business leader didn't ask or raises kind of sense of "I'm picking up some data in myself" or "I have a feeling. I'd like to check it out," they may have missed a moment that was very authentic, it was very important, and perhaps creates more safety for the team to ask that question. So Awareness IQ is being able to recognize the kind of awareness cues that you're getting either in yourself or something that you scan for the environment and acting on it. And when we don't act on a cue that we have a sense of, later on we will feel regret like "Why didn't I ask her? Why didn't it offer?" And there's a saying that it's the things that we don't do that we felt strongly about that we most regret later more often than what we did do that we're sorry for.
Eddie Turner:
Now, is there a way for me to identify my level of Awareness IQ?
Dr. Siminovitch:
Yes, actually. Well, I joined ventured with Barbara Singer of Executive Core and we created an inventory called the Awareness 2020 which I'm so proud to say was created off of the dimensions that I articulated in my book, Eddie. I'm almost embarrassed to say I'm talking about my book before you asked but the book that I wrote, Gestalt Coaching Primer, one of the reasons why I wrote it was most authors who had written about gestalt thinking, and they were always brilliant, they always wrote in a very intense style. And one of the things that I wanted to do with Gestalt Coaching Primer was to make it very easy to read because the material of gestalt thinking is actually there's so many dimensions that are happening at once, people can get confused. And so I wrote this chapter on something called 'Presence and Use Of Self' and that is "Who am I and how do I use myself in the moment?" And how I use myself is kind of a response to your question. How I use myself has to do with my own sense of "Do I know what my gifts are? Do I know what my limitations are? Can I recognize awareness across what I say seven dimensions?"The first dimension is the dimension of values and recognition of what's important for me and for others. The second dimension of awareness is the dimension of creativity. We see things that are novel. Can we recognize what's exciting and novel or do we just closed down? That's an awareness dimension. The third dimension is the dimension of emotional intelligence which we've been hearing about but we keep hearing about it because it's so important to recognize. A lot of people, when it's too emotional, they go "Oh, too much" is a phrase I often hear but I say to people "Can you handle that? Are you able to hold the space for emotion?" The fourth dimension of awareness is the capacity for caring. Do you recognize when you need to care for yourself or other people need maybe more support and care? A huge issue that we're hearing about in organizations today is the need for compassion, compassion around the things that we can't change but a stance of compassion is so supportive to people. And so many people actually go "No, I'm going to save that for my family." We say that really great leaders have emotional awareness around the need for compassion. The fifth dimension is the capacity for communication, recognizing the moment where something needs to be said or acknowledged. Communication is a critical awareness competency. The sixth competency is the issue of intuition. Can we recognize just a flash of intuition which is data that you have arrived at without hard work? And it's interesting there's new recognition of the need for intuition. You know why, Eddie?
Dr. Siminovitch:
Yeah, intuition is this sense of something that we need in an high age of uncertainty. So intuition was not something people really wanted to hear about in the '30s, the '40s, and the '50s. And lately we're hearing a lot about your intuitive sense because there's so much uncertainty in the world. And there's actually intuition training that people can take, which is important because if people are trying to say "I have an intuition" but really is an agenda, that's an opportunity for dishonesty. How's that for interesting? I know that's a huge sentence right there.
Eddie Turner:
No, that's very interesting because some people might argue or may wonder is the gift of intuition unique to one gender over another. You said there's training but has your research shown that one group has stronger intuition than another?
Dr. Siminovitch:
I can't answer that one but I can tell you something else. I can tell you that it seems to be something with birth orders. So my colleague Belleruth Naparstek wrote a lovely book called Your Sixth Sense and it turns out the middle or youngest child can be more intuitive than the oldest child because the oldest child typically has to follow the rules. And when you have to follow the rules, you don't listen to your inner voice as much.
Eddie Turner:
So that explains why my sister is so much more intuitive and smarter than me. I get it now, okay.
Dr. Siminovitch:
By the way, I'm not sure if she's smarter but right now I am sure that you see her as more intuitive.
Eddie Turner:
No question about it.
Dr. Siminovitch:
Isn't it interesting that that's behind your question man-female because your sister you already knew is more intuitive? Thank you.
Eddie Turner:
No, that wasn't behind the question but I know that at times when you were talking about certain skills like this and we're talking about emotional intelligence, there's been different research showing that one gender might exceed another but also that's like the number one question that we get in our coaching process. When I'm talking about emotional intelligence or the ability for empathy and some of the different components of emotional intelligence, people always ask "Well, as a man, can I still do well in this area?" or sometimes "Is this only something that I can do if I'm a female?" So I asked that from that perspective of what genuine questions I've received as a coach.
Dr. Siminovitch:
Well, first of all, I so appreciate that you're asking and I do think it's already, I know something about you and your sister, but I would say something to add to that is I do think that the challenge for men to use themselves in this way, I would just say, even though I'm not a man, my dissertation was actually on male generativity. So I must have been very interested in male leadership because at the time when I was coming up and doing my research, there were more male leaders in the world and I was just really fascinated. And I do think that the shoulds that men receive about allowing yourself to be vulnerable which is this new wow in the world, Renee Brown who talks about vulnerability is courage, well, for many men it also feels uncomfortable like there was no support for it. And yet that's what the new call for that is because we know that it communicates authenticity to people. It says "I am like you. I also suffer if my child is not well, if there's illness in my family." And yet for men that's probably a challenge. For women there is a different challenge about how to maybe package our emotional cues without this kind of stereotype that puts out "Well, it's female thinking." In fact, when someone says "This could be me. I'm a female," I always say "Stop." How do you frame it as an opportunity but once we start focusing on the gender, what happens is we get sometimes exclusionary. How do we become expansive and say "Yes, I know this is maybe I'm speaking as a female." And what do all the men think or how do the men access? One of the things we know from the great Carl Jung is he said that as people get older at midlife that men tend to kind of bring up more of their feminine energies or they allow themselves to bring forward their softer side. And interestingly enough, as women come into midlife, they go the other side and pull up their more male forces. And it's interesting as women come more into the work world, the male forces really help them manage and negotiate the world. So I would just say for the men and the women, we learn so much from each other's genders, rather than exclude we include.
Eddie Turner:
Yes, very much so. And to the extent that we can do that we become a better leader and certainly a better society.There's something else that I learned a lot about in your program, your workshop. You talked a lot about presence and you talk about that a lot in your book as well. Can you tell us how presence helps leaders?
Dr. Siminovitch:
One of the things about it is everybody has a presence. You, me, anyone listening, we all have presence. The question is how embodied in our presence are we. So, so often as we review the day and we think about how we were somewhere and we think "What was going on with me that I was so distracted, that I wasn't there?" And so one of the aspects about presence is "How am I here embodied in all of my strengths and responsible for my limitations but available to this moment?" And one of the things that we know when people are really present, they are more available to use their resources in the moment to support, and we like to say, what is wanted, needed or missing. And so this is the real reason, Eddie, that mindfulness now as a phenomenon is really growing in the world and particularly in the business world. Some five years ago there was a World Economic Forum in Davos, global business leaders come there, and there was a workshop on meditation and mindfulness. It was kind of well attended but the next year nobody could get into that room because leaders now understand that actually someone by the name of Anthony Grant says "It's not efficiency that we're really after. It's the management of attention."
Dr. Siminovitch:
And the job of a leader is to help people focus on something. And so the management of attention is a management of focus. And presence is the embodiment of focus. And how can we be in the moment in a way that we are present? When we are present, people will feel more engaged with us. When we are distracted and not present, people feel like "Hey, you're not there. Why should I be here?"
Eddie Turner:
Absolutely.
Dr. Siminovitch:
Absolutely. So presence is this ability to be here and now and more available to be engaged with you. And here's the other thing. There's this phenomena called Mirror Neurons. I won't get into the whole neuroscience of it but basically it means that people are always picking up the cues in themselves about you. If you're present, they will be more present with you. And right there that is a business case for presence.
Eddie Turner:
There you go, I love it. And it shows true leadership when a person is able to do that and incorporate that into their leadership style.You talk about so many wonderful things in your book. So that definition that we opened up with, Awareness IQ, Presence, all of those things are applicable to anyone in a leadership role and certainly for those who are leaders trying to help other leaders but, specifically, if you are individual listening to this episode and you are a coach or you are thinking of become a coach, specifically certified through the International Coach Federation, you want to have a copy of this book because I believe that there are several tools in here from Coaching Agreements to Coaching Competencies to Markers that you need to look for if you're trying to pass your certification. Dorothy has packed it all in here. This is just a phenomenal resource. And so I enjoyed it and I think that anyone listening will enjoy it as well.
Dr. Siminovitch:
Thank you.
Eddie Turner:
So how would you summarize our conversation today, Dorothy?
Dr. Siminovitch:
Well, first of all, I think you're a great speaker, let me just say. I would say that for the record, and very inviting, but I would add in terms of where and what relevance does awareness and Awareness IQ and being more mindful and present mean for the leader and for the executives who coach leader because choice happens in the moment. And our challenge today is to know how to use the moment. They say that history is past and future has not arrived at the moment we have is where people feel more awake and have choice. The great Maya Angelou, poet, said "I may not remember what you said but I will remember what you made me feel." It is our capacity to use the moment that allows us to support people's feeling and remembering – Were we engaged in the moment or were we distracted? And I say that because all of us can really learn to be mindful and stronger and being able to use the moments. And the moments are what our lives are created out of. So I would just say there's a good case to be made for that.And the takeaway, if you may allow me, for today, Eddie, may I offer that?
Eddie Turner:
Sure, please.
Dr. Siminovitch:
The takeaway is many years ago Carl Jung said that everybody was going to become more psychological. I would say that everybody needs to understand themselves and each other and more urgently because the world is so intensely demanding but I think that there is a case for awareness because awareness is what drives choice. And when we know that we have awareness, we know we have choice. So my mantra is awareness without action can lead to regret. And I would say for anyone listening what are the awareness moments that you would like to commit to taking action on that lead to more satisfaction.
Eddie Turner:
Awareness without action leads to regret. Well, thank you for sharing that. It's been such a pleasure talking to you today. Where can my listeners learn more about you?
Dr. Siminovitch:
They could know more about me at GestaltCoachingWorks.com. We are redoing our website but that would be a lovely place to get in contact with me or at DorothySiminovitch.com. And I thank you for the invitation.
Eddie Turner:
Well, thank you. We will put that in the show notes so that folks can reach out to you, connect with you, and follow you in all of the great things you're accomplishing across the globe with the different communities that you are helping develop their credentials and spreading the power of coaching around the globe.Thank you for being on the Keep Leading Podcast.
Dr. Siminovitch:
Eddie, thank you for the invitation. And to all of you listeners, I thank them for their attention and their awareness. Thank you.
Eddie Turner:
Thank you.And thank you for listening. That concludes this episode, everyone. I'm Eddie Turner, the Leadership Excelerator, reminding you that leadership is not about our title or our position. Leadership is an activity. Leadership is action. It's not the case of once a leader, always a leader. It's not a garment we put on and take off. We must be a leader at our core and allow it to emanate in all we do. So whatever you're doing, always keep leading.
Thank you for listening to your host Eddie Turner on The Keep Leading Podcast. Please remember to subscribe to The Keep Leading Podcast on iTunes or wherever you listen. For more information about Eddie Turner's work please visit EddieTurnerLLC.com.
Thank you for listening to C Suite Radio, turning the volume up on business.
The Keep Leading!™ podcast is for people passionate about leadership. It is dedicated to leadership development and insights. Join your host Eddie Turner, The Leadership Excelerator® as he speaks with accomplished leaders and people of influence across the globe as they share their journey to leadership excellence. Listen as they share leadership strategies, techniques and insights. For more information visit eddieturnerllc.com or follow Eddie Turner on Twitter and Instagram at @eddieturnerjr. Like Eddie Turner LLC on Facebook. Connect with Eddie Turner on LinkedIn.