Dr. Karen Jacobson
Speaker and Consultant
Power Conversations
Episode Summary
Listen to my interview this with Dr. Karen Jacobson to learn about power conversations.
Check out the "60-Second Preview" of this episode!

Bio
Israeli Military Commander, Doctor, Champion Ballroom Dancer. Dr. Karen Jacobson mesmerizes audiences with her high-caliber presentation style while relating her "High-Performance Triad," an effective strategy for creating YOUR highest edge.
As an expert in communication and human potential, she is the author of Power Conversations, the first book in a series representing her "High-Performance Triad," an effective strategy for creating YOUR highest edge. Your audience and teams will leave energized and armed with an arsenal of new skillsets and tools, to provide lasting transformation.
Website
https://drkarenjacobson.com/
LinkedIn
https://www.linkedin.com/in/drkarenjacobson/
Twitter
https://twitter.com/Drkarenjacobson
Facebook
https://www.facebook.com/DrKarenJacobson/
Instagram
https://www.instagram.com/drkarenjacobson/
Get Your Copy of Karen's Book!
https://drkarenjacobson.com/books/
Full Episode Transcripts and Detailed Guest Information
www.KeepLeadingPodcast.com
Keep Leading LIVE (Live Recordings of the Keep Leading!® Podcast)
www.KeepLeadingLive.com
Get your personalized autographed copy of Karl Mecklenburg's book!
https://www.karlmecklenburg.com/store/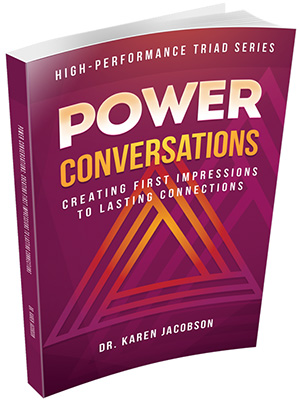 Transcript
The key to sustainable leadership lies in the ability to thrive during uncertainty, ambiguity, and change. Grand Heron International brings you the Coaching Assistance Program, giving your employees on-demand coaching to manage through a challenging situation and arrive at a solution. Visit GrandHeronInternational.Ca/Podcast to learn more.
This podcast is part of the C Suite Radio Network, turning the volume up on business.
Welcome to the Keep Leading!® Podcast, the podcast dedicated to promoting leadership development and sharing leadership insights. Here's your host, The Leadership Excelerator®, Eddie Turner.
Eddie Turner:
Hello, everyone! Welcome to the
Keep Leading!® Podcast
, the podcast dedicated to leadership development and insights. I'm your host Eddie Turner, The Leadership Excelerator®. I work with leaders to accelerate performance and drive impact.
One of the books I quote from is Crucial Conversations. On Keep Leading!® Podcast, I've covered the topic 'Meaningful Conversations'. Today, I'd like to discuss Power Conversations and I'd like to do that with the author of the book Power Conversations, Dr. Karen Jacobson. She's a high-performance strategist. She will shed light on the effects of our verbal and non-verbal communication and our language and word choice. Dr. Jacobson is a woman with an incredibly diverse background. She was an Israeli military commander, a doctor, and a champion ballroom dancer. She's an expert in communication and human potential and, as I said, the author of Power Conversations: Creating First Impressions to Lasting Connections.
Dr. Jacobson, welcome to the Keep Leading!® Podcast.
Dr. Karen Jacobson:
Hello, hello. Thank you for having me.
Eddie Turner:
I am so excited to have you with us today. Tell our audience a little bit more about you and your background.
Dr. Karen Jacobson:
Listening to what you had stated, it kind of makes me think when we look at our lives, what do we really notice about what we achieve. So many times, we're in a place where we're pushing, pushing, moving forward and not taking the opportunity to just take a breath, notice what we've done, what we've accomplished and see where we're going next. As you mentioned there, I was a noncommissioned officer in the Israeli army. When I got out of the service, I came back to the States and embarked on a journey for over a little over 24 years as a practicing family and sports chiropractor. And during that time, I also took on quite a number of leadership positions on the national level, the International Chiropractors Association, other state chambers and Kiwanis clubs, etc. So, that was like one of my passions was really finding the avenues, the areas where I can contribute and give back. When you give back to others, you can never really give from an empty vessel. So, part of that giving back was also filling my passions which is where the Latin ballroom dancing came into play.
Eddie Turner:
I love it. So, Dr. Jacobson, are you telling me that you're graceful, intelligent and tough because you're an ex-military commander?
Dr. Karen Jacobson:
You told me that.
Eddie Turner:
Excellent. You are. I will say it. You are graceful, intelligent and tough. And I like what you said that we cannot give from an empty vessel. And I know that from the coaching world that I am so deeply ingrained in but you as a doctor would know that more than anyone. So, I can really appreciate what you said there. How did this background lead you into the world of conversations?
Dr. Karen Jacobson:
I would say it was really looking at a situation and being forced to manage and find a solution. When I was six years old, we moved from the States to Israel and, frankly, I was in the middle of kindergarten and the second half year of my kindergarten is a complete blank to me because I had a language barrier. And if you cannot speak to kids, you can't connect, you can't play. And what do kids want? We want to connect and play. So, here I was in a foreign country with a foreign language with foreign customs with foreign kids with foreign habits and it's really a situation where you have to either adapt or you disappear. So, one of the things that I did was really force myself to step forward and say "I have to learn how to connect and communicate." Israel, at the time, was a major melting pot to kids and adults from all over the world. It still is to this day but it was also a time when there was no internet or anything, so it was really face-to-face and human connections and I made it my point to really learn and develop those skill sets and connect to people because I was always a social being.
Eddie Turner:
Interesting. And so, as you learned how to connect to people as a social being who craved connection in a new world to you as a six-year-old, you started to, even at that age, develop an awareness and started to focus on developing better communication skills.
Dr. Karen Jacobson:
Yes. And that only continued later on. So, I focused at the time on skills and language knowledge. And being in Israel which is so close to Europe, I learned to understand words and songs in other languages but aside from the aspect of language, I also paid attention to social aspects. Now, I may have not really been aware that I was doing it in retrospect as I look and examine my behavior. And when I got out of high school, I went straight into the army. Now, for those who have been in the military in any country, first, of all thank you for your service but the other thing is that when you're in the military, it's a whole other language, it's a whole another type of communication. And even if there's a situation where you may not agree with something, it's still "Yes sir" because they're the commander. And so, I learned really to hone not only those skills but I also learned a certain level of self-control and then being fortunate that as I was fighting to really get my dream and become a commander, I had the opportunity to lead. And whenever we lead, as you very well know because you focus on leadership, we have different styles. And I learned to develop my own leadership style and really focused on how I'm aligning with myself and with the people around me. Ultimately, when I got out of that, then I became a chiropractor and now I learned a whole another conversation which relates to connecting to humans on a level where they're struggling either with physical or emotional health challenges or both and learned how to develop the proper bedside manner as well as business acumen.
Eddie Turner:
So, Dr. Jacobson, please tell us then how you took all of this and turned into a published work Power Conversations: Creating First Impressions to Lasting Connections?
Dr. Karen Jacobson:
Power Conversations was really in a way a labor of love and it came and grew out of the combination of the knowledge that I shared with you and the experience that I had from that as well as what I've learned from being on stage in performance both in dance and in singing and really taking notice of a deeper how you can be aware of the fact that you're having a conversation with someone or you can really be in the conversation.
Dr. Karen Jacobson:
And that's a difference in some of the worlds, when we train, we talk about active listening. And even active listening can come to different levels. And when I'm actively listening to another individual, am I really appreciating them as a human being or are they just a resource that's in front of me, are they just an employee or are they another person? And when I look at how people develop connections, we develop them with other people. and the more in tune and aware I can be of how I affect other people and how they affect me, the stronger, the more powerful my conversations will be. And in order to create success and growth, the better the conversation, the clearer the message, the higher the yield.
Eddie Turner:
The better the conversation, the clearer the message, the higher the yield. Very nice.
Okay. So, then tell us a little bit about all the things that you have learned that you put together in the book that you use to thrive in these different circumstances. I understand that there's a framework and a name that you give the framework in the book.
Dr. Karen Jacobson:
The concept of Power Conversations came from the High-Performance Triad. The High-Performance Triad is the concept that I developed to really allow people to create their competitive edge and it focuses on the leverage of language, leadership and lifestyle. So, Power Conversations came under the umbrella of the language – the words that we choose, the words that we use, the way that we perform them – and that's all under the Three P's. So, it's the Phraseology, Physiology, and Personality. So, it's who we are, what we say, and how we say it makes all the difference.
Eddie Turner:
Very nice. And I like the Three P's that you've come up with because that really is true. As leaders, the language we use does really reveal our lifestyle. You can tell a lot about the person by the vocabulary that's used, the word choice, as you mentioned, and the content. And that does reveal the who, what, and how. So, very nice.
We're talking to Dr. Karen Jacobson and Dr. Karen Jacobson is a high-performer strategist who's talking to us about Power Conversations. We'll have more right after this.
This is a challenging time for businesses. We're all anxious to get back to work as quickly as we can but also as safely as we can. Business leaders must uphold a duty of care, a responsibility to make sure that they and others are safe in the workplace. C Suite Network created C-Suite Supplies, a trusted source of quality protective equipment. Whatever your reason is for wearing a mask, do your part and protect your most valuable assets, your employees and customers. Go to C-SuiteSupplies.com.
This podcast is sponsored by Eddie Turner LLC. Organizations who need to accelerate the development of their leaders call Eddie Turner, The Leadership Excelerator®. Eddie works with leaders to accelerate performance and drive impact. Call Eddie Turner to help your leaders one on one as their coach or to inspire them as a group through the power of facilitation or a keynote address. Visit EddieTurnerLLC.com to learn more.
This is Patrick Williams, Master Certified Coach, and you're listening to the Keep Leading!® Podcast with Eddie Turner.
Eddie Turner:
Okay, we're back and we're talking to Dr. Karen Jacobson. Dr. Jacobson is a high-performance strategist and the author of Power Conversations: Creating First Impressions to Lasting Connections.
So, I'd like to dig into that now a little bit, if we can, Dr. Jacobson. Tell us how has your experience affected the way you approach high performance?
Dr. Karen Jacobson:
I love that question. Thank you for that. I believe that we all, whenever we step up to a level, Eddie, where we look to share, it's always going to be from the gifts that we've received. And I feel very fortunate in the sense that I've had the opportunity to do things like grow up and live in two different countries on two sides of an ocean, that I've had the opportunity to connect and meet with different cultures, that I've also had the opportunity because of that and because of my ability to discern to take some of the best of both worlds and, by doing so, really being able to align my own skill sets, utilize them in the different areas in my life and be able to take that and share with others. And I feel that makes what I offer different in a sense that it's not just didactic learning or research that I've done. I've done that. And it's not just experience. I have that. It's a combination. When you have experience, knowledge, and passion, then it's not even a question of if I have to do it. It's how do I do it.
Eddie Turner:
Well, how do our habits and values affect our goals and our ability to achieve goals if we want to be a high-performance person?
Dr. Karen Jacobson:
Well, that's where pure alignment comes in because there are times in our life where we might not have our goals and our personal habits lined up. And what does that really look like? I'll give you an example. I worked with someone when I first started working and I do executive coaching but previous to that I did personal coaching and when I worked with the personal coaching, it started when I was working with people first in my office, so patients. And, obviously, in their end they had a lot of health goals. And I had someone who had a challenge with their physical presence, with weight issues and dieting, yo-yo dieting, etc. One of the things they wanted to do was to shed some of the weight and yet, when I asked them about some of their high values in their life, among the top five values, fitness and wellness wasn't really on that list.
Eddie Turner:
Isn't that interesting?
Dr. Karen Jacobson:
And that is where an individual, when you look at somebody, you take somebody who's looking like "Well, I really want this but I'm not getting there," generally it's going to be either the method that they're taking which is wrong or that they have an inner conflict because where is our growth. Again, as a coach, you would very well know this. Growth happens outside of our comfort zone but if I'm afraid to move out of my comfort zone or there's something holding me back but I still want that that goal, I'm not going to get there. So, we really need to make sure that our personal values and our goals and our beliefs and our mindset are all lined up before we can step out to create. So, years ago, they used to have the famous Three Circles – the circle of Being, Doing, Having. So, who am I being, am I in alignment with my being, are my habits as an individual aligned with my being and my desire to be something else? And then what do I do to create the things that I want to have?
Eddie Turner:
And that's an interesting diagram for us to use, the Being-Doing-Having, but many people would say that it's one thing to say what we want, much as the person in your illustration, but it's quite different to actually go get it, go do it.
Dr. Karen Jacobson:
So, people don't go out and do things because they either don't have a plan or they have a fear that's preventing them from the plan. Even when people procrastinate, that procrastination is because of another habit because there's something behind it where there is no reward for them. At times, the procrastination could actually be their reward. And what do I mean by that? If I'm somebody who grew up and has a personal belief in a self-fulfilling prophecy that I'm never going to amount to anything, I probably won't take action because I'll talk myself out of it saying that "Well, you know, it's not going to work anyway. So, why try?" And yet, if I'm somebody who says "Well, doesn't matter how many times I fail because there's still an opportunity for me to try something different, do it a different way and succeed," I'll keep pushing forward.
Eddie Turner:
Good. So, thank you for sharing that. That's definitely something that we work with people to overcome as coaches and, in your case, as a high-performance strategist, helping people to put together a strategy so they can be high performing and get around those barriers that are real or even in some cases imagined and our limited thinking is getting in the way. So, good.
Tell me, if you would, when you think about our conversation today, what is the most meaningful point that you want listeners to take away from our conversation?
Dr. Karen Jacobson:
So, I'll piggyback on what we just talked about because it goes beyond just the individual because it starts with the individual but especially when we're talking about leaders, have to have other people that are surrounding them and that they collaborate and work with and that means a team. So, when we talk about alignment, I have to be aligned with myself, aligned with my team, aligned with my company both with my personal values and with the values of the company. And there might be situations where our actions don't yield the results that we thought we wanted. We may not meet the actual goal that we wanted and we classify that as failure very often but the question is what do I do with that. So, it's really not how often I fail or fall. It's how do I get up, what do I do.
Eddie Turner:
That's a beautiful quote as well because we always like to share quotes with our leaders. So, thank you for sharing that.
Where can our listeners learn more about you, Dr. Jacobson?
Dr. Karen Jacobson:
I have a huge presence online. I've got my Facebook and my Twitter and my Pinterest and my Instagram and my YouTube channel. What else do I have? Google+. And all of those are under DrKarenJacobson.
Eddie Turner:
Excellent. And we will put all of that in the show notes so people can go out, look you up, find you, connect with you and learn more about some of the amazing things you're doing and certainly enhance their ability to have Power Conversations.
Thank you for being a guest of the Keep Leading!® Podcast.
Dr. Karen Jacobson:
Thank you so much for your time and for having me.
Eddie Turner:
It was my pleasure.
And thank you all for listening. That concludes this episode, everyone. I'm Eddie Turner, The Leadership Excelerator®, reminding you that leadership is not about our title or our position. Leadership is an activity. Leadership is action. It's not the case of once a leader, always a leader. It's not a garment that we put on and take off. We must be a leader at our core and allow it to emanate in all we do. So, whatever you're doing, always keep leading.
Thank you for listening to your host Eddie Turner on the Keep Leading!® Podcast. Please remember to subscribe to the Keep Leading!® Podcast on iTunes or wherever you listen. For more information about Eddie Turner's work, please visit EddieTurnerLLC.com.
Thank you for listening to C Suite Radio, turning the volume up on business.
Hey, C Suite Radio listeners, Jeffrey Hayzlett here, Chairman and CEO of the C-Suite Network. Has your business been seriously affected by COVID-19? Are you having trouble getting a loan to meet payroll? Is government red tape causing your business to shut down? Well, we're here to help. C-Suite Loans is a business program designed to provide companies just like yours with immediate access to capital that will keep your business not only afloat but driving and thriving. C-Suite Loans works in conjunction with vetted funding to provide you with the best options based on your financial needs. We understand the challenges and we have a solution. Visit C-SuiteLoans.com today to learn more.
The Keep Leading!® podcast is for people passionate about leadership. It is dedicated to leadership development and insights. Join your host Eddie Turner, The Leadership Excelerator® as he speaks with accomplished leaders and people of influence across the globe as they share their journey to leadership excellence. Listen as they share leadership strategies, techniques and insights. For more information visit eddieturnerllc.com or follow Eddie Turner on Twitter and Instagram at @eddieturnerjr. Like Eddie Turner LLC on Facebook. Connect with Eddie Turner on LinkedIn.