Bob Dean
Collaborator, Innovator, Career Mentor
Writing Clearly
Check out this 60 Second preview of the episode!

In this episode, Bob and I discuss the link between writing clearly and leadership.
Robert (Bob) Dean, CPA, has over 25 years' experience focused on strategy and innovation in learning and talent development. Bob has served as a Chief Learning Officer and a global learning leader for the past two decades, and now Dean Learning & Talent Advisors LLC serves as a trusted collaboration advisor to clients focused on learning and development, knowledge management, business process innovation and talent management strategy and solutions.
Bob Dean combines his business experience with a passion for designing and delivering "life changing" learning and talent development experiences that drive business and personal impact. During his career, Bob served in various leadership roles for three global professional services firms—EY, Grant Thornton, and Heidrick & Struggles. In 2006, Bob became a "Certified Experience Economy Expert" facilitated by the book's authors, Joe Pine and Jim Gilmore.
Bob Dean earned a BS in Business Administration from the University of Missouri. He has been an Advisory Board member of the Northern Illinois University Experiential Learning Center for 10 years. He is a member of the AICPA and a Business Learning Institute thought leader/training facilitator.
Website
https://deanpeoples.com
LinkedIn
https://www.linkedin.com/in/rhdean
Twitter
https://twitter.com/EECE2
Leadership Quote
"Change is a journey, not an event."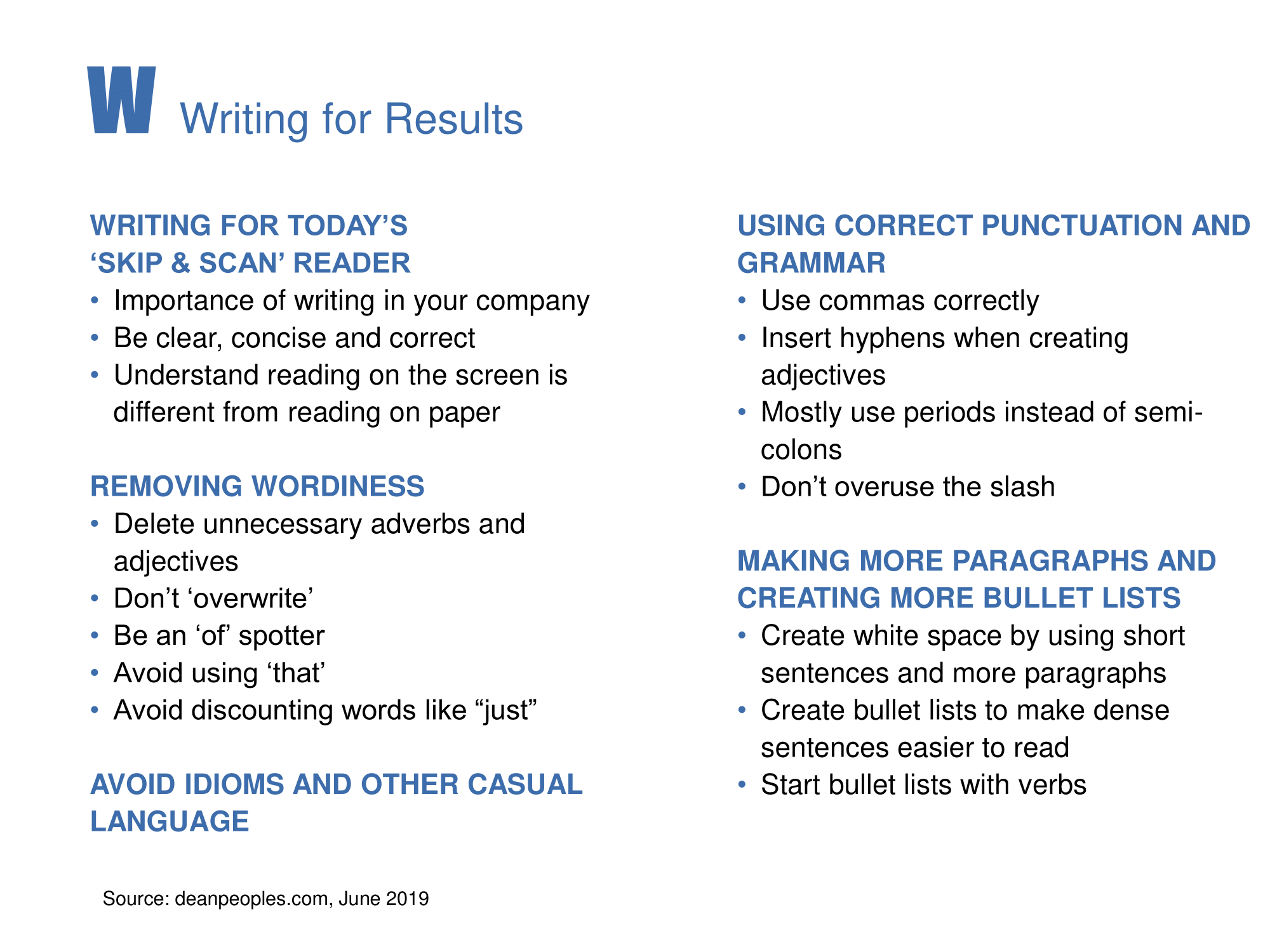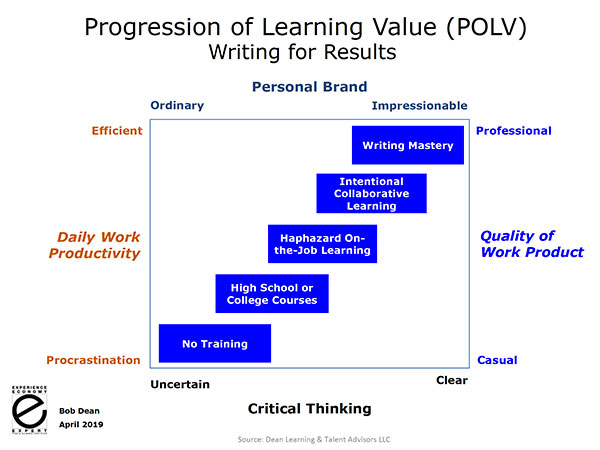 Transcript
This podcast is part of the C Suite Radio Network, turning the volume off on business.
Welcome to the Keep Leading Podcast, a podcast dedicated to promoting leadership development and sharing leadership insights. Here's your host, the Leadership Excelerator, Eddie Turner.
Eddie Turner:
Hello, everyone. This is Eddie Turner, the Leadership Excelerator, and you're going to really want to pay attention to my guest today. Today, I'm going to be speaking with Bob Dean. And if you are a leader who's interested in improving your brand, your image, you may want to look at this aspect that we're going to talk about – How do you write? Do you write clearly? Our guest Bob Dean will explain why writing clearly is important to leaders, right after this.

This podcast is sponsored by Eddie Turner LLC. Eddie Turner LLC delivers executive and leadership coaching, professional speaking, facilitation services, and management consulting across the globe. Eddie Turner LLC also creates voiceovers, serves as a master of ceremonies, as a panel and event moderator, and provides national media commentary. Visit EddieTurnerLLC.com to learn more.

Eddie Turner:
Hello, everyone. Welcome to The Keep Leading Podcast, the podcast dedicated to leadership development and insights. I'm your host, Eddie Turner, the Leadership Excelerator. I work with leaders to accelerate performance and drive impact. I am excited about my guest today. He is a true business leader and a truth thought leader. In many ways, he's not my normal guest. He's someone who was first my mentor, then he became my client, and then we became friends. We've known each other almost 15 years. He's perhaps, the first person to see that I could be something more than an information technology professional. And because of that, he took me under his wing and taught me the business of learning and talent development and therefore set me on the path that I am on n today where I am pursuing my passion of leadership development. So I'm excited to introduce my listeners to my good friend and mentor Bob Dean.Bob, welcome to the Keep Leading Podcast.
Bob Dean:
Thank you, Eddie. I'm happy to be here with you today.
Eddie Turner:
Bob, you have an incredible background and I'd love it if you just took a moment to tell my listeners some of the things about your background, who you are, and why I think you're such a special guest.
Bob Dean:
Okay, happy to do that. I am CPA (Certified Public Accountant), my fundamental background. I got an Accounting degree at the University of Missouri and I started out working in what was then the big eight accounting firms, one of those firms, and I did audit work for the first six years of my career getting exposure to a lot of different industries. Then I transferred during in that farm into a residency program that they had in their learning and development area. In effect, they brought in auditors to write programs that teach programs for audit professionals in the firm. And after that the rest is history. I never went back to day-to-day work as a CPA but instead moved into a number of learning and development leadership roles, first at Ernst & Young where I was the head of the audit training for the firm. I also headed up industry-specific training for Ernst & Young. And then I became the Chief Learning Officer of Grant Thornton, another top ten accounting firm. And, finally, Eddie and I met when I was the Global Head of Learning and Development for the executive search firm Heidrick & Struggles. Since that time I have actually had my own independent business Dean Learning and Talent Advisors where I work with clients in a number of areas including Learning and Development, Knowledge Management and Change Management.So how's that, Eddie?
Eddie Turner:
Great, Bob. Thank you for sharing that but there's something else about you that I think is really important I want the listeners to know about and that is I met you shortly after you achieved the designation, the second person in the world, actually, to get the designation Certified Experienced Economy Expert. What does that mean?
Bob Dean:
Well, in 1999, Eddie, authors Joe Pine and Jim Gilmore wrote book The Experience Economy. It very quickly became one of the top business books of all time. And it came to my attention because I really felt these gentlemen were visionaries about where our economy was going, in effect, going from products to services to experiences. And I believed that this was very relevant in learning and development where the product is a program and we need those to become experiences so people actually learn over time and apply what they learn to actually change their behavior. So I use my certification to take my work with learning and development to another level.
Eddie Turner:
Yes. And so I had the benefit of learning from you directly about the work of Pine and Gilmore and then had my own experience with them in 2011 when they invited 40 of us to go along with them to Las Vegas for the release of their revision of that book. They specifically chose Las Vegas, someplace I'd never been to until that time, to unfold the new frameworks in the book and this whole aspect of theming and they felt that there was no better place than Vegas to do that. And so they took us through Vegas on an experiential learning excursion that allowed me to get my, I had learned from you but gave me my chance to learn from them directly as well. So that framework, as you said, the great work that you've done and together I think the best work I've ever done has always been with you when I collaborated on projects. So at Heidrick & Struggles, you talked about a little bit of what you've done. Can you talk a little bit about some of the programs that you introduce which led to the discovery about writing?
Bob Dean:
Yeah, the first thing we did was the firm hand of mission critical business initiative to train some of their search consultants to become leadership advisors to client CEOs. And we used our framework from The Experience Economy, which I call 'the progression of learning value', it's derived from Chapter One of the book, we used the framework and a 6Ds design approach to design a program. They extended it actually over a six month period and had them very ambitious objective of having those people be able to consult with CEOs on talent management issues at the end of six months. And the reality is it happened sooner than that. They were doing it within two to three months and they were actually bringing in revenue. So this was a high-impact learning and development program.
Eddie Turner:
Yes and that work was intriguing because of not only the impact but also the idea that you decided that it was important to take these top leaders who are already extremely successful and work with them on their writing skills. Could you explain why that was important?
Bob Dean:
Well, actually we had another initiative in the firm that focused on what I'll call 'Competency-Based Interviewing' and my business sponsor at the time who was the head of talent management in the firm, she wanted to, again, drive capability development in our search consultants to do competency-based interviewing but what was interesting is we discovered that it was one thing to interview people in a very unique and value-added way but then you had the write up your interviews. You had to write them up in the form of candidate's specs. And so we realized that writing skills for the same people that we're doing interviewing were going to be critical to actually lifting the firm to another level. So we introduced the Writing Clearly course and it was done in conjunction with competency-based interviewing so the two went together. And you helped us to start to roll that out virtually because this wasn't really that big of a farm even though it was a public company. They had people all over the world and we weren't going to put them on airplanes to go to that course, which was only a three-hour course.
Eddie Turner:
Yes. And so writing clearly, and this became an important competency in the firm. And just as it was for those leaders, Bob, can you explain why the ability to write clearly is important for leaders today, those listening to this episode?
Bob Dean:
Yeah. I think everyone should be able to relate to this. I still remember the days and this'll date me but when I went to work, and I did not sit in front of a computer, as a matter of fact, if I had a computer, it was for specialized uses but generally I didn't have one and I also didn't have a smart phone, but those days are over. And now everyone is sitting in front of some sort of a screen most of the day, if not all day, whether it be a laptop, a tablet or a smartphone. What are they doing in front of those screens? Well, they're reading communications and documents and they're doing a lot of writing. And our research over the last two years as we worked with clients using very innovative platform to run our programs has been that on average people are writing 12 hours a week. And that is the number one thing they're doing. That exceeds the time spent on project management, on conference calls and meetings, on supervision and review. And that's pretty remarkable, if you think about it, that writing is now the number one thing people do in their jobs. And it doesn't really matter what the job is. It could be professional services or you're doing tax or audit or consulting work or it could be engineering or it could be other types of work that professionals do. So this course that we've designed in the last two years and run virtually is helping people to take that 12 hours and improve their work significantly.
Eddie Turner:
That's a staggering statistic, Bob. Thank you for sharing it. So professionals across industries are spending 12 hours writing. At this point we should probably make a point of clarification that I'm sure people are wondering. We're not discussing writing as in with the hand, writing in cursive. What type of writing are we talking about?
Bob Dean:
Yeah. This is writing for digital media. So, again, as I said earlier, Eddie, we're sitting in front of a computer. We're not writing by hand and then translating it to computer. Maybe some senior people used to do that when they give it to their administrative assistant but now it's expected that if you're sitting in front of a computer, you're going to be on that computer, writing in the digital world, and it's something we're all going today. And, of course, the young people coming into business today, the millennials and the generation beyond, they've grown up doing that in school. So it's second nature to them to do that at work.
Eddie Turner:
Good. Wanted to definitely make that clarification because in school they've stopped even teaching how to write in cursive. So everything's done by hand. And so all of a sudden with our younger generation, as you mentioned, they're used to their digital natives and spending a lot of time in shorthand because of texting. So everything's LOL, BRB, and emojis. And so now when you ask a professional to sit in front of a computer and spend those 12 hours, as you mentioned, some of the sloppiness or the shorthand is surfacing in their business writing.
Bob Dean:
Yeah, there's a lot of problems in the writing but the other thing we've learned through our research is not only are people spending on average 12 hours a week writing but when we asked them if they'd had any writing training in their careers, and again, this is a leadership skill, I believe, their answer is "I haven't had any since college." And sometimes since high school. So that, again, is remarkable that this is the number one way people are spending their time in business and they have not had any professional training. And, as you know, companies spend millions and millions of dollars on training but none of it is going to writing in general.
Eddie Turner:
And what do you suppose is the reason for that, Bob?
Bob Dean:
Well, I think this is a skill, if you think about it, that as managers we probably all feel "Well, you've written all your life. You ought to be able to do it well" but as more and more of our work deliverables whether they're emails which are very important communications internally or to clients or recommendation letters or PowerPoint slides, Eddie, there's a lot of writing going on in PowerPoint with bullet points and other writing that may even be less effective, we are just spending so much more time writing our work deliverables that we don't really produce work deliverables in a way that doesn't involve writing anymore.Does that make sense?
Eddie Turner:
Makes a lot of sense. So, at this point, Bow, why don't we take a break and have a word from our sponsor.
This podcast is sponsored by Eddie Turner LLC. Eddie Turner LLC. organizations who need to accelerate their development of their leaders call Eddie Turner, the Leader Excelerator. Eddie works with leaders to accelerate performance and drive impact. Call Eddie Turner to help your leaders one on one as their coach or to inspire them as a group through the power of facilitation or a keynote address. Visit EddieTurnerLLC.com to learn more.
This is Dr. Laura Paramoure, the CEO of eParamus and you're listening to the Keep Leading Podcast with Eddie Turner.
Eddie Turner:
Okay, we're back, everyone. You're listening to the Keep Leading Podcast with Eddie Turner. And my guest today is Bob Dean. Bob Dean is a certified experience economy expert who has made it his passion of late to make the world better leaders by producing better writers. We're talking about his Writing Clearly program that he's running at corporations all over the globe.Now, Bob, you were telling us a little bit about the work before the break. Can you tell us the most important techniques leaders can learn to apply every day to improve their writing.
Bob Dean:
Yeah, we have a very simple framework that involves tips and techniques that I generally say are not rocket science. I mean, you could say, well, maybe one of the reasons people aren't writing well is that it's too complicated but the reality is when you write and you read someone else's writing, you are generally falling into some bad habits. And, as we know, when you have bad habits, it's hard to break them and change them but what we're doing is giving people tips and techniques that are very much able to be applied immediately and those include removing wordiness from your writing. And you'd be surprised if you look at a one or two-sentence paragraph that there's enough wordiness in that paragraph that you could take out five or six words. And not only does that make it more clear and concise for the reader but it actually leaves a much more positive impression on the reader about you.Another tip, for example, is using bullet points. It may seem like a simple thing but I have transformed my emails by using bullets that I create in Outlook and my bullets, because it allows for more white space in my writing and allows people to do more of skip-and-scan read, make my writing much more effective.
And another technique would be just trying to improve your grammar and punctuation. Many companies, Eddie, have writing style guides. I know we had one in Heidrick & Struggles. And oftentimes employees either don't know the writing style guide exists or they haven't ever read it. And so our course integrates a company's writing style guide, we customize the course, if you will, so that people will be more likely to use that style guide in their future writing.
Eddie Turner:
So if you're listening to this podcast and you work for an organization, at this time we'd invite you to make sure you go and check and see if there is a style guide for your organization and pull that out and start to incorporate that in your writing so that you are a more effective leader leading by the way you communicate in writing.Now, Bob, you gave four different techniques our leaders can use to improve their writing. And I wanted to unpack those one by one, if I may. Number one, you said remove wordiness. How can I remove wordiness from my writing? You give a good tip. I've taken this course and there's one that you use that I really like. And if you could share that, I'd love you to do that.
Bob Dean:
Yeah. Among the tips to remove wordiness are simple things. One is removing unnecessary adverbs and adjectives. Now, you may have to go back to your college writing or English to refresh your memory on those but, in general, words that end with 'LY', those are adverbs that oftentimes can be removed. That includes things like 'generally', 'significantly', etc.The other things we can do, believe it or not. It's just take out simple words like 'of' and 'that'.
Bob Dean:
When people draft a first draft of something they're writing, they oftentimes put 'of' and 'that' in and can take it out without hurting the writing. So every word you take out makes the writing more clear and concise.
Eddie Turner:
Yes. So for those listening, even if we can't remember, the adverbs, since I've spent a little while since college, I love how you give a tip there about looking for the words ending in 'LY'. The one that I've used the most since taking your program is removing 'that'. And it's unbelievable the difference it makes in the sentence and, to your point, it does not affect the meaning of the sentence or the grammatical structure but it makes it so much easier to read. So thank you for sharing that, no pun intended.The other suggestion that you made is using bullets. And you specifically talked about the fact that you're leveraging the email program's ability for bullets. And sometimes individuals aren't aware that they can use the simple bullets or the numerical bullets to make it cleaner. And you talked about having white space. The more white space, our eyes digest it differently.
Bob Dean:
Yeah, we're dealing with a skip-and-scan reader and, again, in our research by running these programs, we explain what a skip-and-scan reader. It's someone who is not going to read every word on a page. They're going to scan it initially to see if it's worth reading more. And we ask people if they're skip-and-scan readers themselves. And about 85% to 90% admit that they are skip-and-scan readers. So if you're a skip-and-scan reader, your eyes will go to bullets if they're on the page. And the same words and bullets, if embedded in a paragraph, would not be nearly as visible. So bullets make the work more easily to skip and scan and read forward.
Eddie Turner:
Thank you.Do you have any success stories from your programs that you can share with our leaders?
Bob Dean:
Yeah, going back to the experience economy and the notion of learning experiences, one of the things we're doing in this program is number one, we're giving them pre-work in advance that they do to whet their appetite for the program. And it's been very interesting to see how many people say just by doing the pre-work they're ready to go and they're anxious for the program. And we do simple things like give them a paragraph, Eddie. And they look at it in pre-work and we say "What's wrong with this paragraph? Just tell us what you see." And they'll type in the issues they see that are wrong and then we're able to use those in the live program. Once the live program is winding down, we give them job aids that they can use immediately to refer to on the job. These are one page single frames. And anyone who works in learning development, you might realize it's great to have those but a lot of courses don't have them. And then the last thing we do is we do a stop-and-start activity at the end of the program where we ask them "What are you going to start doing in order to save time, in order to be more impressionable, be more professional with your brand? What are you going to do in order to improve the quality of your work product?" And they will tell us the things they're going to start billing and stop doing in the program itself. And we accumulate a very impressive list of action items from that that we can then use two months later when we follow up with them and we find out the impact that the program is having in their daily work.
Eddie Turner:
Very good.And so, pulling on your experience economy background, one of the things you've done to uniquely customize the experience of each of these sessions you run is that very first exercise you describe of writing samples, you're actually taking their own writing and pulling it into the program. Is that correct?
Bob Dean:
Yes, that's right. Again, one of the guiding principles of the experience economy is that for you to have life changing experiences for your customers, you need to customize the experience. And so we customize the writing course by asking our clients to give us writing samples from the work. So it could be a sample email. It could be sample recommendation letter. It could be sample proposal. And we use those samples and we annotate them to improve them in the course but we first ask people to tell us what's wrong with their own samples. So they're not using some sanitized examples as often happens in a training program. They're using customized examples from their own company.
Eddie Turner:
Yes, I've seen the power of that because when individuals are used to taking a program, it's been here, what we use at every company but I've seen what happens when you've gone into different industries and those sample show up on the screen, no one's name's attached but after you've gone through, you explain and everybody's broken them down, then you do the big reveal – "These were your sample?" And so, yeah, it's very effective and a tremendous way of doing that. Then, of course, you'll provide a follow-up for them afterwards and they see how well they've improved. Is that correct?
Bob Dean:
Yeah. I've been learning about it a long time, as you can tell from my bio. And I have to say the impact this course is having on people's writing two months later, they're actually changing. They are improving their writing by using these tips and techniques. And sometimes, Eddie, as you know, if you're trying to change your behavior and improve your skills, you need validation from someone else that it's working. And they are getting validation from their managers as well as from their clients that their writing has improved. Matter of fact, we have one client whose client said "You're writing is dramatically better. How did that happen?" And that led to a referral to us so that we could improve another company's writing.
Eddie Turner:
Fantastic. So now, since this is a writing course, you're flying all over the world and two different offices and running this program. Correct?
Bob Dean:
No, this program, actually when I was Chief Learning Officer at Grant Thornton, my colleague Kurt Peoples and I begin to implement that program in face-to-face classrooms during conferences, so say a three-day conference with a four-hour writing course in the middle of it but nowadays this course is … We want to impact the whole culture within a company and you generally don't do that by flying around. So we're using virtual classroom programs. And all of these programs, I run them from my desktop and there's no travel involved. So, as I say to clients, save your travel dollars and instead run more programs because you can use them for fees instead of airline tickets and hotel bills. So it's all virtual which is very exciting.
Eddie Turner:
Wow! So clients can bring this into their offices, their organizations to help their leaders write better virtually. And how long will this take for them to complete the program?
Bob Dean:
Well, we just did a program Sunday night and here we are Tuesday morning. And we ran one for Australia, Singapore, and China. And we ran it at 8:30 p.m. to 11:30 p.m. So, it's a three-hour program and we actually ran it late at night to accommodate our participants in their time zones. That course can be followed by a two-hour course with focus specifically on email. We have found that so much writing today is email that it deserves its own course. And we actually focus in on other tips and techniques in the email course, simple things like how to write better subject lines and how to use bullets in email and how to use better greetings and sign-offs in emails. These are simple things but you'd be surprised, Eddie, how many bad habits people fall into.And then finally a third course is a course on editing and proofreading. So if you're a manager in a company or a senior leader and you don't actually do a lot of your own writing but you review a lot of other people's writing, this editing and proofreading course can improve the quality of the end product.
Eddie Turner:
This sounds incredible. And I can't thank you enough, Bob, for sharing these ideas because it is really important, as we mentioned earlier, not just for our younger workers in organizations but senior leaders need to be able to reflect themselves well and their brand and their organization by writing clearly which by extension means writing effectively.So, our listeners have basically heard us talk about the idea that continually improving your business writing skills is a differentiator in the business world today. Is there anything else you would like for our listeners to know?
Bob Dean:
Sure. If you think about differentiator, what that means is if I'm a professional and I'm trying to advance my career whether it's within the same company or perhaps by moving to another organization, if my writing is better than my colleagues, then that really helps me a lot because I'm spending so much time writing. And it helps in several areas. Number one, it will help me to save time. Perhaps I don't have to rewrite and work on miscommunicative writing because I get it right the first time. It will help me improve my personal brand, make a more positive impression on people through my writing. It will help me with the quality of my work product. We've actually had people tell us that if they can improve the quality of their recommendation letters and their proposals, perhaps they won't even have to bid against other companies. And, finally, we all are in the business of doing research whether it's Googling things or whether it's reading white papers and trying to interpret them. And so critical thinking is still an important part in business but if you're a good critical thinker, Eddie, and you think well but you don't know how to put it down in writing, it doesn't matter how good of a critical thinker you are if you can't write it.
Bob Dean:
Those are the differentiators.
Eddie Turner:
I should also mention that I met you toward the end of completing my degree as an adult at Northwestern University. And because of you I ended up taking a class in Journalism and I would not have taken it otherwise. And it ended up being one of the best things I ever did. I took it under the amazing professor Charles Whitaker. And the other thing that's interesting about you that people may not know is that in addition to being a CPA you have an extensive background in Journalism.
Bob Dean:
Yeah. I would be editor of my high school newspaper. And I know you talk about leadership in these podcasts. That one-year experience as a senior in high school was not only probably the one of the most challenging leadership assignments I ever had because I had to lead a group of 25 high-performing students, all of whom wanted my job as editor, but then I also learned the fundamentals of journalism when I was in high school. And to this day those stick with me and it's really amazing how that has influenced my ability to communicate throughout my career.
Eddie Turner:
Yes, and I believe that. When I was working for you, you shared a little bit about your experience in journalism in college. And so that led to me making the decision that I made as well. So I concur 100% and that's why I want our leaders today to hear about that aspect of their personality, their brand and professionalism that we may not think about otherwise. So, thank you for sharing that.The other thing is I'd say this. On the Keep Leading Podcast, our leaders want different life lessons or quotes that they can use and be thinking about daily. Do you have a short quote that you can use for our leaders?
Bob Dean:
Yeah, a quote I've lived by for a number years, over 25 years, is "Change is a journey, not an event." And I started using this quote when change was not happening as often as it is today. We're living in a world of dynamic change and disruption and there's really no way to stop it. So if you don't like the change, you're going to have to get used to it because it's going to continue. And in a world where we have leaders who need to communicate to employees and customers all over the world, writing has become a leadership skill. And we actually have a course called Writing For Leaders that is focused on how you as a leader must write clearly in a compelling way in order to engage your employees.
Eddie Turner:
Thank you, Bob.Now, where can my listeners Learn more about you?
Bob Dean:
Yeah. There's a website that my colleague and I have called DeanPeoples.com. So https:\\DeanPeoples.com. On that website you will see bios and you will see course descriptions of all our courses plus we have a blog there which, Eddie, I'll post today's podcast as the blog post as soon as you're ready.
Eddie Turner:
That sounds good.Well, everyone, Bob Dean is indeed a leader in staging live virtual learning experiences. I'm so glad he came on today to tell us about these things. And, as he mentioned earlier in terms of his certification in the experience economy in Chapter One, there is a progression of economic value that Joe Pine and Jim Gilmore reveal. Well, Bob has revealed the progression of learning value. And so check out the show notes, the website where that will be posted. He was kind enough to share that with me and as he walked us through that in this interview, you'll see that as well.
Bob, thanks again.
Bob Dean:
Okay, very good. Thank you, Eddie. Good luck.
Eddie Turner:
Well, that concludes this episode, everyone. I'm Eddie Turner, the Leadership Excelerator, reminding you that leadership is not about our title or our position. Leadership is an activity. Leadership is action. It's not the case of once a leader, always a leader. It's not a garment we put on and take off. We must be a leader at our core and allow it to emanate in all we do. So whatever you're doing, always keep leading.
Thank you for listening to your host Eddie Turner on The Keep Leading Podcast. Please remember to subscribe to The Keep Leading Podcast on iTunes or wherever you listen. For more information about Eddie Turner's work please visit EddieTurnerLLC.com.
Thank you for listening to C Suite Radio, turning the volume up on business.
The Keep Leading!™ podcast is for people passionate about leadership. It is dedicated to leadership development and insights. Join your host Eddie Turner, The Leadership Excelerator® as he speaks with accomplished leaders and people of influence across the globe as they share their journey to leadership excellence. Listen as they share leadership strategies, techniques and insights. For more information visit eddieturnerllc.com or follow Eddie Turner on Twitter and Instagram at @eddieturnerjr. Like Eddie Turner LLC on Facebook. Connect with Eddie Turner on LinkedIn.