Scott Miller
Executive Vice President, Thought Leadership & Chief Marketing Officer at FranklinCovey
From Mess to Leadership Success
Episode Summary
Scott Miller is the Chief Marketing Officer and Executive Vice President of Thought Leadership at FranklinCovey. We discussed concepts from his WSJ Best-Selling Book: Management Mess to Leadership Success!
Check out this 60 Second preview of the episode!

Bio
Scott Miller is a 24-year associate of FranklinCovey and serves as the executive vice president of thought leadership. Scott hosts multiple podcasts including FranklinCovey's On Leadership and Great Life, Great Career. Additionally, Scott is the author of the multi-week Amazon #1 New Release, Management Mess to Leadership Success: 30 Challenges to Become the Leader You Would Follow, and the Wall Street Journal best-seller, Everyone Deserves a Great Manager: The 6 Critical Practices for Leading a Team. Scott authors a weekly leadership column for Inc.com and is a frequent contributor on podcasts, and webinars. Previously, Scott worked for the Disney Development Company, and grew up in Central Florida. He lives in Salt Lake City, Utah, with his wife and three sons.
Website
https://managementmess.com/
Other Website
https://www.franklincovey.com/
LinkedIn
https://www.linkedin.com/in/scottmillerfc/
Twitter
https://twitter.com/ScottMillerFC
Facebook
https://www.facebook.com/scott.miller.9469545
Instagram
https://www.instagram.com/scott_jmiller/
Get Your Copy of Scott's Book!
https://managementmess.com/
Leadership Quote
"Nearly all, if not all conflict, comes from mismatched or unfulfilled expectations."
Blaine Lee, Co-Founder FranklinCovey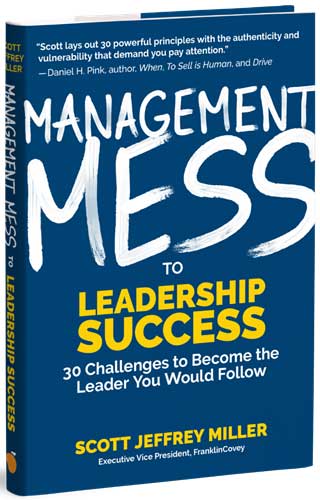 Transcript
If you're a small business owner looking to grow or expand your business, check out OnDeck Business Loans. OnDeck offers business loans online from 5000 dollars to 500,000 dollars and their simple application process only takes 10 minutes. Unlike banks they'll give you a decision quickly and funding in as fast as one day. Get a free consultation with an OnDeck loan adviser. Visit OnDeck.com/Podcast.
This podcast is part of the C Suite Radio Network, turning the volume up on business.
The key to sustainable leadership lies in the ability to thrive during uncertainty, ambiguity, and change. Grand Heron International brings you the Coaching Assistance Program, giving your employees on-demand coaching to manage through a challenging situation and arrive at a solution. Visit GrandHeronInternational.Ca/Podcast to learn more.
Welcome to the Keep Leading!® Podcast, the podcast dedicated to promoting leadership development and sharing leadership insights. Here's your host, The Leadership Excelerator®, Eddie Turner.
Eddie Turner:
Hello, everyone! Welcome to the
Keep Leading!® Podcast
, the podcast dedicated to leadership development and insights. I'm your host, Eddie Turner, The Leadership Excelerator®. I work with leaders to accelerate performance and drive impact.
As leaders, we all like to feel like and give the appearance that we have it all together, we have it all figured out but as quiet as it's kept, every now and then the reality is we're really a mess on the inside. Well, how can you and I go from being a mess to a leadership success? My guest today has the answer to that question. In fact, he's written it in the book. My guest today is Scott Miller, Author of Management Mess to Leadership Success. He's a 24-year associate of Franklin Covey and serves as the Executive Vice-President of Thought Leadership. Scott hosts multiple podcasts himself, including Franklin Covey's On Leadership and Great Life, Great Career. Additionally, Scott authors a weekly leadership column for Inc.com
Scott, welcome to the Keep Leading!® Podcast.
Scott Miller:
Eddie, it is my honor to be here. Thank you for the platform.
Eddie Turner:
Well, I'm just super excited to have you here. Tell us a little bit more about you. What did I miss about your incredible background?
Scott Miller:
Well, you were very gracious in that. I'm 51 years old. I was born and raised in Orlando, Florida, worked for the Walt Disney Company for four years. After four years, they invited me to leave, which is a nice way for Disney to say "You don't fit here." And what's interesting was the Franklin Covey company, of course, founded by the famed author Dr. Stephen R. Covey of the Seven Habits book which has sold 50 million copies, they recruited me and I moved to Utah 24 years ago and I've had this amazing journey as a leader inside a leadership development firm. And it's been tough, honestly. I think leadership is not for everyone and I've learned a lot about how to become a better leader of people. I have some very strong opinions on who should and who shouldn't be a leader of people. And I wrote this book, very vulnerable, very real, very relatable called Management Mess to Leadership Success. It's done extremely well. I've written a few since then. I've been Wall Street Journal bestsellers. And I'm just not out talking to people around what's my own leadership experience and being very vulnerable about it. And I think it's hit a chord. I think the world needed one more leadership book and that was mine. I think often, Eddie, these books are so academic and they're so unrelatable for people in the trenches. And although I'm an officer in a public company, Franklin Covey, I'm still very raw as it relates to how to be a great leader. After 25 years I'm still learning and I wanted to share that message with my readers and, hopefully, your listeners today.
Eddie Turner:
Well, we are very happy that you're here to share that message. And, certainly, you work for a legendary company with a great heritage and the leadership message that you all have put out there, both in print and audio, has reached the masses for sure.
Scott Miller:
Thank you. It's been an amazing journey to be part of this great brand.
Eddie Turner:
So, you said you had put one more book out there in this great body of knowledge about leadership. Tell us why you wrote the Management Mess.
Scott Miller:
Like you, I host a podcast called On Leadership and every week I'm privileged to interview CEOs, bestselling authors, business titans. And one day I was interviewing Steven M. R. Covey. He's the oldest son of Dr. Stephen Covey. And he wrote a book called The Speed of Trust. And that book is sold 2 million copies. I was interviewing him. And I said to Steven M. R. Covey, I said "Did you ever feel the pressure under your father to write a book?" And he said "No, I didn't because I didn't have anything to say." And then he said "One day it changed when I did have something to say. I wanted to write about how to build a high trust culture." And it was in that interview with Steven M. R. Covey, almost two years ago that kind of a light went off and I said "You know what," at 50 years old at the time, "I also have something to say. I want to share with other leaders what I've learned about how difficult leadership is" that, Eddie, I think most people are lured into leadership, not led. Too often we promote individual producers to become leaders of teams. Rarely does the most creative digital designer make a great creative team leader. Rarely does the top producing salesperson make a great sales leader. Those skills are rarely transferable. So, I wanted to talk a little bit about the underbelly of leadership. It's tough. It's hard. It's unrelenting. It's sometimes unrewarding. It requires you to move outside of your comfort zone, discuss the undiscussables, and have high-courage conversations. So, I wrote this book in a very funny relatable way because I wanted to share with people if you are going to be a leader of people and if you're not, no shame. I think the industry has done a bit of a disservice to say "Well, if you want to fulfill your potential, you have to be a leader of people." That's bunk. Too many organizations require being a leader of teams for advancement. Not everybody should be a leader of people but if you are, for whatever your reason is, and you should know your reason, then I wrote there are 30 challenges, there's probably more, I condensed them to 30, there's 30 challenges that everyone faces if you want to become a leader that people will follow.
Eddie Turner:
Well, that's an exhaustive list to be sure. So, I love the phrase you said that many people are lured, not led into leadership. And so, as a result, they find themselves ill equipped to exercise leadership, to your point, because they were really better as a team member or an individual contributor rather than in a leadership role but they are promoted beyond their level of competence because they were the most technically skilled, because they were the most advanced intellectually in one area but they didn't shore up their leadership skills in other areas. And so, in this list of 30 principles that you refer to, I don't want you to give us all 30, but can you give us maybe the top one or two?
Scott Miller:
Yeah, sure. So, I curated with a team at Franklin Covey what we find most people struggle with or even conversely, when they actually execute on these, they have disproportionate impact and leave a legacy. I mean, challenge three – listen first. I mean, as leaders, we're so deeply enculturated to communicate our message, clarify a vision. We're always talking. We're in persuasion mode. We're in influence mode, whether it be in the town hall or the annual retreat or the sales academy.
Eddie Turner:
We have two ears and one mouth for a reason, right?
Scott Miller:
It's so true. It's so true. And I think we lose track of the fact that yes, to be a great leader, you do need to be a strong communicator but if you want to build a culture where people don't quit their boss because, Eddie, we know people don't quit their jobs, they quit bad bosses and corrupt cultures, if you want to build a culture where people feel like their leader loves them, loves them appropriately, then you got to get to know them, got to shut your mouth and listen what's going on in their life, right? Are they liking their job? Are they feeling like you're helping them build a career they can exercise all their potential in? what's going on in their personal life? I mean, everybody brings their personal life to work, right? People have bills they can't pay and teenage sons that are vaping and mothers-in-law that are moving into dementia. And they may sound absurd but it's not. People's lives are no longer divisible, right? They're bringing their whole person to work. So, what is this listening skill?
Another one is declaring your intent. Absent facts, people make stuff up. I live a quote from one of our co-founders. He said 'Nearly all, if not all, conflict in life comes from mismatched or unfulfilled expectations." So great leaders move outside their comfort zone and they declare their intent. They make sure that nobody is guessing what their motives are because our motives don't always match our behaviors.
Another challenge, I'll mention one more, is challenge 12 – lead difficult conversations. Leaders have to be able to summon the courage to discuss the undiscussables because, as a leader, that's the greatest gift you can give your people, to call out their blind spots, do it in a way that has a balance of both courage and consideration, not one or the other to an extreme, but to sit down and say to somebody "You know what, Eddie, I'm seeing some behaviors coming out of meetings that are really injuring your brand. And I see a great career here for you but if you don't change some of these things, you aren't going to survive here, meaning I'm going to have to terminate you. So, let's sit down and talk about what it looks like."
There's 27 more like that. They're very practical. They're very tangible. And they're things that get most people fired.
Eddie Turner:
So, I caught two – listen first and lead difficult conversations. What's the third one that I missed?
Scott Miller:
Yeah, it was the middle one about declaring your intent. In a conversation, Eddie, my intent is to help you build a great career here. My intent is not to try to exit you by backing you in a corner, right? So, absent someone understanding your motive, people will suspect and ascribe a motive to you. So, leaders that move from mess to success are clear on declaring and clarifying their intent. And then you minimize confusion and conflict and nobody else can suspect what your motives are. We all have motives. Everybody's got a hidden agenda. Some do a better job than others. Some have sinister intent, some don't, but if you declare your intent, nobody then can confuse it or a scribe their own to you.
Eddie Turner:
So, what you're saying is even when we say we don't have an agenda, we have an agenda?
Scott Miller:
Of course, you do. Everybody's got an agenda. Your agenda is to advance your own career, increase your income, minimize competition from someone who might be threatening you. I mean, all behavior is an attempt to escape pain, all behavior. Everything we do is an attempt to minimize pain in our life. So, I think great leaders recognize you have a motive and it may or may not be noble. And the more you can be self-aware and sort of peel the onion on what your intent really is, the more you can match your intent with your behaviors and also what you choose to say. I mean, how often do we say "Well, I didn't mean to offend her" or "That's not what I meant to say." I mean, it's common that our behaviors don't match our intent. In fact, we tend to judge people by what they do and say but we want others to judge us on what we intended to do and say. We're fairly unforgiving of other people's intents but we want everyone to assume that our intent is good.
Eddie Turner:
Isn't it funny how that works? Okay.
Well, I'm talking to Scott Miller of the Franklin Covey Organization and author From Management Mess to Leadership Success. We'll have more with Scott right after this.
This podcast is sponsored by Eddie Turner LLC. Organizations who need to accelerate the development of their leaders call Eddie Turner, The Leadership Excelerator®. Eddie works with leaders to accelerate performance and drive impact. Call Eddie Turner to help your leaders one on one as their coach or to inspire them as a group through the power of facilitation or a keynote address. Visit EddieTurnerLLC.com to learn more.
Hi! This is Patricia Fripp, the presentation skills expert and you're listening to the Keep Leading!® Podcast with my friend Eddie Turner.
Eddie Turner:
All right, we are back. I am talking to Scott Miller and Scott is a senior executive at the Franklin Covey Organization and author of Management Mess to Leadership Success.
Well, coming from a story organization like yours, I want to get back into a couple of points from your book but you got to tell me, as I'm sure my listeners may be wondering, what's it like to work for a storied franchise such as Franklin Covey? Any insights you've gleaned from Stephen Covey?
Scott Miller:
Yeah, like I said, I've been here for 24 years, right? So, I've cut most of my teeth here at this firm. I worked under Dr. Covey for 15 years. He passed seven years ago as a result of a brain injury from a bicycle accident. So, I definitely have learned wear a helmet. He was wearing a helmet but it was too loose and had a brain injury and passed in his 80th year. It's an amazing experience to work with high character individuals. Like any company we have our cultural challenges. We're a public company. So, there's pressure to perform and grow and return profit to our shareholders. Welcome to any organization. I think what Dr. Covey taught me most, Eddie, was in people we have two types of mindsets – an efficient mindset and an effectiveness mindset. And both are good but they need to be present at different situations in your life. You can have an efficiency mindset with things, meetings, mowing your lawn, changing your oil. There's a time to be efficient in life. And then there's a time to be effective. And when it comes to your relationships with people in the workplace, at home, in your personal life, you cannot be efficient. You need to be effective, which is a fundamentally different mindset. Dr. Covey was fond of saying "With people, slow is fast and fast is slow." You can't be fast with people. You got to slow down. Now, there are occasions you can text or have a very quick stand up meeting but people like me who have a naturally efficient mindset – make lists, get things done, my cars washed by 7 on Saturday morning, my flowers are planted by 8, I'm ready to play tennis by 9, I'm a very productive person – it serves me very well in many areas of my life. Eddie, it's also tripped me up when it comes to my wife, to my three young boys, to my customers when I'm always kind of in a hurry. And so, I have had to struggle with this, I think, profound insight from Dr. Covey around when to be efficiency minded and when to be effectiveness minded. With people, slow down.
Eddie Turner:
That's a powerful piece of advice. I love that. So, there's a difference between being efficient and being effective. That really resonates because I am a perfectionist and, to your point, I am very orderly and very methodical, I have a certain way of doing things, I'm very precise and it works well for Eddie but then I got married. Of course, I've also learned from the people in my life that "Yeah, I can't bring that to them." So, I had to make those adjustments. And so, I really like how you articulate that. Very nice.
Anything else that you've learned that you can share?
Scott Miller:
Yeah. One other thought. Dr. Covey in his book The Seven Habits of Highly Effective People which is down its 30th year and has sold 50 million copies, he popularized, not invented but popularized this concept of paradigms, otherwise known as our mindsets and our belief windows. All of us as leaders, all of us humans have deeply enculturated paradigms since birth. I mean, I was raised in the '70s in Central Florida. And this may be laughable but I was raised to believe in an upper middle-class family that doctors, police officers, and Catholic priests always told the truth and were always right. Do doctors always tell the truth or Catholic priests? No, of course not. That's insanity, right? And think about it. As a young Catholic boy, as an altar server, if I had been led to believe, and I was, that Catholic priests always do the right things and always told the truth, my life could have been destroyed had I been placed in a situation with a corrupt member of the clergy that had taken advantage of me. That did not happen, thank the Lord. I've had an amazing journey in that faith but like me, each of us have deeply enculturated paradigms on how we see ourselves, how we see members of different faiths, how we see members of different races or genders or communities, right? And these things are deeply ingrained in us from our parents, from our aunts and uncles, from our neighbors, our siblings, our junior high school principal, the teacher who told us "You're not smart" or the counselor told us "You'll never make it to college." And I mentioned that because when we recognize that we see the world not as it is but as we are, as leaders we have warped paradigms, metaphorically. We're wearing glasses with the wrong prescription. We don't have the whole story. We don't have the full picture. We don't see everybody accurately. And I mentioned all that to say as leaders, you have deeply entrenched paradigms about the members of your team for any number of reasons. Some you think aren't very competent. Some you think aren't productive. Some you think are lazy. Some you think are more talented than you are. So, you hold them back because you're too insecure to let their talent rise up because that might eclipse your own. Whatever it is, fill in the blank, but as a leader that moves from mess to success, you got to check your paradigms. And can people earn their way out of the way you view them? Can they redeem themselves? Can they grow and blossom? Can they challenge a right, correct? Give a more accurate paradigm of what you hold from them. I think it's a powerful lesson that leaders need to recognize people may have behaved themselves into a problem and they can only behave themselves out, right? You cannot talk yourself out of a problem. You behave yourself into it. You can only behave yourself out of it. At the same time, are you willing, are you generous, are you vulnerable enough to allow people to challenge and change the paradigm you have of them?
Eddie Turner:
You can't talk yourself out of a problem you've behaved your way into bed. That's an interesting way of putting it. So, if a person recognizes they have these paradigms, how do they make a paradigm shift?
Scott Miller:
My gosh! I think it's associated with people who aren't like you, right? I mean, I'm a Caucasian guy in my 50s. I live in Salt Lake City. It's a predominantly Caucasian state. I am in the leadership industry. So, you can imagine who my friends and associates are. You can imagine how my warped paradigms are reinforced, I mean, whether you watch CNN or Fox News or read the New York Times or The Wall Street Journal. I think, you've got to associate yourself with people who are different than you – different gender, different races, different socioeconomic backgrounds. If you're a white guy in his 50s, watching Fox News, I probably can predict some of your politics, right? And if you're a Latino that's not watching Fox News, I might have an idea of your perceptions. I don't mean to say or to cast a broad net but we've all got to befriend people of different backgrounds. It's why you see these demographic maps of which states have the most number of passports issued, right? I mean, if you want to challenge your paradigm, travel, invite somebody of a different race to your home for dinner, invite someone of a different sexual proclivity or different age group or different socioeconomic background. Surround yourself intentionally with thoughts and ideas and people who challenge your conventional wisdom. I think, so many of our political problems are we tend to surround ourselves with likeminded people, we have our own paradigms, right or wrong, reinforced that we can't even have a civil dialogue. Dr. Covey used to say "Oh, you see it differently than me. How great that is." And I think that's so important is to be comfortable, be vulnerable enough, be confident enough to friend and associate people that have nothing in common with you. I have a tennis coach here who's Muslim. He's from Tunisia. And I love to say I'm a Catholic, I'm a Christian. I love to sit and just listen to him about his upbringing but what he was taught to believe. This guy never met a Christian until he moved to America and attended a university. He never met a Christian in his life. All he heard about was what he saw in the news. This guy's one of my best friends. I love this guy. I think that's a good way to challenge paradigms is get a passport, travel, go to dinner at a restaurant that doesn't have food that's just from your own ethnicity or your own part of the country. Encourage people in your life that will challenge your deeply entrenched mindsets.
Sorry, I'm passionate about that but I think that that that's the root of a lot of America's challenge right now. We can't even have a civil conversation with people who disagree with us, it gets into a brawl. And I think that starts at the top.
Eddie Turner:
Okay. Well, thank you very much, Scott. And we appreciate your energy and passion around the topic. So, tell me how would you summarize our conversation we've had today?
Scott Miller:
I think we all need to be kinder, more tolerant, check our own views, do we have the whole story. We're all messes. Everybody's got a mess. Every leader needs to own their mess. Once as a leader you're willing to be confident enough and vulnerable enough to own your mess, you then give permission, Eddie, for others to own their messes. It doesn't mean that you license bad behavior or that you wallow in your messes but when a leader can develop a culture on his or her team in their company, on their club, on their committee, when you're confident enough to own your mess, you then make it acceptable for others to own theirs and everybody can move to success.
Eddie Turner:
Thank you. Scott, where can my listeners learn more about you and your organization?
Scott Miller:
Well, to quote my wife, it's kind of hard not to find me these days. She thinks I'm a little bit overexposed. You can follow me on Twitter, on LinkedIn. You can Google Scott@FranklinCovey and find my Instagram handle. You also can visit ManagementMess.com. That's where you find the book. I've also co-authored a new book called Everyone Deserves a Great Manager. That debuted at number three in the Wall Street Journal list a few weeks ago. And if you just visit FranklinCovey.com, you can also find me there.
Eddie Turner:
Fantastic. Well, Scott, thank you again. I'll make sure I put this in the show notes for everybody. I appreciate you for being a guest of the Keep Leading!® Podcast.
Scott Miller:
My honor. Thank you, Eddie.
Eddie Turner:
And thank you. That concludes this episode, everyone. I'm Eddie Turner, The Leadership Excelerator®, reminding you that leadership is not about our title or our position. Leadership is an activity. Leadership is action. It's not the case of once a leader, always a leader. It's not a garment we put on and take off. We must be a leader at our core and allow it to emanate in all we do. So, whatever you're doing, always keep leading.
Thank you for listening to your host Eddie Turner on the Keep Leading!® Podcast. Please remember to subscribe to the Keep Leading!® Podcast on iTunes or wherever you listen. For more information about Eddie Turner's work please visit EddieTurnerLLC.com.
Thank you for listening to C Suite Radio, turning the volume up on business.
The Keep Leading!® podcast is for people passionate about leadership. It is dedicated to leadership development and insights. Join your host Eddie Turner, The Leadership Excelerator® as he speaks with accomplished leaders and people of influence across the globe as they share their journey to leadership excellence. Listen as they share leadership strategies, techniques and insights. For more information visit eddieturnerllc.com or follow Eddie Turner on Twitter and Instagram at @eddieturnerjr. Like Eddie Turner LLC on Facebook. Connect with Eddie Turner on LinkedIn.