Joe Swinger
Executive Leadership Coach
Awaken the Leader Inside
Episode Summary
Joe is an authority on Self-Mastery Leadership. As a motivational transformation specialist, Joe helps leaders, entrepreneurs, and managers create transformative and positive change. We discussed how to "Awaken the Leader Inside."
Check out this 60 Second preview of the episode!

Bio
As an authority on Self-Mastery Leadership and as a motivational transformation specialist, Joe Swinger helps leaders, entrepreneurs, and managers within corporate cultures create transformative and positive change. Once homeless, Joe has risen as a leader in multiple Fortune 50 companies, in which he has developed hundreds of successful business leaders.
Leading from his own discoveries about pain, loss, and abuse, Joe engages his experiences and hard-won resiliency to position others toward freedom and success, in their personal and professional relationships. Through his speeches, consulting and workshops, Joe offers his expertise on enlightened leadership, conflict resolution, team building, and personal development. He takes his audience to a place of harmony, purpose, and clarity.
Joe's biggest joy comes from his Big Magic coaching process in which he helps midlife adults find their North Star by guiding them from their old corporate job to their new entrepreneurial life so that they may live a life of vibrancy and influence. Joe is a Certified Jack Canfield Success Principles Trainer and author of Awaken the Magic Within…The Invitation: The 7 Essential Virtues for Incredible Success.. He holds Masters Degrees in both psychology and business administration and currently lives in Albuquerque, New Mexico.
Website
https://joeswinger.com/
LinkedIn
https://www.linkedin.com/in/joeswinger/
Twitter
https://twitter.com/joeswinger
Facebook
https://www.facebook.com/joe.swinger.7
Instagram
https://www.instagram.com/authorjoeswinger/
Leadership Quote
"You must tend to your own leadership garden first before you earn the right to lead others."
Get Your Copy of Joe's Book!
https://joeswinger.com/
Full Episode Transcripts and Detailed Guest Information
www.KeepLeadingPodcast.com
Keep Leading LIVE (Live Recordings of the Keep Leading!® Podcast)
www.KeepLeadingLive.com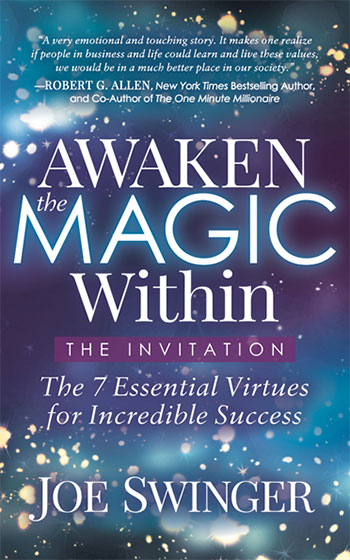 Transcript
The key to sustainable leadership lies in the ability to thrive during uncertainty, ambiguity, and change. Grand Heron International brings you the Coaching Assistance Program, giving your employees on-demand coaching to manage through a challenging situation and arrive at a solution. Visit GrandHeronInternational.Ca/Podcast to learn more.
This podcast is part of the C Suite Radio Network, turning the volume up on business.
Welcome to the Keep Leading!® Podcast, the podcast dedicated to promoting leadership development and sharing leadership insights. Here's your host, The Leadership Excelerator®, Eddie Turner.
Eddie Turner:
Hello, everyone! Welcome to the
Keep Leading!® Podcast
, the podcast dedicated to leadership development and insights. I'm your host, Eddie Turner, The Leadership Excelerator®. I work with leaders to accelerate performance and drive impact through the power of coaching, facilitation, and professional speaking.
How do you awaken the leader inside of you? Today, I'll speak with a leader who has written a book where he details the answer. My guest today is Joe Swinger. Joe is an authority on self-mastery leadership. He holds a Master's degrees in both Psychology and Business Administration. As a motivational transformation specialist, Joe helps leaders, entrepreneurs, and managers create transformative and positive change. Joe is truly a man of discipline and dedication. I know firsthand because literally every time I've called Joe, I've interrupted him at the gym while he was working out. I need to be more like Joe.
Joe, welcome to the show.
Joe Swinger:
Hey, thank you, Eddie. Such a pleasure to be here.
Eddie Turner:
What else should my leaders know about you?
Joe Swinger:
I think the important thing is to know that I believe there's great leadership within everyone. And when we talk about how to awaken that, what I call magic, it's to first believe that people can do it. And I think my story is proof of that because I used to be known as the manager from hell who got great results but when it came time for the surveys, everybody hated me. And I had to learn how to transform myself so I was able to get exceptional results and be what I call the enlightened later.
Eddie Turner:
All right. So, you were not people's favorite person it sounds like, Joe.
Joe Swinger:
No, I beat people up and led by fear and intimidation for a good portion of my life. I dealt with low self-esteem issues for probably 50 years. And when you have that as a leader, it's difficult to embrace everybody without getting defensive and those kinds of things. So, I was good for results but bad for people.
Eddie Turner:
And, Joe, what made you come to that realization?
Joe Swinger:
Well, I came to a point where a survey came out and we did an associate survey and even though I was one of the top players in the company in retail leadership, I was kind of told in no uncertain terms that I was going to have to change. And so, I went through a transformation. And that is my story that I wrote for Awaken the Magic Within. It's how am I going to be a better leader for people. And I decided one day, I was at a site at Grand Junction, I was assistant manager over there for an absent manager and I decided I was going to be a motivational speaker and come to work every day as a motivator. And really that decision transformed my career. And then, of course, I did all the difficult inner work to get to that point but it all started with a decision to be great.
Eddie Turner:
Well, I appreciate you sharing that and being so candid, Joe, because not a lot of people would be able to do that. You received the feedback and rather than bristle against the feedback, you looked inside yourself and you took the time to do inner work, make the changes and made a decision to become a better leader.
Joe Swinger:
Yeah, absolutely. Self-mastery leadership is all about making the decision to be the best leader you can be. And there's like four steps that I train people to do every day to be a great leader and constantly improve every day because I mean, it's difficult, right? I mean, you go to work and some days you're on the game and some days you're not. And it all has to come from that inner desire though. You can go all the leadership classes you want. You can read all those leadership things you see on LinkedIn every day and know how to do this and how to do that but it's got to come from within and it's got to be what makes you authentic. That's like a buzzword you hear in leadership today – authenticity – but it's got to come from within, the beginning of it.
Eddie Turner:
Indeed, indeed. So, you told us about the book that you wrote and why you wrote it. And one of the things I noticed is that you included seven essential virtues such as faith, compassion, and forgiveness. Is there one of those seven virtues that's more meaningful to you than the other?
Joe Swinger:
Well, I get asked that all the time. And I say it's like picking your favorite part of your body. They all work together. When they came up with these virtues, I looked at over 100 virtues and I tried to pick the seven that I think are critical for a great leader and a great person, quite frankly. And it's all about building character. And so, Purpose is the first and everything follows it but for me, to pick one, they've all impacted my career but purpose is really the engine that drives everything. I mean, that's where the passion comes from and the creativity and making a difference, making results happen. And so, if we had to pick one, it's probably best to know your purpose first and then the other things will follow because if you don't know your purpose or you're not living your purpose daily, people are always going to be unhappy, they're going to be unsatisfied, they're going to have an empty feeling at work. So, it really matters to live your purpose. And I know that's a big thing for some people – "I don't know what my purpose is in life?" And it's basically just going to work with intention and putting attention on your intention – what are you going to do, who you're going to be that day, how do you want to treat the people that day, how can you be of service? And that is going to make a great day at work.
Eddie Turner:
So, putting attention on your intention. I liked when you said that, Joe. And that's good for those who discover what they need to do differently. Do you have advice for those who are struggling with what their purpose is?
Joe Swinger:
Well, I do. If you're trying to get the big purpose like what do you want to do, it's great to do an inventory of things that you're passionate about, things you enjoy doing. We hear it often and many times they're their passion or purpose. It's something that's difficult to make money at. And so, you'd have to go to a job and then do what you really love after that. And the trick is how do you turn that into an income but while you're on the job for the 8 hours or 10 hours, you still have to be that person. And I like to tell people that leadership or being at work is not an 8-hour job. It's a 24/7 job because you can't slog it at work and then go home and think you're going to be great. So, if you're going to inspire people, you have to do it on the job even though you may not have a title of a leader, which many people write about that, and then making the decision that you are going to be different moving forward. So, what skills must you develop to achieve your potential and really begin to have clarity of self-mastery, the clarity of who you are going to be.
Eddie Turner:
Thank you. Now, you refer to leadership as magic. Is it something mystical that just happens with little or no effort because we simply wish for it?
Joe Swinger:
I wish it was that easy. I call it magic because I use the phrase "big magic." And big magic, if I'm working with clients, it's all about achieving that breakthrough goal in their life or their year and bringing out, getting past the roadblocks and the obstacles that have hindered their progress for years, many times stemming from their childhood. And it's like that way with leaders. Leaders act a certain way because of past experiences, many times in childhood. So, if you take my low self-esteem, I was a very defensive leader, I did not like taking direction from anybody, I didn't like my ideas criticized, I didn't like pushback from the associates. And when I drove down, it was all driven by the low self-esteem because I didn't feel worthy, I didn't feel confident in what I was doing. So, once I fixed that self-esteem issue and dealt with it in the past, and I speak about that in my prologue of the book, it allowed me to become a different person. It allowed me to have humility and transparency and approachability. And those are the things that make the great Leader but to tell somebody "Hey, you need more humility," it's difficult because it's not coming from within. You're going to a class.
Eddie Turner:
Yes, indeed. And so, if a leader is listening to you right now may say "Hey, I was a lot like Joe or maybe I'm a lot like Joe now even," what advice would you have for that leader listening to you?
Joe Swinger:
Well, a lot of the virtues in the book are not just for other people but they are for the reader themselves. So, when you talk about compassion, a lot of it is going to start from self-compassion. A lot of these leaders beat themselves up – "I'm not good enough" or "I'm not doing this right" or "I'm afraid to lead a meeting. I don't think I'm worthwhile." And so, you have to have compassion for yourself. You'll have to have tolerance for yourself, your shortcomings, and just work on it every day, constant improvement. So, when I drive home from the corporate job, I would think "Okay, what could I have done better today with that associate? How could I have handled that customer a little differently? That meeting I held, well, how could I have tweaked it a little better?" And so, you just don't punch the clock and go home. And it's like that whether you're a leader on the job or you're a parent or you're a school administrator, it's like have those virtues for yourself, have the humility to say "Hey, this is where I'm failing." And it's not easy to just say over the podcast here to go back in your life and see where it came from.
Eddie Turner:
All right. Well, thank you, Joe.
Joe Swinger:
A lot of reflection.
Eddie Turner:
Reflection, absolutely. All right.
Well, we're talking to Joe swinger and Joe Swinger is the author of Awaken the Magic Within: An Invitation to the Seven Essential Virtues for Incredible Success. We'll have more with Joe right after a word from our sponsors.
This podcast is sponsored by Eddie Turner LLC. Organizations who need to accelerate the development of their leaders call Eddie Turner, The Leadership Excelerator®. Eddie works with leaders to accelerate performance and drive impact. Call Eddie Turner to help your leaders one on one as their coach or to inspire them as a group through the power of facilitation or a keynote address. Visit EddieTurnerLLC.com to learn more.
This is Meridith Elliott Powell, business growth expert and keynote speaker, and you're listening to the Keep Leading!® Podcast with Eddie Turner.
Eddie Turner:
Okay, everyone, we're back. We're talking to Joe Swinger and Joe is helping us to understand how we can awaken the leader inside.
Joe, you were telling us a little bit about the book that you wrote before we went to break and about your own journey as a leader and what you realized and the changes you had to make. You preferred to self-mastery a couple of times. And you're an authority on self-mastery. Can you tell us what it is a little bit more specifically and how leaders achieve it?
Joe Swinger:
The best way I've heard somebody talk about mastery is to be able to give yourself an order or a direction and follow it. if you talk to people about discipline, most of the time they think discipline is something that's given to them like you're going to discipline somebody. Self-mastery is all about internal discipline and giving yourself a direction or order and then being able to follow it. That means keeping your commitments. If you're going to be going to the gym in the morning, you have to go to the gym in the morning. It's being able to have constant improvement and it is being able to maybe come up with three words that define yourself and who you want to be today. And, like I mentioned earlier, how do you want to treat people today? It's all about becoming excellent in whatever you do, the way you structure your day. And when I coach people, a lot of them are transitioning out of corporate life into being an entrepreneur or a solopreneur. And their main difficulty is they were a superstar in the job and now they're in an office alone and they have difficulty structuring their day, planning how to do what they want to do. And so, self-mastery is reaching that point that everything flows like it should be flowing. You eliminate the blockages. You design the life to master that day. And so, that's what I call about the big magic. And for people that are in the second half of their life, I call it making the second half of their life the best half. It's designing that second half so you are going to live, you're going to take all the wisdom you had in the first half, all your failures, the successes, and then use it to become mastery of the day, the week, the month and the year.
Eddie Turner:
Taking the second half of your life and making it better than the first half. Well, that sounds like truly something to aspire to. And with the number of people who are having to transition in careers and people who end up finishing their career through retirement or whatever the case may be, I'm sure that's something that'll be very attractive.
Joe Swinger:
If you really want to get into the self-mastery, ask yourself "What would make me an excellent leader? What do I need to learn and train to master?" Mastery cares about details and excellence, like I said earlier, but it's constant improvement. And I try to inspire people to commit to one year of personal mastery – mastery in their health, in their relationships, in their career. And you would see the big magic and things will happen that would really surprise people. And if you're going to live a year, you might as well make it your best. That's my moto.
Eddie Turner:
Okay, Joe. Thank you. Now, Joe, something that I've read in your book that I found to be intriguing that I'm sure many people can learn from is your personal revelation about what you went through. You reveal that you were at one time homeless but, in spite of that, you were able to rise up and work as a leader in multiple Fortune 50 companies. Can you tell us about that?
Joe Swinger:
Yeah, that's true. I was homeless. I lived in Los Angeles. And I had flunked out of college and I was homeless for a period of time. I didn't know what to do. I grew up thinking I was a loser. I mean, that's the way I was raised and that's where the low self-esteem came. And I did things that looking back was the beginning of mastery. I just didn't know that at the time. I was in survival mode but not knowing what to do, I went on the campus of UCLA and slept on the intramural field. It was a beautiful University. And at that time, you could get away with it. You probably couldn't now but I decided that that's where I was going to go to school and eventually, I went to a junior college, got my grades up, and went to UCLA and graduated. And then I got my first corporate job after that but really, when you're broken down to nothing and you really have to find a way to live your life … Now, the book also talks about the journey of the character. It was really my second act where I lost my home and emotionally lost my family and really had to go through the transformation to learn these seven virtues. So, it's a lot of work. And the last virtue is perseverance and you just can't give up.
Eddie Turner:
So, through learning the virtue of perseverance, and I had a chance to interview guests who talked about resiliency, closely related to that, you were able to bounce back and go from being homeless and failing out of college to coming back and earning two graduate degrees and being a leader of Fortune 50 companies. So, fantastic, Joe. Thank you for that inspirational story that will be encouraging to many of our leaders.
What else would you say is a key to self-mastery and/or our ability to awaken the leader inside of us?
Joe Swinger:
I think one of the greatest things people can do is to be there for the other people, subordinates if you have subordinates. It's to go to work every day no matter what you do and be there to serve. I personally have promoted over 100 people into leadership positions but some of my greatest work was inspiring people to leave the company, to get their own business, to go back to college. I call that good turnover because I knew every one of my subordinate's backgrounds, their purpose, their dreams, and I would have conversation around that. And that's really inspiring them to be masters of their life and design it. It's really what got me my results. I wish I could say it was me as a leader but it was really that I had great success building teams that just loved working for me and loved producing results and they told me that they would do things for me they wouldn't do for other leaders because they knew how much I cared about him, they knew how much if they came back from a leave of absence that I would give them that time they needed to get back on their feet or whatever it takes. You have to go there for the people and that's really the self-mastery where you put your needs second and your career second for your people. And there's a lot of great books written on that. I mean, that's really what it boils down to is to care for others.
Eddie Turner:
All right. Thank you. Joe, how would you summarize our conversation we had today?
Joe Swinger:
I really loved the questions you asked and what we talked about because I believe we really got to the heart of what leadership can be. It's not a bunch of "Hey, these are the seven things to do or the five things to do" that you see all the time. It's really about who are you, how can you be at your best and how can you serve others in your capacity to develop them, inspire them and get these people to move to the next level to where they want to go. And I think if anything can come out of this conversation here, I hope that's what happens is that people can really start doing some self-discovery and reflection on how they can go to the job tomorrow and make a difference.
Eddie Turner:
Thank you. And on the Keep Leading!® Podcast, we like to give leaders advice or a quote or something to think about that will help them to keep leading. Can you share the greatest advice you've ever received or a quote that will help our leaders?
Joe Swinger:
Well, one quote I like to use with people beginning their journey is "A leader must tend their own leadership garden before they earn the right to lead others." And I like to show that, sometimes if I'm in a workshop, showing a garden and I want people to think about their leadership mind as a garden. If it's filled with weeds, nothing's going to grow. You can't have great virtues if you're filled with anger or with rage or contempt or you don't like these certain associates, like I talk about in the chapter of love. Sometimes associates are like a rose, right? They have prickles, they're difficult to maintain, they come to work late but they also have the beauty, the fragrance, the way they look. And I think if you can tend to your garden and get rid of what I call the weeds and plant greatness and virtue and tolerance and those kinds of things, you're going to see that thing grow just like you would if you had a rose garden in your backyard. It's going to be beautiful.
Eddie Turner:
Thank you, Joe. Where can my listeners learn more about you?
Joe Swinger:
My website is JoeSwinger.com. I also have what I call my Big Magic Network on Facebook. It's a private group. It's geared towards midlife, adults over 45-50. And it's all about making the second half of your life the best half. I also like to give a free 30-minute planning call for anybody that wants to go down this journey. They could just send me an email at Joe@JoeSwinger.com and we could set that up. And it's just to help people design their next year to be the best they can be and live the best second half of their life they can.
Eddie Turner:
Alright, Joe. Well, we'll put all that into the show notes so that folks can reach out to you. Thank you for being a guest on the Keep Leading!® Podcast.
Eddie Turner:
That concludes this episode, everyone. I'm Eddie Turner, The Leadership Excelerator®, reminding you that leadership is not about our title or our position. Leadership is an activity. Leadership is action. It's not the case of once a leader, always a leader. It's not a garment we put on and take off. We must be a leader at our core and allow it to emanate in all we do. So, whatever you're doing, always keep leading.
Thank you for listening to your host Eddie Turner on the Keep Leading!® Podcast. Please remember to subscribe to the Keep Leading!® Podcast on iTunes or wherever you listen. For more information about Eddie Turner's work please visit EddieTurnerLLC.com.
Thank you for listening to C Suite Radio, turning the volume up on business.
Hey C Suite Radio listeners, Jeffrey Hayzlett here, Chairman and CEO of the C-Suite Network. Has your business been seriously affected by COVID-19? Are you having trouble getting along to meet payroll? Is government red tape causing your business to shut down? Well, we're here to help. C-Suite Loans is a business program designed to provide companies just like yours with immediate access to capital that will keep your business not only afloat but driving and driving. C-Suite Loans works in conjunction with vetted funding to provide you with the best options based on your financial needs. We understand the challenges and we have a solution. Visit C-SuiteLoans.com. today to learn more.
The Keep Leading!® podcast is for people passionate about leadership. It is dedicated to leadership development and insights. Join your host Eddie Turner, The Leadership Excelerator® as he speaks with accomplished leaders and people of influence across the globe as they share their journey to leadership excellence. Listen as they share leadership strategies, techniques and insights. For more information visit eddieturnerllc.com or follow Eddie Turner on Twitter and Instagram at @eddieturnerjr. Like Eddie Turner LLC on Facebook. Connect with Eddie Turner on LinkedIn.