Charlene Li
Author, Speaker, Advisor, and Board Member
The Disruption Mindset
Episode Summary
Charlene Li helps people see the future! She's an expert on digital transformation, leadership, customer experience and the future of work. Charlene was named one of the Top 50 Leadership Innovators by Inc, and one of the most creative people in business by Fast Company. Charlene graduated magna cum laude from Harvard College and received her MBA from Harvard Business School. Since 2012, with more than 266,000 followers, Charlene has been one of the few people designated as a LinkedIn Influencer. We discussed the "Disruption Mindset."
Check out this 60 Second preview of the episode!

Bio
For the past two decades, Charlene Li has been helping people see the future. She's an expert on digital transformation, leadership, customer experience and the future of work and the author of six books, including the New York Times bestseller "Open Leadership" and the co-author of the critically-acclaimed book "Groundswell". Her latest book is the bestseller The Disruption Mindset.
She's also an entrepreneur, the Founder and Senior Fellow at Altimeter, a disruptive analyst firm that was acquired in 2015 by Prophet. Charlene was named one of the Top 50 Leadership Innovators by Inc, and one of the most creative people in business by Fast Company. She serves on the regional board of YPO, a global network of 28,000 CEOs. Charlene graduated magna cum laude from Harvard College and received her MBA from Harvard Business School. She lives in San Francisco.
Website
https://charleneli.com/
LinkedIn
https://www.linkedin.com/in/charleneli/
Twitter
https://twitter.com/charleneli
Facebook
https://www.facebook.com/charleneliauthor
Instagram
https://www.instagram.com/charleneli/
Leadership Quote
"Every great dream begins with a dreamer. Always remember, you have within you the strength, the patience, and the passion to reach for the stars to change the world." – Harriet Tubman
Get Your Copy of Charlene's Book!
https://charleneli.com/books/
Full Episode Transcripts and Detailed Guest Information
www.KeepLeadingPodcast.com
Keep Leading LIVE (Live Recordings of the Keep Leading!® Podcast)
www.KeepLeadingLive.com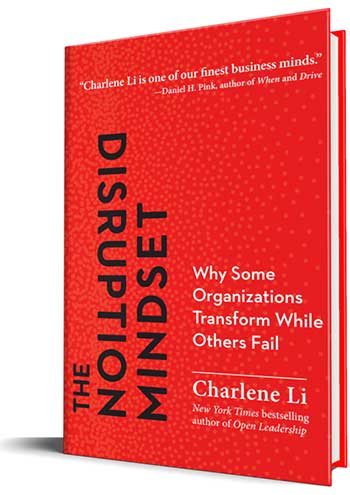 Transcript
The key to sustainable leadership lies in the ability to thrive during uncertainty, ambiguity, and change. Grand Heron International brings you the Coaching Assistance Program, giving your employees on-demand coaching to manage through a challenging situation and arrive at a solution. Visit OnDeck.com/Podcast to learn more.
This podcast is part of the C Suite Radio Network, turning the volume up on business.
Welcome to the Keep Leading!® Podcast, the podcast dedicated to promoting leadership development and sharing leadership insights. Here's your host, The Leadership Excelerator®, Eddie Turner.
Eddie Turner:
Hello, everyone! Welcome to the
Keep Leading!® Podcast
, the podcast dedicated to leadership development and insights. I'm your host, Eddie Turner, The Leadership Excelerator®. I work with leaders to accelerate performance and drive impact through the power of professional speaking, coaching, and facilitation.
Disruption. Transformation. We hear these words a lot in business today but what do they really mean? Are they mutually exclusive or are they one and the same? Oftentimes, companies say they want innovation but then opt for what is safe and comfortable. They say they want to be disruptive but opt for compliance. What do they need to do? They need to develop the disruption mindset. My guest today, Charlene Li, has written the book with the answers and the steps on how to do it. Charlene is the author of The Disruption Mindset: Why Some Organizations transform While Others Fail. Drawing on interviews with some of the most audacious people driving disruptive transformation today, Charlene shows leaders at all levels how to answer the call to lead disruptive transformation in their organizations, communities, and society. She's able to do this, ladies and gentlemen, because for the past two decades Charlene has been helping people to see the future. She's an expert on digital transformation, leadership, customer experience and the future of work. Charlene is also the author of six books, including the New York Times bestseller Open Leadership and she's the co-author of the critically acclaimed book Groundswell. Charlene was named one of the top 50 leadership innovators by Inc and one of the most creative people in business by Fast Company. Charlene graduated magna cum laude from Harvard College and received her MBA from Harvard Business School. And if that isn't enough, since 2012, with more than 266,000 followers, Charlene has been one of the few people designated as a 'LinkedIn Influencer'. So, for this and many reasons, I am absolutely excited to have Charlene Li on the Keep Leading!® Podcast today.
Charlene, welcome to the Keep Leading!® Podcast.
Charlene Li:
Thank you, Eddie. Thank you so much for having me.
Eddie Turner:
It is truly an honor to have you here. And I have to tell people you and I met at the inaugural annual meeting for Marshall Goldsmith's MG100 coaches. And you are just an incredibly warm, personable, and supportive person and this is known as your major accolades. You just a down to earth person and so much so, you actually started coaching me right there on the spot, just took over, and I fell in line. And you disrupted my life on that day and I followed through.
Charlene Li:
You sure did, Eddie. It was my honor to be able to do that to serve you.
Eddie Turner:
You're fascinating. And so, when we think about just all the things that you've done, tell me what I missed. What else should we know about you?
Charlene Li:
I am living in San Francisco. I also am a parent of two college age kids. So, I am not an empty nester but a free bird. And I wish there was a better, more positive, optimistic term for that. And I really adore and love seeing what I call the aha moment. That is how I get really excited. That's what I go for. It's when people move from that place of confusion and anxiety to a place of understanding and confidence and able to take that next step. That is what drives me. And it's a reason why my purpose in life is to help leaders thrive with disruption.
Eddie Turner:
Yes. And that's not easy to do. That's an interesting phrase even when you say "thrive in disruption" because for moving many people, as I'm sure you've experienced, when you say the word, it actually doesn't give them the thought of thriving. It gives them the thought of maybe fleeing. So, can you tell us what is disruption the way you define it in your work?
Charlene Li:
I think of disruption as stepping outside of your comfort zone and into a place where things are not set. It is the opposite of comfort and status quo, knowing great things are going to happen, but we also know that when the balance of power, when things are uncertain and topsy-turvy, that's where opportunities are created. And so, for people who thrive with disruption, they see it, they run towards it because they know that's where the growth and the opportunities are going to be.
Eddie Turner:
So, they should run to it instead of running away from it.
Charlene Li:
Right. And what's interesting is there is a certain mindset that people have when they have that inkling to go towards disruption. They have a tremendous level of confidence that they'll be able to survive that disruption, that they'll be able to figure their way out through it, that's not going to destroy them and, in fact, it's going to strengthen them.
Eddie Turner:
So, that sounds like something that you talk about in your book. You have this portion when you talk about that we look at disruption backwards. And is that what you mean when you say that?
Charlene Li:
Yes. We oftentimes say what are the disruptive innovations or technologies, again, thinking about it from a business perspective. What are the disruptive things we have to do in order to grow? And what I found in my research is that the actual act of growing is a highly disruptive act. Just the fact that you're going to grow from where you are, move out of your status quo is in and of itself disruptive. And it's the number one reason why people don't even take that first step towards finding ways to grow because it looks really hard. It looks like it's going to be disruptive. So, they don't want to do it versus knowing that the only way they're going to grow is if they enter into that disruption. People keep wanting to say "Look, I want this to be. I want a clear answer. I want this disruptive innovation that's going to be easy to implement them. And I basically want the easy buck for disruption." And I'm here to say "That doesn't happen." It's easy from the outside but it's never tumultuous. It's hard. It's gut wrenching. And for the people who embark on this, they do so willingly because they know what the goodness is on the other side of that challenge and those obstacles.
Eddie Turner:
Yeah because so many times we want what's comfortable and we don't want to do anything that's outside of the status quo because of those fears.
Charlene Li:
Yeah and it's completely understandable because it's exhausting. And what I found with these disruptors is that they go to a state of disruption and then they take stock of where they are, they gather themselves, find a new normal, a new status quo. Basically, they create this really firm foundation of stability, of clarity of consciousness and then use that to push off hard again to the next level of disruption and change. So, they're not only doing this. They're finding new foundations of goodness and that confidence to be able to give themself that strength to move forward again.
Eddie Turner:
And so, this idea of disruption and change, how does that relate to transformation?
Charlene Li:
Well, transformation is that process. And so, it's interesting, a lot of organizations, a lot of people are going through what they call a digital transformation. And they oftentimes only look at the digital part. Okay, there's have technologies we have to use and start adopting. And they don't understand that the transformation part is going to be even harder. This is not about the technology. It's always about the people, the change that you have to go through the transformation. And I find that a lot of people in organizations do not prepare themselves for that transformation process. So, disruption acknowledges it. It's an honest conversation that says "We're going to go through this transformation. It's going to be hard. Let's prepare ourselves for this. Let's make sure we are aligned together to support each other on this journey and be very, very clear about why we're doing this and what's at the end of it" because if we're not clear, we're going to always want to pull back away from it when the journey gets hard. They're like "Oh, it's too hard. Let's stop. Let's go back to what we know well because we know that works, it's kind of okay, maybe we can just put up with that for a few more months, a few more years. This change is too hard. Let's put it off for now."
Eddie Turner:
Yes. And so, if someone is interested in taking these steps, and you have several of these in your book, what is the secret, you would say, to having a successful disruption strategy?
Charlene Li:
I think the key thing is to focus on your future customers. I kept coming back to this. And what do these disruptive organizations and leaders do really well? They have a really clear idea of who their future customers are. And that's such an important aspect of this. It's not just who your customers are today but where they will be, who will they be in the future because it's only when you have that future perspective of where you want to go, where you want to be that you will make the investment, make the sacrifices, make the hard choices today to be able to pursue that future customer. And the reason why this is so hard is because people aren't absolutely 100% sure who their future customers are.
Eddie Turner:
That's what I was going to ask you. We know who our customer, clientele list looks like today and the future customer may not be a buyer. How do we know?
Charlene Li:
I know. And this is the part where you make your best guess to say "Well, I think this is where the future is going to be." And you have all of these contingency plans because you have this time until 18 months, three years, five years down the line to see whether you're moving in the right direction. And if not, you can always come back. You're listening to the market. You're constantly adjusting but you're going along that path where you're going to go to. I mean, you know what it's like driving on the highway when they get to someplace and all of a sudden there's a roadblock, there's a traffic jam, there's an accident. What do you do? You take a detour or you continue on through that obstruction but whatever it is, you know where you're headed toward. I don't know how you can set a coherent strategy for the future, something more than just your current 12-month budget, unless you know who your future customers are. What does that three or five-year strategy look like if you don't know what that answer is? And what I find that most leaders do is when they're doing what they call strategic planning, they're budgeting for the next 12 months. That's not a plan. That's a budget. And budgets don't allow you to see the future to create that change that's needed. And I get it. It's terrifying. It's terrifying to create that change if you're not 100% sure but that's what leaders do. Leaders create change. Managers manage the status quo. And if you're not creating change, then you're not a leader. You're a manager.
Eddie Turner:
I love it. Leaders create change. Managers manage the status quo. All right. Thank you for sharing that, Charlene. Now, you made an interesting connection there, Charlene, between leadership and disruption. So, can you tell us a little bit more about how leadership changes when you're trying to disrupt?
Charlene Li:
When you're leading disruptive movement, I think that's the key thing, is that you need to have a movement that people can align to and be a part of because this is too hard to do, trying to create a disruptive transformation to just say "Okay, we're just going to go in this direction." A movement is actually needed. And that's how leadership changes. I don't think many times when we're talking about leadership, we talk about great leadership, exceptional leadership, rarely do we say "You're going to stand up and create a movement, a movement that moves on its own where people are raising themselves up and becoming leaders and taking on that mantle of change." And that's what is needed when you're trying to create disruption because you need something to carry people with vision and manifestos and the ideas that will be manifested more than just what you're doing today but motivated by that future. So, disruption needs movements and leaders need to be able to know and be confident about leading a movement.
Eddie Turner:
I've never heard it put quite like that. Leaders need to get comfortable leading a movement. I like it.
We're talking to Charlene Lee. Charlene Lee is a LinkedIn influencer, a six-time author, a New York Times bestselling author as well and we're talking about her latest book The Disruption Mindset: Why Some Organizations Transform While Others Fail. We'll have more with Charlene right after this.
This podcast is sponsored by Eddie Turner LLC. Organizations who need to accelerate the development of their leaders call Eddie Turner, The Leadership Excelerator®. Eddie works with leaders to accelerate performance and drive impact. Call Eddie Turner to help your leaders one on one as their coach or to inspire them as a group through the power of facilitation or a keynote address. Visit EddieTurnerLLC.com to learn more.
This is Chester Elton, the Apostle of Appreciation, and you're listening to the Keep Leading!® Podcast with the one, the only Eddie Turner.
Eddie Turner:
Okay, we're back ladies and gentlemen, and we are talking to Charlene Li. She's an amazing woman. She's a LinkedIn influencer, a six-time author, New York Times bestselling author, I might say, and we're talking about her current book The Disruption Mindset: Why Some Organizations Transform While Others Fail.
Before the break, we were talking about the connection between leadership and disruption and you gave us some really good things to think about but there's another thing I wanted to ask you and that is we're thinking about culture inside of organizations because you made the point that you have to lead a movement. So, how do you create a culture that allows you to thrive with disruption?
Charlene Li:
Well, I think, again, there are many different types of cultures but I like to characterize them as two types – cultures that tend to get more stuck and the ones that are comfortable with dealing with, what I call, flux, things that are constantly in flux and changing. And flux cultures have a different way of thinking about the world. They have different beliefs and behaviors. And it's important to look at those same beliefs and behaviors because that's simply what culture is. If you change your beliefs, you're going to change your behaviors and vice versa. In flux culture the disruptive organizations have three beliefs in particular that are very consistent. They tend to be very open in how they share information and how they make clear how decisions are being made. They have a tremendous level of agency where the people inside those organizations feel like they are themselves owners. And because it's very clear who they're trying to reach, the future customers and information that's flowing, they can take actions. And then the third thing is a belief that there's a bias for action. And that's because your customers are moving so quickly away from you, you have to act as quickly as possible. So, as soon as you have enough data to make an informed choice, you make it. And if it doesn't work out, then you always know to come back because they're confident that 99% of decisions that are made can be reversed if they're not the right one.
Eddie Turner:
And that actually is a challenge for a lot of people as, I'm sure, you've seen, right? Do we have enough data? You have some folks that get caught into paralysis through analysis – "When do we know we can move on?"
Charlene Li:
I call it minimally viable data. As soon as you have just enough data to know that one choice is better than the other, make that decision because the only way you're going to get better at knowing it's the right decision is to actually go make it. It's the foundation in many cases of what this process called Agile is. Agile has a whole bunch of other things but the underlying belief is as soon as we can make a decision, we're going to go down that way. And this is a key part. We're not looking for perfection. It's impossible. So, instead of saying "How much more data do we need? How much more competency we need?", you go in the opposite direction. As soon as we know that one option is a little bit better than the other, we're going to go in that direction because the amount of energy it's going to take to figure out, make that maybe 10%, 20% more sure, you may as well just go and do it to find out whatever works. So, if you have a strong relationship with your customer, a strong relationship with your workforce, your team, your leadership and you're aligned together to create the best possible outcomes for your customers and your future customers, then it's almost impossible to make a wrong decision. Even if it's the wrong one initially, you know you're always going to come back and do the right thing. That's working and leading and having a culture that's focused on excellence rather than perfection.
Eddie Turner:
I like that. Minimally viable data. And you tied it really nicely to Agile leadership which I'm hearing a lot about these days and that makes so much sense. Thank you for sharing that.
So, Charlene, this type of leadership that you're talking about, do you have an example of a customer scenario or something that you've mentioned in your book that would crystallize this a little bit better?
Charlene Li:
Sure. The example I would give is Adobe. One of the things that the technology company did is they moved from packaged software to the cloud back in about 2012, 2013. And this was highly controversial because no customers were asking for it. They had a really clear vision that this was absolutely necessary for the future customer. And the future customer was wasn't just the customer they have today, all these creative professionals. It was also a student who can't afford 800 dollars for Photoshop but is willing to pay 10 dollars a month to be able to use that. And so, they increased their addressable market in a huge way but the existing customers are still up in arms that almost 50,000 of them signed a petition saying they wanted to go back.
Eddie Turner:
Really? I didn't know that.
Charlene Li:
Yeah, it was really nerve racking for them. And the employees were like "Wait, we want to do the right thing for our customers. We don't want this either. And, besides, everything that we're doing in our job is going to completely change the way we sell, the way we account for finances, the way we market, the way we handle customer service. Everything we have to change. So, highly, highly disruptive." And the leaders were absolutely convinced that this was the future. To their credit, they never blinked against all of these adversities, all of these issues. They go "We have burned the boats. We are not going back. There was no boat to go back and we burned them." So, on so many fronts, I just think it's the ultimate story. And to tell you about the culture, the culture at Adobe was such that people really fostered the fact that anybody can say anything to anybody, including the CEO. An intern to talk to the CEO. And so, as it would go into this huge amount of change internally, they did a huge amount of listening. They heard all the concerns. They were curious. And they made adjustments based on the feedback from both the customers and employees. So, they had this idea. They never took their eye off of it but they made adjustments, they made changes – "We're not going back but how can we make this better?" They asked "How can we make this better?" So, they make fundamental changes. And their culture was again of openness. They kept everybody clearly aligned about what they were doing. There was strong agency that anybody up and down throughout the organization could take action against this move but, again, "We're not going back. We're going forward. If you have an idea and a way to make this better, by all means, take it." And the bias for action is they were making so many changes in a just a short amount of time, they knew a lot of them before the right ones but they said "We can't wait to figure out the right one but we have confidence in our relationship that we can make these mistakes and our customers will understand, our employees will understand that we're trying to do this in the right way. And we're going to try it."
Eddie Turner:
Yes. And that really highlights what you said earlier in terms of you got to have confidence as a leader to be able to make these type of decisions because some people would say "Wow! You're really betting the farm on something that is uncertain" and that's why I really appreciate that phrase you introduced – "minimally viable data." Truly meaning an agile leader is what it takes to be a disruptive leader who's going to be transformational. I like it.
Charlene Li:
Yeah. Here's the thing is we say leadership is about clarity and about knowing exactly what you're going to do. And I think you would agree with me, the hardest part of leadership is when you don't know what the answer is and it's not clear and it requires a tremendous amount of courage because that's when leadership is most needed.
Eddie Turner:
Indeed, indeed. In fact, I often cite President Obama made a statement about leadership along those lines and he said "By the time the decision gets to him, they're never easy decisions. All the easy decisions were made long before they reached him." So, there's never an easy decision when you reach the top layers of leadership. So, good.
So, Charlene, I teach a program on Knowledge Management. And in Knowledge Management, I talk about all the ways organizations can enhance knowledge sharing and the reason it's important and, in fact, absolutely critical to an organization's competitive advantage. And one of the components of successful knowledge management infrastructures is something called COP – Communities of Practice. And this is where experts go to support each other and not only just experts, even those who just have an interest in this particular area. With what you're talking about, it seems to me that a leader who wants to get started or who is already working on this type of disruption might need support. Are there any organizations or communities of practice that you are aware of to support disruptive leaders?
Charlene Li:
I didn't find very many. So, in my research for the book, I said I kept running across these leaders because I feel really lonely. I feel like I'm the only person in my organization who's pushing against this immobile mass. So, I started a group practice called Quantum Network. You can find it at Quantum-Network.com. And the idea is to support these disruptive leaders in their quest to create exponential change in their organizations but also in the communities and society because I believe we need so much change to happen, so much growth and impact to happen. We're not going to get there by incrementally making changes happen. We need to think about how can we exponentially speed up the change and the impact we want to have in our organizations?
Eddie Turner:
Wow! Now, I thought I did a lot of research on you before we got started and, somehow, I missed this. Is this new or did I just do bad research?
Charlene Li:
It's brand new. Just getting it off the ground. I've been in stealth mode and alpha mode and we're just coming out of it now.
Eddie Turner:
So, is the Keep Leading!® Podcast one of the first places to hear it?
Charlene Li:
It's one of the places, yes. Again, we launched it in late 2019 as an alpha-beta and in Q1 have really started promoting it. And the idea is that we want to create a movement of disruptive leaders. And we're not going to get there, again, by hoping that somebody will read a book or listen to a podcast or read a blog post. We really need people to get together and support each other both online but also hopefully local meetups too.
Eddie Turner:
Wow! So, it's just another thing that just takes you to another level, in my book. You didn't find an organization. So, you just went and made one. How cool is that!
Charlene Li:
Yeah, there are a lot of executive groups out there for community to practice on by marketing or by industry. And I just couldn't find one that was really focused on this mindset of being disruptive. And here's the thing. It's different from being entrepreneurial. Entrepreneurial is this focus on startups but this is about creating and bringing people together because if you want to create true disruption, as a leader, you have to bring people to your cause, you have to create that movement. That is not a skill that we're taught. How do you actually do that? How do you increase your disruptive leadership skills? How do you start thinking about being more disruptive? How do you build the confidence and the courage to take those first steps? Those are really difficult things. And there aren't very many organizations or leadership development courses that go "Yeah, go and learn how to blow up things and, at the same time, put it back together again."
Eddie Turner:
It sounds like this is a leadership competency of the future, would you say?
Charlene Li:
I think so. And especially since you know about knowledge management, the reason why this is all possible today is that, again, Clayton Christensen wrote about the innovator's dilemma that it basically is impossible for an organization to disrupt themselves. I just gave an example of Adobe doing this. And the major reason why this is possible now is because of the flow of information, the speed, and the depth at which information is flowing throughout an organization and ecosystems now. We actually can see and communicate what that future looks like. We can harness our customers, our employees, our suppliers, the entire ecosystem against this goal. And in the past, it was extremely difficult to do that. And it's just over, maybe in the last five, maybe seven to 10 years, that we've been able to do this. So, this is a brand-new competency, I think, that we need to develop and explore and make sure that people know about.
Eddie Turner:
Wonderful, wonderful, I love it. So, how would you summarize our conversation today, Charlene?
Charlene Li:
I would summarize by saying disruption is something that, I think, everyone needs to think about because it's not an absolute, you don't go and be a truly disruptive or not. It's a gradient. And think about the one thing that you could change in your world, one thing that really could make a difference in your organization, in your community, in society. and then ask the question why not you – "Why not me? Why shouldn't I be the person to create that change?" And then take the first step towards it.
Eddie Turner:
Why not me? All right. And on the Keep Leading!® Podcast, in addition to the amazing content you've just shared with my listeners, I always like to get a quote that can help our leaders to keep leading or the best advice you've ever received.
Charlene Li:
The best advice I ever received was "Experience is what you get when you don't get what you want." It's so easy to get discouraged or pushed back. And I think the most resilient leader, the most destructive leaders look at every setback as an opportunity to learn, to add into your tool chests of things that you can draw on, your experience tool chest. So, I look at every setback, maybe I'm just an optimist, but I look at every setback as "Wow! That's interesting. That didn't work out the way I thought. Why didn't that happen?" and learn from that and move forward rather than wallowing in the fact that it didn't work out.
Eddie Turner:
Experience is what you get when you don't get what you want. And it sounds like that's what you did when you created that group.
Charlene Li:
Well, when I set up the group, I was like "I don't know what I'm doing." I have talked about communities and social networks for the past 20 years. And, as I said, I really don't know what I'm doing but I hope you will join me on this journey and we'll figure it out together.
Eddie Turner:
And join you on this journey we will, including listeners of the Keep Leading!® Podcast. Charlene, thank you so much for being on the show today. Where can my listeners learn more about you?
Charlene Li:
They can come to my website CharleneLi.com and you can find me on all the various social channels. I hope that you would connect with me. I would love to hear from you. Again, CharleneLi is my handle and Charlene@CharleneLi.com is my email. And I really do want to hear from people. And I give this information out to people and nobody ever writes to me, Eddie. So, I hope people will. I hope they reach out.
Eddie Turner:
Okay, listeners, you all heard her. Reach out to Charlene. She means it, she's sincere and she really is one of the nicest people you'll ever meet. And, as I said, she started coaching me and just took over my life right away. So, she means it.
Charlene, we're going to put these in the show notes and make sure that folks, whether they're holding their phone in their hand or they are on the website, they will have access to all these links to be able to reach out and connect with you and get to know you.
Charlene Li:
Thank you again so much, Eddie.
Eddie Turner:
Thank you, Charlene, for being a guest on the
Keep Leading!® Podcast
.
And thank you for listening. That concludes this episode, everyone. I'm Eddie Turner, The Leadership Excelerator®, reminding you that leadership is not about our title or our position. Leadership is an activity. Leadership is action. It's not the case of once a leader, always a leader. It's not a garment we put on and take off. We must be a leader at our core and allow it to emanate in all we do. So, whatever you're doing, always keep leading.
Thank you for listening to your host Eddie Turner on the Keep Leading!® Podcast. Please remember to subscribe to the Keep Leading!® Podcast on iTunes or wherever you listen. For more information about Eddie Turner's work please visit EddieTurnerLLC.com.
Thank you for listening to C Suite Radio, turning the volume up on business.
Hey, C Suite Radio listeners, if business is war, then you need the best possible ammunition and training to win the fight. Join us from April 19 through the April 21, 2020, on the USS Wisconsin in Norfolk, Virginia, for the C Suite Network Leadership Forum. Here distinguished military leaders discuss battle-tested management strategies as you network with America's top CEOs. Sign up today at C-SuiteForums.com/battleship and use code 'Battleshiphero'. You don't want to miss out on this once-in-a-lifetime experience. Again, that is C-SuiteForums.com/battleship, code 'Battleshiphero'. We'll see you there.
The Keep Leading!® podcast is for people passionate about leadership. It is dedicated to leadership development and insights. Join your host Eddie Turner, The Leadership Excelerator® as he speaks with accomplished leaders and people of influence across the globe as they share their journey to leadership excellence. Listen as they share leadership strategies, techniques and insights. For more information visit eddieturnerllc.com or follow Eddie Turner on Twitter and Instagram at @eddieturnerjr. Like Eddie Turner LLC on Facebook. Connect with Eddie Turner on LinkedIn.